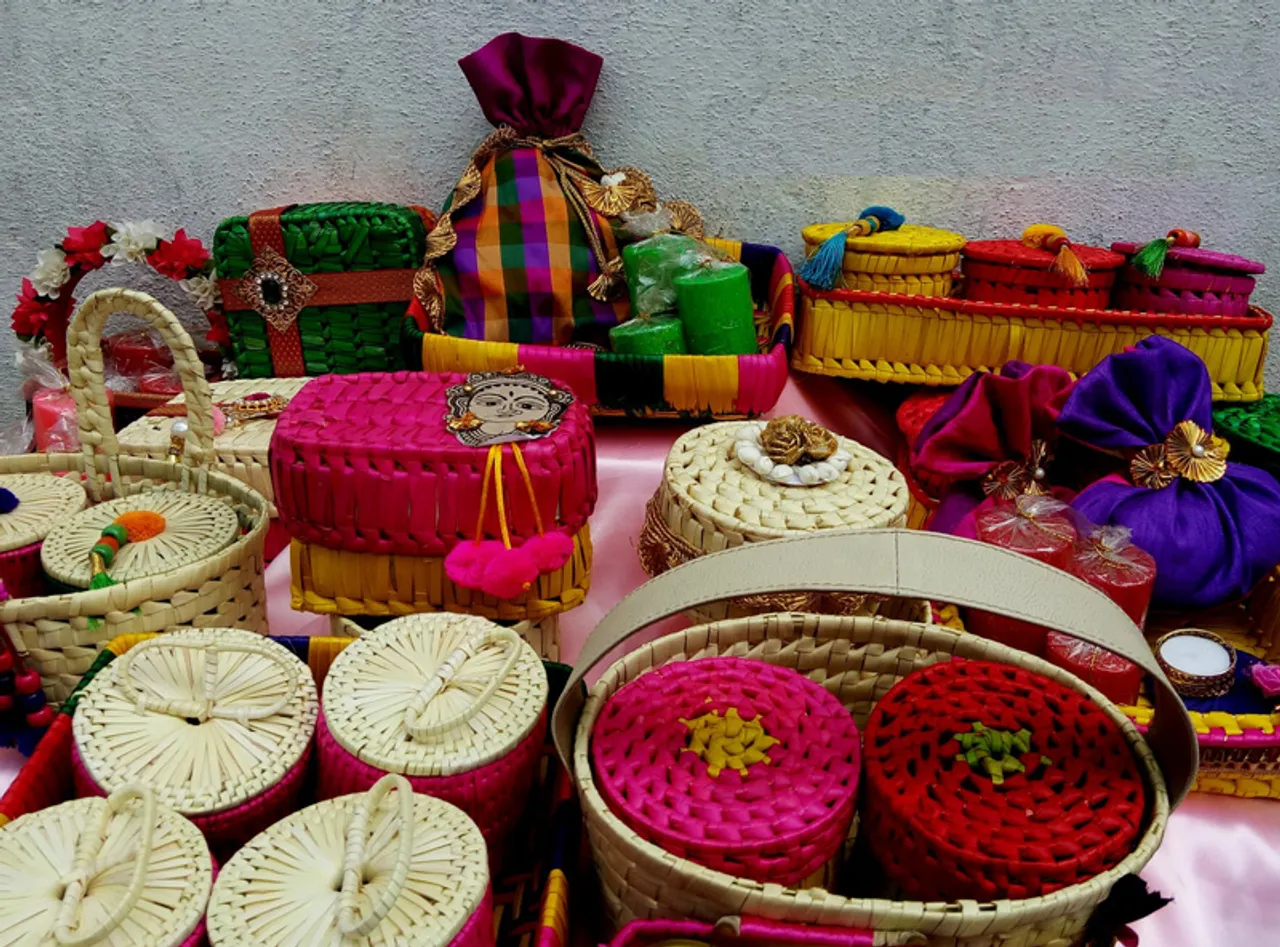 wp:paragraph
For many generations, women from four households in Tamil Nadu would use natural fibres like jute, palm leaves and river grass to make Thamboolam bags, which are given as return gifts on weddings and typically contain betel leaves, areca nuts, bangles, fruit and coconut. These handmade bags were sold at the local stores but the women did not realise the potential of the eco-friendly handicrafts. They could not sell the products beyond the local market and the sales were mostly limited to the wedding season.
It was in 2012 that Mithra Levis saw their work and decided to give the products a larger platform.
"Their potential was undiscovered. All the pieces were handmade with natural fibres and no artificial colours were added, but they had only a few uses. These artisans also didn't have any plans to sell it beyond the local markets," says Levis, founder of Kottanz, which sells ecofriendly products handcrafted by women in rural areas of South India.
Also Read: Thousands of Rajasthan's rural women empowered through up-skilling in embroidery
Tapping into an eco-friendly potential
"We saw that the wedding industry has a great potential; so we decided to sell handcrafted wedding hampers to customers beyond Tamil Nadu. The range expanded over time and the work now provides round-the-year employment to these artisans," she adds.
In the nine years of its journey, the brand has established itself as a destination for eco-luxury handmade gift hampers that range from raw silk printed potlis, and river grass laptop bags to Channapatna wooden artefacts, bridal trunks, masks and more.
Also Read: GreenKraft: taking banana bark baskets made in Madurai to Sweden's IKEA & beyond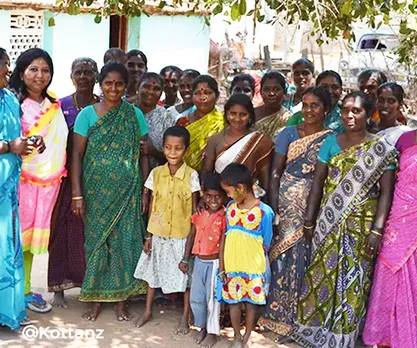 The specially curated wedding hampers contain everything from haldi, kumkum, blouse pieces, matching bangles, tea and spice fillers and more. They also have home décor and utilitarian items like wooden trays, metal lamp holders etc.
Levis had her first brush with entrepreneurship in 2010 when she set up luxury handbag maker FIBERKRAFT. "We faced a lot of setbacks while working on the brand and we weren't able to venture into the export market. Also, not many were able to appreciate the craft," says Levis who bootstrapped FIBERKRAFT which later transitioned into Kottanz. 
It has two branches in Bengaluru and Vijayawada and is looking to expand to other cities soon. 
Also Read: Sundarini: the organic milk revolution by women of Sundarbans
Standardisation and customization 
"People would earlier compare our products to the plastic baskets and covers that are available at low prices. We told them it takes two to three days for a woman to weave a single basket. For that basket we sell for Rs200, they put in a lot of hard work," says Levis.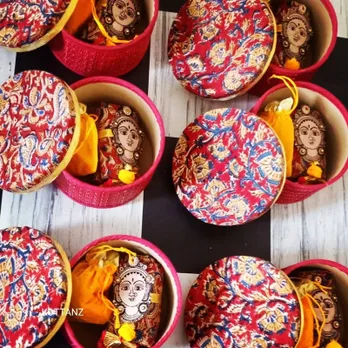 "The price is nothing compared to the work. People have now accepted the fact and give us several orders, including large ones," she notes. 
While two simple baskets can take up to five to six hours of dedicated work, home décor items and customised products can take more than a week to make. Kottanz has catered to more than 20,000 customers so far. The products are shipped all over India as well as to the rest of the world.
Also Read: Phool: where women turn temple flowers into incense, bio-thermocol & vegan leather
"We video call the customers, show each product and guide them through the whole process. At every step, they are updated with the progress as well as changes that need to be made in customised products," she says.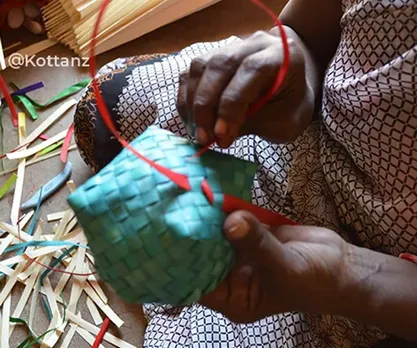 "Once the orders are placed, the trainer goes from house to house, giving details regarding the size, design, colour and customization and ensures consistency in products. If there's a difference in size, it is given to our store where walk-in customers can buy the piece," she says.
Also Read: Adavi: organic coffee that brewed a new life for Karnataka's Soliga tribe
"Mostly, you will see paintings from Rajasthan and artworks from Delhi being showcased and sold. I have seen very few southern crafts and paintings like temple motifs, Kalamkari and Pochampally Ikkat being used in artefacts. We focus on bringing those arts to the forefront."
Though she remains tight-lipped about her high-profile regular buyers, Mithra reveals they include political and film personalities.
Also Read: Bihar's Sikki grass craft finds global market amid rising demand for eco-friendly artifacts
Challenges of a sustainable enterprise
Of course, the coronavirus pandemic did affect Kottanz's sales, but Mithra says that many customers were willing to spend extra on each hamper given that weddings were a low-key affair during the lockdown months.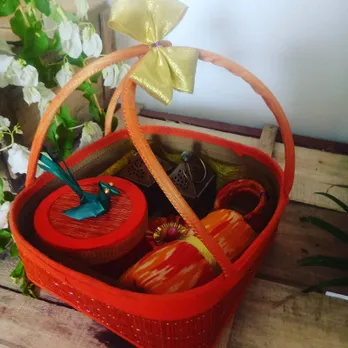 While today Kottanz is a well-established brand, the journey wasn't easy. "We faced a lot of issues in exports. Many items were rejected because they weren't consistent in design. If it were metal crafts, there would be no issues in the size or design, but since the products are handmade, we cannot guarantee uniformity in sizes. There could be a slight colour variation too, but there lies the beauty of these products." 
Also Read: LifeCraft: empowering Jharkhand's Kuiani women through fabric hand dyeing
Now, however, Kottanz has evolved standards that artisans adhere to and anything that still misses the mark is sold at their local store.
They would say that many brands had previously approached them with false promises of providing job opportunities throughout the year. "So it wasn't easy to convince them," she says.
Ask her what's next on the cards and she says, "We want to explore all the southern crafts and explore other fibres apart from the ones that we're handling now."
(Narayani M is a Chennai-based writer specialising in longform writing and human interest stories.)
Also Read: Abira: Pune's all-women enterprise where slum dwellers handcraft ecofriendly products for global brands