wp:paragraph
Akriti Khatri can be found roasting corn on the cob in one of the crowded streets of Delhi or sleeping on the footpath in tattered clothes like a beggar or perhaps working as domestic help for a middle-class family. She might as well contest for the best tenant or roadside tea maker award.
Much like Sherlock Holmes and Hercule Poirot, the private detectives we all love, Akriti's disguises are necessitated by the nature of her job. The 37-year-old undertakes pre-marriage checks besides solving cases ranging from data leaks and forgery to extra-marital affairs and more.
Her clients include bureaucrats, politicians and corporates.
Her detective agency saw an upswing during the first wave of Covid-19 as spouses were confined to their homes. "Many couples got suspicious of each other. I came across many people wanting access to WhatsApp chats of their spouses," she says.
Also Read: Rescue Foundation: How Triveni Acharya saved over 6,000 girls from forced prostitution
Childhood love that became profession
Since childhood, Akriti says, she had a keen interest in goings-on around her and on spying on her classmates at school and college. She had an eye for detail, knew how to connect the dots and an instinct for unearthing the truth.
With an MBA degree from the Institute of Management Technology, Ghaziabad, she had not planned to become a detective. It happened by chance or perhaps, it was destiny at play.
"In 2007, I was leafing through a newspaper when I came across an ad from a detective agency. I called on the given number to learn more about the nature of their work and ended up getting myself a job with no prior experience."
She picked up tips on conducting an investigation, carrying out background checks and learned the value of patience from her employer, which added to her experience.
Also Read: How Prerana is helping thousands of girls get out of intergenerational sex trade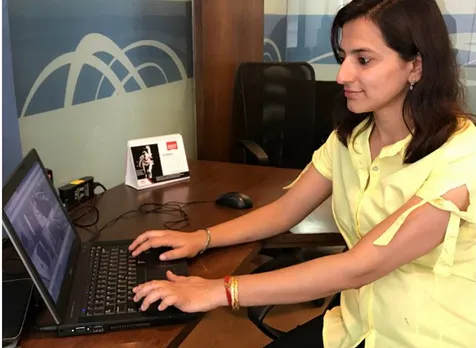 Cut to 2021. Akriti today owns one of the largest detective agency chains in India called Venus Detective Agency with a presence across Delhi, Mumbai, Bangalore, Pune and Kolkata, among others.
Her methodology includes using the latest gadgets and technology such as e-surveillance, GPS tracking, disguising herself, tailing a suspect, tracking their daily routine and interrogation.
The Lady Sherlock Holmes
"As a detective one has to be super patient as the job includes waiting for long hours while tracking a person; one should be prompt and well-read to be able to form practical stories on being questioned," she says.
Also Read: Chhutni Devi: Jharkhand's brand ambassador in the fight against witch-hunting
"They can't have spikes or wait on a bright yellow bike," says Akriti.
Akriti deals in both corporate and personal investigation cases with the latter being a major part of her work. While the corporate cases include investigating dual employment, data leaks, forgery, the personal cases comprise extra-marital affairs, pre-marriage background checks, child surveillance, and child custody.
A regular day in her life includes visiting the office, tracking cases, getting leads, training and assisting colleagues, attending client meetings. Of late, she has limited the fieldwork as the business demands anonymity but Akriti has become quite a known face.
Also Read: Coronavirus Lockdown: Suicide helplines clogged as janta curfew takes toll over mental health
Commenting on the industry's growth, Akriti says the detective services industry has multiplied manifold. The agency clocks cases from metros as well as tier-2, tier-3 cities. Average cases for her agency went up from 10 to 12 in 2007 to 100 conversions per month in 2020. The number of inquiries is even higher.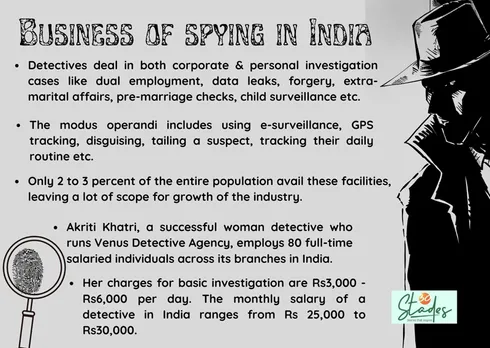 On the reasons for the increasing demand, she says, "It's all about awareness."
Glorifying sleuths in movies and serials has led to people opting for these services, she adds.
However, only 2 to 3 percent of the population avails these facilities, leaving a lot of scope for further growth of the industry. One of the major dampeners is the legalities associated with the sector. This is the main reason that families don't allow individuals, especially women, to take up this profession.
Also Read: Meet Aaliya Mir: Kashmir's math teacher-turned wildlife rescuer
"Affluent people make laws. Why would anyone bestow a person with the authority to spy legally?" asks Akriti on why the profession has not been legalised.
Detectives are trained to avoid such circumstances and often have to retreat in case of suspicion. However, on being caught, Akriti suggests coming up with a good story or apologizing, or even paying a penalty as the last resort.
Challenges in the spying business
Listing some of the most challenging cases of her career, Akriti says handling high profile or celebrity cases is the most challenging.
"In another instance, we carried out an undercover investigation on a data leak for a renowned corporate firm. It took months and we had to work in the same firm," she adds.
Also Read: Once a vegetable vendor, how this Manipur woman turned entrepreneur by making silk cocoon ornaments
On the time it takes to solve cases, Akriti says she usually starts with a 10-day time limit and re-assesses her strategy in case there are no leads. "The cases can be solved the very next day or may take months," she says.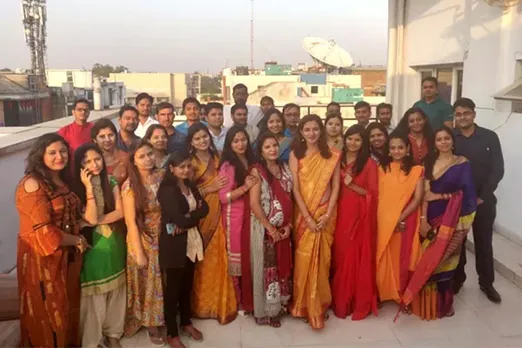 Akriti has invited enmity from others in her fraternity for changing the working of the industry. Earlier, agents would outsource work to freelancers and didn't hire people full-time as employees. These agents would start their own agencies within a few months of gaining experience.
However, Akriti changed this industry trend by taking good care of her employees.
She has also built an international client base that wants to avail services in India. "I usually get calls from bar dancers in Dubai wanting me to do a background check on their partners, or wives whose husbands are likely to engage in shady stuff while they are on business trips," she says.
Also Read: Pithora art: How Jhabua's Bhuri Bai broke centuries-old taboos with a brush & colours
After that, there are different packages offered to clients depending on the nature and complexity of the case. The packages vary from Rs12,000 to Rs35,000 per day.
She often encounters young enthusiasts, weary IT professionals, and women wanting to foray into the industry. "But there are hardly any proper training courses for detectives," says Akriti who has curated a course under her banner.
The hobby course spans from 3 to 6 months including online videos and field training. On successful completion of the course, the participants are awarded a certificate and a chance to work with the agency or to launch their firm.
(Rishika Agarwal is a Patna-based writer specialising in art, culture and human interest stories)
Also Read: Snehil Dhall: Policemen's friend who decodes crime using psychology