Shrimayum Gita Devi would sell vegetables to make ends meet in Manipur's Khurai Thongam Leikai village after she was widowed at a young age. The year was 2005 and being the sole breadwinner of her family, she had to take up the work to raise her two kids. But the income was just about enough to live on and Gita Devi had no savings.
At around the same time, she associated with a local non-profit organisation, Sericulture Potlam, to learn more about the rearing of silkworms and silk production. In 2007, through the NGO, she came to know about a training programme that was being hosted by the Central Sericulture Research and Training Centre in Mysore in September that year.
From vegetables to cocoons
Along with 20 sericulture workers, she enrolled for the five-day training programme, where they were trained on working with discarded cocoons to create garlands, ornaments and other artefacts.
Also Read: Abira: Pune's all-women enterprise where slum dwellers handcraft ecofriendly products for global brands
Determined to change things for herself and her children, Gita continued practising the craft.
The name is a combination of three words -- Leima, a mythological princess said to have been born out of a Kabrang (mulberry) cocoon while Liklang means necklace and Nayin stands for earrings made of copper or gold.
Taking inspiration from the traditional designs in jewellery worn by Manipuri women in olden times, Gita used mulberry silk cocoons to make ornaments, in the process successfully reviving traditional handicrafts.
Also Read: Bengaluru's Kottanz contemporizes traditional gifting with eco-luxury products handcrafted by rural women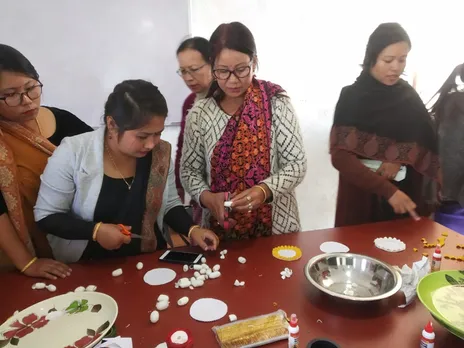 Her beautiful necklaces, earrings, garlands and home décor products from silk cocoons began to get noticed. Her dedication and motivation paid off and the business slowly picked up as the unique nature of cocoon jewellery caught the attention of the locals.
Subsequently, with the help of Rs 3 lakh capital from Manipur Startup and the cash received from various awards, Gita set up her showroom -- Leima Liklang Nayin -- in her village where she displays and sells cocoon handicrafts.
Also Read: Thousands of Rajasthan's rural women empowered through up-skilling in embroidery
Cocoon jewellery: an ancient Manipuri craft
The practice of crafting ornaments out of mulberry silk cocoons found in Leimaram or Khurkhul village is known as Leima Nayin. The art has been traditionally popular among Manipuri women.
Subsequent kings encouraged silk farming, with the most prominent being king Medingu Senbi Kiyamba (1467-1508). Alongside, artisans began creating beautiful products with mulberry cocoons, which are discarded after silk is extracted from them.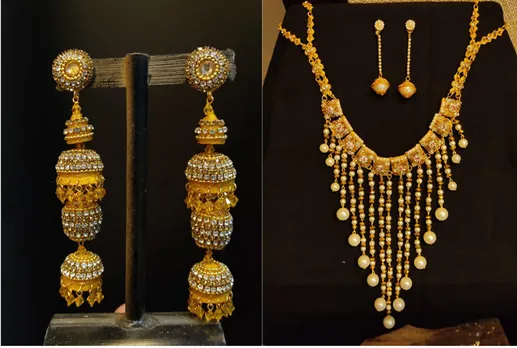 "Earlier, these ornaments were popular among the royals and families of the nobles in the royal palace," says Gita.
Also Read: Tribal women turn entrepreneurs with Tasar silk farming
However, now the cocoon jewellery is mainly worn during special occasions like festivals, marriage ceremonies and the Lai Haraoba festival celebrated by the Meities who are mainly settled in and around Manipur.
How are ornaments made from silk cocoons?
Usually, the cocoons are discarded or burnt by farmers once the silk thread is extracted from them. Gita buys these discarded cocoons to create necklaces, earrings, garlands, flower baskets and many other items.
The intact cocoons are cut to remove the worms, which are either discarded or used for manure.
Also Read: GreenKraft: taking banana bark baskets made in Madurai to Sweden's IKEA & beyond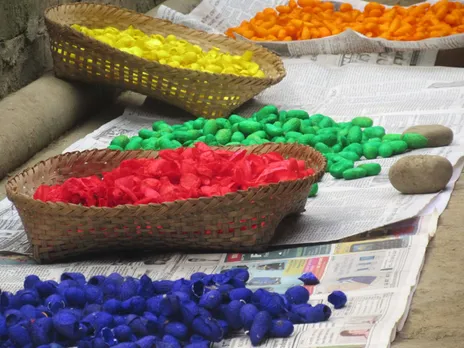 She adds bright shades of pink, yellow, blue, and green to the off-white cocoons by using chemical or vegetable dyes sourced from the local markets.
When dry, the coloured cocoons are cut into the desired shapes and embellished using stones, beads or pearls. Gita fuses traditional art with her contemporary designs and innovative ideas to make them more appealing to the customers.
The jewellery and home decor products are cheap and light as a feather, making it an ideal choice for the modern generation.
Also Read: Kashmir's women entrepreneurs combine innovation with social media to run successful start-ups
Nayin, a traditional earring worn by Manipur women, is much in demand.
Earrings worth Rs 50 usually take around one hour while handicrafts sold at Rs 1,500 take at least three to four hours.
Gita Devi says she receives around 90-100 orders per month and earns between Rs 30,000 and Rs 50,000. Her annual revenue is nearly Rs 5 lakhs.
The challenges
Gita has, however, not been able to promote her handicraft beyond Manipur mainly due to a lack of shipping facilities. "We receive a few orders from other states and even internationally through our Instagram page but we cannot ship the products. Only people travelling abroad take parcels with them," says Gita.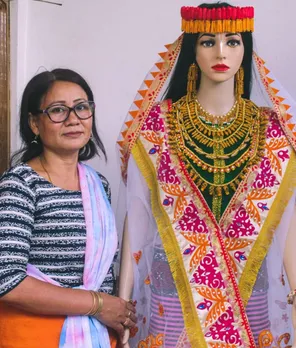 Apart from the marketing challenges, the shortage of cocoons poses another threat to the business.
Also See: Watch Saima Shafi: Kashmir's engineer-cum-potter reviving the clay craft
Once the worm is removed, the cocoons stay fresh for a long duration even without any treatment.
Gita is also associated with the state sericulture department and has been extracting silk threads and creating shawls and other silk clothing. Having the industry knowledge, she says she is further saving to set up a small sericulture enterprise.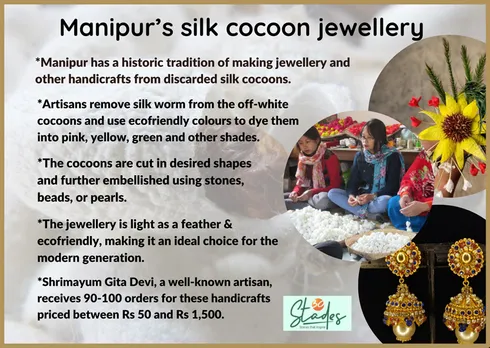 She has successfully rolled out three training programmes and has trained and employed over 50 local women in the production of the ornaments. However, the industry took a hit due to the Covid-19 pandemic and the number of salaried employees reduced to 10.
Also Read: Tamil Nadu: How Deepika Velmurugan set up a successful home business by taking Kolam from doorstep to drawing room
Over the years, Gita has consistently participated in various training programmes and workshops to stay on top of her game. She has done a management course in marketing and one on empowering women through SHGs. To promote her craft, she participated in several craft bazaars organised by the Commerce and Industries Directorate, Ministry of Textiles and NGOs. 
She has bagged several awards including the outstanding craftsperson in the handicraft section in 2013-14, instituted by Manipur's Directorate of Commerce and Industry, as well as the state craftsperson award in 2017.
(Rishika Agarwal is a Patna-based writer specialising in art, culture and human interest stories)
Also Read: How a Manipur mother's hand-knitted shoes found global market