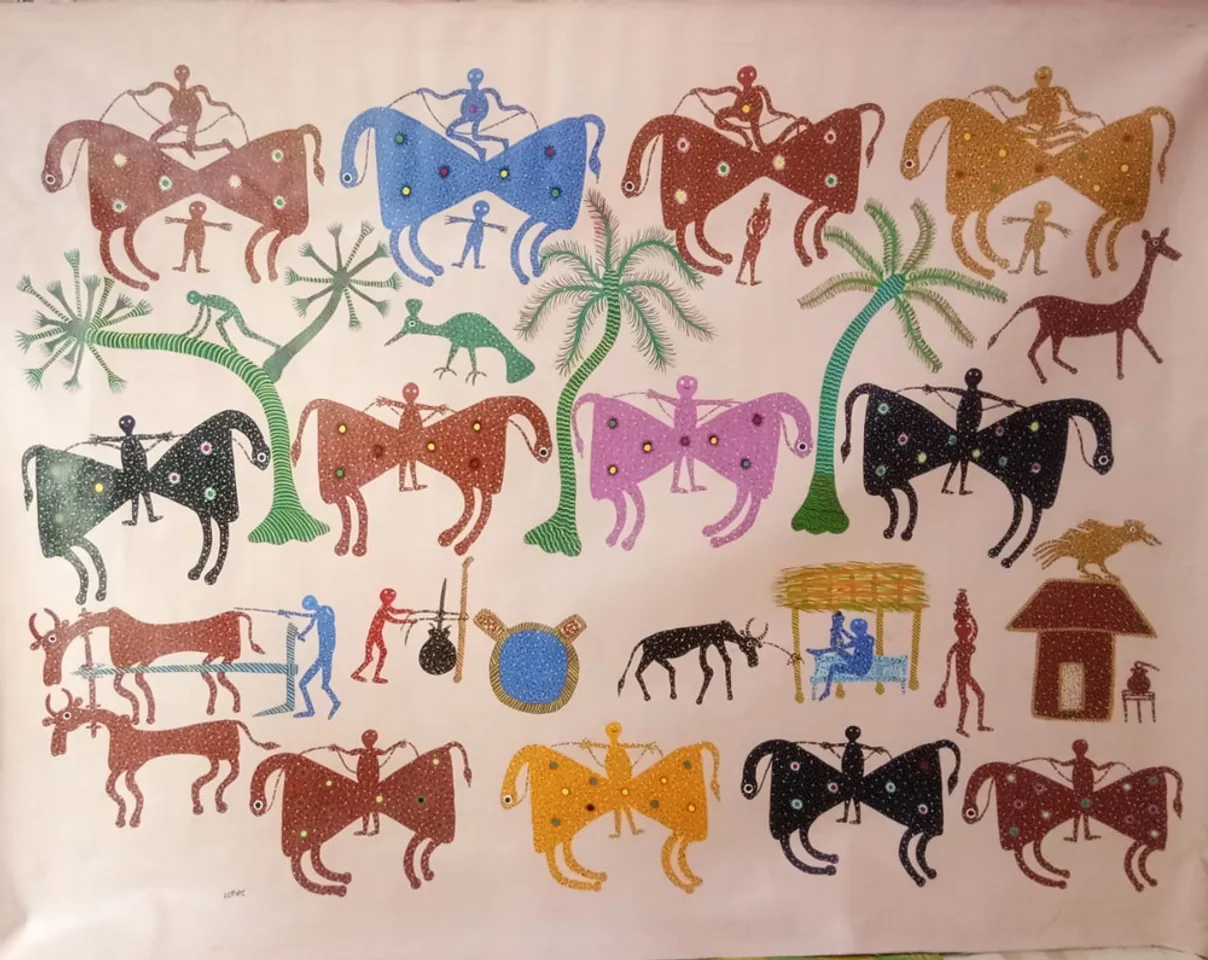 In every household of Bhil and Rathwa tribes, who reside mostly in central Madhya Pradesh and Gujarat, one can find paintings with animals, huts, people doing their daily chores and a man seated on a horse. He is the main character of the painting and revered as Pithora Baba, the chief God of these communities. 
Decorating the walls with this art, called Pithora paintings, brings good luck to the home. Bhils (also called Bhilalas) and Rathwas worship Pithora Baba to get rid of debt, for a bumper crop, to get cured of a disease and just about anything they want. Once a wish is fulfilled, they organise a small religious ceremony and make another painting on a wall.
Art with restrictions
While Pithora Baba is found in every home, women were forbidden from painting him or his horse until Bhuri Bai, from the Bhil tribe in Madhya Pradesh, broke the taboo.
"Initially, Bhuri was hesitant to paint the horse and the deity owing to cultural norms," says Debjani Mukherjee, who was a PhD student at IIT Mumbai in 2014 and worked with Bhuri Bai as part of her thesis - Indigenous Art Pedagogy. 
Also Read: MP's Jhabua scripts a success story with its traditional tribal dolls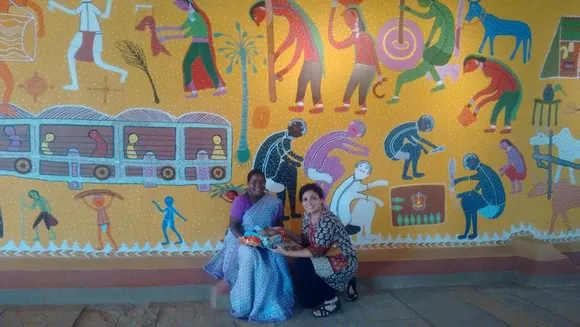 Today, Bhuri Bai's paintings are much in demand in India and abroad. Her journey from a child labour and child bride to Padma Shri awardee is one of hard work and determination sprinkled with little luck. A chance meeting with eminent artist Jagdish Swaminathan in the 1980s in Bhopal changed the course of life for Bhuri Bai, who was working as a construction worker for Rs6 per day at that time. 
Also Read: India's tribal & ethnic groups dodge the Coronavirus minus sanitisers, science or support
"I could never imagine that a casual conversation with him would make me travel the world," says Bhuri Bai who has also contemporised the art form and paints on canvas and other mediums. She is a shining example of women empowerment for the Bhil tribal community today.
She has travelled to various parts of India and the world where she is invited by many museums, tribal exhibitions, and clients who want her art. France is next on her travel list where she will display her work in April 2021.
Child artist, child bride
Bhuri grew up in Pithol village in Jhabua district of Madhya Pradesh. Located between the Mahi and Narmada rivers, Jhabua is the centre of colourful Pithora wall paintings. Orange, red, blue, green and yellow are the main colours used in the paintings.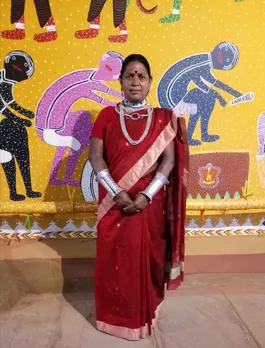 In her village, Bhuri saw the tradition of Pithora and would make similar paintings on the walls of her house when she was merely 5 years old. She used to make natural colours using leaves, flowers, henna and paint on the walls during festivals and celebrations.
Also Read: How Kalyan Joshi has made Rajasthan's 1,000-year-old Phad paintings trendy
The process is simple: the walls are first covered with a paste made of cow dung, lime and water. The base is rubbed and smoothened. Then the artist paints pictures of animals, birds and people in vivid colours as per her or his imagination. The paintings are unique and no two paintings are ever the same.
Swaminathan, a renowned painter who played a role in the establishment of the Bharat Bhawan, used to frequent the spot and talk to the labourers. When he learnt they were from the Bhil community, he asked about tribal art.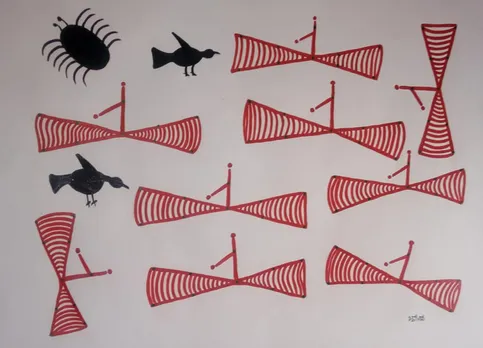 "A large number of labourers, including myself, were uneducated and hence, we did not know how to respond to his question. My elder sister, who used to accompany me to the construction site, reminded me of the childhood paintings on the walls of my mother's house. However, I did not know where to paint since I had not done it anywhere else except the walls of my house," says the 52-year-old artist. So she made some on the stones.
Also Read: Maharashtra's Chitrakathi painting: keeping alive the legacy of Chhatrapati Shivaji's spies
Painting for the painter
Swaminathan then got colours, brushes and the necessary materials and asked her to draw some Pithora art. Impressed with the painting, he visited her shanty and encouraged her to put her art on canvas. 
Bhuri says Swaminathan, who passed away in 1994, was instrumental in establishing her as an artist. He promoted her and the art form and slowly people took notice.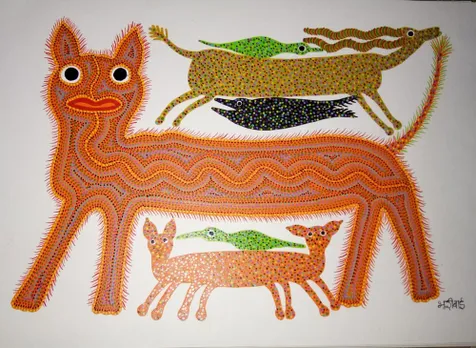 After Swaminathan bought her paintings, Bhuri says some friends and neighbours informed her that she was featured in local newspapers in Bhopal. "I was surprised as to why I would be featured in a paper. It was then that I realised that I was going to be honoured with the Shikhar Samman Award from the Government of Madhya Pradesh in 1986-87" says Bhuri.
Also Read: Rajasthan's Badshah Miyan takes 700-year-old leheriya craft & natural dyes to the world
However, her family and husband were opposed to Bhuri working as an artist. "My husband wanted me to continue to work as a daily wage labourer. My in-laws used to ask where I got so much money from. They used to instigate my husband to prevent me from working," she recollects.
This created tension between the couple but Swaminathan intervened and counselled Bhuri's husband.
She says that Swaminathan got him a job as a security guard at Bharat Bhawan. He took him around the museum and showed him paintings of Bhuri and other artists featured in the museum. Swaminathan counselled him to respect the work. Since that day, her husband has always been supportive.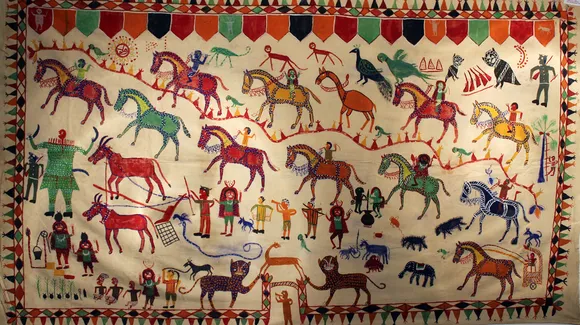 After becoming the first woman of the Bhil community to paint Pithora paintings, she took it a step ahead and started painting on canvas as well. As she won awards and her fame spread, people started approaching her for paintings.
Also Read: Meet Bandana Jain, who uses cardboard to make furniture, sculptures and more
Contemporisation of Pithora art
"The paintings were becoming popular in the urban market and people wanted it on the clay pots, walls of their houses. In such a scenario, I had to ensure that my identity stayed with every painting I made. So, I decided to start them on canvas, cloth etc. to suit the growing demands," Bhuri Bai says.
Since then, life has been less of a struggle as she gets a monthly income of Rs45,000 and can use her time to promote Pithora art. She now makes paintings on receiving orders from clients. 
Several people across India invite her to paint the Pithora art. They not only pay her for work but also take care of other logistics like flight, accommodation etc.
Also Read: Pothi Chitra: Odisha's 900-year-old palm leaf engraving finds global patrons
She has taught this art to four of her sons, their wives and two daughters besides people of her community. She says women from her community must take time out from their daily chores and learn this art to preserve this rich heritage and empower themselves.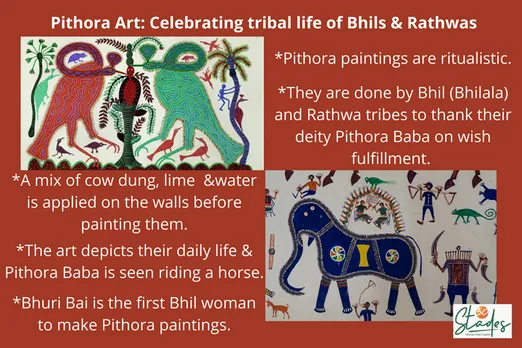 "I want this art to survive. I may die tomorrow. But the art should survive and it should benefit the people of my community," says Bhuri Bai, who has also won several other awards including the Ahilya Devi Award in 1998 and Rani Durgavati Award. 
Many paintings made by Bhuri Bai have been displayed in the Tribal Museum at Madhya Pradesh. In fact, Bhuri Bai has even painted the story about her life on a 70-feet wall in the museum.
She is overwhelmed by the kind of response she has got for her work.
Mukherjee says, "Of all the tribal artists I came across during the course of my field study, I decided to work with Bhuri Bai as part of my thesis as I found in her the willingness to break shackles and do something."
After working with Bhuri Bai for her thesis for two years, she also learnt the art from her. Debjani is the first woman outside the Bhil community to learn Pithora art, just as Bhuri Bai is the first woman within her community to practice it.
(Lede image courtesy of Padma Shri Pithora artist Bhuri Bai)
(Vedant Sharma is a Gujarat-based freelance writer)
Also Read: Cheriyal: How Telangana's centuries-old scroll art continues to educate and entertain even today