In Badampet village of Telangana's Sangareddy district, NGO Kudali Centre uses a 3ft by 10ft scroll painting in vivid colours to educate farmers about the perils of mono-cropping. Moving away from organic cultivation of food crops to just cotton, the farmers have seen chemical pesticide costs rising through the roof every year. Farmer suicides are common in the area. Kudali uses a Cheriyal (or Cherial) painting made by national award winner artist D Vaikuntam Nakash to educate the illiterate farmers regarding organic farming.
In another part of the state, a microfinance company has put up six Cheriyal scroll paintings in its office to explain loan, digital marketing and other concepts to semi-literate people wanting to better understand microcredit and its uses.
Also Read: How Kalyan Joshi has made Rajasthan's 1,000-year-old Phad paintings trendy
"Hundreds of years back, these scroll paintings, which can measure up to 3ft by 60ft, were used for the dual purpose of education and audio-visual entertainment," says Vaikuntam whose sons Rakesh and Vinay and wife are also accomplished Cherial artisans.
Brightly coloured history
Back then, the seven story-telling communities of Telangana used to travel through villages, singing and narrating stories using the scroll as their visual aid. Like the Kunapuli community narrated the stories to Padmashali weavers while Patapollu community performed for the Chakalis (cloth washers).
Also Read: Women artisans help resurrect Karnataka's Kinnal hand-painted woodcraft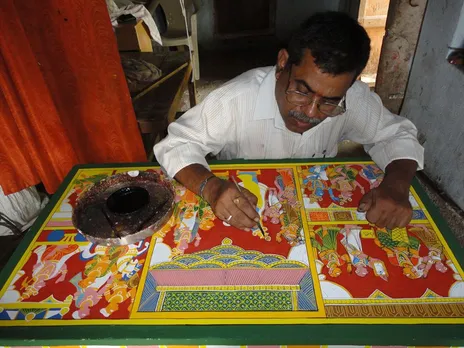 But these paintings were done only by members of one community in Telangana – Nakashi community. "We actually belong to the Chitragara community. Our ancestors were patronised by the rulers of the Vijayanagara Empire," says Vinay, son of Vaikuntam.
After the decline of the Vijayanagar Empire following defeat at the hands of the Deccan Sultans in 1565, these painters moved to Telangana, which was at that time ruled by the Nizams. "Our forefathers made floral engravings in royal buildings, including the Falaknuma Palace," says Vinay.
Practised only by seven families in the Cheriyal village of Telangana, Cherial art received the Geographical Indication tag in 2010. The paintings, made on khadi cloth treated with tamarind seeds paste, chalk powder, gum and starch, are mostly based only on epic themes (of Ramayana, Mahabharata, Sri Krishna Bhagavatam, Shiva Puranam etc), village life or festivals. 
Also Read: A quaint village in Hooghly becomes manufacturing hub for string instruments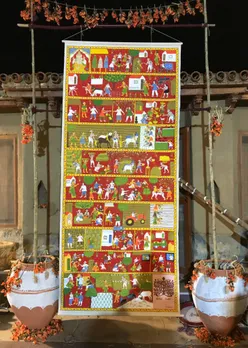 However, two changes have come about in Cheriyal paintings in the past 100 years.
"About 100 years back, Cheriyal masks were used by villagers of the region during festivals to honour the local Goddesses. Dancers wore these masks as a mark of respect for the deities. Gradually, they became popular and people started using them for home décor," says Vinay.
Also Read: Meet India's ancient board game hunters
How are Cheriyal masks made?
Cheriyal masks are made of sawdust and fine powder of tamarind seeds. Ganesh, another Cheriyal artist, says it takes six days to prepare these masks which travel hundreds of miles to beautify the corridors of huge mansions. His wife is also actively involved in the craft much like other women of the Nakashi community.
"I felt it was important to make Cheriyal appealing and affordable to the youth. So I use the same organic colors, tamarind, and wood to create spectacle holders, tissue boxes, key chains, pen stands, etc.," he says.
Also See: Visuals of paper maché: Kashmir's 700-year-old 'chewed paper' craft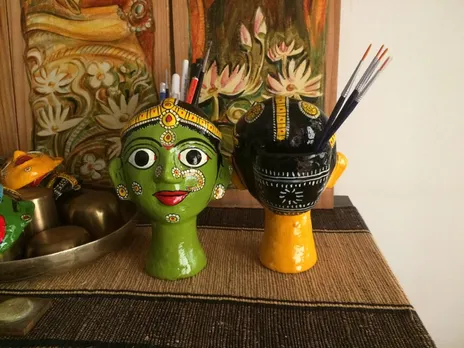 Creating these masks requires patience and attention to detail. Various clay or cement molds are prepared in advance to hasten the molding process.
This dough is then spread evenly onto the desired mold before other facial features are added to the light brown base structure. Sculpting the nose, eyes, and lips requires close attention.
The structure is dried until it becomes rock hard. Upon drying the base structure is smoothened using sandpaper and a thin cotton fabric is spread out on the entire surface of the mask.
Also Read: Maharashtra's Chitrakathi painting: keeping alive the legacy of Chhatrapati Shivaji's spies
A fine paste of rice starch, white clay, and tree lack is evenly applied over the cotton fabric. The paste leaves the surface bright white on drying thereby readying it for color application.
Bright colors like red, yellow, green, blue, white, are used for the base coat. Further detailing of eyes, lips, and ornaments are done using a brush made from squirrel hair. Lastly, varnish is applied to enhance durability.
The process is quicker during summers while it takes these longer to dry during winter and monsoons. If not dried properly fungus can surface due to the presence of tamarind paste.
"We have 20-25 different molds which are used to make faces of mythological characters like kings, queens, village women, Ardhnareshwara, Ganesha, Rama, Sita, Hanuman," says Ganesh.
Also Read: MP's Jhabua scripts a success story with its traditional tribal dolls
Among these, the masks for Rama, Sita, and Hanuman are high in demand and cost Rs500. The masks are about 3 inches to 12 inches long.
Ganesh and others have also collaborated with government training centers, imparting the knowledge of mask-making to the younger generation. He has been actively training young students for two years with the help of the state government in an attempt to promote this art form.
Also Read: LifeCraft: empowering Jharkhand's Kuiani women through fabric hand dyeing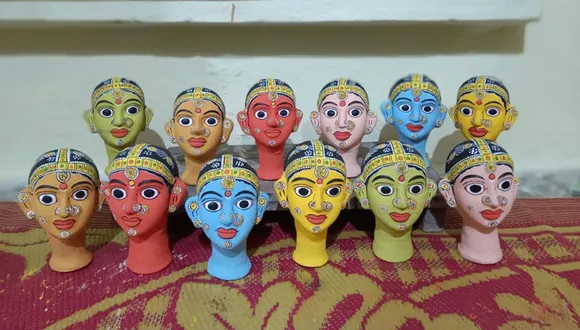 "Cheriyal masks have a national as well as an international appeal but there are only a handful of people who have mastered this art. It will empower women, and they can easily make around Rs20,000 by making the masks from the comfort of their homes," says Ganesh. He gives a daily wage of Rs300 to workers who work at his workshop.
Scroll paintings find new horizons
It is in the form of masks that scroll paintings are able to find a new market and audience.
They involve painting the railway stations, government offices, public walls, etc.
For Cheriyal paintings, the background colour is mostly red though green or white may be used some times. The colours are derived from natural sources like white from seashells and black from soot. The most used colours are golden yellow, brown, white, green, orange, black and blue.
Some Nakashi artisans have started relocating to Hyderabad in search of a better market. The demand is higher in bigger cities of Chennai, Bengaluru and Mumbai. The artisans also have tie-ups with e-tailers like Amazon besides local websites -- Craftiee, Tvami and Kala Chaupaal Trust, which directly purchase products from them.
The artists also participate in exhibitions and sell their products through various handicraft shops in government museums. "During the pandemic the handicraft stores were not functioning, we received most of our orders through social media. On an average, we got ten orders per month which generated around Rs8000," says Sai Kiran.
However, the contemporised form of this traditional handicraft is receiving a better response compared to the traditional masks. An art that continues to evolve continues to flourish. Cheriyal is doing just that.
(Rishika Agarwal is a Patna-based writer specialising in art, culture and human interest stories)
Also Read: Bengal's Natungram: Craft village where wooden dolls come alive