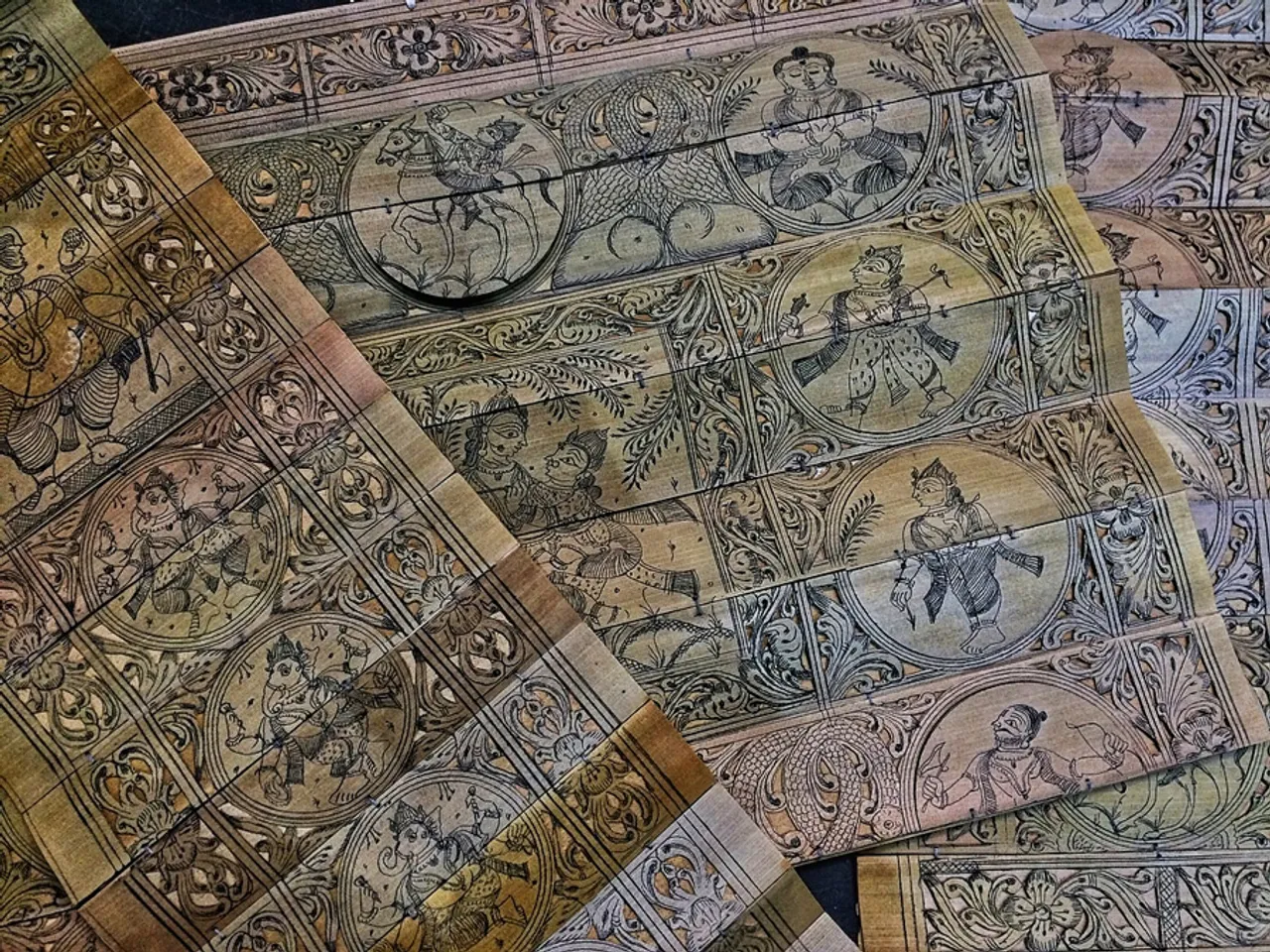 A group of students at the National Institute of Design (NID) in Ahmedabad attentively listen to a lecture on the history of Pothi Chitra or palm leaf engraving – a traditional art form of Odisha, believed to be as old as the Jagannath Temple (built in 1161).
Miles away in Andhia Sahi village of Nimapada block in Puri, 37-year-old Sarat Kumar Pradhan sits with a bunch of palm leaves, which he sourced from members of the Pothi community, classified as Scheduled Castes in Odisha and also referred to as Chamars locally.
Also Read: MP's Jhabua scripts a success story with its traditional tribal dolls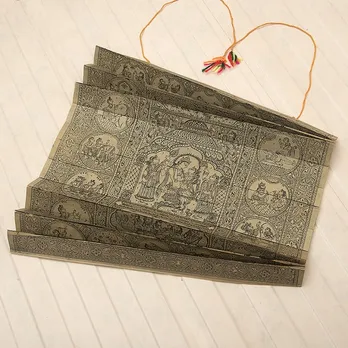 Pradhan, who belongs to the Chitrakar community, first draws the outline of his painting with a pencil and within a couple of minutes, his needle works its way through the fine lines, creating Lord Krishna. His consort Radha is soon next to him as Pradhan effortlessly moves his deft hands to make Pothi Chitra, a portmanteau of Pothi (pile of palm leaves) and Chitra (picture).
Modern interest in the historic art
"The art goes back to the time when there was no pen or paper and people recorded everything on these palm leaves. Epics Mahabharata, Ramayana besides other mythological tales like that of Lord Krishna, are registered in Odia script on palm leaves using Pothi Chitra," says Pradhan, winner of National as well as Odisha State award for handicraft.
Today, students from abroad and those from premier Indian institutions are learning to make Pothi Chitras, which were used to create written records till as late as the 19th century.
Also Read: Women artisans help resurrect Karnataka's Kinnal hand-painted woodcraft
A couple of years back, ten students from Germany came to stay with him for about a month to learn the craft.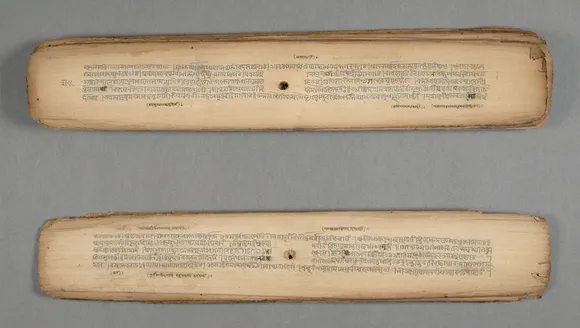 "I hold 10-day workshops in IITs and NID during which I complete both theory and practical. Many students have turned entrepreneurs, selling merchandise based on Pothi Chitra. Some of them have won awards as well," says Mahapatra, who also taught the art in Kendriya Vidyalayas in Rajasthan and West Bengal for 11 years.
Also Read: Village in Jharkhand's Maoist hub transforms into eco-tourism spot reviving lost arts
How Pothi Chitra moved from temples to villages
Odisha has rich historic records in this art form. British officer Colonel Colin Mackenzie, fourth Surveyor General of India, collected many of these manuscripts from Ganjam and Koraput districts and sent them to the Manuscripts Library in Madras (now Chennai).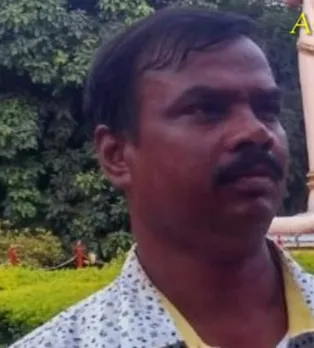 "Earlier, most of the artisans worked in temples, writing the Vedas and other scriptures on palm leaves. Many temples in Odisha continue the tradition of reading out stories from palm leaves even today," says Mahapatra.
With industrialisation and growth of the printing press, however, these artists began moving out of temples and settled down in villages -- Nayak Patna and Raghurajpur -- on the banks of Bhargavi River that flows across Odisha.
While Raghurajpur is now on the global map for its Pattachitra or scroll paintings on cotton, Nayak Patna is home to Pothi Chitra artisans who are still struggling to get the attention that the sister art from has received.
Also Read: 'We need a paying audience to make performing arts self-sustaining': Odissi dancer Prachi Hota
Today, text has made way for pictures and Pothi Chitra is more about the pictorial representation of these ancient stories, with text being limited to wedding cards and horoscopes etc.
The process of making Pothi Chitra
Pradhan says the artisans source palm leaves from members of the Pothi community, who climb the tall palm trees, cut the branches and dry the leaves for around a month.
The edges of dried leaves are cut to get a rectangular-shaped even surface, which closely resembles an off-white strip of paper. These rectangular leaves of similar size are sewn together to make a bundle or pothi, Pradhan points out.   
Also Read: Bhujodi: Gujarat village that turned a nomadic tribe's shawl into a global fashion statement
Pothi Chitra is a fine art, requiring precision. "That is why many government schools including Kendriya Vidyalayas are teaching it to students. It improves their fine motor skills as well as handwriting," Mahapatra says.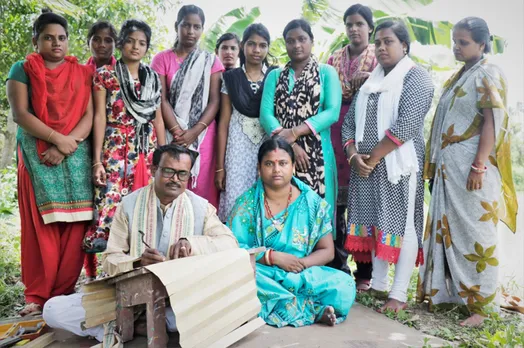 First, the artisans draw the outline using a pencil on the surface of the leaf. Then a sharp needle, locally called 'lekhani' or 'likhan' is used to etch the graphite linings. This arduous task requires attention to detail and an artist can take anywhere between 10 and 25 days to create one art piece.
"It took me a whole year to create the piece which won me the National Handicraft Award in 2016," recalls Pradhan.
Also Read: How Kalyan Joshi has made Rajasthan's 1,000-year-old Phad paintings trendy
The colour to fill the engraving is prepared using coconut shell or earthen diya, whichis burnt to obtain black dust. This is mixed with katha gum to make black organic paint. "The paint is applied evenly across the entire surface of the palm leaf, filling the minute needle engravings and tainting the usual dull surface," explains Mahapatra.
Of late, some artists have ditched the traditional organic color for those available in the market as they are bolder.
Lastly, the colored leaves are washed with soap or cleaned with a cotton cloth, which purges the extra color. Some artists also use a chisel to highlight certain areas of the painting or add borders.
"Pothi Chitra is highly sustainable and stays in its original form for many years. Paper can wear away, but these palm leaf engravings don't," says Pradhan confidently, adding that they can be easily cleaned with a cotton cloth.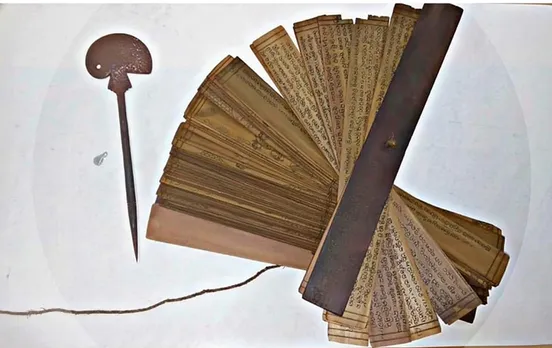 Other than sustainability, this art form has other attributes as well. It is considered sacred and is an integral part of auspicious events like marriages, and making horoscopes.
The price of these artworks mostly depends on the precision, size, and antiqueness. "A few artisans keep the completed art piece near the stove to make it look antique but laboratory tests are carried out to estimate the actual age of the artworks," says Mahapatra.
Also Read: Maharashtra's Chitrakathi painting: keeping alive the legacy of Chhatrapati Shivaji's spies
Pradhan says the younger generation in his village is not much interested in the art because of the limited commercial prospects. But Mahapatra, who trains students in the craft in India's top institutions, disagrees.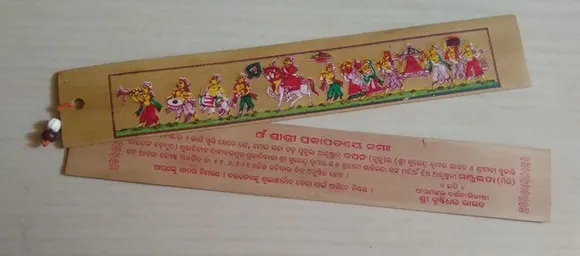 Within India, art dealers and aggregators from West Bengal source most of their works. Some of the oldest manuscripts are now displayed at museums in Delhi and Mumbai.
Though not as popular as other regional art forms like Pattachitra and stone carving, Pothi Chitra continues to be an essential part of marriage and birth celebrations and is considered holy.
Mahapatra's father also gave a lecture on Pothi Chitra at the Oxford University and he himself regularly travels overseas to promote the art. The interest in Pothi Chitra may be waning at its birthplace but the world is emerging as its new canvas.
(Lead Picture has been sourced from Wikimedia; clicked by Gayatree Tripathy)
(Rishika Agarwal is a Patna-based writer specialising in art, culture and human interest stories)
Also Read: Cheriyal: How Telangana's centuries-old scroll art continues to educate and entertain even today