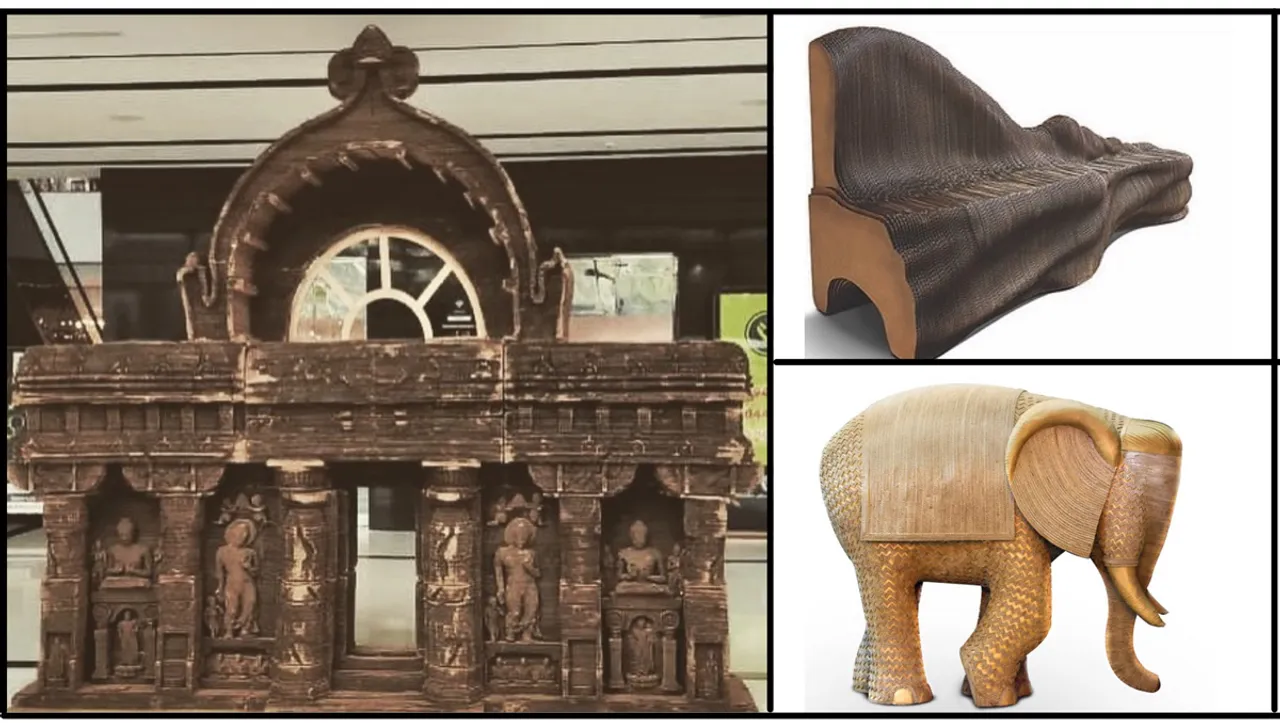 What can you do with corrugated cardboard sheets – the ones used for packaging by most e-commerce companies? You can re-use them to pack something for stashing away in the attic, use it for your child's school project or you can make a sofa for your drawing room out of it. Yes!
Her pieces adorn some of India's prominent public places, airports besides art galleries, offices and residences. "As a kid, I was fascinated by the intricacies behind pandals set up during Dussehra. I knew art was my calling and I was determined to follow it," says Jain, who has been working with the medium for the last seven years.
Also Read: Cheriyal: How Telangana's centuries-old scroll art continues to educate and entertain even today
Jain hails from Thakurganj in Bihar and is the first woman to move out of the small village to pursue her dream.
The love affair that began in college
Her artistic journey began at Sir JJ School of Art, Mumbai, where she discovered the unusual medium of corrugated cardboards. It was during her college years that she wanted to use it for one of her projects.
Also Read: Women artisans help resurrect Karnataka's Kinnal hand-painted woodcraft
After Jain bought a place in Mumbai, she got a chance to set up the house and work with her favourite cardboard. "I got several corrugated cardboard sheets and designed a sofa," she says.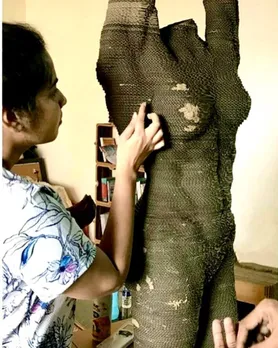 "I was amazed by the strength and uniqueness of the sofa set; they are water-resistant to an extent. We hosted several parties, jumped on this corrugated cardboard sofa but it withstood all tests," Jain says, adding that every visitor to her house was intrigued by the piece.
Also Read: 'We need a paying audience to make performing arts self-sustaining': Odissi dancer Prachi Hota
Having understood cardboards as a medium, Jain created some lamps and exhibited them before her friends and relatives. Her designs received accolades and the corrugated sheets sandwiched between two flat liners became an integral part of her art. And Jain, who had started as an accessory and furniture designer, evolved into a contemporary artist.
The unconventional cardboard art is intriguing and appealing to the onlookers. Cardboard has a universal appeal as both rich and poor deal with it in their daily lives. Hence, the art provides something very minimal and common, with aesthetic value.
Eco-friendly and sustainable art
"I practice sustainable living and make sure to minimize the carbon footprint. I contribute to the environment through my creations," says Jain, who uses her art as a medium to spread the message of sustainable living.
Also Read: GreenKraft: taking banana bark baskets made in Madurai to Sweden's IKEA & beyond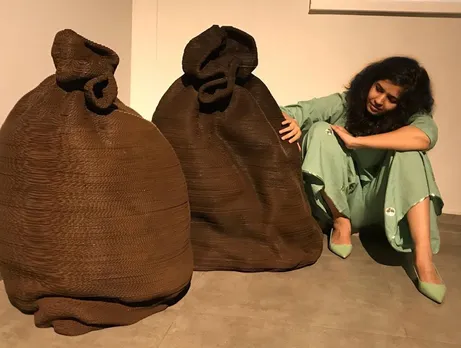 The eco-friendly artworks are created using the layering technique. Hundreds and thousands of corrugated sheets are and stuck together to create a piece of art.
They undergo a compression treatment that enhances their durability. But unlike a conventional sculptor, she first carves the sheets and then stacks them together.
She draws inspiration from the minimal things around her, be it her crumpled bed sheet, or needles and embroidery hoops.
Also Read: Nirvana through dance: Uma Dogra's journey through Kathak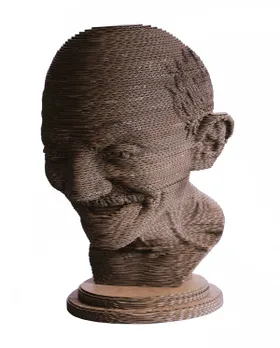 For instance, one might take the deceptive gunny bags for real ones! She enjoys toying with fabric folds; she conceptualised a table from her sari and has displayed several artworks which replicate the delicate folds in her art studio. She is known for her functional art, which she defines as a creation that can be used as a bench, swing, shelves, tables, etc.
Some of her famous cardboard artworks include perfectly imperfect, bust of a naked woman, elephant and Ajanta Caves. She bagged the WADe Asia award in 2018 for promoting sustainability through her artwork while her mural titled 'perfectly imperfect' was recognized by EDIDA.
Fusing various mediums with cardboards such as textiles like raw silk or brass, have been her niche. She now plans to experiment with newer mediums like metal, concrete, and wood with corrugated sheets being the soul of her designs. This unusual assemblage makes her art even more tactile and visually stimulating.
She believes in staying raw and considers her initial lack of exposure to be an asset for her. "Even now, I don't look much into other artist's work," Jain says. She has collaborated with several brands, corporates, and with the government in beautifying airports, offices, etc.  
Also Read: A quaint village in Hooghly becomes manufacturing hub for string instruments
Apart from promoting sustainability, Jain has been actively working to empower women by providing them employment. She also plans to go international with her art works later this year as she is keen to explore public and street art. "I want to break conventional patterns and provide global exposure to the corrugated sheets," she says.
(Rishika Agarwal is a Patna-based writer specialising in art, culture and human interest stories)
Also Read: Bengal's Natungram: Craft village where wooden dolls come alive