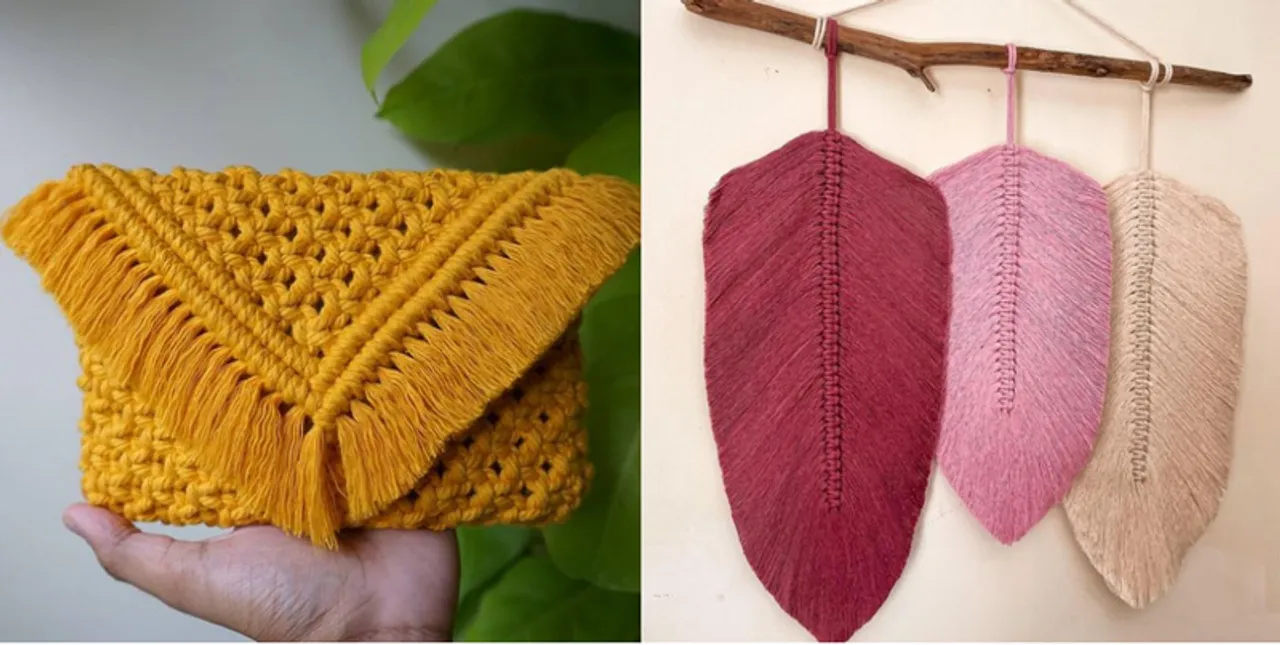 It was in January 2019 that 30-year-old Vidya Sam, a former IT professional, moved to her new home at ECR in Chennai. An avid nature lover and a plant mom, she looked up the internet to style over 15 varieties of ornamental plants on her balcony. That's when she stumbled upon a video on making plant hangers using the art of macramé. 
Fast forward to 2021, Vidya's successful home business 'The Vineyard Planter' is catering to customers worldwide including the US, UK, Australia and Singapore.
Macramé, a craft that uses various types of knotting styles to create decorative items, has been around for thousands of years.
Also Read: Kashmir's Sabira Mattoo: Pickling her way to success through home business
While the technique was used to make rugs, towels, shawls and veils back then, it gained prominence in the 20th and 21st centuries, transforming from utility items to decorative pieces.
Inception and growth
Talking about how it all started, Vidya says, "I used to post pictures of my work on Instagram which led to people enquiring me about where I bought them from. At that time, not many macramé plant hangers were available online. It was not a ready-to-buy product."
Also Read: Gujarat's Pabiben Rabari: from a daily wager to a millionaire entrepreneur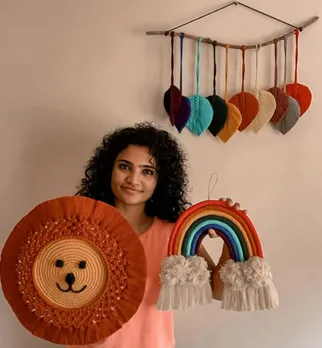 What started with plant styling, led Vidya to delve deep into the rabbit hole, learning different kinds of knots, techniques to create unique designs for her house and then for her customers. "I have wall hangings, plant hangers and bed runners in my house. It took me almost a year to gain confidence in the craft," she says.
Also Read: Triguni Eze Eats: How 79-year-old Radha Daga's ready-to-eat meals travelled the world with Indigo airline
Today, along with plant hangers, she makes earrings, key chains, wall hangings, coasters, table mats, rainbows and many other products according to the requirements of her customers. She takes customised orders depending on the size and colours they prefer. 
Vidya has already catered to more than 400 customers so far. The response has been overwhelming for her original work and she receives more than 15 orders per month. The price of her products starts at Rs 400. She prices them based on the intricacies of the designs and the time taken to complete them. Her biggest project to date, an 88-inch-long bed runner, was priced at Rs 30,000. 
Love for the craft
Vidya sources macramé threads from suppliers who export these materials. "It was challenging to source the right raw materials. I then found exporters selling threads overseas and started sourcing from them," she says and adds that the quality differs greatly from the ones bought from e-commerce platforms. 
Also Read: How a hobby made Patels the last custodians of Ahmedabad's Ashavali sarees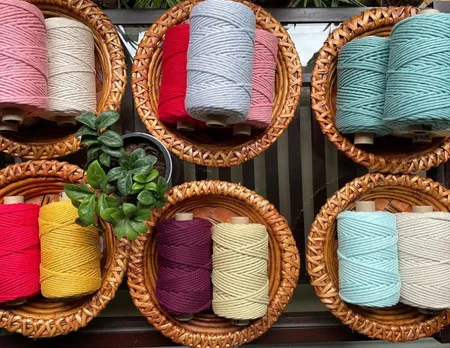 She uses pure cotton threads of different sizes and colours. Putting quality first, she did not sell her products until she found the right supplier.
"While starting out, I bought jute threads which were available in local stores," she says, stressing that she wants her work to stand out among other artists.
Vidya also has a huge collection of original driftwoods – remains of trees that have been washed onto the shore or beach.
Also Read: Toda embroidery: Preserving tribal craft from the Nilgiris stitch by stitch
For certain projects, she also uses drifted bamboo wood, pinewood dowels and teak wood.
Although it may be simple to watch, Vidya admits that it is not as easy as it looks. "In the initial days, I wasn't able to sleep throughout the night because I was passionate about this art and wanted to learn more. I used to invest around eight hours per day for one product," she says. 
"While a pair of earrings can take around 30 minutes, keychain can take an hour and the wall hangings take about a week. The bed runner, which I made recently, was ready in about a month. Making intricate knots and designs is a time-consuming process." 
Vidya, who considers herself as a free-hand artist, says she removes the knots and starts all over again if the outcome doesn't meet the "picture inside her head".
Also Read: How Nomadic Woollen Mills is taking 'Made in Ladakh' Pashmina to the world
Currently, she sells her products through her Instagram DMs (direct messages), her website The Vineyard Planter which went live last year, and through e-commerce firm Etsy. Her products have travelled across the country as well as internationally. With many wanting to learn the art, Vidya has made available the macramé cords of different colours on her website for people to source them easily. 
Tackling challenges
Although she had a headstart with macramé in 2019, many people began to make commercial use of the art when the COVID-19 pandemic hit in 2020. "When a lot of people started doing macramé, people started comparing my prices to others' artworks. I use quality raw materials, so my prices are higher than others," she says.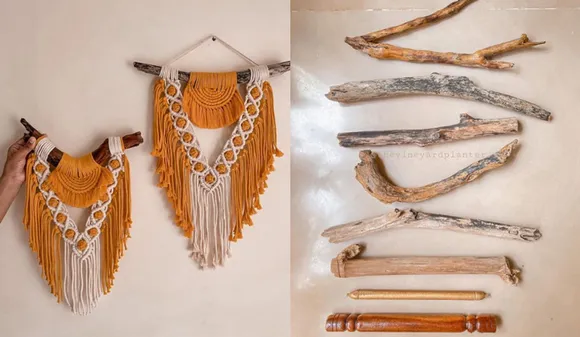 When people price macramé products which sell for Rs 1000-1500 in other countries at just at Rs 350-400 here, it is sad because they're not valuing their hand made work," she says. Yet, the pandemic benefitted her business in other ways. 
Also Read: Bhujodi: Gujarat village that turned a nomadic tribe's shawl into a global fashion statement
Although she makes a variety of products, her most-selling product is the plant hangers.
"Sometimes people show me a picture or a special quote and ask me if I can weave it in the work. I am not a painter, so it is very difficult for me to weave with threads and make it into the picture," she says.  
"I enjoy the most when people find my original designs and don't ask me to create art out of what they saw on the internet. I like it when they give me the freedom to explore my creativity and choose products that I like the most."
The road ahead for Vidya Sam lies in transforming The Vineyard Planter into a 100 percent eco-friendly and sustainable business. Although she uses threads that are washable and non-toxic and ships her products with paper-based packaging, she aims to stop using coloured cords. 
"I am doing research to move to completely non-chemical versions threads," she says and also looks forward to teaching the art by conducting workshops for those interested in learning the craft.
(Narayani M is a Chennai-based writer specialising in longform writing and human interest stories.)
Also Read: Tamil Nadu: How Deepika Velmurugan set up a successful home business by taking Kolam from doorstep to drawing room