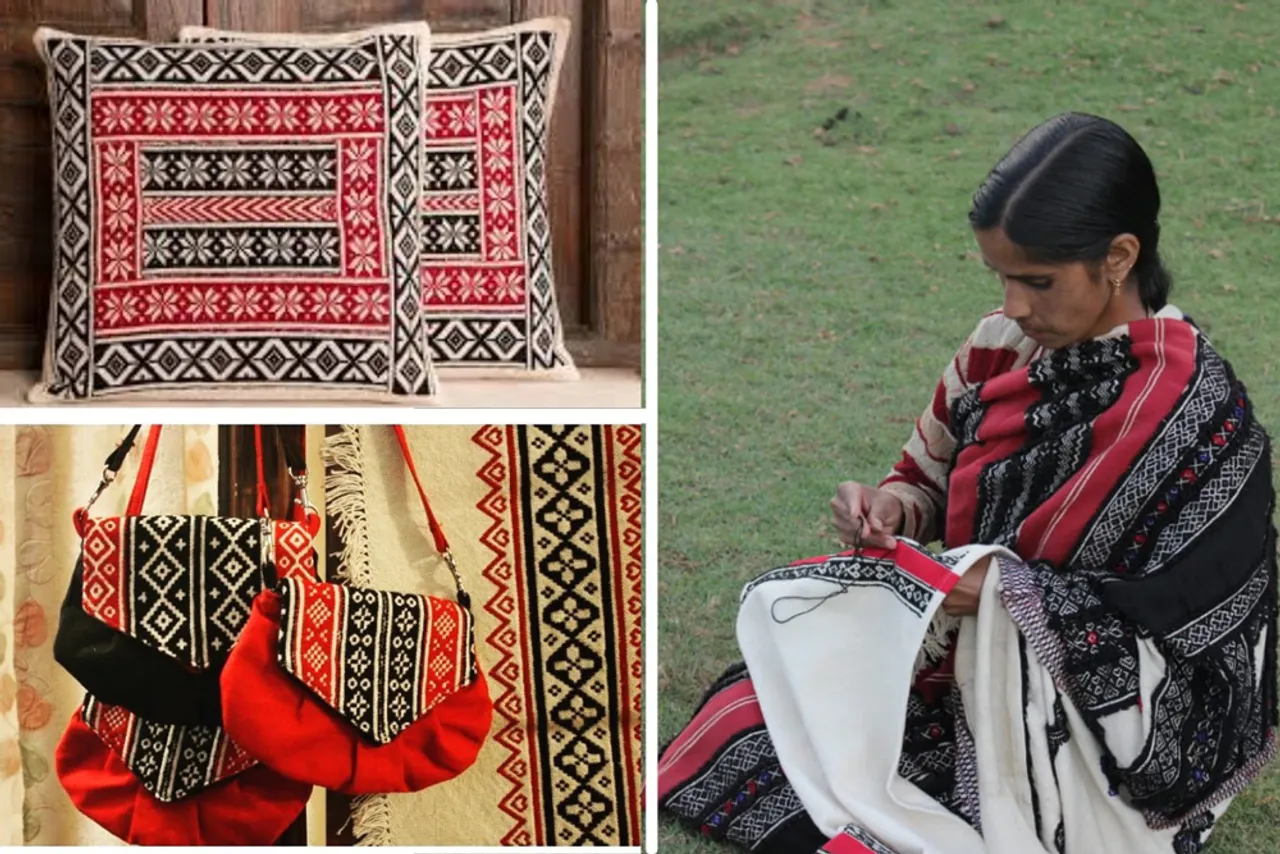 wp:html /
Every fortnight, 90-year-old Pongeri pattima comes down from her village in the Nilgiri hills to the Upper Bazaar in Ooty (Udhagamandalam), Tamil Nadu, with a bag of embroidered fabric strips. She goes to the Shalom Ooty outlet on the Claremont Club Road and gives her pieces to Sheela Powell, who pays the nonagenarian for her handcrafted work. 
For the last seven years, pattima (meaning grandmother in Tamil) has been selling to Shalom her fabrics with the traditional Toda embroidery, which stands out for the use of red and black woollen threads on a white or off-white cotton base. She can count currency only in the denomination of Rs100. And so, before her visit, Sheela keeps the hundreds ready for pattima, who buys her own medicines and gifts for grandchildren with her earning of about Rs 6,000 a month.
Pattima is a treasure trove of traditional Toda embroidery motifs based on nature like animals, insects, birds, flowers, and even architectural designs. She learnt the craft at a young age from her mother, like most Toda girls do. But it is Shalom that has provided pattima a platform to document the tribal embroidery art for eternity.
Also See: Watch: Spinning, dyeing, weaving…the making of dhabla shawl in Gujarat's Bhujodi village
"Pattima's designs are unique and she doesn't repeat them. She knows all the basic details of the craft unlike many young Toda girls today. Due to her age, she embroiders only strips of fabric, which we use to make clutches, purses, and other items," says Sheela, who set up her store in 1992 as a point of sale for household items handmade by local women in Ooty.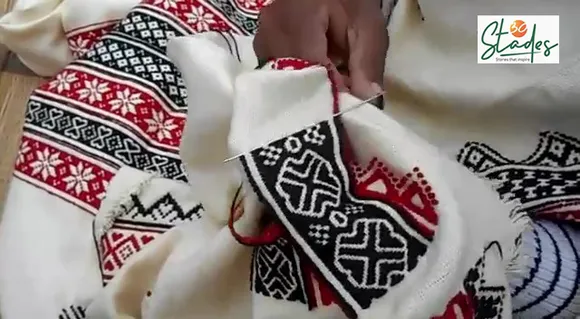 However, women from the Toda Village also began approaching her to sell their hand-embroidered shawls (called pootkhullzhy).
Shalom – peace (and empowerment) for Toda women
The pastoral tribal community of Todas is believed to have inhabited the upper plateaus of Nilgiris since the 11th century, possibly after migrating from the Malabar Coast.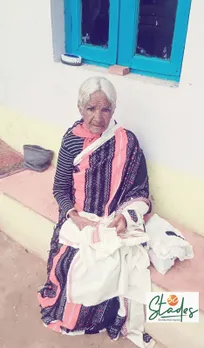 Also known as Tudas or Tudavans, Todas are among the six primitive tribal groups of the Nilgiris which also include Kotas, Kurumbas, Irulas, Paniyans and Kattunayakans.
"Toda women are an oppressed lot. Shalom stands for 'peace' in Jewish and I chose this name as I wanted to provide these women peace through economic independence," says Sheela, who studied at the Gell Memorial Girls Higher Secondary School, Ooty, set up by the British in the early 1900s for the education of Toda girls. 
Also Read: Thousands of Rajasthan's rural women empowered through up-skilling in embroidery
Later, girls from other communities were also allowed admission. Sheela's school education alongside Toda children gave her a good understanding of their culture and heritage.
Those became an instant hit and these women started earning money that could be used to fund children's education or buying gifts for them.
Also Read: Aquatic weed water hyacinth gives rise to ecofriendly handicrafts industry in the North-East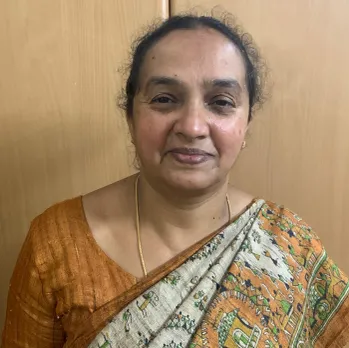 Shalom works with about 250 Toda women, who cannot independently sell their products due to the language barrier and lack of awareness about market demands. "We buy the cotton fabric and cut it into pieces for making shawls, cushions, bedcovers etc. We give them the layout of design but don't interfere with the patterns," she says.
The artisans can bring the ready products on any Tuesday or Saturday and are paid immediately. About 50 to 60 percent of the product cost is the labour. "I pay them instantly-- whether I sell the stock or hold it is my problem. I also reimburse their bus fare and cost of thread (a skein of wool costs Rs 30)," Sheela says.
How is Toda embroidery done
The fabric is pure woven cotton sourced from Erode, Karur etc. Toda is counted thread embroidery and women work with red and black threads on only white or off-white fabric as it is clearly visible on them.
The woollen thread is looped on the rough or front side while the reverse appears far neater. But the rough side is the display side for Todas, making shawls and stoles usable from both sides. "The designs or patterns are not traced and motifs are embroidered by counting the warp and weft threads of the cotton fabric," Sheela explains.
Also Read: Gujarat's Pabiben Rabari: from a daily wager to a millionaire entrepreneur
There are over 15 traditional motifs in Toda embroidery and new ones are also being added to the repertoire. One of the oldest patterns is twehhdr pukhoor (meaning 'pattern in pairs') while others include Meettoofykonn pukhoor (peacock pattern), pat pukhoor or vulture pattern, kopaan (butterfly) pukhoor, kadg pukhoor inspired by the Nilgiri wild rose and pob pukhoor or snake pattern.
The artisans decide the price themselves and often bargain for rates. On average, they make about Rs 100 per day as embroidery is a leisure activity done for just two or three hours a day. "They may take a month to make one product, in which case they get Rs 3000. But the rates are different for saree artisans as working on a large piece is cumbersome. So we judge the marketability and then pay," she says.
Also Read: Karnataka's Hosa Belaku gives financial stability & dignity to artisans with disabilities
"We are now moving to newer products like skirts," says Sheela. Shalom's biggest buyers are TRIFED (Tribal Co-operative Marketing Federation of India) and Crafts India. About 10 percent of the products are bought by tourists while the rest are sold through exhibitions and fairs organised by the Crafts Council of India and other organisations.
Also Read: GreenKraft: taking banana bark baskets made in Madurai to Sweden's IKEA & beyond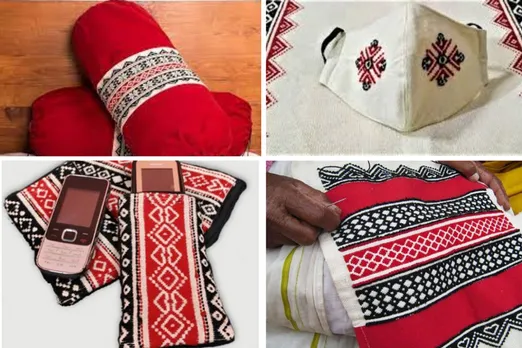 "We recently started online sales and they are picking up slowly," she says.
Sheela, however, remains worried about the future of the craft. Most young girls learn embroidery from their mothers. But they are married by the time they are 13 or 14 and are mostly grandmothers by the time they are 35.
"It's a small community with just 2,000 people. And Toda Christians (about 800) don't practice this embroidery. After excluding men and children, only about 250 to 300 women are left who can embroider," she says. 
And young girls often experiment with heart shapes and other new-age patterns, which may find a market but are a deviation from the traditional craft. Shalom is, however, trying its best to keep alive Toda embroidery in its original form, stitch by stitch. Alongside, it is empowering Toda women by giving them financial freedom. 
(Rashmi Pratap is a Mumbai-based journalist specialising in financial, business and socio-economic reporting)
Also Read: Lambani: How bold Banjara embroidery with cowrie & coins travelled from Bellary to the world