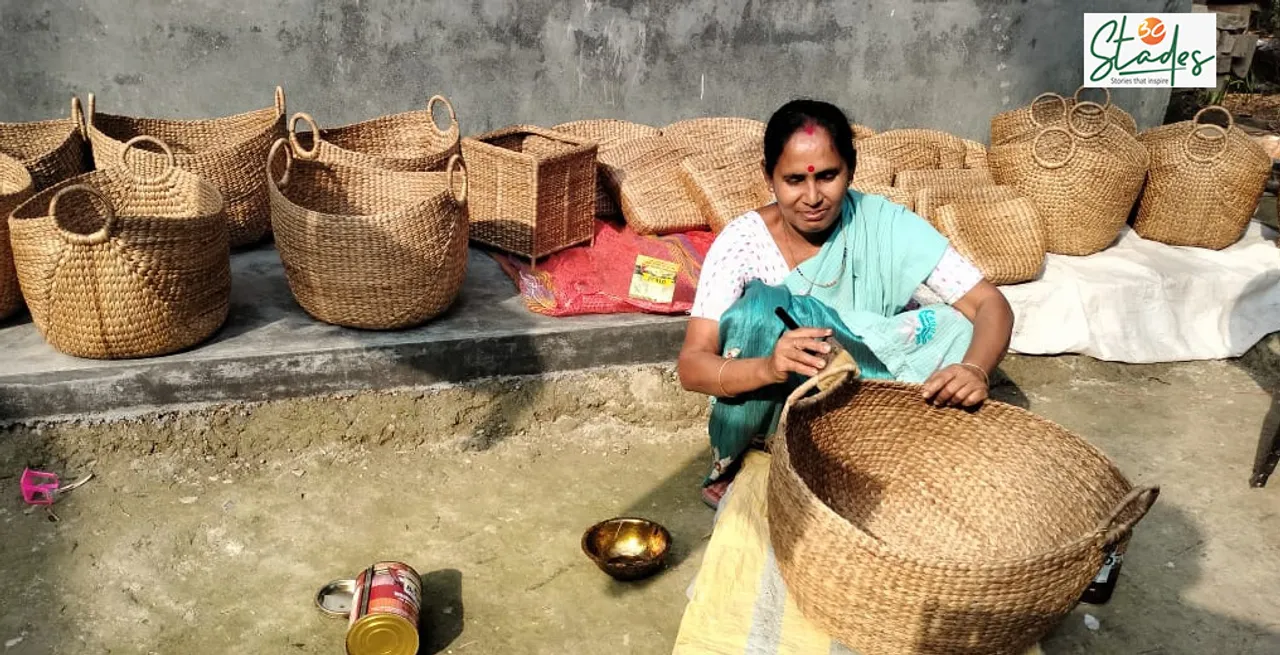 wp:html /
At Bozaltoli village in Assam's Tinsukia district, Smriti Rekha Chetia and her husband remove water hyacinth, the weed which chokes aquatic bodies, from a nearby pond between October and December every year. The de-weeding not only helps keep the pond alive with fishes but also generates income for Smriti. She dries hyacinth stems, flattens the fibre with a machine and uses it to weave ecofriendly baskets, containers, vases, dining mats, coasters, bags and other products, which have found a global market.
Smriti is among over 5,000 craftspeople in the Brahmaputra valley of Assam, creating handicrafts from water hyacinth, which is an environmental menace as it restricts sunlight from reaching the underwater vegetation and aquatic animals, disrupting the ecosystem.
Also Read: Tamul's areca nut leaf plates travel from Assam to the world as plastic ban gets stronger
The craft is also practised in Arunachal Pradesh, Manipur, Meghalaya and Tripura though on a smaller scale.
How hyacinth weaving took roots
While hand-woven bamboo and cane handicrafts have been synonymous with the Northeastern region for centuries, the use of water hyacinth is recent. It was in 2008-09 that the North Eastern Development Finance Corporation (NEDFi) conducted a pilot with water hyacinth as a craft to promote sustainable livelihood in the region.
Also Read: Tage Rita: Arunachal woman entrepreneur making India's first organic kiwi wine Naara Aaba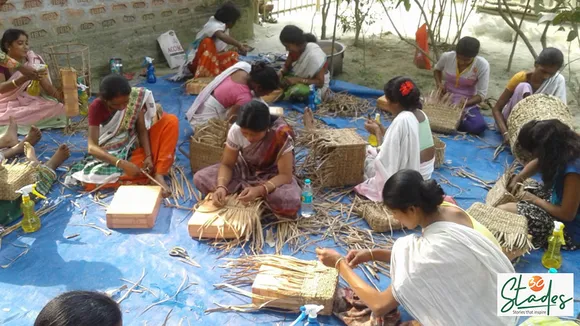 In 2012, training by members of UNIDO (United Nations Industrial Development Organization), Thailand, led to the standardization of the production techniques, designs and products.
"These trainers from Thailand were very senior people and their training helped us prepare master trainers who, in turn, have been helping others in hyacinth fibre products," says Ashim Kumar Das, DGM at NEDFi Haat, a NEDFi initiative for providing market linkages to products from the eight Northeastern states.
Also Read: How Nomadic Woollen Mills is taking 'Made in Ladakh' Pashmina to the world
NEDFi sells its water hyacinth products under the Aqua Weaves trademark.
Many retailers like iTokri and Amazon source handicrafts from Assam's artisans and sell under their own brand name.
Smriti says since most women work from home and it provides them with an additional income. She earns between Rs8,000 and Rs10,000 per month by selling products to wholesalers and NEDFi. "This is a big amount in rural areas and has made us financially independent. Each artisan's earning depends on the hours she spends on the craft," says 40-year-old Smriti, who received training from NEDFi in 2018 and subsequently attended an advanced course as well.
Also Read: Biren Basak: The boy from East Pakistan who became India's handcrafted saree tycoon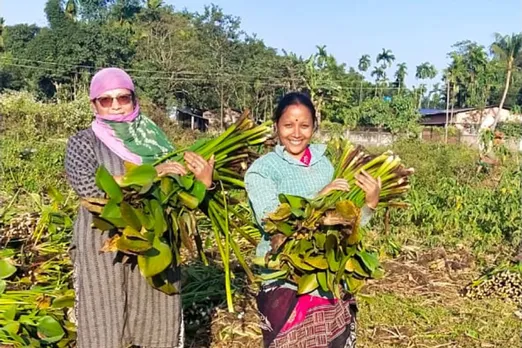 While she can procure hyacinth during October-December directly from ponds, the fibre is bought at Rs80 to Rs90 per kg from Guwahati, Kokrajhar and other areas rest of the year because drying the stem is difficult during other seasons.
The fibre can be woven by hand as well as on the looms, where products like yoga mats are made.
Also Read: Once a vegetable vendor, how this Manipur woman turned entrepreneur by making silk cocoon ornaments
The process of water hyacinth weaving
North East India is home to three Ramsar wetland sites – Deepbore Beel in Assam, Loktak Lake in Manipur and Rudrasagar Lake in Tripura. All three of them are battling with heavy growth of the invasive water hyacinth. The weaving craft is expected to get more and more people interested in de-weeding to provide raw materials for the craft.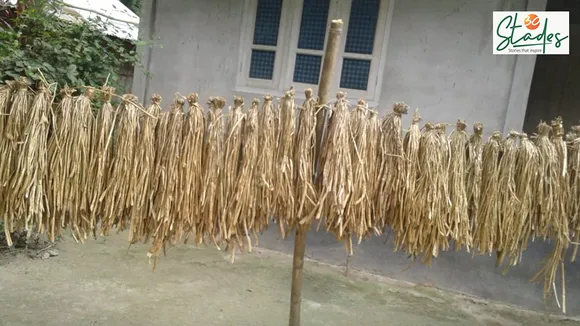 To begin with, hyacinth is harvested from water bodies which are abundant in the North East.
Also Read: Bengaluru's Kottanz contemporizes traditional gifting with eco-luxury products handcrafted by rural women
They are cleaned and the roots and leaves are removed. The stems are kept under sunlight for drying, which takes five to seven days. The dried stems are stored in plastic bags to keep them safe from moisture. If well packed, they remain usable for years.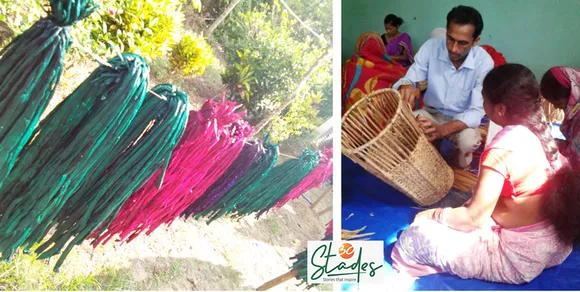 For incorporating colours, the fibres are boiled with pigments and then dried. While the majority of the products are made with natural golden fibre, green, magenta and red colours are also used in handicrafts.
The craft requires moulds (around which baskets and containers are woven), machines to flatten the fibre, looms, stitching machines and electric hand tools for cutting, finishing etc.
Also Read: Thousands of Rajasthan's rural women empowered through up-skilling in embroidery
Smriti says it takes 4.5 hours to make a 15-inch dining mat, including the time take to clean the dried hyacinth stem, flatten it and cut the fibre into finer pieces for weaving.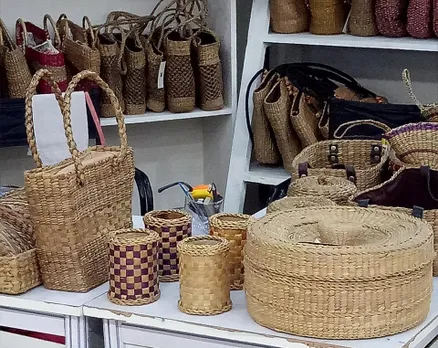 "Two yoga mats can be woven simultaneously on one loom. It takes three days to ready one such set," she adds. 
Generating livelihood
Bipul Kalita, who was among the earliest craftsmen to learn hyacinth weaving, began this work in 2009. Today, he earns Rs 50,000 a month through the craft.
Also Read: How a Manipur mother's hand-knitted shoes found global market
He worked as a helper in a hotel for many years before taking up weaving. "From class 5 till I enrolled for graduation, I would work twice a week in a nearby hotel to earn a living. Today, I am in a comfortable space," he says. Kalita also sells his products to NEDFi and other wholesalers.
The artisans are not selling directly to any online retailers because of the ease involved in working with NEDFi, which has promoted NE-SHILP - a society for marketing the products. It manages the website nedfihaat.com.
Also Read: Vistaraku: How Telangana's start-up is taking traditional Indian leaf plates to the world
NEDFi has also set up four common facility centres in Assam at Khetri in Kamrup district, Dimow in Nagaon district, Duni in Darrang district and Dhubri. The centres have raw material banks and production facilities that help in product aggregation as well as in marketing.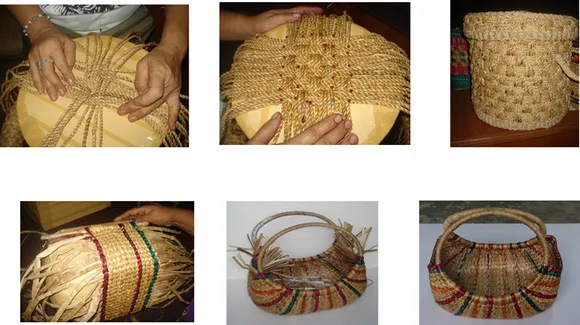 "We showcase our products at various exhibitions and crafts centres in the North East and other states as well," Smriti says.
Assam Rural Livelihood Mission also entrusted six clusters where NEDFi provided support through training to 100 people in each cluster.
"We have people coming from Uttar Pradesh, Tamil Nadu, Andhra Pradesh, Haryana and even Bangladesh, Nigeria and Sudan among other countries for training. Our products are at par with the best globally," Das says.
And it is showing clearly in the rising number of people opting for the craft as well as the increase in incomes.
(Rashmi Pratap is a Mumbai-based journalist specialising in financial, business and socio-economic reporting)
Also Read: GreenKraft: taking banana bark baskets made in Madurai to Sweden's IKEA & beyond