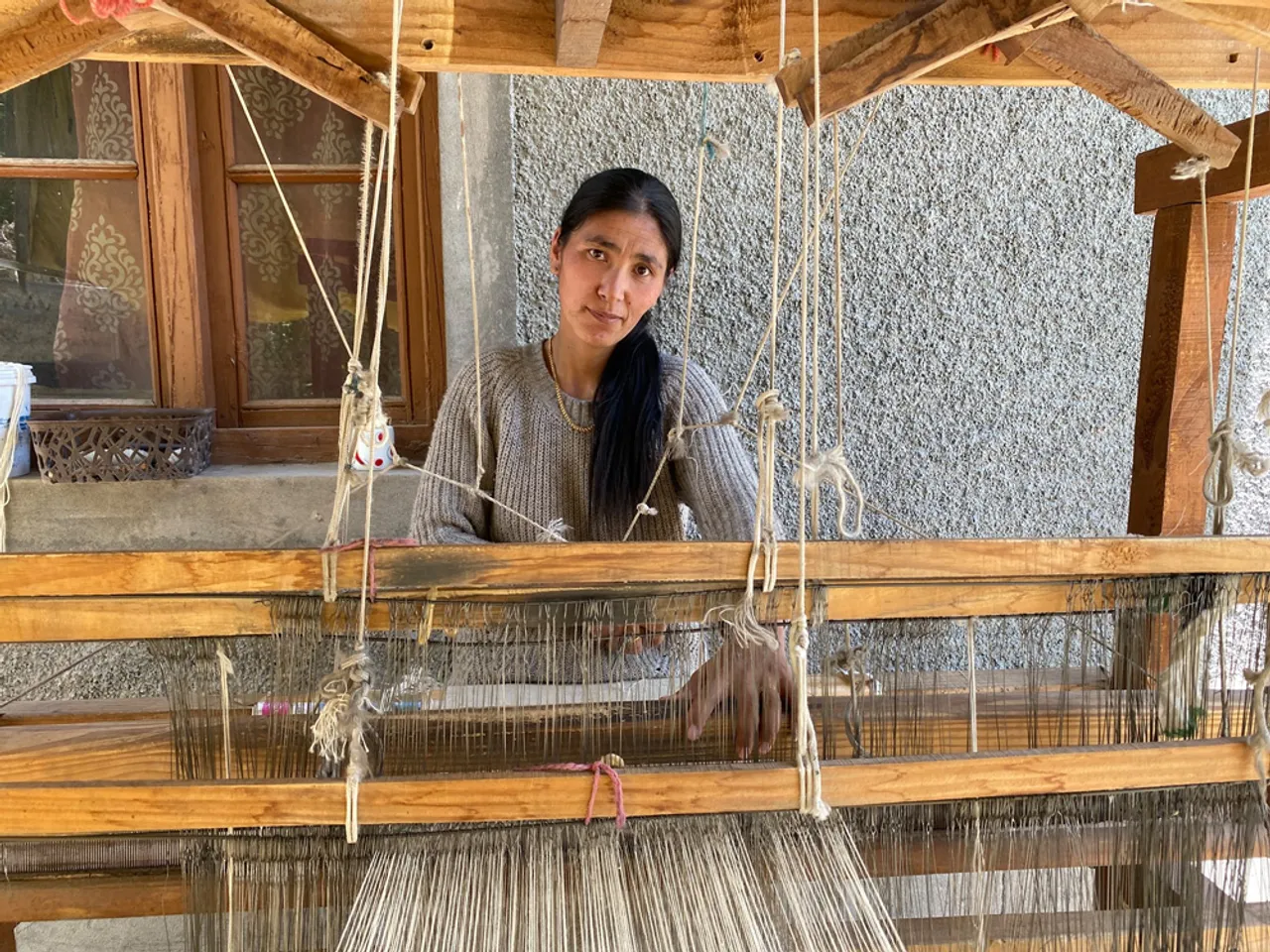 About 30 years back, a young boy in Teri village of the Changthang region in Leh would accompany his brothers to graze their sheep and goats in winters. He grew up seeing everyone multitasking in the Himalayas due to limited resources and harsh climate. People would work in the fields, look after livestock and would also spin and weave wool.
But after he went to Nyoma, about 90km from his village, for High School studies, he realised that Changthang, near the India-China border, is also home to the Changpas -- a nomadic tribe who rear yaks, sheep and Pashmina (Changthangi) goats. The raw Pashmina was, however, sold to traders for weaving in Kashmir since Leh's villages did not have any unit to process the raw wool.
Also Read: Kullu shawls, once patronised by Devika Rani, losing out to Ludhiana's factory fakes
From rearing animals to Pashmina processing
He decided to use the wool locally for the economic upliftment of the locals.
Apart from his own outlet in the Main Bazar of Leh, Nawang has partnered with German entrepreneur Nana Ziesche to set up Yangla Shop for selling Pashmina products across the world.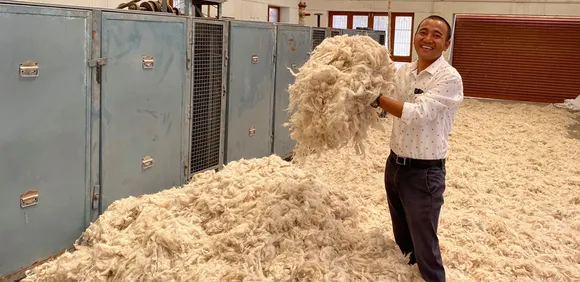 "Traditionally, raw Pashmina from Changthangi goats was only a means to generate cash income for the locals. For centuries, it has been sold through middlemen to weavers in Kashmir who are skilled in Pashmina weaving. There were no processing units here," says Nawang, who is now creating a Pashmina weaving ecosystem in Ladakh by training the locals and marketing the products through Nomadic Woollen Mills.
Also Read: How COVID-19 and India-China tensions have changed India's 900-year-old Patan Patola weaving
He is the third among seven siblings in a semi-nomadic family involved in livestock rearing as well as agriculture. It was sheer luck, combined with hard work, which led him to learn all about Pashmina wool processing and weaving.
In 2002, when he was in class 12, the Ministry of Textile announced a Pashmina Dehairing Project in Leh in tie-up with the Ladakh Autonomous Hill Development Council. This project was to be implemented by the All Changthang Pashmina Growers Marketing Society – a cooperative. "I was selected for the 15-day course on Pashmina processing. After completing my class 12, I wanted to go to Jammu for studies but by then the machinery for Pashmina processing began arriving in Leh and I decided to stay back to work on the project," he says.
Also Read: Biren Basak: The boy from East Pakistan who became India's handcrafted saree tycoon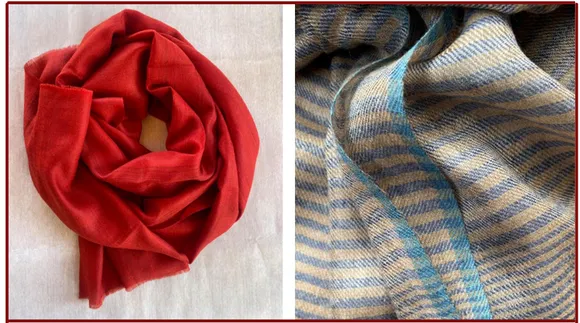 In 2003-04, Nawang travelled to textile clusters in Rajasthan and Punjab (Ludhiana and Gurdaspur) and learned about various crafts. "We assembled the imported machinery from scratch and in 2005, we went to China for further training," he recollects.
The making of Pashmina products
He worked with the cooperative till 2009. "In 2010, I started realising that the local tribes were anyways spinning and weaving sheep wool and yak wool. I thought we could do the same with Pashmina," he says.
Pashmina differs from other wool varieties.
It is the climatic conditions of the Himalayas that enhance the wool quality. This is because Changthangi goats are found at least 4500 m above sea level where winter temperature goes down to minus 40 degrees Celsius.
Since these goats have very little fat for protection against the cold, they develop soft fibres on the underbelly and neck. With the change in seasons, as it gets warmer, goats naturally shed their coat.
Also Read: Born through an inter-caste marriage 700 years back, how Gujarat's Tangaliya weaving turned trendy
This is followed by dusting where external particles are separated from raw wool. De-hairing is then done to separate the fine wool from the outer fur called the guard hair.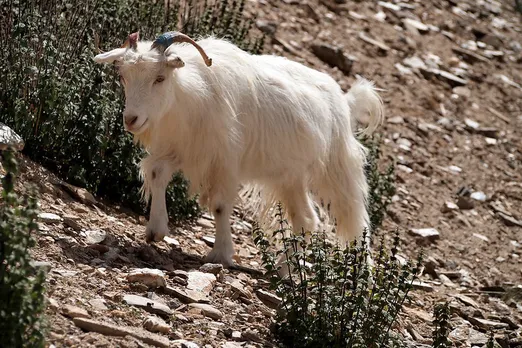 "We started by processing Pashmina procured from the Changthang Pashmina Grower Cooperative Society," Nawang says. The cooperative purchases raw Pashmina from Changpas at a fixed rate. It is then brought to the plant at Leh where the coarse fibres are processed into fine raw Pashmina.
Also See: In pictures: Lesser-known UNESCO World Heritage sites in India
Pashmina – synonymous with Kashmir
Kashmir has been the hub of Pashima weaving for centuries, with its hand-woven shawls being very popular in Europe and other countries. Mughal emperor Akbar was among the many connoisseurs of the fine wool's products.
Traditionally, it was Kashmiri women who would spin the raw Pashmina, sourced from Ladakh, into a fine count wool yarn. Weaving on the loom was done by Kashmiri men, who turned the yarn into biscuit-coloured Pashmina shawls renowned for lightness and warmth.
Also Read: Political uncertainty in Kashmir brings pashmina weavers' looms to a grinding halt
The price of a Kashmiri handmade Pashmina shawl starts from Rs 12,000 and can go up to a few lakhs of rupees depending on the embroidery, colour and the geography where it is being sold.
Nawang trained local women in Pashmina spinning, knitting and weaving. He also organised designing and sizing training classes as commercial products require standardization. He even brought in Kashmiri weavers to train the locals on the finer aspects of weaving.
Pashmina weaving in Ladakh
Now, Nawang now works with three self-help groups (SHGs), creating employment in the region where seasonal farming and livestock rearing are the only other occupations. "Members of these SHGs are involved in weaving, spinning and knitting to make shawls, stoles, caps, socks, pullovers and mittens etc."
He gives them weighed raw material and the design and they give him the finished product. The price of a muffler starts from Rs2500 and increases depending on the quality, size and design.
Also Read: How a Manipur mother's hand-knitted shoes found global market
"The only challenge is that it is difficult to find spinners in summer in Leh because that is the time when women work in the fields. So we do most of our work during winters," he says.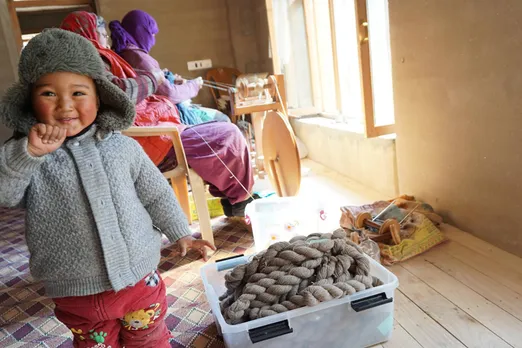 "I sell to retailers in limited quantities. There is regular demand from boutiques in Japan and Thailand as well," he says. Nawang's aim is to increase Pashmina weaving within Ladakh to create more employment opportunities for local artisans because they already have access to raw materials. All they need now is a little handholding in weaving Pashmina products.
(Rashmi Pratap is a Mumbai-based journalist specialising in financial, business and socio-economic reporting)
Also Read: Himalayan Weavers: Hand-woven woollens by tribes in the Himalayas find a global market