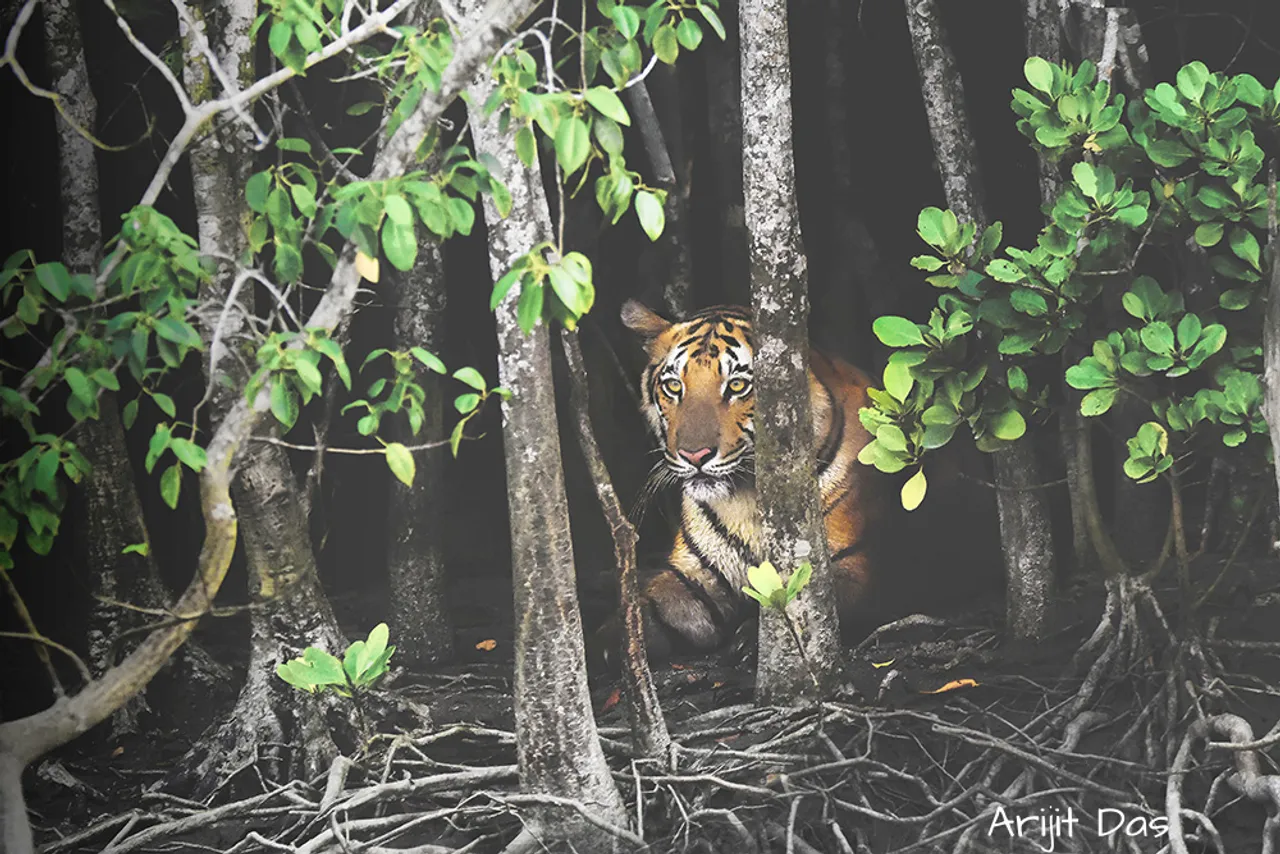 It was six in the morning when Tarak Mistri debarked from his anchored dinghy into the low-ebbed stream to unfurl a fishing net loaded with fish at Chamta No.9 situated between the deep forests of Sundarbans in West Bengal. Before he could reach the net, a royal Bengal tiger pounced on him at lightning speed and dragged him away from the dinghy.
"Tiger!" was the only scream heard by the fisher folks, who accompanied him.
Mistri struggled defenselessly for nearly 10 minutes. "It all happened in a flash. There was hardly any time for reaction. I owe my second life to Ramen, who rescued me from death," remembers 60-year-old Mistri, a fisherman from Jharkhali in Sundarbans. The incident took place about 12 years ago when he along with three others had gone fishing at Chamta No-9.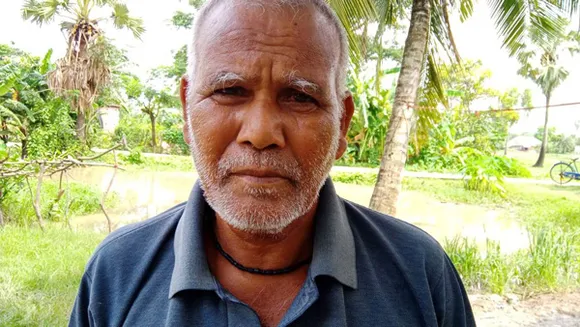 "Ramen, a fellow member, heard me groaning as I was struggling for life. He sprinted towards us with a baton and began smacking the beast. The tiger refused to let me free from his jaws even after the blows.
Also Read: Sundarbans residents turn homes into homestays as tourists look for authentic Bengal experience
Immediately, he raced back to the boat. "I was bleeding profusely. The head wound was tied with a gamcha (towel). We sailed back to the village ghat (jetty) and I was then rushed to the hospital, where I underwent a month-long treatment," shares Mistri who partially lost his sight and hearing ability after the tiger attack.    
Treasure trove Sunderbans & man-animal conflict
Sundarbans or Sunderbans, is the largest delta in the world spread over India and Bangladesh. The Indian Sundarbans region is 9,600 square kilometres. Out of this, 4,200 sq km area is reserved forests while 5,400 sq km is non-forest area. The Sundarban Tiger Reserve is spread over 2,585 sq km.
Covered with mangroves, it is also a treasure trove for the locals, who have just a handful of livelihood options amid the dense Sundari trees and frequent floods and cyclones.
Not surprisingly, some unfortunate individuals fall prey to tiger's attacks while some manage to cheat the fatal disaster.
"The Sundarban mangrove is home to 96 tigers. If one enters the land of the tigers then a conflict is certain. People aren't supposed to barge into the forest," Chief Conservator of Forest & Field Director Sundarban Tiger Reserve, Tapas Das says.
Also Read: From hunters to forest guides, how tourism & education are transforming the semi-nomadic Pardhis of Panna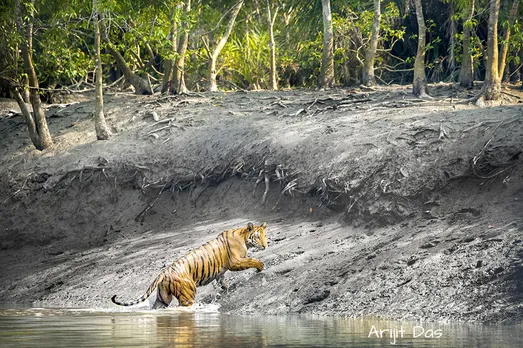 "Fishermen are permitted to go in with a specific boat license, which we issue. They are allowed to fish in the buffer area of Sundarban Tiger Reserve," he points out.
Accidents happen because of greediness.  
Ironically, while residents of Sundarbans enter the territory of the tiger for their livelihood and food, the Royal Bengal Tiger also encroaches upon their territory for food.
Also Read:  Meet Aaliya Mir: Kashmir's math teacher-turned wildlife rescuer
The population of tigers in India has increased because of Project Tiger, which was launched in 1973, and a ban on poaching. However, the dearth of food in the forest leads the beast to break into the villages to feed on cattle. Villagers now keep their domesticated cattle in walled enclosures instead of open air.
Attacks by man-eaters & local beliefs
Among a few blessed men to survive the attack by the ferocious Royal Bengal tiger is Banomali Mondal, 80, who shares his harrowing experience with the beast. Mondal was 35-year-old when he and five others set off during dusk along the big canal to Noabaki to fetch timber for fuel.
They were on a dinghy belonging to Panchanand, Banomali's younger brother. After reaching the spot, they spent the night on the boat. Mondal had a nightmare that one of the group members was being taken away by the tiger.
Also Read: How Maldharis & Rojamdars live with Asiatic lions in Gir forest & help in conservation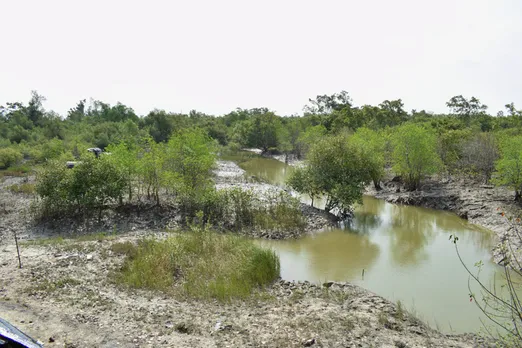 As day broke, four members went towards the jungle to cut firewood while Banomali and Panchanand remained on the boat. Panchanand was cooking before embarking onto the wilderness.
"We left the dinghy and walked into the deep forest at around 8 in the morning. We were alert, our eyes watchful," he says
Panchanand hit the man-eater with a cane, which led the tiger to retreat. Panchanand and another person pulled up Banomali who was writhing in pain. At that very moment, the wild beast returned.
Also Read: Tana Tapi: Forest officer who transformed poachers into protectors at Arunachal's Pakke Tiger Reserve
"Tigers are so fast that they don't allow one to think about self-defence. The man-eater took away one of our members named Krishna. We could do nothing except watch him disappear. We went six but returned five," laments Banomali, who then spent 32 days in a hospital in Kolkata.
"I still have the scar marks on the body and the mind and have never returned to the forest," he says.
Despite these unpleasant encounters, villagers infringe at restricted forest areas and it leads them to either embrace death or survive to narrate their accounts.
Even after three decades, the trauma of a tigress attack haunts Amal Biswas, 68, a fisherman. It was in March 1990, when five fishermen went fishing in the Mathkhola area. It was low tide so some twigs were needed to support the fishing net. So, Biswas walked up from the canal to chop a few twigs from a nearby tree.
Also Read: Sundarini: the organic milk revolution by women of Sundarbans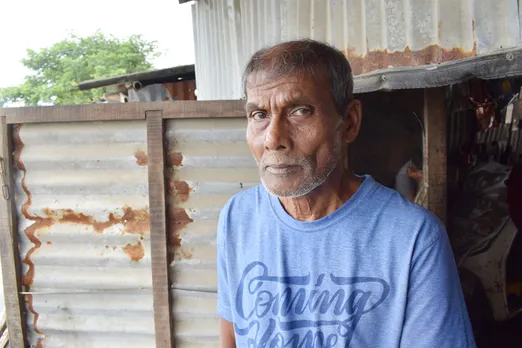 "I could hardly see anything as the dense forest was dark despite the sunny day. When I started chopping twigs a tigress pounced on me. She was so heavy that I fell to the ground. A fellow boat member who was with me raised the sickle and screamed at full volume. The scream frightened the beast, which vanished in the deep forest," recalls Biswas.
He got up and ran towards the boat where the boatmen applied a paste of sugar and turmeric on his bleeding wound and tied it with a gamcha.
Amal was treated for a month at a hospital in Sealdah.
Another survivor is Anath Shil, 38, who can neither hear nor work properly after an attack by a royal Bengal tiger about 18 years ago. It was a January evening when Santosh Biswas, Prabir Mistri and Anath Shil went to Mayadweep close to Sagar Island for fishing on a four-day voyage.
Also Read: From creating world's first mangroves app to mapping new species, how Godrej & Boyce balances conservation with business
The pre-dawn sky was still dark when they reached there. Shil got off the dinghy and went to the knee-deep water to collect some bait for catching big fish. "While collecting the bait I turned my face towards the east direction and saw an 8-feet long tiger crossing the river. In a flash, it attacked Santosh Biswas, who was on the dinghy," Anath recollects.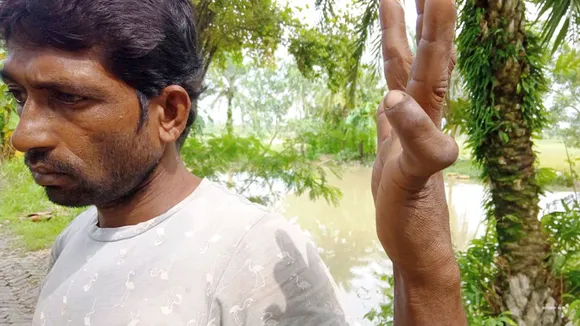 "Seeing that, I sprang onto the boat and began whacking the tiger with a bamboo stick. The man-eater retaliated by hitting me with its left claw and peeled off flesh from my chest before taking away Santosh forever.
Close encounters with tigers naturally leave a deep wound on the psyche of the survivors for life.
Also Read: Reverse migration in COVID-19 may increase tiger poaching: Padma Shri tiger expert Dr Karanth
Amal Biswas says none of the boatmen will sail the dinghy until Bonbibi – the goddess of the forest - is worshipped. "It is a compulsory custom in the Sundarban. We believe that Bonbibi saves us from accidental deaths whether from tigers or boat capsize," Amal says.
The government's push
The West Bengal government has been trying to implement a policy for preventing man-animal conflict. To protect tigers from barging in the fringe areas, six-meter high nylon-rope fencing has been erected at the tiger reserve zone in Sundarban forest.
Besides, the State government has formed a Joint Forest Management Committee (JFMC) for the fishermen in the fringe villages. "The JFMC along with some NGOs provide fish rearing and crab rearing techniques besides training in handicrafts, bee-keeping, kitchen garden, improvised agriculture methods, duck farms, poultries etc. These are aimed at providing alternative livelihood opportunities to the locals," says Das.
The next generation of fishermen is gradually shifting to other occupations. They do not want to risk their lives by going fishing in the Sundarbans.
(Partho Burman is a Kolkata-based award-winning journalist. He writes inspiring human interest and motivational stories.)
Also Read: From weathering cyclones to tiger attacks, how Sundarban inhabitants forge resilient lives