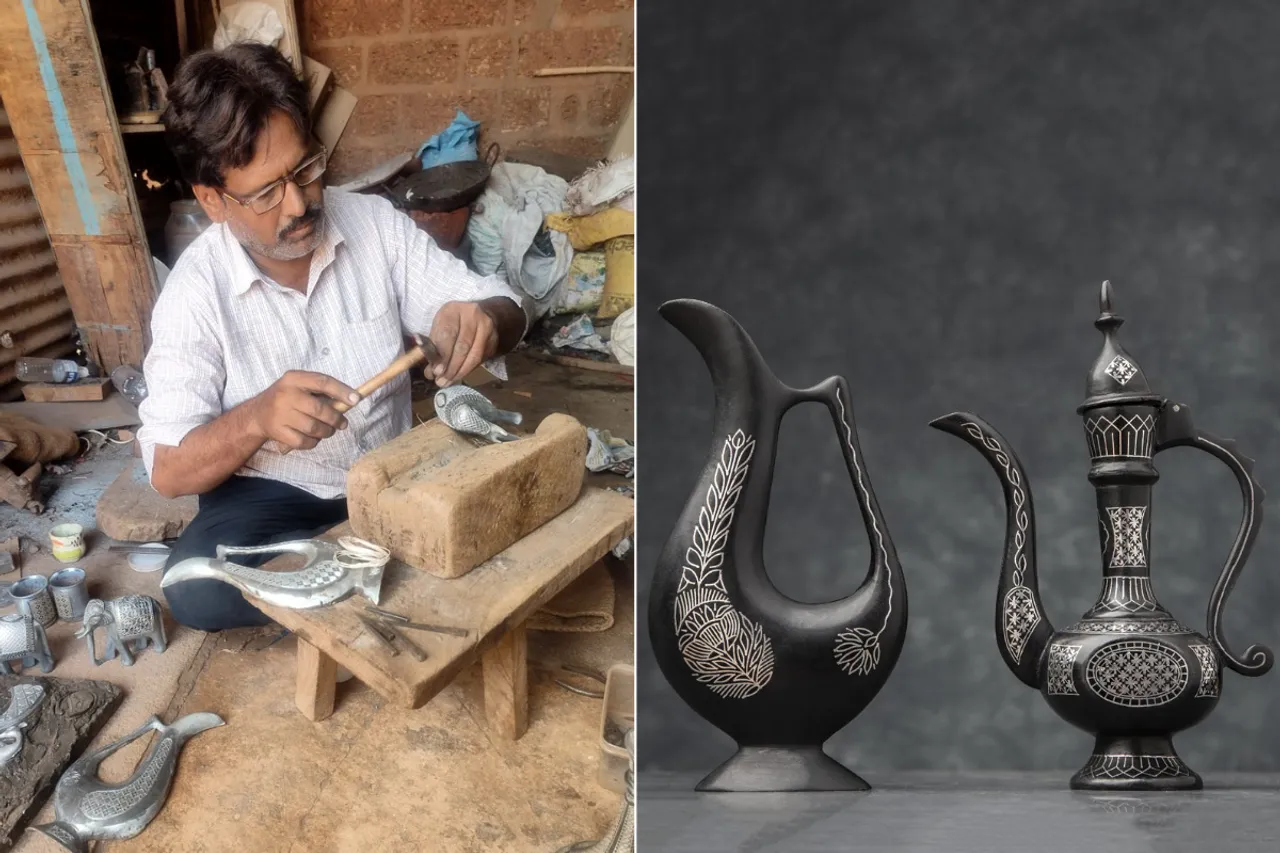 Deft hands use a stylus to etch floral or geometric designs on a black metal surface. Silver wires are then inserted into the grooves and fixed firmly using a chisel and hammer. Be it a vase, wall plate, paper knife or cardholder, the black colour and the exquisite silver inlay work mark them out to be Bidriware.
Bidri craft, in which an alloy of zinc and copper is first blackened and then inlaid with silver, is native to the town of Bidar in Karnataka, after which it is named. The craft received the Geographical Indication or GI tag in 2006. It is around 500 years old, having originated in the 14th and 15th centuries during the rule of the Bahmani Sultanate. According to historical accounts, the craft was introduced to India in the form of utensils. 
The art was then a mix of Persian, Turkish and Arabic influences. Indians working with Persian artists learnt the techniques and styles. Soon, the traditional art merged with local styles giving birth to the unique Bidri craft form known today. 
Traditional Bidriwork items include handmade hookah bases, trays, basins, cooking pots, jugs, cups, boxes, 'changair' (garland carrier), rose water sprinklers, 'ittardan' (scent box), soap boxes, 'muqaba' (dome-shaped box), 'paandan' (box for betel leaf and accompaniments), goblets, vases, plates, bowls, candlesticks, spittoons and ornate buttons.
Innovative products
What has truly breathed new life into this age-old craft is innovation in terms of products and design. To appeal to changing tastes and young patrons, craftspeople are making innovative products like desk articles such as pen stands, card-holders, paper cutters, USB drive covers, paper clips, paperweights, envelope openers, clock-holders, and bookmarks. 
Desk articles are very popular as corporate gifts in the Indian market. Bidri products are also exported from India to many countries.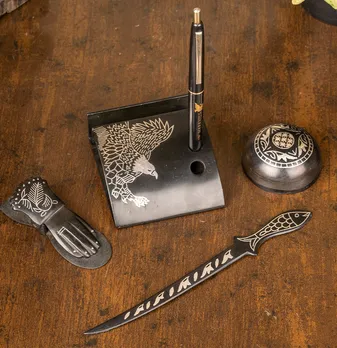 Lampshades, hand mirrors, key-chains, bottle openers, cigar boxes, ashtrays, jewellery (bangles, earrings and pendants), cufflinks, lockets, floor tiles, home decor items and a variety of showpieces, including animal figures like swans, peacocks and elephants, are among the popular products these days.   
Both Indian and international designs are seen in today's products. The premier design institute, the National Institute of Design (NID), was roped in to develop novel and lighter items using less silver to make the products more economical. The National Institute of Fashion Technology (NIFT) too has come up with innovative designs. The Karnataka State Handicrafts Development Corporation Limited is keen on promoting the Bidri art form.
Also Read: Once daily wagers in Pakistan, how this Ahmedabad family set up a global applique business
Sona Puri, director of India Craft House, an online platform based in Gurugram, says: "We have been selling Bidri products for ten years now. It is a popular gifting option. We have seen an increase in demand for Bidri products in the past few years because it is being promoted widely. Our B2B sales are 80 percent of our business; only 20 percent is direct retail. Both utility items (like desk articles) and decorative pieces are popular. There has been a great deal of innovation in the desk articles."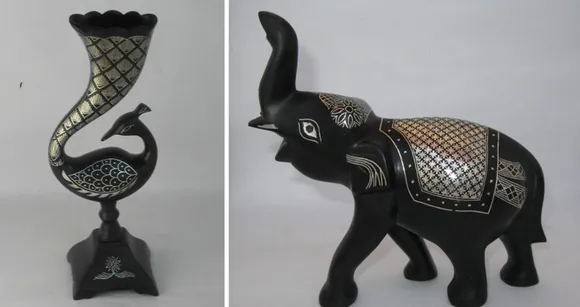 The items are priced according to the effort and time that goes into handcrafting them. A pair of cufflinks available online at India Craft House costs Rs 2,380, bookmark (Rs 1,550), floral hand mirror (Rs 880), tortoise ashtray (Rs 2,050), card-holder (Rs 2,750), pen holder (Rs 2,720), elephant curious (Rs 3-5,000), and peacock vase (Rs 7,220). 
Master craftsperson
Shah Rasheed Ahmed Quadri, 68, was the recipient of the Padma Shri in 2023 for his dedicated craftsmanship of Bidriware for over five decades. According to Shah Quadri, Bidriware products are popular in foreign countries; not so much in India. He says his creations are mostly sold in five-star hotels and at exhibitions to foreigners. 
"Bidar is the chief centre of production and the craftspersons are mostly Muslim men. I have participated in Central government training schemes which aim to teach the craft to members of other communities, and to women," says Shah Quadri. He is credited with creating the 'phooljhadi' design and reviving the use of sheets in the craft. 
Also Read: Bobbili Veena: Andhra's artisans overcome challenges to keep 17th-century musical legacy alive
Training under his father from the tender age of 10 years, he has won a clutch of awards over the years including the National Award way back in 1988 and the Shilp Guru award in 2012. "I have visited 12 countries to explain my craft. In 1987, I visited the US and spent four months working in the Museum of Science in Boston," says the veteran who still works from 10 am to 10 pm.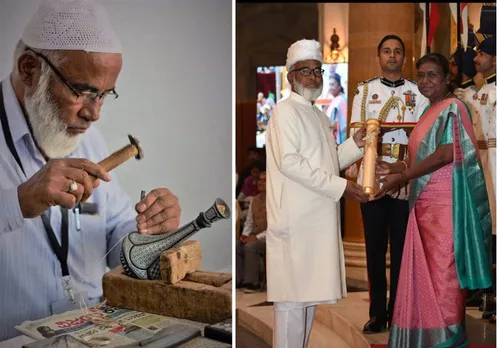 "Sometimes, when I get a large corporate order, I draw designs on paper. Otherwise, it comes from my mind. It takes from one day to one month to make an item depending on size and intricacy of design," he says. 
"Though there is not much money in this work, I do it to preserve the art form. I am a third-generation craftsperson in this traditional family business," Shah Quadri adds.  
The process of Bidri craft
A clay mould is made (using a metal mould) for each item. An alloy of zinc and copper is the base metal. This alloy, in its molten form, is poured into the mould. Very soon the metal takes the shape of the mould which is broken to extract the metal piece. The piece is coated with copper sulphate solution giving it a black coating. Designs are etched freehand using a metal stylus.  
Silver wires, or at times bronze wires (giving a reddish-brown colour), are inserted into the grooves and fixed firmly using a chisel and hammer. Sandpaper is used to smoothen the metal surface. Sometimes, a lathe machine is used.  
The next step is coating the surface of the item with soil found in the Bidar fort which has special chemicals. 
The use of this special soil is probably the most unique part of the production process. The coating leaves the item black but the shiny silver is visible giving the trademark 'Bidri' effect. Oil is then applied on the product to strengthen the colours.    
Also Read: Kashmir's willow wicker craft goes global as it moves beyond baskets to furniture & home décor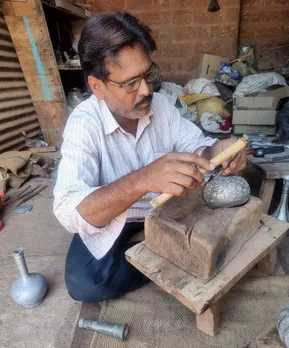 Common motifs are geometrical and floral (flowers and creepers) and sometimes human figures. Apart from the original Persian influence, influences from South India and even Europe determine the designs today. For instance, the 'swastika' and lotus are also seen. Designs of Middle Eastern origin and Egyptian floral design have found their way into Bidri craft. 
Some interesting Bidri work designs are 'ashrafi ki booti (five-pointed leaf pattern), stars, 'kairi' (mango) shape, 'mahi-pusht' (fish scale pattern), and poppy plants with flowers.  
Glorious past
Bidriware was popular among the Deccani and Mughal nobility, princes of Rajasthan, Punjab, the Hill states, Bengal, Bihar, Madhya Pradesh and western India. These ornate products were also a favourite among the nizams of Hyderabad, both to decorate the court as well as for gifting purposes.   
Bidri craft was exhibited at the Great Exhibition in 1851 in London and Paris Universal Exposition in 1855. It was highly appreciated in Europe. The Nizam of Hyderabad reportedly presented Bidri articles to Albert Edward, Prince of Wales when he visited India in 1875-76.
Also Read: Kavad: Rajasthan's portable shrines
The Salar Jung Museum in Hyderabad has a large, beautiful collection of Bidri work. It has nearly 600 pieces dating from the 16th to 20th century.
While Bidar is the hub of Bidri work, it is also practised in Hyderabad, and pockets of Lucknow, Murshidabad in Bengal and Purnia in Bihar. 
Challenges 
Some of the challenges faced by the craftspersons are the tedious, time-consuming nature of the work, low profit margins and the rising price of silver. Many craftspersons lost a large chunk of their business during the pandemic years. 
The Karnataka government is promoting the craft by providing a 20 percent discount on products. It also gives a subsidy on the materials to artisans. Bidri craftsperson Mohammad Mohsin, 50, from Bidar says: "I have been involved in the craft for the past 40 years. I supply to the Cauvery Emporium in Bengaluru and also to the online platform, India Craft House." 
The government gives 100 gm of silver and 6 kg of zinc at a 50 percent subsidy to artisans every two months. 
"There are around 500 Bidri artisans in Bidar but half have taken up other work as they don't get sufficient material or orders. The profit margin for artisans is meagre. I earn around Rs 18,000 a month. My son and brother help me with the work. I work eight to ten hours a day and support a family of six. If we could sell directly to customers somehow we would be able to earn more," says Mohsin.  
Despite its glorious past, the beauty of the products, and recent innovations, the downside is that craftspersons do not earn much in spite of their undoubted skill and hours spent working on this art form.    
(Aruna Raghuram is a freelance journalist based in Bengaluru. She writes on parenting, personalities, women's issues, environment, and other social causes.)
Also Read: Jaipur's Jangid family: Custodians of Rajasthan's exquisite sandalwood carving