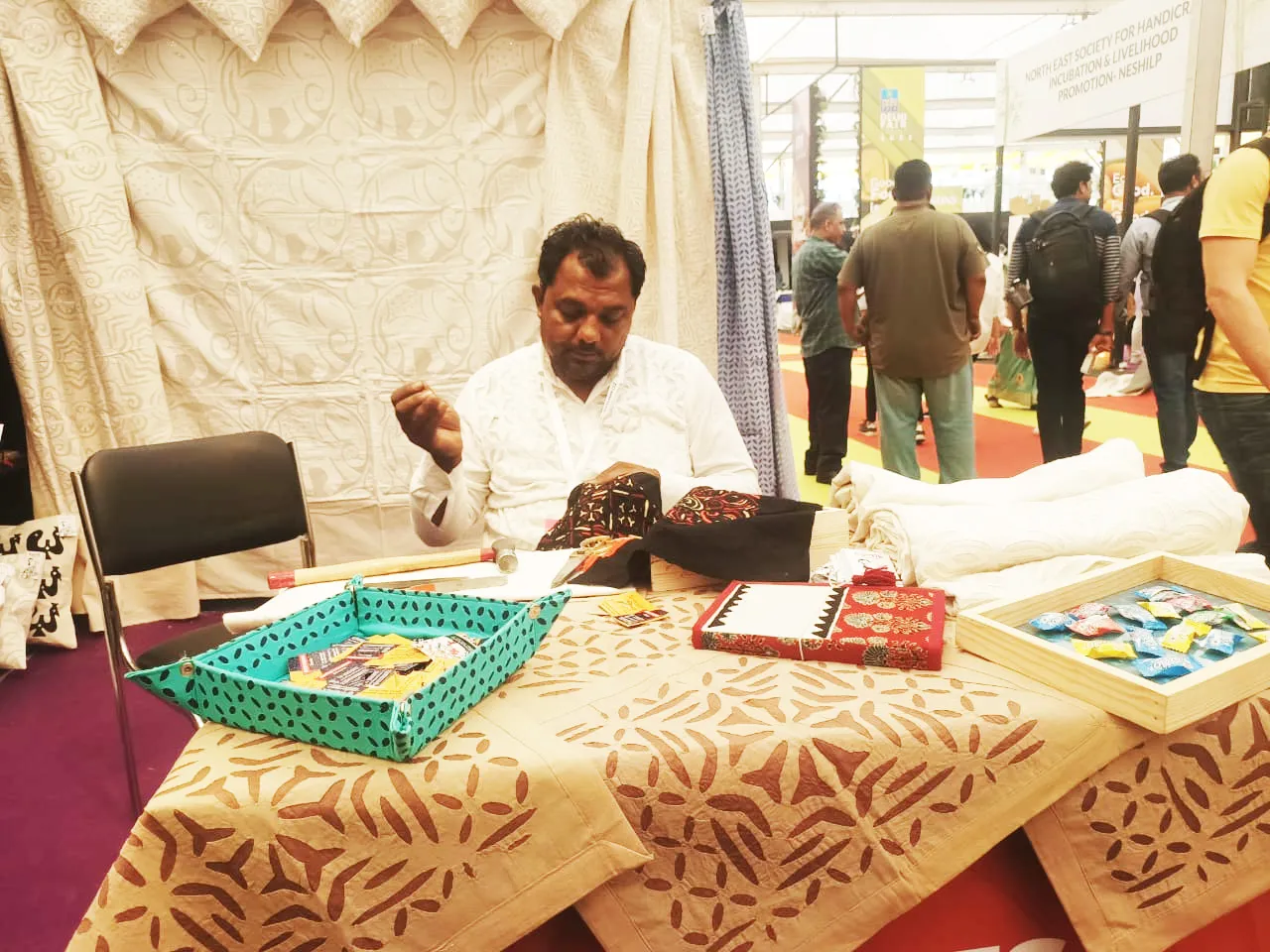 In the early 1940s, Veerjibhai Chauhan would travel with his parents from his village Meghpar in Jamnagar district (in present-day Gujarat) to Sindh and Karachi (now in Pakistan) in search of work. The family was impoverished and working as daily wagers was the only way to make ends meet.
The Chauhans would go in search of work by boat and the journey would take seven to eight hours. "There was little employment in Meghpar. My forefathers worked as daily wagers in Karachi and Sindh," says Kartikbhai Chauhan, Veerjibhai's grandson.
After the Partition of India in 1947, Kartikbhai's uncle Hirabhai Chauhan shifted from the village to Jamnagar town in search of work. He tried his luck in farming but was not successful due to the area's hot semi-arid climate and erratic rainfall.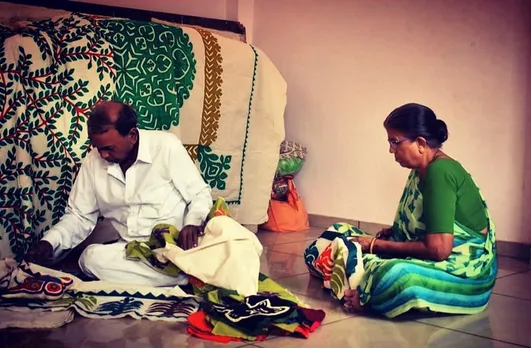 In the 1960s, Hirabhai, his eldest brother Tejabhai who was a contractor, and his youngest brother Shankarbhai, migrated to Ahmedabad. Hirabhai made a small shack of wood where he placed a sewing machine and started stitching clothes. He named it Fine Design Centre. The family, however, continued to live in a shack as earnings were not enough to run the large household.
What finally lifted the Chauhans out of poverty was their traditional applique craft -- in which a piece of fabric is sewn over another larger fabric to create decorative textiles. 
A chance meeting with an art connoisseur in 1976 landed them the first order and there was no looking back.
Since then, the family has empowered thousands of women by training them in applique work. 
The Chauhans have also reinvented the handicraft that was once confined to textiles to a range of home décor and utility items that are being exported to the US and Europe.
Kartikbhai, who is now the director of the Fine Design Centre, says the Bunkars or weavers have been traditionally skilled in applique work. The women and girls would make bedsheets, bedspreads, quilts, shawls and stoles by joining old pieces of cloth.
It was customary for a bride to get five quilts from her family. These were made by the mother and the bride-to-be. The quilts had two layers and old clothes were recycled and used as filling between the layers, he says.
Hirabhai in his 70s is still active and attends the office daily, says Kartikbhai. After Kartikbhai's dad Shankarbhai passed away in the mid-1990s, his uncle Hirabhai supported and guided him. So he regards him as his father.
Also Read: Udaipur's Sadhna: Where hundreds of disadvantaged women handcraft a secure future
History of Applique
Applique is a type of ornamental needlework in which pieces of fabric in different shapes and patterns are stitched together and sewn onto a larger base fabric. It is mostly used in home furnishings and garments as decoration.
Applique work goes back thousands of years when leaves or pieces of leather were stitched together with thread made of grass or bamboo reeds and needles made of bone. According to Kartik, some of the pottery shards recovered from the Harappan sites show evidence of the applique technique. 
The needlework craft extended to India, Pakistan, Afghanistan and Central Asia. People used this technique to create sheets, quilts, decorative products, canopies and garments by joining different pieces of cloth. The tribals and nomads used applique work to make tents.
Starting off as a means to cover torn vicinities of clothing and making them ornate, appliqué and patchwork have come a long way to become interesting value-addition techniques.
With time, applique has evolved and has found new applications, and is used with new patterns of embroidery and cut-work. In India, applique work is practised in Odisha, Gujarat, Bihar, Rajasthan, Karnataka, and Himachal Pradesh, with their own traditional techniques, motifs, and colour palettes.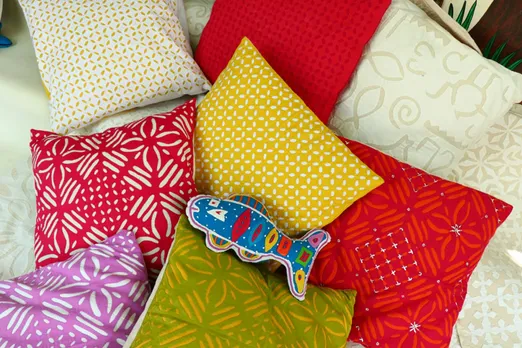 'Luck by chance'
Kartikbhai says his father Shankarbhai had made a wall hanging of the Geeta Upadesh with applique work that hung in Hirabhai's shop.
"In 1976, a designer from Gurjari, the state government handicrafts emporium, came to the shop to get some clothes stitched. She admired the piece and asked about it. My father told her he had made it," says Kartikbhai.
The designer did some research on applique work and found that a canopy made during the rule of the former Jamnagar ruler was on display at the Albert museum in London. She copied the design and brought it to my father and asked if he could make 10 pieces.
"My father took the sample and made the pieces within a week. He sent a bill of Rs250 to the designer. When she saw the work, she was impressed and realised the value of the handiwork. She paid my father Rs2500."
She then started to place regular orders for home furnishings and garments with applique work.
Also Read: Anitha N Reddy: How this art historian is reviving Siddi quilts
As the work grew, my father turned to the Bunkar community that lived in the area. He reached out to the women and told them they could earn money sitting at home and doing some applique work.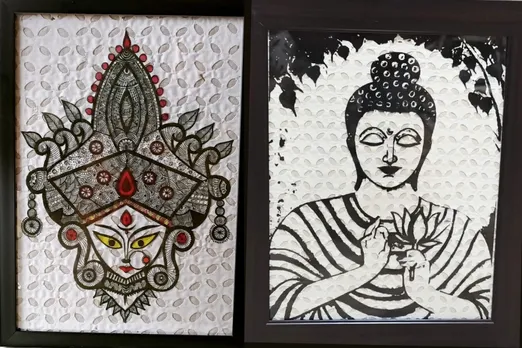 Many women knew applique work my father trained many others. For the women it was a good source of additional income, says Kartik.
Hirabhai worked with Gurjari till 1998. He then started out on his own. During a handicrafts exhibition in Dilli Haat in Delhi, Hirabhai came in touch with an exporter who liked his craft and started sourcing from him to sell in France and other European countries. 
Taking applique to the world
Slowly, as Hirabhai's sons and nephews grew up and took over the business, they expanded their footprint across India and abroad. The brothers now not only make applique work pieces but also Bandhani (a type of tie-dye textile), and embroidery.
They sell their handicrafts through online platforms – Gaatha and Amoni. They also have a chain of buyers in the US and Europe who source from them.
Also Read: Gujarat's Rajiben Vankar: From living in a tent to weaving upcycled plastic, how this housewife set up a successful business from waste
Kartikbhai says his uncle who got associated with various government handicraft agencies trained thousands of women in Gujarat and Rajasthan in applique work. 
"My uncle trained women in Ahmedabad, Gandhinagar, Jamnagar, Baroda, Anand and also in Barmer in Rajasthan. They started earning and becoming self-reliant. Many of them became entrepreneurs," he says.
Many of the women are still associated with the family and work with them. They are paid Rs150 for four hours of work.
Kartikbhai, his wife Vanita and some of the women whom they have trained still carry out training. "We are associated with different government agencies and handicraft organisations. They call us for training," he says.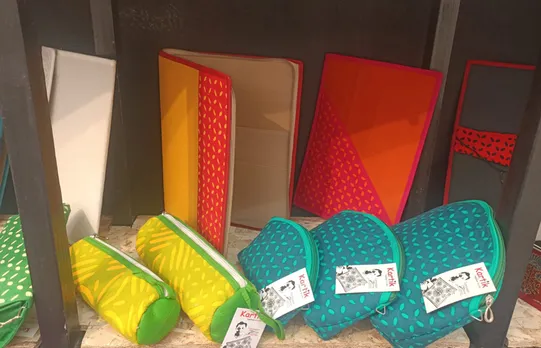 Kartikbhai says he and his brothers want to carry forward his dad's good work. "We earn well and we help others. We don't want the business to become big because then we will not be able to do our social work," he says, adding that they want to carry on the vision shown by Hirabhai and help as many people as they can.
Working smart
Kartikbhai believes in working smart.
"We keep hundreds of designs ready in panels of 16 feet by 16 feet. The panels are in off-white or black, and white colours. When buyers come, we show them the samples and once they finalise the design and the colour combination, we make it.
In this way, we save money on making hundreds of samples to show.
"I have innovated on a technique to make production easy. We use minimum material and maximum labour. For instance, a bedcover would take one woman about one month to stitch. But I give pieces to 15-20 women who finish their work in a day," he says.
Their range of products includes home furnishings, garments and items for corporate gifting such as file folders, trays, runners, bags, mats, and cushion covers.
The talented family has also been felicitated for their work. Hirabhai was given the Gujarat state award in 2016. Kartikbhai won the 2019 Crafts Council of India Excellence award.
Also Read: How Rangsutra has tapped the skills of rural artisans and turned them into entrepreneurs
The process of Applique
The applique was traditionally a means of recycling leftover or unused fabric and is considered to be a sustainable craft.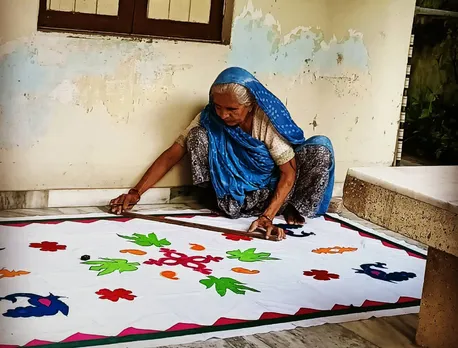 The artisans create a wide range of motifs by shaping and stitching these fabrics and then attaching them to a larger base fabric, creating an overall design.
The predominant colours used for the base fabric are red, yellow, green, purple, black or white. The motifs are not only made with small pieces of fabric but also have ornamentations such as small mirrors or bells.
The applique process starts with cutting and preparing the background block for stitching. Sometimes the background fabric is prepared by joining various pieces of fabric together and then doing applique work on it.
Once the design is finalised, it is drawn in dotted lines on the fabric. Tracing paper is placed on top of the design and holes are pierced on the paper and the fabric using ink to transfer the design onto the fabric.
The design is then cut and placed on the base fabric and secured with pins or a loose stitch. The pieces are then stitched to the background fabric. The stitching is started with the background pieces first, working on the foreground pieces The product is then given finishing touches by cutting extra threads and smoothening the edges.
Kartik and his family are content with their work in showcasing the Applique art globally. Now, they want to handhold others to take their work to the international market.
(Urvashi Dev Rawal is a Jaipur-based journalist specialising in development, gender, and political reporting)
Also Read: Dehradun: How Purkal Stree Shakti is quilting joys & empowering women in the foothills of the Himalayas
media widget