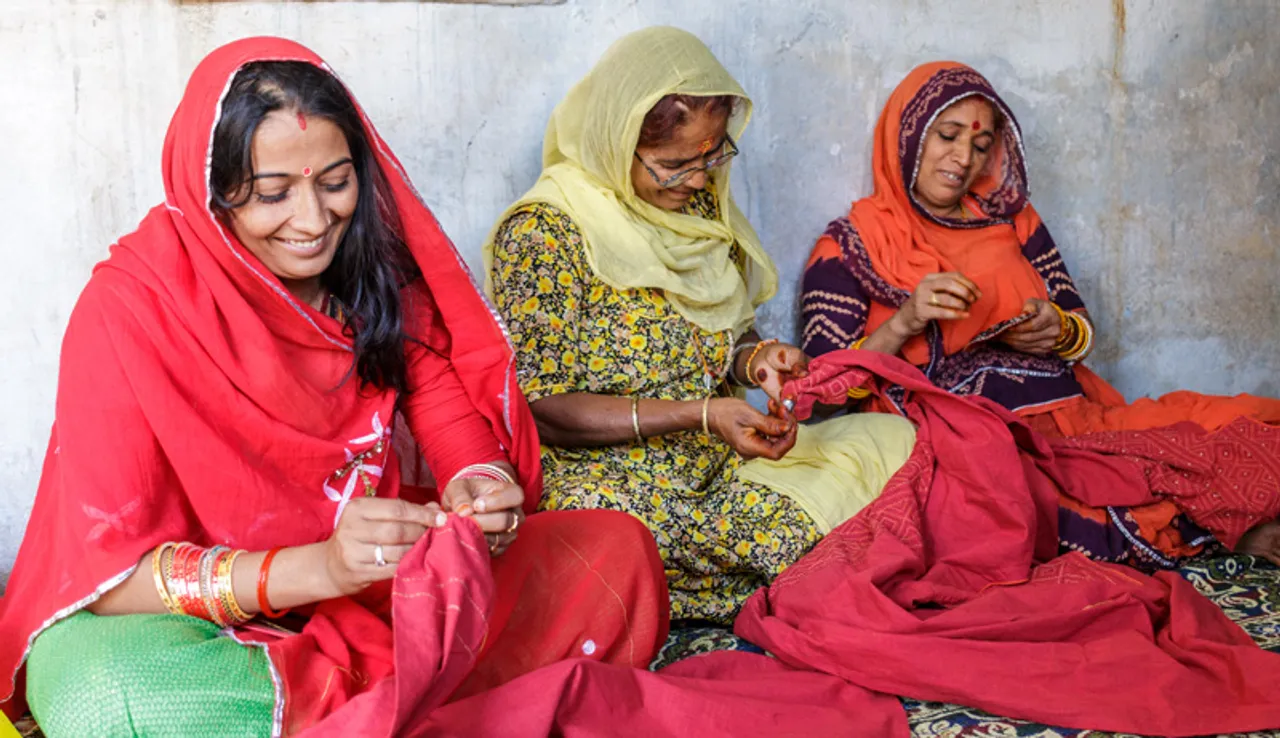 wp:html /
Rajkumari, belonging to Ratakhet, Udaipur, has studied till class 8. Her husband is uneducated and sells vegetables to support their family of five. In 2011, she met a few employees from Sadhna, an Udaipur-based women's handicraft enterprise, and started working there to supplement the family income. 
Her husband was initially opposed to the idea but as the family's financial position improved, he accepted it. When her husband was unable to work for a few months due to ill health, she supported the family through her earnings from working with Sadhna. She also gave her husband Rs. 50,000 from her savings to repair their house. She is glad her husband has realised the value of her work.
Sadhna was set up in 1988 with a mission to empower women both economically and socially as well as enhance their self-esteem.
"The enterprise was set up during a severe drought in the Mewar region. Seva Mandir, a very old NGO in Udaipur, felt there was a need to give women a means of income generation at that time. However, culturally women were not mobile due to patriarchal restrictions. That's why the work had to be something they could easily learn and do from home," says Smriti Kedia, the CEO of Sadhna.  
"Also, we wanted to give Harijan women a flexible option to work," she says.
Also Read: From supporting micro-entrepreneurs to providing education & improving slums, how NGO Saath is empowering Gujarat's urban poor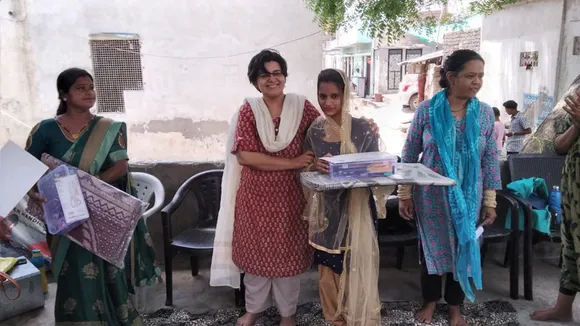 A team from Gujarat came to train a small group of women in Udaipur. Today, Sadhna has 700 artisans registered with it. Smriti took over Sadhna when it was at the very rock bottom during COVID. "It was a very difficult time but we have managed to come out of the COVID lull," says Smriti, an engineer who did her master's at the Tata Institute of Social Sciences (TISS). 
"I have worked in the development sector for 15 years. I find the combination of women and enterprise very exciting," she says. 
Rigorous training 
Over the past 40 years, 5,000 artisans have been trained at Sadhna. "We have an intensive training programme. The best workers among the trainees, in terms of talent and sincerity, get registered with us."
There were 1,200 artisans on its rolls pre-COVID but some artisans who were migrants returned to their native place during the pandemic. "Usually, artisans do not leave us. Many have been with us for 20-30 years," says Smriti.    
Also Read: Thousands of Rajasthan's rural women empowered through up-skilling in embroidery
The women artisans are trained in three types of needlework – tanka embroidery, applique and patchwork. Of the 700 artisans, 600 are home-based. There is a cluster of 350 artisans in Udaipur and 250 in Delwara (in the Rajsamand district).
Artisans involved in stitching, sampling, administrative functions and marketing come to the centre. The artisans are paid around Rs 3,000-5,000 a month if they work for four hours a day. Some put in more time and earn more.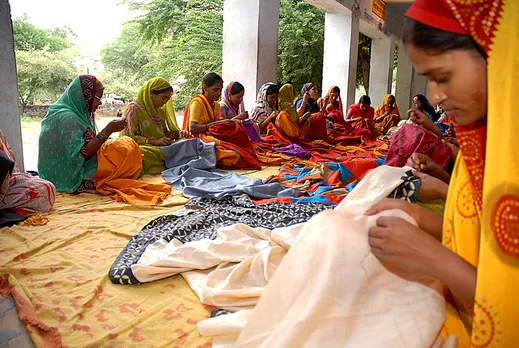 Unique features
Social security benefits: What is unique about Sadhna is that it provides its employees social security benefits despite its fluid, flexible model. Employees registered with Sadhna put in as much time and effort as they can, and are paid on a per-piece basis.
Every employee has an artisan card and operates a bank account, she adds.
Democratic model: Sadhna is a formally registered collective and its employees are registered too. In 2004, it became a mutual benefit trust. "Sadhna is owned by the artisans and whatever profits we make go back to them. They are involved in decision-making at every stage. Artisans are part of the governing board. It is a democratic 'for women by women' model," explains Smriti.    
Also Read: Lambani: How bold Banjara embroidery with cowrie & coins travelled from Bellary to the world
Fairtrade certified: Sadhna is certified by the World Fair Trade Organization in the Netherlands and the Fair-Trade Forum of India.
Also, there is complete transparency. The artisans are aware of the production quantities and finances of the enterprise."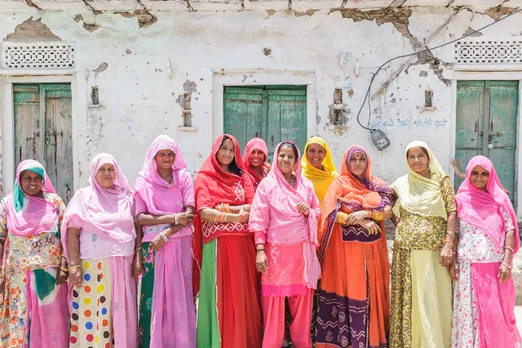 Eco-friendly practices: The enterprise uses only natural fibres – cotton and silk – no synthetics are used. The embroidery work is all handmade. Dyeing is outsourced to other artisan groups which follow fair trade principles. A small amount of block printing is done using natural dyes.
Installation of solar panels and water recharge facilities are on the anvil.  
Social transformation
The very fact that the women in this region started earning an income working from home was a revolutionary concept.
"Women who work with Sadhna have become decision-makers in the family. They not only earn, they save because of PF and can take loans against the PF. Also, they have learnt a skill for life. That is very powerful. If they leave Sadhna, they can make a livelihood elsewhere. Moreover, they can provide medical cover for the entire family under the ESIC scheme," says Smriti.  
Also See: Watch: Spinning, dyeing, weaving…the making of dhabla shawl in Gujarat's Bhujodi village
Most of them use their earnings to educate their children. The women artisans have also started taking on leadership roles. Every group of 20-25 artisans has a group leader on a rotational basis.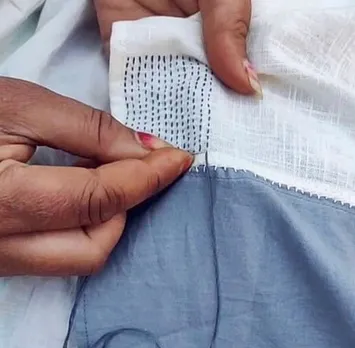 "The women have become very confident and demand a hike from us if they think it is warranted," says Smriti with a smile.  
Also Read: LifeCraft: empowering Jharkhand's Kuiani women through fabric hand dyeing
"Sadhna has given me courage, dignity and self-confidence. I am proud that I am earning and managing household expenses," says Lakshmi Shah, who belongs to the Manoharpura group, Udaipur district. Lakshmi joined the enterprise in 2003. The family was in deep trouble when the factory her husband was working in shut down. 
But since she started working with Sadhna she was able to support the family and educate her daughters. She works from home but also visits the CFC. She has taken part in exhibitions.   
Design intervention
Sadhna has consultant designers and also works with premium institutes – NID, NIFT, Pearl Academy, and IICD (Indian Institute of Craft and Design, Jaipur). Notably, many of the artisans themselves have won awards for their design skills. 
The enterprise participated in the Lakme Fashion Week in February 2020. Their premium brand 'Raab' which consisted of a contemporary collection targeted at youngsters was very well received. However, just then COVID struck, so they could not take it forward. A second Raab collection is planned.  
Also Read: Bihar's Sikki grass craft finds global market amid rising demand for eco-friendly artifacts
Apparel is primarily for women and includes both Indian and western wear. There is a premium range of saris. In addition, kurtas, skirts, pants and tops are on offer. Home furnishing includes bed linen, cushion covers and tableware. Accessories include bags, stoles, dupattas, jewellery, key rings, pouches, toys and diaries.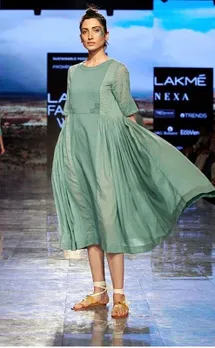 "Sadhna focuses on comfort, aesthetics and affordability. We have managed to keep our craft affordable. For instance, a woman's kurta in cotton would cost from Rs 900 to Rs 2,500 depending on the intricacy of hand work. A patchwork 'godhadi' would cost between Rs 3,000 and Rs 7,500 depending on material and size," says Smriti.  
Marketing efforts
Sadhna works in both B2B and B2C segments.
We have two stores in Udaipur and also sell in stores in different cities, apart from our online sales. We also take part in craft-based exhibitions across the country. Our sales during 2021-22 were around Rs 3.5 crore," says Smriti.
Also Read: Lajwanti Chabra: The woman who took Punjab's folk embroidery Phulkari to the nooks & corners of India 
During COVID many regular buyers stood by Sadhna. They did not cancel orders but deferred them. Some even made monetary contributions to support artisans. Sadhna made 10 lakh cloth-based masks and 10,000 PPE kits. It partnered with NGOs to help the artisans with a distress fund, food kits, medical kits and menstrual health kits. 
The roadmap ahead? "We don't plan to expand to other states. But we do want to look at new clusters and groups. Post-COVID there has been an increase in demand. Many groups have asked us to work in their area," signs off Smriti. Meanwhile, Sadhna continues to give women not just a means of livelihood, but also an identity.  
(Aruna Raghuram is a freelance journalist based in Ahmedabad. She writes on parenting, personalities, women's issues, environment, and other social causes.)
Also Read: ANANDI: Changing the face of rural Gujarat by mentoring women to take up leadership roles