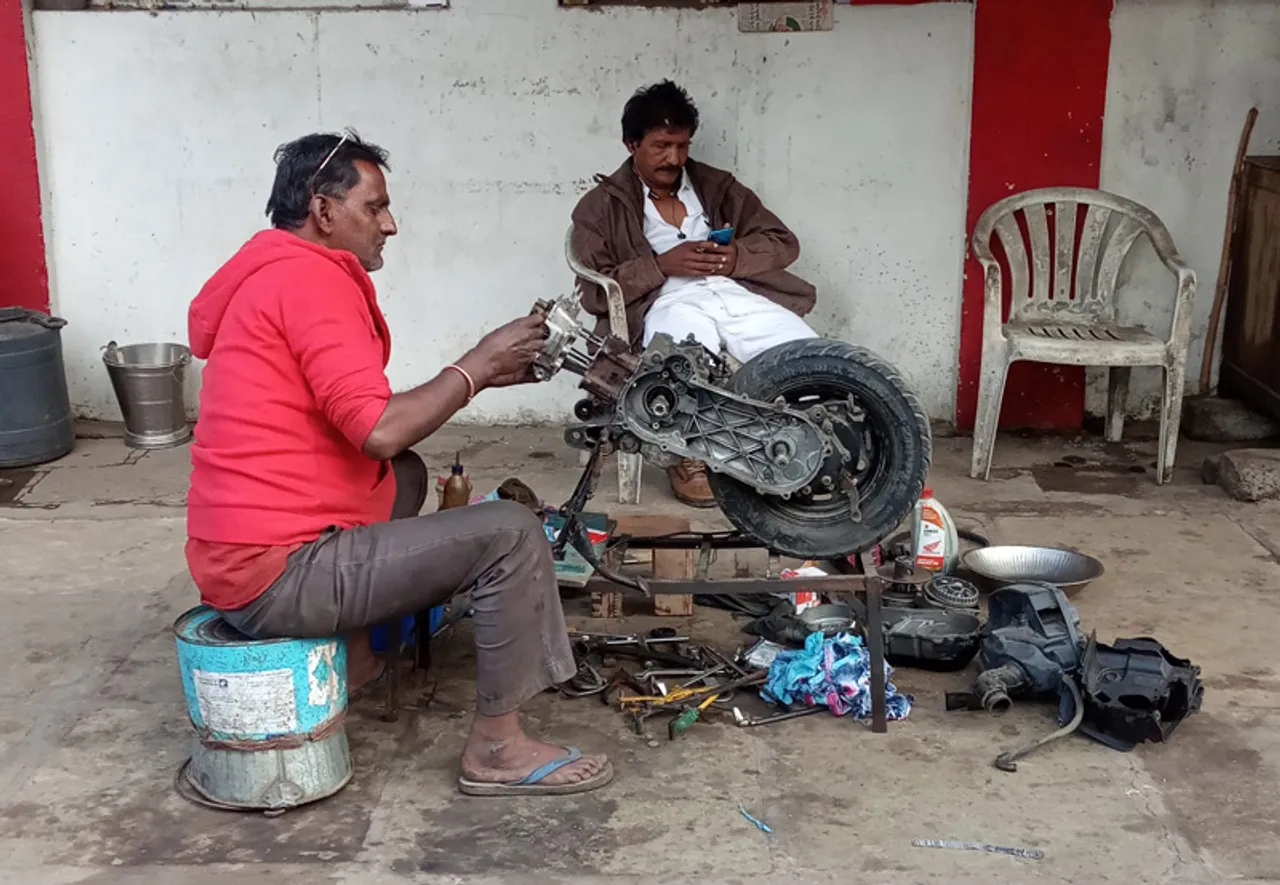 An abusive marriage catapulted Krishna, an orphan, into depression. When she left her husband and in-laws, she was all alone and struggling to survive. An ad in a pamphlet came as a saviour.
Krishna came to know about Saath's livelihood programmes through the pamphlet and enrolled for beauty and wellness training. Today, she runs a parlour at her home and is happy.
Hasu is a Tangaliya weaver from Surendranagar. With the decline of the craft, he started working as a daily wager on farms. Unable to support his family, he joined Saath's project 'Rweaves', which provides the raw material, loans and design support to crafts. Now he earns Rs. 12,000 a month and is helping Saath revive the craft form in his village.
Shanta works as a construction labourer to support her family of seven. She came to know about Saath's 'Nirman' training programme and picked up masonry skills. She was also trained in soft skills and educated about safety measures and the importance of saving. She is now in a good position to bargain for wages and better work hours.
Also Read: Rescuing mortgaged kids, giving tribals a voice in decision-making, how Vaagdhara is bringing change from ground up
Founded in 1989, Saath's primary work is to ensure that the economically weaker sections and socially marginalized communities get access to basic services (water, sanitation and electricity), health, education and livelihood options. It also works in the area of providing affordable housing and financial inclusion.
Forgotten citizens
Rajendra Joshi, founder and managing trustee, of Saath, was born and raised in Tanzania. He returned to India when he was 19 years old and started working with the St Xavier's Social Service Society.
"I came to Ahmedabad and started working with the social service society that was headed by a Spanish priest. I worked in slum areas and realised that there was a great deal I could do to bring about change in a holistic manner. Those three years with 'my guru' were a turning point in my life. After he passed away, I quit that organisation and set up Saath," says Joshi.
Also Read: Gyanada: where children from Mumbai's slums code, compute and create apps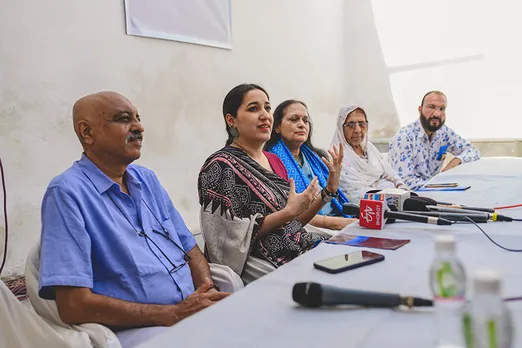 But the early days were tough. "When we started Saath, we had no funds. We had to borrow money from friends and relatives to meet the NGO's expenses. Things started getting better when we got small amounts of funds from Oxfam and Action Aid. Then our activities increased and we were able to get more funds. It took us over two years to stabilize," he says. 
Joshi had observed the inequities in Indian society during his work in slums.
In his book 'Smart Cities: Breaking the Poverty Barrier', launched in 2019, Joshi said that smart cities should ensure "equitable sharing of resources, the inclusion of informal sector population, and social cohesion".
Also Read: From Kashmir to Kerala, how IDIA is helping underprivileged students become lawyers
"Who builds our smart cities? The informal sector has a major role to play. Yet, what do they get for their contribution? They get poor wages, with little social security, and live in slums. Their children have no access to education," says Joshi.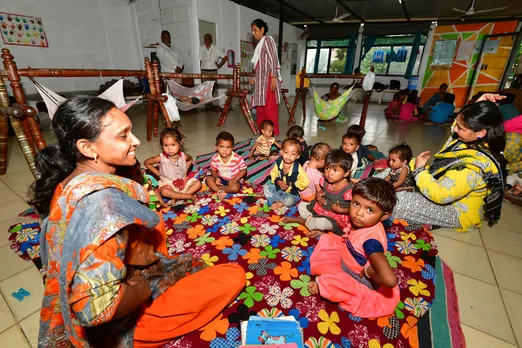 His Integrated Slum Development Programme (ISDP) began soon after the plague in Surat in 1994. People believed that the plague was because of the unhygienic conditions in slums. Joshi proposed to the Ahmedabad Municipal Corporation (AMC) that slum residents would contribute to services like water supply, roads, proper toilets and streetlights. It turned out to be a three-way split between slum residents, AMC and Arvind Mills.
Also Read: COVID-19 creating India's new urban poor: Magician, jeweller & teacher turn vegetable vendors
Making an impact
Joshi describes the three core activities of Saath. "The first is Integrated Area Development. Here we build the capacity of communities and equip them to address various challenges," he says.
The second area is livelihoods, where Saath works with the informal sector and micro-entrepreneurs. The third core activity is education. Under the Bal Ghar project, Saath works with children in the age group of 3 to 5 years to prepare them to attend regular school.
As far as education goes, there are two other initiatives.
Also Read: Rajasthan: Women turn entrepreneurs and earn in lakhs thanks to microcredit
It also has a programme to encourage STEM education. On the health front, there are maternal and child health programmes. Saath was involved in a vaccination and masking drive during the COVID-19 crisis.
A significant initiative, according to Joshi, is the setting up of Urban Resource Centres. At present, there are six in Ahmedabad. These centres create awareness among people about the government and NGO schemes that they can benefit from. They are informed about the documents required to avail of the schemes and provided hand-holding to fill out forms and in navigating other problems.
Also Read: How Bengaluru's Hasiru Dala has given identity & dignity to over 10,000 faceless waste pickers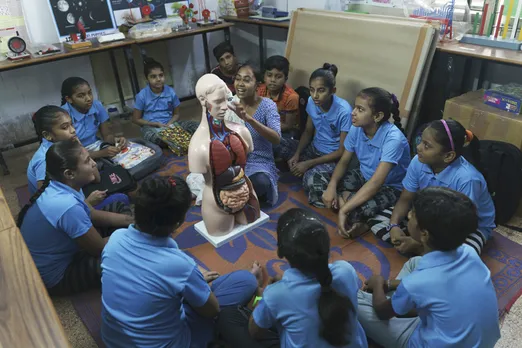 Saath participated actively in relief and rehabilitation work during the 2001 earthquake and 2002 riots. It has expanded its activities to other states.
In fact, Pune, Nagpur, Jaipur and Hyderabad have shown keen interest in replicating the Saath model.
Engaging the youth
Saath's Youth Force Programme, launched in 2013-14, seeks to divert the energies of youngsters living in slums in a constructive direction. "We realised that the youngsters have no place to share their aspirations and fears. They cannot discuss these at home. This programme gives them a platform to express and share with their peers. They also plan careers and get engaged in community development initiatives like cleanliness, setting up libraries, sports facilities, and many more," says Joshi.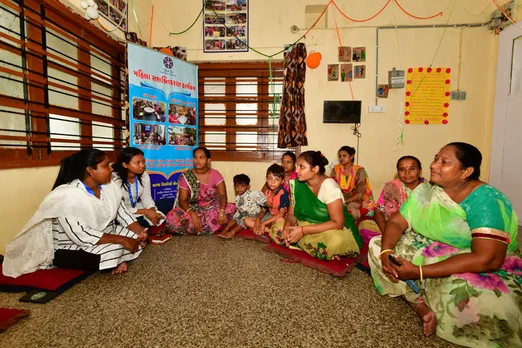 The 'Umeed' programme implemented in 2007-08 was youth-centric and very successful, he says. Over 70,000 young people were trained for entry-level jobs in the formal sector under this programme. Saath was a pioneer in that area at that time. It worked in 35 towns across Gujarat.
Also Read: 5 startups saving the environment by recycling banana bark, fabrics, food, flowers & more
The electrification of slums in Ahmedabad was implemented with Torrent Power. Several companies have aided Saath through their CSR initiatives including Coca Cola, Microsoft, Intas Pharmaceuticals and Tata Motors. Notably, Godrej has been involved in providing beauty and wellness training to young women and HSBC Bank is a major funder of the Youth Force Programme.
Innovative projects
Saath's 'Business Gym' is an innovative programme that helps micro-entrepreneurs. The programme upskills their entrepreneurial abilities, advises them on business processes, and helps increase their revenues. "One beneficiary of this programme was a person who repairs punctures. He told me that after Saath's intervention his work is being recognised and he now hopes that business will grow," narrates Joshi.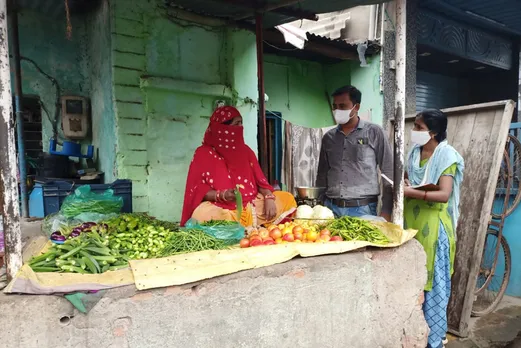 Ganpath Saraniya is another beneficiary of Saath. He goes on his cycle in residential areas to sharpen knives. "I faced considerable hardship during the lockdown. I was not allowed to enter housing societies. Saath helped me by enabling me to work. The Saath staff taught me how to keep accounts and open a Paytm wallet. I can save around Rs. 5,000 a month now and put it in my bank account for emergencies," he says.
Also Read: Gulmeher: Delhi's social enterprise turns women ragpickers into artisans; sells ecofriendly products globally
One of the programmes was to train them in house painting. The training was provided by Asian Paints. Joshi recollects how a father was extremely proud when his daughter joined this training programme and said, "I now realise that women can do anything that men can."
Read: Millet farming brings nutrition, financial security for women farmers in Bihar
Under its 'Urmila Home Managers' programme, launched in 2005-06, women are trained to provide domestic help services and earn a livelihood from this vocation. Hansa Parmar went through the training five years ago. "I work in a bungalow for five hours and get paid Rs. 5,000 a month. I enjoy the work. Every year we get a raise. During the two-month complete lockdown, I had to stay at home but I got my wages. Saath also helped me get two doses of vaccination," she says.  
Creating entrepreneurs in the informal sector
Joshi has won several accolades along his three-decade journey with Saath. He received the Schwab Social Entrepreneur of the Year Award in 2009 and 'Nagrikta Puraskar' in 2004 given by the Ahmedabad Management Association. He is an Ashoka Fellow. He was also awarded the 'Karmaveer Puraskar', by iCONGO, as a Real Wealth Creator for communities in 2008.
After 33 years spent empowering communities, what are his plans? "First, I want to bring more visibility and recognition to micro-entrepreneurs in the informal sector. Second, I plan to work towards forming co-operatives so that informal sector workers can engage with the market and policymakers in a more structured way and reap the benefits," signs off an enthusiastic Joshi. 
(Aruna Raghuram is a freelance journalist based in Ahmedabad. She writes on parenting, personalities, women's issues, environment, and other social causes.)
Also Read: ANANDI: Changing the face of rural Gujarat by mentoring women to take up leadership roles