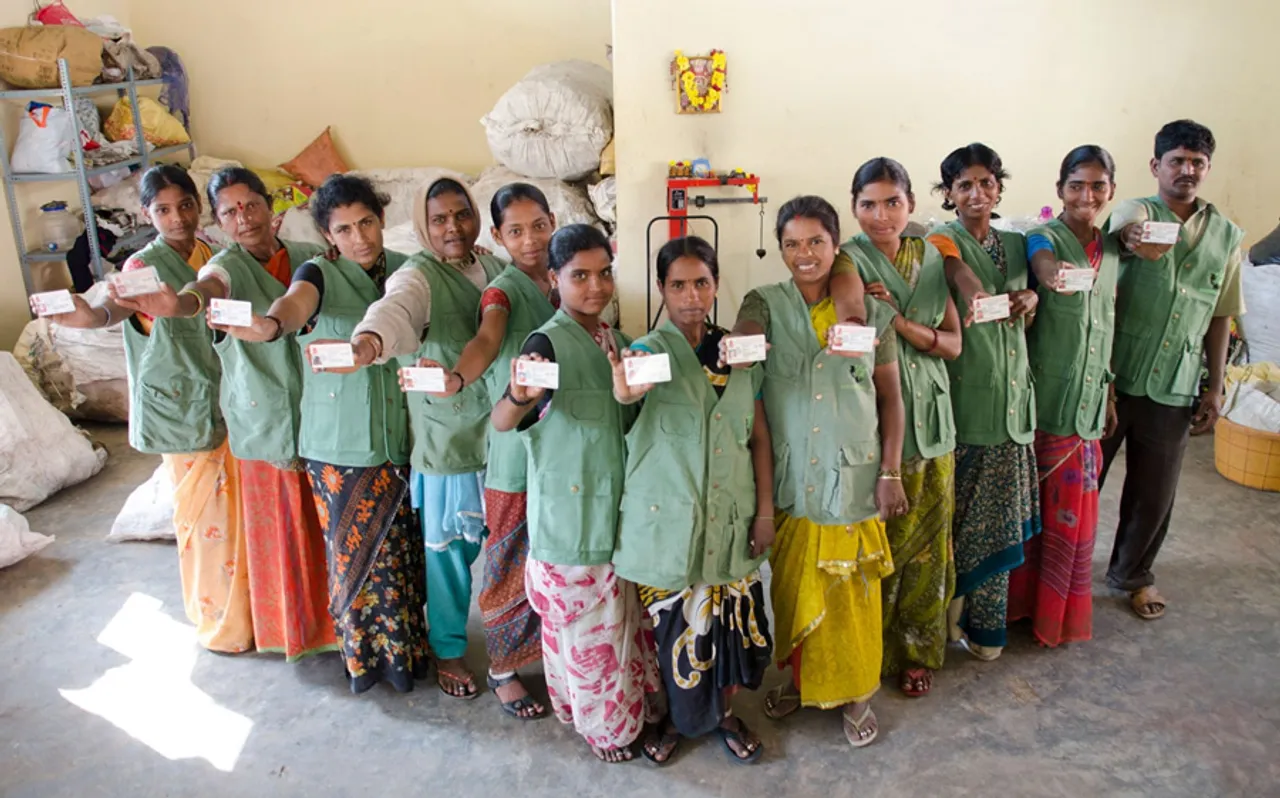 When Kiran A was studying in class 10 in a government school in Bengaluru, he would carry an empty tiffin box to bring home food from the mid-day meal. His mother would go out daily to rummage through the garbage in West Bengaluru and earn a paltry Rs150-250 per day. There was always a shortage of basic necessities.
Kiran's father had died several years back. His mother had brought up Kiran, his physically challenged elder brother, and three daughters all by herself. 
His mother took Kiran to meet Nalini Shekhar, co-founder and executive director of Hasiru Dala, a social impact organisation that works with waste pickers and other waste traders in the informal waste economy,
Nalini assured help and Kiran was able to rejoin the school and passed class 10. The organisation also helped in his further studies and he graduated in commerce.
Also Read: Rajasthan: Women turn entrepreneurs and earn in lakhs thanks to microcredit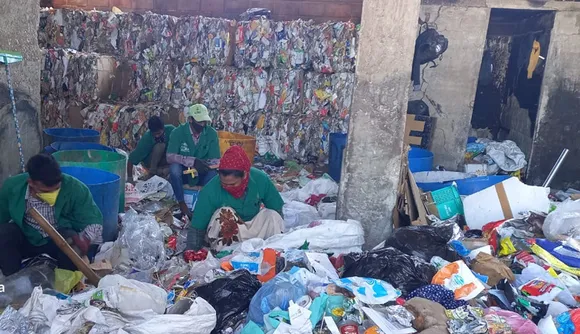 "Nalini put me in touch with a volunteer, Shanmugam. He mentored and guided me in my studies and career. He taught me English. I am very thankful to him," says Kiran who now works as a Housing Project Coordinator with Hasiru Dala and earns Rs16,000 per month.
Fighting for rights
Hasiru Dala (green force in Kannada) was started in 2010 by Anslem Rosario and Nalini who wanted to organize waste pickers in the city and provide them with a platform. Today, it has a team of 100 people in a dozen cities in Karnataka and one in Andhra Pradesh.
Also Read: Chennai couple's startup Carbon Loops takes urban food waste back to farms
They were no longer faceless, nameless, anonymous labourers but became legitimate workers of the city.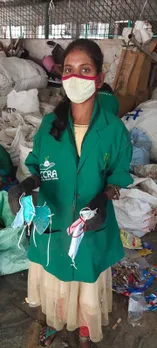 Rohini Malur, the communications coordinator at Hasiru Dala, says during 2008-09 there was a citizens' push to address the issue of waste management in Bengaluru as the garden city turned into a 'garbage' city.
Also Read: LifeCraft: empowering Jharkhand's Kuiani women through fabric hand dyeing
Rohini says Nalini was among the many voices that advocated for the waste pickers, saying they should be part of the conversation around waste management.
"They were the first line of waste management and the base for recycling. Yet they were invisible. They were the most marginalised and discriminated against. They had no documents and so there was no proof of their existence… they did not have access to any government welfare schemes or benefits," she says.
Hasiru Dala was incorporated as a Charitable Trust in 2013. It carried out a survey to look at the contribution of the waste pickers of the city. It found that on average, a waste picker collects about 60 to 90 kilograms of waste in an 8-to-10-hour day.
"The findings estimated that the Bruhat Bengaluru Mahanagara Palike (BBMP), the municipal corporation, the budget of Rs450 crores would have to increase by Rs23 lakhs if the 4,175 registered waste pickers in the survey stopped working," says Rohini.
Also Read: 5 startups saving the environment by recycling banana bark, fabrics, food, flowers & more
Providing an identity
In 2011, citizen groups including the Alliance of Indian Waste Pickers requested the Lok Adalat in the Karnataka High Court to recognise waste pickers' contribution and occupational identity rights. "The idea was to provide them with some identity proof so they could then apply for government benefits," says Malur.
The Lok Adalat directed BBMP to register waste pickers and give them occupational identity cards. 
Hasiru Dala carried out the survey and around 30,000 waste pickers who could prove that they had resided in the city and were not migrants were identified and picked out for being given the occupational ID cards.
Also Read: Abira: Pune's all-women enterprise where slum dwellers handcraft ecofriendly products for global brands
The first batch of 225 occupational ID cards was distributed to waste pickers by the BBMP commissioner in August 2011.
However, getting the cards is still a challenge as the BBMP demands proof of residence which not all waste pickers have as they don't have any ID or documentation, says Malur.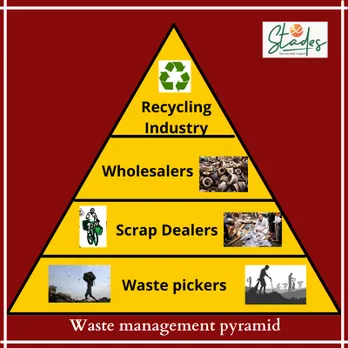 For those who have occupational ID cards, Hasiru Dala tried to get other benefits such as schooling for children, health care, housing, pension, and opening bank accounts and providing loans and scholarships for children.
"Waste pickers struggle to make ends meet. Providing food or educating children becomes a challenge. Social security entitlements can offset the gaps in the non-livable wage; increasing livelihood stability and regularise earnings, says Malur.
Also see: Gujarat's Pabiben Rabari: from a daily wager to a millionaire entrepreneur
Caring for children
According to estimates, there are around one lakh waste pickers and informal waste collectors in Karnataka. A large proportion of waste pickers are women who belong to scheduled castes, tribes and other backward classes.
Thus, they continue in the vicious cycle of poverty and are also exposed to life-threatening health hazards, says Malur.
Hasiru Dala wanted to create nurturing spaces for these children to thrive in and launched its Buguri Children's Programme. The focus is on ensuring that children complete their education and find a safe environment for their growth. The Buguri Children's Programme impacts over 1,000 children of waste pickers through its libraries, student scholarships and creative arts expression programme.
Also Read: Gyanada: where children from Mumbai's slums code, compute and create apps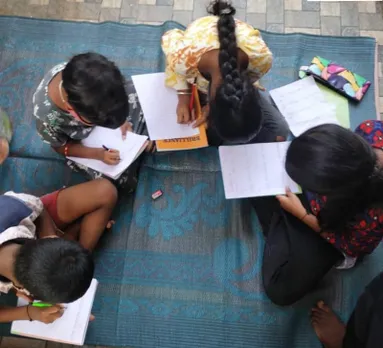 Kiran says Hasiru Dala is doing good work for waste pickers and their children. "Many children are prone to taking drugs and other addiction. They don't want to study but do menial jobs. I try to motivate my community youth to avail of the opportunities provided by the organisation and create a better future for themselves," he says.
Expanding beyond
In 2016, Hasiru Dala and other organizations consulted with the Union Ministry of Environment, Forests and Climate Change which led to the guidelines for the inclusion of waste pickers and informal waste collectors in the Solid Waste Management Rules 2016 for the collection and management of waste.
In 2017, the BBMP entered into an agreement with waste pickers to facilitate door-to-door collection of segregated dry waste by Dry Waste Collection Centres, which was previously handled by large contractors of solid waste management.
Also Read: Sakhi for Girls' Education: 100% pass, zero dropouts among girls in Mumbai slums
Hasiru Dala expanded to Mysuru, Chamarajanagar and worked to establish similar relationships with the local informal waste collection communities as well as with local municipal authorities.
In 2019, it expanded to Hubbali-Dharwad, Davanagere, Mangaluru, and also to Rajahmundry in Andhra Pradesh and Trichy and Coimbatore in Tamil Nadu.
They were trained on checking the waste that was brought in, how much could be recycled, how much was its value, how to pay salaries, keep accounts, check attendance of drivers, sorters.
Financial literacy training was given to waste pickers to ensure they could access institutional finance and savings accounts, and use those institutions for their benefit.
Hasiru Dala has so far supported 524 workers in waste collection. In Bengaluru, it helps run centres in 59 of 140 wards. In Mysuru, there are 20 such workers in 11 wards. In Tumakuru, Hasiru Dala supports four wards with a total of 18 workers. In Rajahmundry one ward with eight workers, Hubli Dharwad, one ward with six workers and Davanagere one ward with two workers.
Also Read: How i-Saksham's young education leaders are driving change in Bihar's most backward districts
The organisation has been able to get social security benefits for 8781 waste pickers. A total of 10,437 waste pickers have got occupational cards, 272 children of waste pickers have got admissions in schools and 1048 have got scholarships.
Nalini says the second wave of Covid-19 has hit the community hard, both with the pandemic and the loss of income. "We have lost many waste pickers in the second wave of the pandemic and more suffering due to lack of food. There is a humanitarian crisis for waste pickers and their families."
Nalini dreams that in 10 years if Hasiru Dala exists, it should be in the hands of the waste picker community. They should run it and be so organised that they can advocate for themselves," she says.
(Urvashi Dev Rawal is a Jaipur-based journalist specialising in development, gender, and political reporting)
Also Read: Rajasthan: Women turn entrepreneurs and earn in lakhs thanks to microcredit