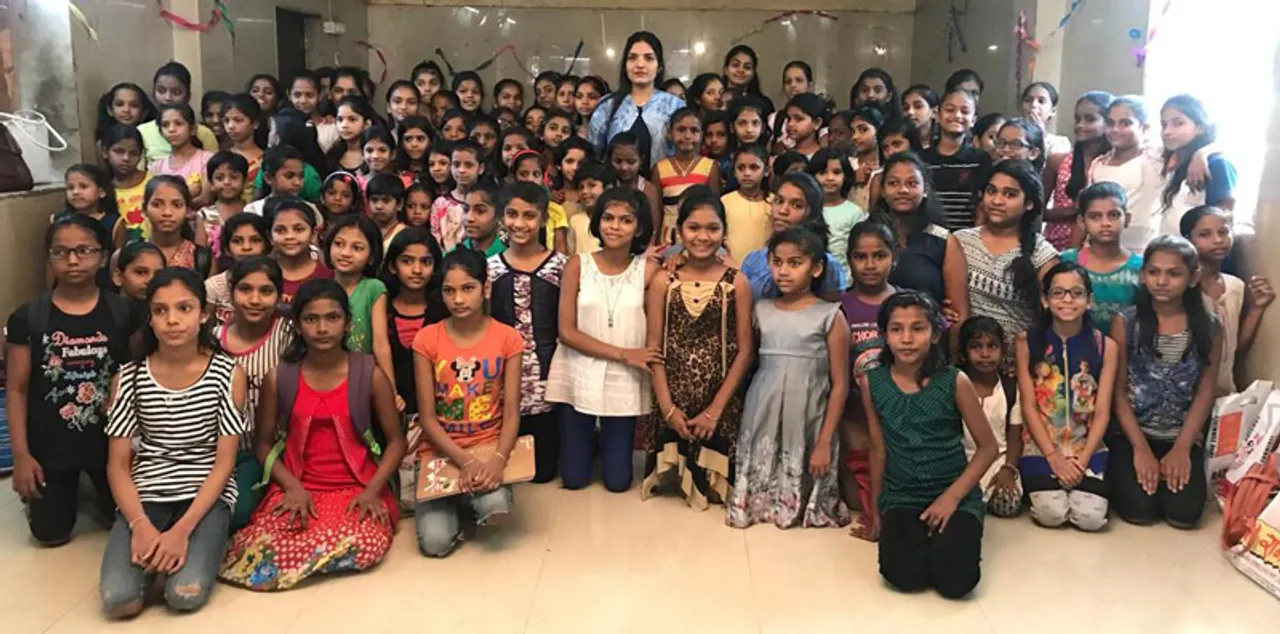 wp:paragraph
Every morning, Prerna Ghodake, a ninth-class student in Sarola village of Maharashtra's Osmanabad district, is ready with a mike to narrate an inspiring story, which is recorded by her father. On some days, it is a tale from the Aesop's Fables and sometimes it is a Marathi folk story. But each audio story recorded for thousands of girls living in the slums of Mumbai and five villages of Osmanabad gives a clear message – of hope and moving ahead despite all challenges. 
The stories are circulated over WhatsApp for girls, who are home-bound due to the Coronavirus pandemic and unable to attend the literacy and education programme run by Sakhi for Girls' Education in Mulund (Mumbai) and Osmanabad's Barkheda, Chikhali, Kamegaon, Bembali and Darphal villages.
A Mumbai-based non-profit, Sakhi has been working since 2008 to educate and build capacities of girls and women in slum areas and ensure women empowerment. Its learning centres offer basic education to ensure literacy, numeracy, computer knowledge and build life skills for girls with a lifelong learning approach.
Also Read: How i-Saksham's young education leaders are driving change in Bihar's most backward districts
Adapting to the pandemic
During COVID-19, Sakhi has tweaked its education model to offer five learning initiatives while adhering to social distancing norms, which currently rule out community learning. The Audio Storytelling Project is one of them.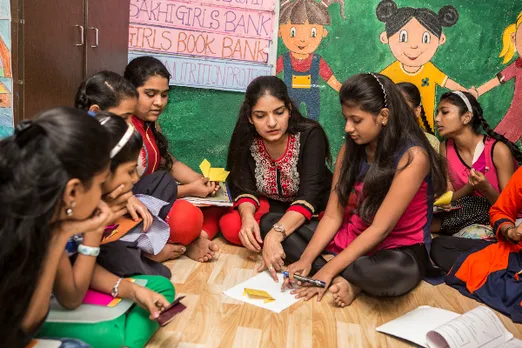 "We started the Girls Digital School on June 20. This is for teenage girls in slum areas to whom we have provided tablets for online learning. The students can learn basic Math and English language skills using the online modules," says Aarti Naik, who founded Sakhi in 2008. 
The other projects are the Rural Girls School, My Reading Bag and Girls Health Project. "At the beginning of this fiscal in April, we were short of funds, but I managed to continue operations with my own money and funding support from my community." 
To ensure access to education for girls in Osamanabad's villages, Naik started the Rural Girls School on July 24. Sakhi identified 50 girls and designed interventions to teach them basic language and numeracy skills.
Also Read: Bharti Foundation provides zero-cost education to over 40,000 underprivileged kids
"Our major focus is on building education leadership among adolescent girls in rural areas, so that they can inspire, guide, and support other girls from their communities," she says. So far, 40 tablets have been distributed for online education and 25 more will be sent soon. 
The Girls Audio Storytelling Project was designed as a response to the anxiety and fear that had gripped the girls in slums. "The stories not only educate them, but also motivate them to continue their lives without fear. We started the initiative on April 1."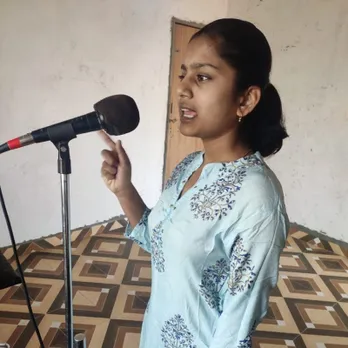 Ghodake, who records stories every day, has an interest in singing and playing the harmonium. "The stories are in Hindi, Marathi and English and each one conveys a message. She reads the story in the morning to grasp it and then records it with the help of her father. By afternoon the stories are circulated," says Naik.  
Also Read: How Barmer's NGO Fifty Villagers is helping underprivileged students become doctors
From March till September, Sakhi also distributed sanitary pads and ration kits to women and girls. "Under the Girls Health Project, we have reached out to more than 1200 girls in slum areas. Now, every month, 500 girls receive sanitary pads and 100 girls receive nutrition support," Naik points out. 
The My Reading Bag Initiative, which began on August 25, provides storybooks to cultivate reading habits in them. "We have distributed 120 My Reading Bags in our slums."
The Sakhi teaching methodology
Though Naik is helping many girls today, her own journey has not been easy. During the 12 years since the founding of Sakhi, mobilising funds has been difficult, especially during the pandemic when education has been relegated to a secondary position with survival and livelihood taking centre stage.
Also Read: How Bihar's Lahanti Club is preserving Santhali culture
"Ten girls passed their tenth examinations and two have completed 12th boards this year. Some girls have also started working with me as teachers and volunteers," says Naik.
Sakhi takes a pre-test in languages and math for all students. "We teach each child as per her level in classes conducted from Monday to Saturday. Weekly exams are held on Friday," she says.
The learning centres do not use blackboards for teaching, with Naik terming them "boring". "I personally teach every student and they pick up very fast. We primarily use drawings and phonetics in our classes," she says.
Naik herself had to drop out of 10th standard due to poverty, lack of quality education and absence of awareness among her community about girls' education. She was forced to stay at home and ended up making jewellery for which she was paid Rs9 per day. With the money she saved, she completed her 10th standard. 
Also Read: Lockdown: Kashmir's teachers run open-air classrooms as Internet ban rules out online education
Achieving this milestone made her realize that something needed to be done to educate girls in slums and she decided she could make that difference. In 2008, opportunity came Naik's way when Ashoka's Youth Venture selected her for a Changemaker Fellowship. "I became a 'changemaker' and received financial support for a year to establish Sakhi and this gave me the platform to train girls as leaders."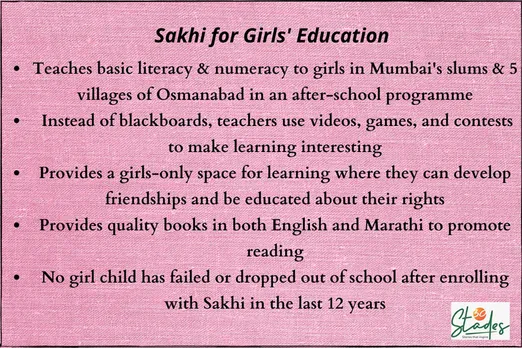 "Now my parents are proud of me," she adds
For the first eight years, Naik conducted her own research on curriculum and single handedly ran Sakhi. "I used to read up on the internet about curriculum and teaching methodology. After eight years, I took a training course in Jolly Phonics, which teaches literacy through synthetic phonics."
Naik did a basic course to understand how to create a curriculum as school curricula were different from the requirements of her students. "I also enrolled teachers, whom I hired, for the Jolly Phonics course and they learnt how to create teaching material without the use of blackboards," she says.
Also Read: How Prerana is helping thousands of girls get out of intergenerational sex trade
"For mathematics, I studied textbooks of government schools from the first standard to the sixth standard and devised a methodology which I shared with my trainers." 
There are zero dropouts from her learning centre because individual attention is paid to every student. "That is why no child has failed," she says.
A parent Roopali who works as a sweeper in a hospital vouches for it. "I have three daughters. My husband does not work. But I was determined to educate my daughters. I received a lot of emotional and financial support from Sakhi in achieving my objective." 
Roopali too enrolled as a student in Sakhi and passed the exams for class 10th. Ghodake, meanwhile, is ready with another story for today. And Roopali is looking forward to sharing it with her daughters.
(Sravasti Datta is a Bengaluru-based independent journalist, who writes art, culture and human interest stories)
Also Read: How free education became a passport to London and Rome varsities for underprivileged Kerala boys