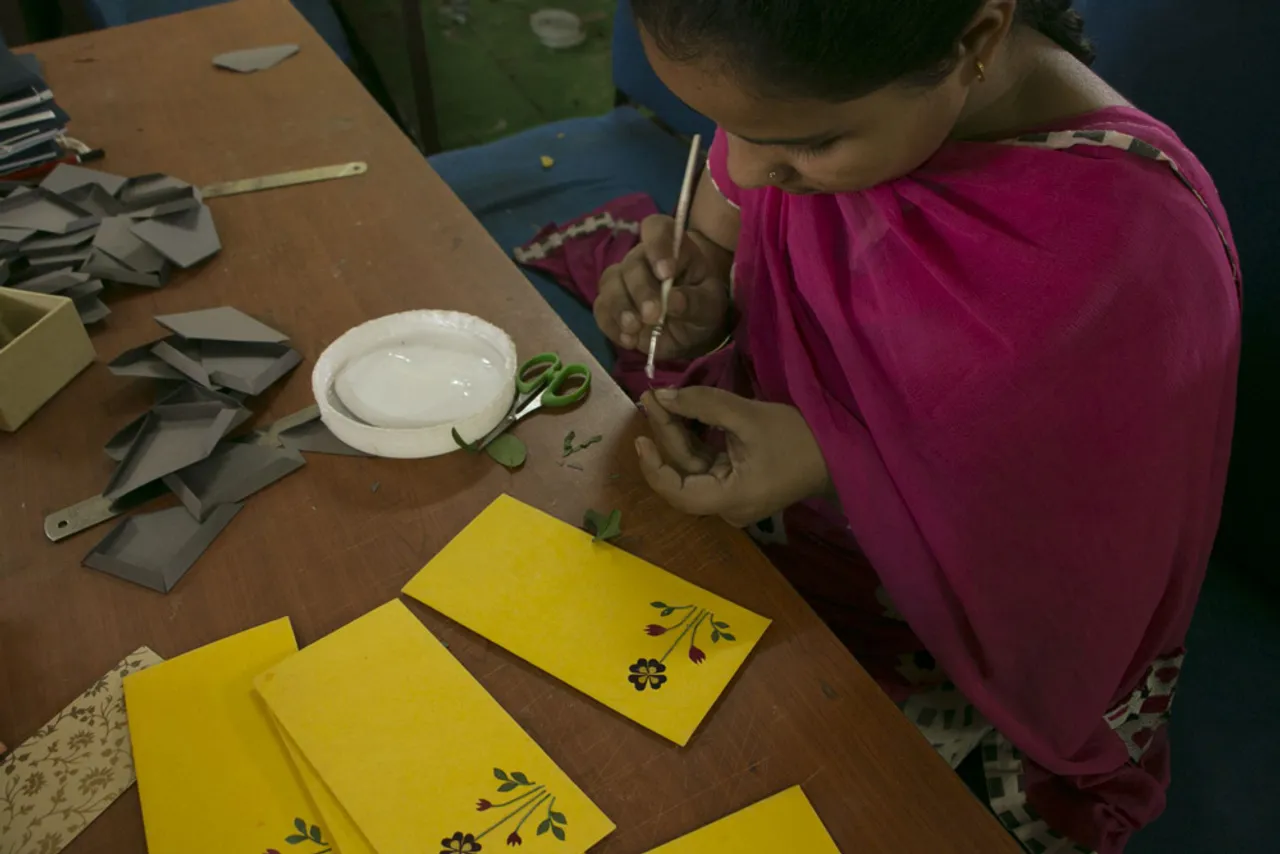 wp:html /
Mehrun Khatun does not remember when she first began rummaging through garbage to collect recyclable wastes in Delhi's largest dump yard at Ghazipur. She would sell the scrap to dealers and earn Rs1000-1500 a month or just about Rs35 to 50 per day.
"Since my parents were also ragpickers at the Ghazipur dump yard (in East Delhi), I had no option but to get involved in the same work to earn some extra money," says Mehrun, who studied up to class five. 
Her life, however, changed in 2013 when she learned about Gulmeher, a social enterprise set up in Ghazipur to provide alternative livelihood for women waste-pickers. Gulmeher trained Mehrun to make home décor items, organic colours, stationery and other gift items, transforming her life forever.
Also Read: How Bengaluru's Hasiru Dala has given identity & dignity to over 10,000 faceless waste pickers
Like Mehrun, 30 ragpickers-turned-artisans are working in Gulmeher, which began as a CSR initiative by infrastructure and financial services firm IL&FS in 2013. It was started when the company set up a plant to convert waste from the Ghazipur dump yard into energy. 
This impacted the livelihood of waste pickers in the area. Spread over 70-acre, Ghazipur is the oldest among the three landfill sites where the capital's trash is dumped. The other two are at Okhla and Bhalswa. All three are the source of income for lakhs of waste pickers in Delhi.
Also Read: Chennai couple's startup Carbon Loops takes urban food waste back to farms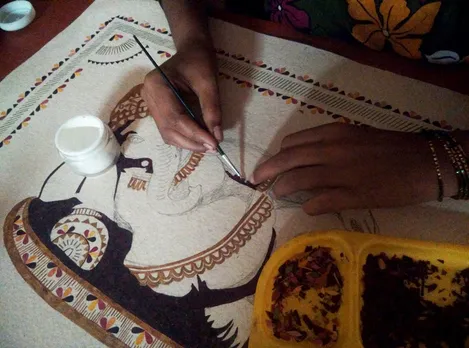 Anurag Kashyap, who was then working in the IL&FS CSR team, was leading the Gulmeher project. However, after four years of support, IL&FS withdrew and that's when Anurag decided to continue the project under his NGO Shakti Foundation. 
Ecofriendly handicrafts for environmental sustainability
Anurag says the women have been trained by artisans and designers to handcraft various items using recycled paper and discarded flowers. "We source discarded flowers from the nearby wholesale flower market every day," he says. These flowers are used to make organic colours and for decorating handicrafts. 
Also Read: LifeCraft: empowering Jharkhand's Kuiani women through fabric hand dyeing
The artisans blend indigenous craft techniques with contemporary designs like floral artwork by arranging dried petals, forming intricate patterns. The focus is on maximising work by hand to encourage craftsmanship. Their products include masks, coasters, wall hangings, bags, boxes and festive products like Holi colours, rakhis, candles, diyas and cards.
Gulmeher started with two-three women as it was not easy to wean them off from the occupation in which their families are also involved. But slowly, the Gulmeher team convinced others and has so far trained 150 women. 
Also Read: Karnataka's Hosa Belaku gives financial stability & dignity to artisans with disabilities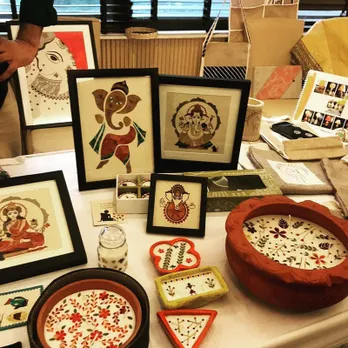 "However, only 30 are working full-time with us. We hire more women depending on our order requirements," says Anurag.
He says that as ragpickers, the women would earn Rs1500-2000 a month and that income too was not regular. "Here they are assured earnings of Rs7000-10,000 per month depending on the volume of work," he adds.
Anurag says the income from the sale of Gulmeher products and funds through the NGO cover the expenses of the enterprise.
Also Read: GreenKraft: taking banana bark baskets made in Madurai to Sweden's IKEA & beyond
"During the lockdown, the sales reduced drastically and we managed a turnover of around Rs 27 lakh in 2020. We are expecting to do better this financial year," says Kashyap, who is planning to expand to other cities.
The sales are done through its own website as well as through Amazon. Customers can also place orders over phone calls. The enterprise caters to bulk orders from retail stores as well.
Also Read: Thousands of Rajasthan's rural women empowered through up-skilling in embroidery
Choosing a dignified life
As ragpickers, the women worked in difficult and dreadful conditions. They spent hours sifting through mountains of garbage trying to find stuff that could be sold to scrap dealers. 
But since they had no option, the women were forced to work at the Ghazipur dumpsite, infamous for its height of 65 metres (as in late 2019), just a few metres short of the 73-metre-high Qutub Minar. The height was reduced by 12 metres in January 2021.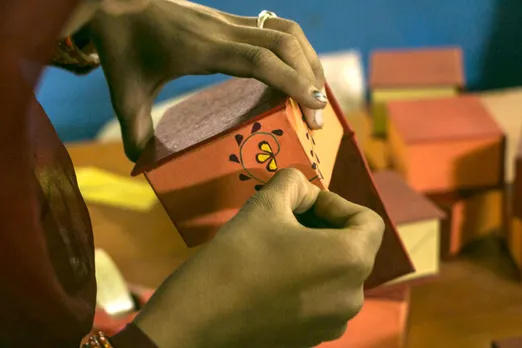 Salma Bibi, who says she is around 25, began working as a ragpicker when her father died in 2006. "I have seven siblings. After my father died, there was no one to earn money or get food for us. So I and my two sisters started to work," she says. 
However, in 2013, Salma and her two sisters trained as artisans and now make coasters, wall hangings, calendars, and other items. She earns Rs 10,000 a month. "Now we are not looked down upon by others. Rather we are now respected because we create unique and beautiful products," she says happily.
Also Read: Aquatic weed water hyacinth gives rise to ecofriendly handicrafts industry in the North-East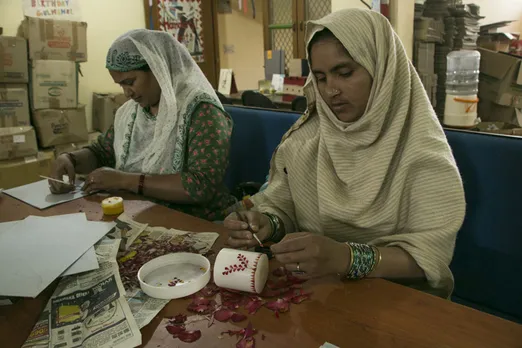 The women also create portrait paintings of renowned personalities. "We have made portraits of Sachin Tendulkar and other famous cricketers, Prime Minister Narendra Modi, Bhagat Singh and many others. I can make your painting too if you place an order," says Uma Aherval.
The 35-year-old and her husband came to Delhi from Madhya Pradesh in 2013. Her husband, a labourer, could not find work in their village. Once in Ghazipur, Uma also began to work as a waste picker before she joined Gulmeher.
"Now I meet many high profile people who visit Gulmeher. As part of work, we have visited beautiful places like Agra and Nainital. I could not have travelled to these places if I hadn't met with the Gulmeher team," says Uma, who now earns Rs 8000 per month.
Also Read: Tage Rita: Arunachal woman entrepreneur making India's first organic kiwi wine Naara Aaba
Empowering women, educating GenNext
Uma has two children – in class 9 and class 7. Because of the regular income from Gulmeher, she could send them to school and plans to provide them with good higher education.

Similarly, Kusumlata's son and daughter are now studying in a government school. "Because of stable and good earnings, we can send our children to school. Although they are studying in a government school, I can meet other educational expenses, thanks to Gulmeher," she says.
She moved to Delhi from Haryana about 12 years ago. Her husband is a driver. "But because of uncertainty in the work and inadequate income, she had to work as a waste picker to earn extra bucks. "But that income was neither regular nor enough. Now, I can dream of a better future for my children," she says.
(Bilal Khan is a Mumbai-based independent journalist. He covers grassroot issues, LGBTQ community and loves to write positive and inspiring stories.)
Also Read: Abira: Pune's all-women enterprise where slum dwellers handcraft ecofriendly products for global brands