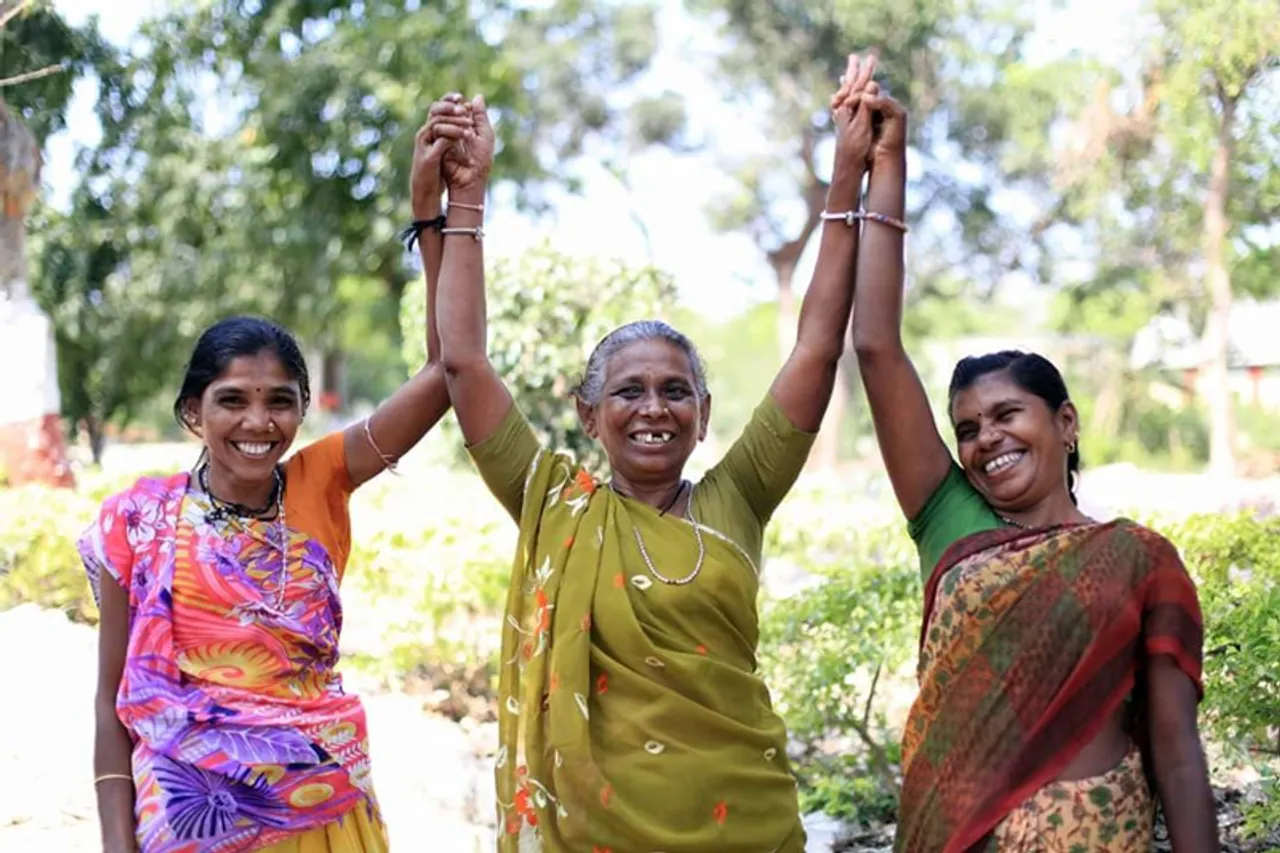 wp:html
Gitaben of Abhlod village has studied only till class 9. Being a Dalit woman, she was hesitant to speak in front of people even after being elected to the panchayat. Today, she is an active member of the panchayat and is known for her good work not only in her own village but in the neighbouring ones as well. She was re-elected in the January 2022 panchayat elections. What brought about this transformation? She was mentored and trained by Gujarat-based NGO ANANDI (Area Networking and Development Initiatives).
"It is ANANDI that has given me the confidence to assert myself. The NGO has given me knowledge about my role and responsibilities. As a result of the training I received, I have learnt about Panchayati Raj laws, budgets, social justice, health management, use of mobile applications, food security, school management, pensions for widows and the elderly, and housing scheme," she says.
Also Read: Financial literacy turns housewives into community leaders
Neelam, 24, is an active member of ANANDI. She soon realised during her fieldwork that the lack of toilets was a serious issue for women in rural areas. Shockingly, out of the 858 houses in Toyani village, 800 did not have toilets. She raised the matter before the panchayat. Through her constant efforts, now 180 houses have toilets. 
She is slowly moving her community towards better health and sanitation. "Now, people approach me whenever they face bottlenecks in government schemes. I want to be a lawyer and work for the down-trodden. I want to make social development an important aspect of local governance," says the spirited youngster. 
Also Read: Millet farming brings nutrition, financial security for women farmers in Bihar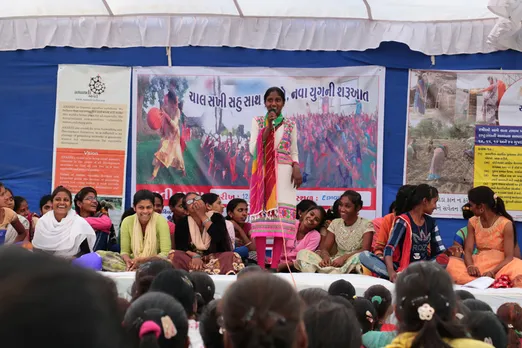 The lives of Gitaben, Neelam and thousands of other women in rural Gujarat have been changed over the past three decades by ANANDI. The NGO was set up in 1995 by five determined women – Sejal Dand, Neeta Hardikar, Jahnvi Andharia, Sumitra Thacker and Preeti Sheth.
"We came together after working in an impactful government programme, Mahila Samakhya Gujarat. The programme got us thinking not just about women's 'development' but women's 'empowerment'. We gained experience in other organisations but always wanted to work together someday. And, that's how ANANDI was born," says Sejal. Today, the NGO has a 65-member team. Though there are 40 percent male members, all the leaders are women.
It operates directly in four districts of Gujarat – Panchmahals, Dahod, Morbi-Maliya Miyana, and Bhavnagar. 
Also Read: Aamon: Tribal women in violence-hit Bengal province triple incomes with organic rice; revive traditional varieties
It focuses on women to ensure that gender-specific issues get addressed. Moreover, the NGO feels that women have a strong drive for change and this will benefit the other constituents of the community as well. 
A place in the Sun 
After the recent elections in January 2022, many women mentored by ANANDI have been elected as sarpanches and members of panchayat. "We help women file their nominations and support their campaigns. With our mentoring, they are soon able to make presentations at gram sabhas and negotiate with government agencies," says Neeta Hardikar.
Also Read: Snehakunja: Preserving biodiversity through empowerment of tribals in Western Ghats of Karnataka
"Surveys have shown that women in governance are more genuine, transparent and responsible in conducting their duties than men. Also, other women find it easier to approach them with their problems," says Sejal. 
As per law, 50 percent of seats in panchayats are reserved for women in Gujarat. However, this is often only on paper and it is the husband, son or some other male family member who calls the shots. 
Once, at a gram sabha meeting held in Gujarat, all the chairs were occupied by government officials while the elected women panchayat members sat on the floor! It is this patriarchy, and its many manifestations, that ANANDI has been trying to diminish over the years.
Also Read: How all-women dairy Shreeja has created one lakh milk entrepreneurs in Andhra Pradesh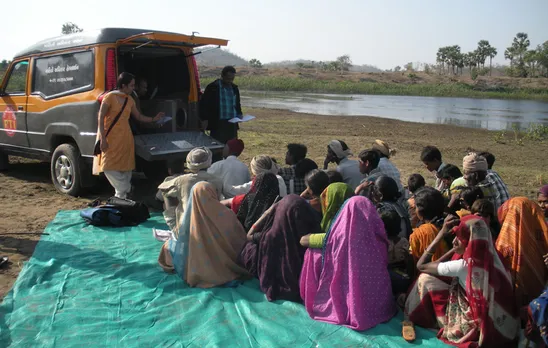 Tikudiben Nayak, a panchayat member in Moti Mangoi, says: "When we first went to the gram sabha, we were not allowed to speak. How could we raise the issues concerning our sisters? I was trained by ANANDI on how to speak up at such forums and assert myself. I have now learnt how to make village development plans and teach other women too."    
Collective action
The secret of ANANDI's success is mentoring and mobilising local leadership. It's not a team of urban women which has brought about a change in the tribal and feudal society. Local leaders are raising their voices.
Also See: In pictures: Empowered & financially independent Koli fisherwomen of Mumbai
The ANANDI logo aptly conveys the powerful message of collective action. One empowering slogan among the women mentored by the NGO is: "Sangathan hamari jaan hain, milkar hum toofan hain!" (The collective is our life, together we are a storm!)
The sangathan members are made aware of human rights, gender rights, equality issues pertaining to food, health, violence, sustainable livelihoods, education and property rights. They then work towards making structures and institutions in their areas more gender-responsive and accountable.
Also Read: Tribal women turn entrepreneurs with Tasar silk farming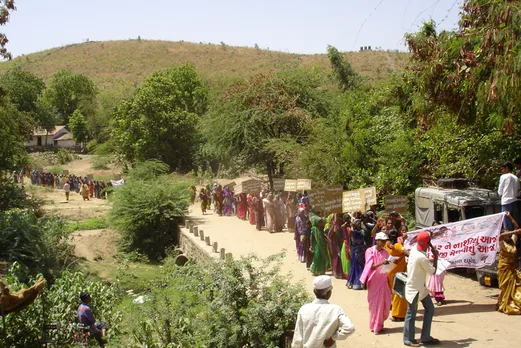 Sangathans organise agitations to ensure that women get the right to work as per NREGA. They also see that the National Food Security Act, 2013 (NFSA) is implemented fairly with timely and good quality rations being given to families. A positive change has been the allotment of ration cards in the name of women.
Impactful efforts
"Tapping and mentoring local women's leadership has been the biggest impact of our work. Also, the vulnerability of the marginalised population has decreased on various dimensions," says Neeta.
Also Read: Phool: where women turn temple flowers into incense, bio-thermocol & vegan leather
"As per our sources, while 79 percent of women in rural India are engaged in farming, only 9 percent own land," Neeta points out.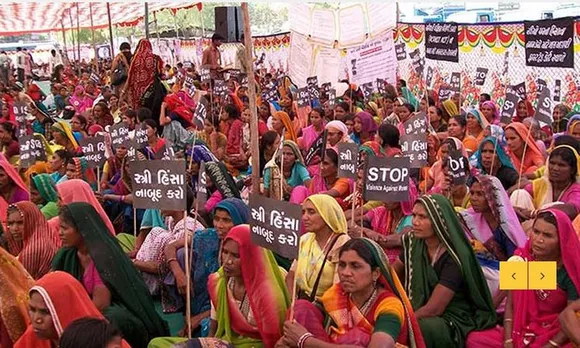 ANANDI built houses after the devastating 2001 earthquake. During successive droughts, considerable water conservation work is undertaken by the NGO. It has set up gender justice centres and committees to tackle gender discrimination and violence. 
It also works towards curbing child marriage. A call to Childline on May 24, 2018 reported that child marriage was going to take place in Antela village of Devgadh Baria block. ANANDI immediately intervened and with the support of the police managed to stop the marriage.
Also Read: Defying stereotypes and bullies, Patna's Ankita Raj makes a statement with street art
Its model has been accepted by both government agencies and civil society organisations. 
Future initiatives? "We will be focusing on skilling young women, through education and vocational training, so that they can exit low paid jobs in the agriculture sector. Chemical-free farming for better food and nutrition security is another area we will accelerate our activities in. Of course, we will continue to engage with local self-government and panchayats to improve governance," signs off Sejal.
Also Read: From juveniles in correctional centres to landless labourers, how Pushpa Jha is helping create mushroom entrepreneurs in Bihar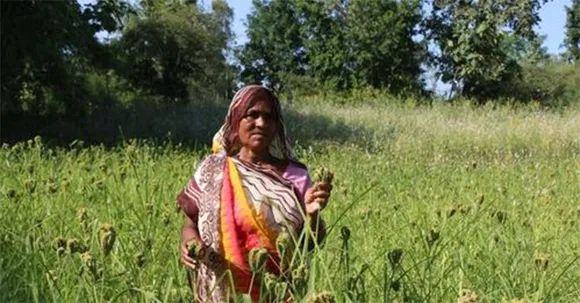 ANANDI has received both national and international recognition. 'Time' magazine picked the NGO as one of its 29 Asian Heroes in 2002-2003 for the NGO's efforts in the wake of the Gujarat communal riots in 2002. The late Dr A.P.J. Abdul Kalam handed over the Federation of Gujarat Industries award for Excellence in the field of Rural Development to ANANDI in 2008. The NGO developed a set of tools for the National Rural Livelihood Mission (NRLM) launched in 2011.
ANANDI has forged alliances with several national as well as international organisations to carry forward its agenda. Some of them are Working Group for Women and Land Ownership (WGWLO), Women's Empowerment Mainstreaming and Networking (WEMAN), South Asian Feminist Alliance (SAFA), Jan Swasthya Abhiyan, Dai Sangathan, Mahila Kisan Manch (MAKAM), Pravah, Community Action of Nutrition, Child Rights Campaign, and SHG Equity Group.
(Aruna Raghuram is a freelance journalist based in Ahmedabad. She writes on parenting, personalities, women's issues, environment, and other social causes.)
Also Read: Millet farming brings nutrition, financial security for women farmers in Bihar