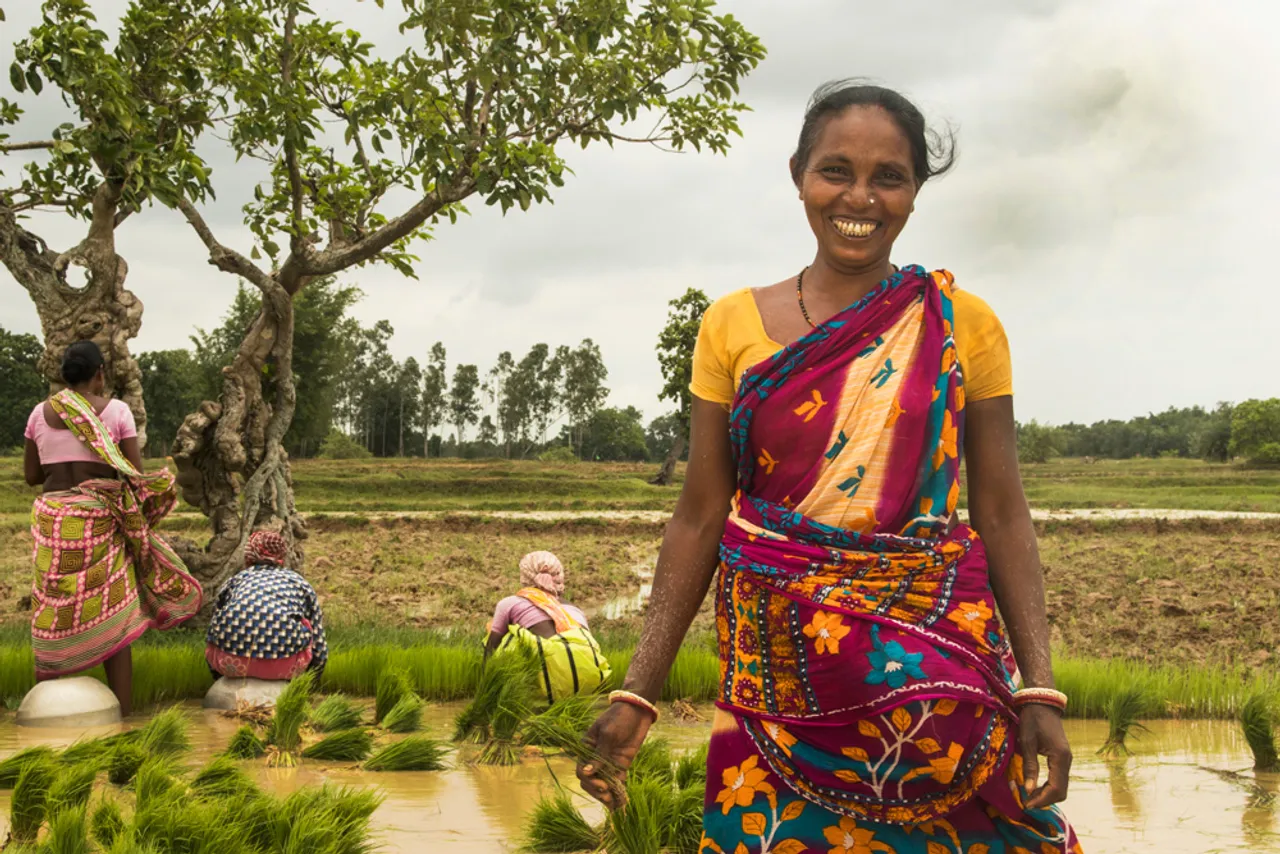 In India, rice has been considered auspicious and a symbol of prosperity and success since ancient times. For thousands of tribal and underprivileged women in Nayagram block of Bengal's Jhargram district, caught in a cycle of Maoist violence and poverty, the cultivation of organic indigenous rice varieties has brought hope and prosperity. 
Almost 5,000 women are now part of Aamon, East India's largest all-women producer company, formed with support from Pradan (Professional Assistance for Development Action), a civil society organization working with the poorest communities in rural India. 
Through regenerative agriculture, the women's incomes have tripled and they have overcome the ill-effects of conventional chemical-based agriculture that has wreaked havoc on the ecology and human life.
Also Read: Udaipur's Jovaki empowers tribal women by processing wild fruits & vegetable
The women, mostly from Sabar, Lodha and Santhal tribal communities, have revived traditional folk varieties and grow organic black, red and brown rice with just basic farmyard manure.
Alongside, they have restored the local ecology and are delivering on a promise of good health. Swarnalata Mahata from Pukhuria village bought a scooty last year from her savings. She proudly rides it to the rice mill in the nearby Murakathai village where she works.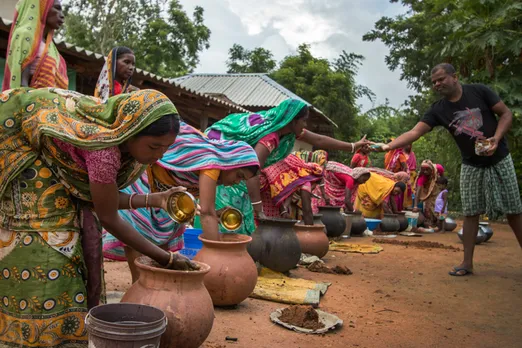 Aamon is an all-women enterprise reviving traditional rice varieties in Nayagram block of West Bengal's Jhargram district. Pic: Pradan 
"I could have never imagined I would own a vehicle one day," she says happily.
Also Read: Tendu leaves cushion tribals from economic deprivation during COVID-19
The vehicle is a symbol of socio-economic change in Nayagram as women farmers associated with Aamon have financial independence as well as confidence and decision-making power.
Swarnalata and her husband had meagre earnings from conventional paddy farming on their 1.5 bighas (0.5 acres) land. "Whatever we earned went into repaying loans. Since the cost of inputs was very high, we took loans for farming. We hardly had any money left," says the 26-year-old.
Going back to indigenous varieties of rice
Swarnalata joined Aamon in 2016 and when the proposal to grow black rice was mooted, she had to beg her husband to let her cultivate the indigenous variety.
Also Read: In shortage of vets, Pashu Sakhis support cattle & poultry farmers in Jharkhand's tribal hinterland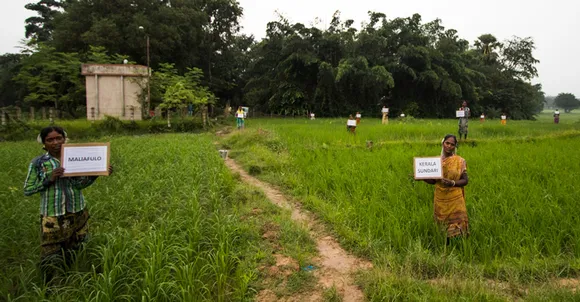 Women holding placards with names of traditional paddy varieties being grown in the farms. Aamon started with 300 women growing 18 traditional varieties. Pic: Pradan 
"My husband and in-laws were sceptical. They felt that I would degrade the land. I somehow convinced them and, luckily, the experiment worked well. Now my family is happy," she says.
Parul Mahata, 26, from Rakhalbon village says the women farmers save majorly on input costs now. "We don't need to buy hybrid seeds. And our input costs have reduced drastically," she says.
The input cost per acre of paddy with chemical farming was Rs3,000 to Rs4,000, which is now down to only Rs 800 per acre.
Earlier, the paddy would sell for Rs11-13 per kg while the black rice now sells for Rs34 per kg and the other varieties fetch Rs20-25 per kg. So, the women have seen a jump of two to three times in their incomes.
Also Read: Vistaraku: How Telangana's start-up is taking traditional Indian leaf plates to the world
Parul and Swarnalata also have the satisfaction that the money goes directly into their bank accounts and they actively participate in taking decisions in the family. "Earlier the women toiled in the fields but the men made merry with the money. Now we get money for our hard work," says Swarnalata.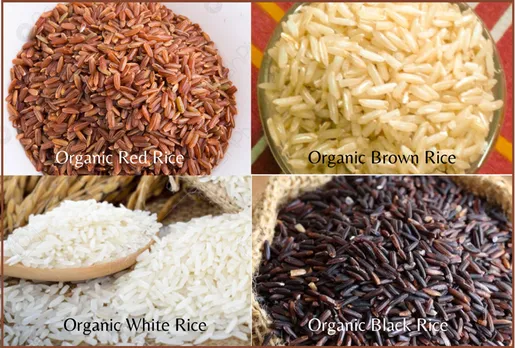 The organic rice grown by Aamon farmers is bought by traders across India. Pic: Aamon/30Stades 
Sourangshu Banerjee, Team Coordinator, Pradan, says the organisation started working in Nayagram block in 2007-08.
"Nayagram was a hub of Maoist insurgency. The unceasing violence took a toll on the people who had no avenues for employment and lived in poverty. This caused anger, resentment and frustration."
The Pradan team did some interventions with the villagers in conventional agriculture but did not make much headway due to the prevailing political situation. So they focused mainly on works under MGNREGA, the anti-poverty programme that provides at least 100 days of wage employment in a fiscal to every rural household.
Also Read: From juveniles in correctional centres to landless labourers, how Pushpa Jha is helping create mushroom entrepreneurs in Bihar
During the course of the work, the Pradan team came across a campaign against BT mustard, says Banerjee. "We thought the campaign to preserve and conserve local species and go in for organic farming could resonate with people in Nayagram."
Reaping a rich harvest
They studied the market to analyse the demand for commodities that could fit in the geopolitical situation of the Nayagram region and zeroed in on the traditional and healthier varieties of rice such as black, brown and red which they sell under the brand Aamon.
"We found a healthy demand for the traditional rice varieties which are more nutritious," says Banerjee.
Black rice and red rice contain a pigment called anthocyanin which gives the black and red colour respectively. Both the varieties contain anti-oxidants and anti-cancer properties apart from several nutrients.
The villagers in the region traditionally did only one crop of paddy and their annual income was between Rs40,000 and Rs50,000, which has more than doubled now.
Also Read: Rasika Phatak: Maharashtra's 23-year-old millionaire farmer & agriculture consultant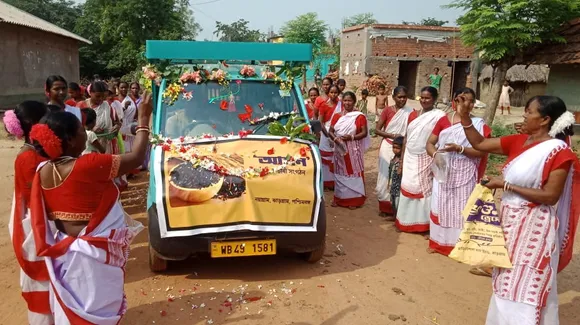 Aamon is targeting a turnover of Rs3.5 crore this year. Rice being dispatched for sale in the pic here. Pic: Pradan 
The new venture started with 300 women farmers who grew 18 varieties of rice using indigenous seeds in the first year, says Banerjee. They used farmyard manure and natural inputs and got a high yield of 4 tonnes per hectare. After this success, other indigenous varieties were explored and by 2019, these women were growing black, red and brown rice for large scale production.
Today, 4923 women farmers in 140 villages in Jhargarm are part of Aamon that is managed by the women members. They use the latest technology to process the paddy and Aamon sells across India.
Women are now diversifying their portfolio to add new products such as turmeric, medicinal herbs and Sal leaf plates.
Some 1500 women farmers have sown turmeric over 20 hectares and the first crop will be harvested in February. Another 300 farmers are growing medicinal herbs over 40 hectares.
Also Read: Snehakunja: Preserving biodiversity through empowerment of tribals in Western Ghats of Karnataka
The gender question
The tribals in the Nayagram area live in abject poverty and their mainstay is agriculture or foraging for timber and non-timber forest produce.
After Pradan's intervention and the push for organic farming, the villagers saw benefits not only in monetary terms but also in terms of improved soil fertility and ecosystem regeneration as microorganisms are returning and rejuvenating the barren soil.
At the outset, the Pradan team faced the challenge of convincing farmers to let the women join the self-help groups.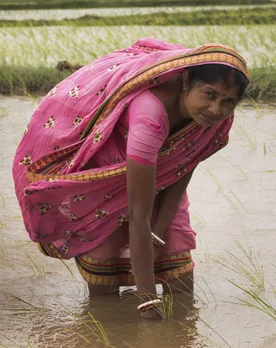 After initial resistance families of women farmers allowed them to use the land for organic farming and were surprised with the results. Pic: Pradan 
"The lands were not in the names of the women and they faced opposition from their husbands and in-laws who were not convinced that organic farming would work," says Banerjee
Also Read: How Tamil Nadu's aeronautical engineer-turned-farmer is creating native seed bank to promote organic farming
Some families even told the women that they were giving them the land on an experimental basis and if they failed, the women would have to pay in cash to make up for the loss, he says.
As part of capacity building, the women were told about the harmful effects of conventional farming, excessive use of fertilisers and pesticides, benefits of organic farming and different techniques of farming.
The marketing mechanism
Banerjee says they realized that just motivating the women to take up organic farming would not suffice in the long run. The produce had to be marketed so they organized a robust supply chain.
For the commercial venture, it was decided to start the farmer producer company, Aamon. Village producer groups were set up to oversee and manage the production and assign what the farmers would grow. There are currently 52 groups in the 140 villages.
Last year, the farmer producer company got orders for black rice worth Rs1.5 crore.
Also Read: Rapid Organic: Rajasthan farmer's venture helps 12,000 organic growers find global market
The farmer producer company's turnover in the last financial year was Rs30 lakh and this year they are targeting Rs3.5 crore, says Banerjee.
He says the company has a database of traders who regularly procure from Aamon. "The women grow crops as per the pre-orders. For rice, we take orders from traders between February and May. The crop is sown in July and harvested in December."
The orders that are taken by the farmer producer company are passed on to the village producer groups and they assign what the farmers will grow. At harvest time, the rice is sold to bulk traders.
Infrastructure support
To process the rice, Pradan, through contributions of Rs10 lakh, set up a rice processing mill in Murakathai village that is managed and operated by the women themselves. The mill has a capacity of one tonne per day.
Aamon has appointed women as purchasing officers in the villages. The purchasing officers check the quality and procure the rice as per the order. They then send it to the mill where it is processed and given to transporters who ferry it to the traders.
Also Read: Andhra farmers set up own retail chain Amravathi Organics; cut middlemen & get higher prices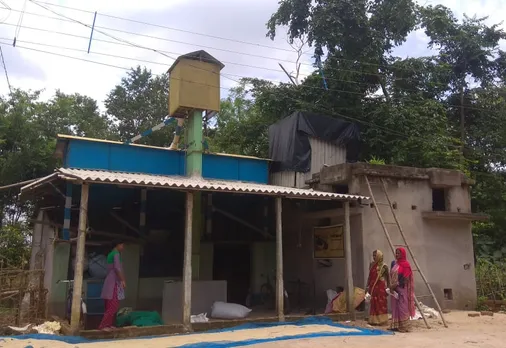 The Aamon rice mill in Murakathai village, operated by women, has the capacity to process one tonne of rice every day. Pic: Pradan 
The storage model is unique as well. The FPC does not have a warehouse for storage. After harvesting, the farmers store the produce in their houses till it is sold.
"The farmers understand that holding stock for the company is their economic contribution to the company so they are willing to do it," says Banerjee.
"The small farmers who don't have much storage capacity and need money immediately, we clear their rice first. Some bigger farmers can store it for several months and theirs is sold later," says Banerjee.
Now that the women are growing other products, more mills have been established like the one at Baksa village for turmeric production with a capacity of 3 quintals per day. The turmeric will be brought to the mill where it will be water-cleaned, air-dried and pulverized to be sold as turmeric powder.
A production unit for making Sal leaf plates has been put up in Chandabila village. It can make 10,000 to 15,000 plates in an eight-hour shift. Both units, costing Rs10 lakh each, were built with help of funds provided to Pradan by FICCI. A centre for bio inoculants has also been set up where bio fertilisers are produced and provided to the farmers at subsidized rates.
(Urvashi Dev Rawal is a Jaipur-based journalist specialising in development, gender, and political reporting)
Also Read: Tribal women turn entrepreneurs with Tasar silk farming