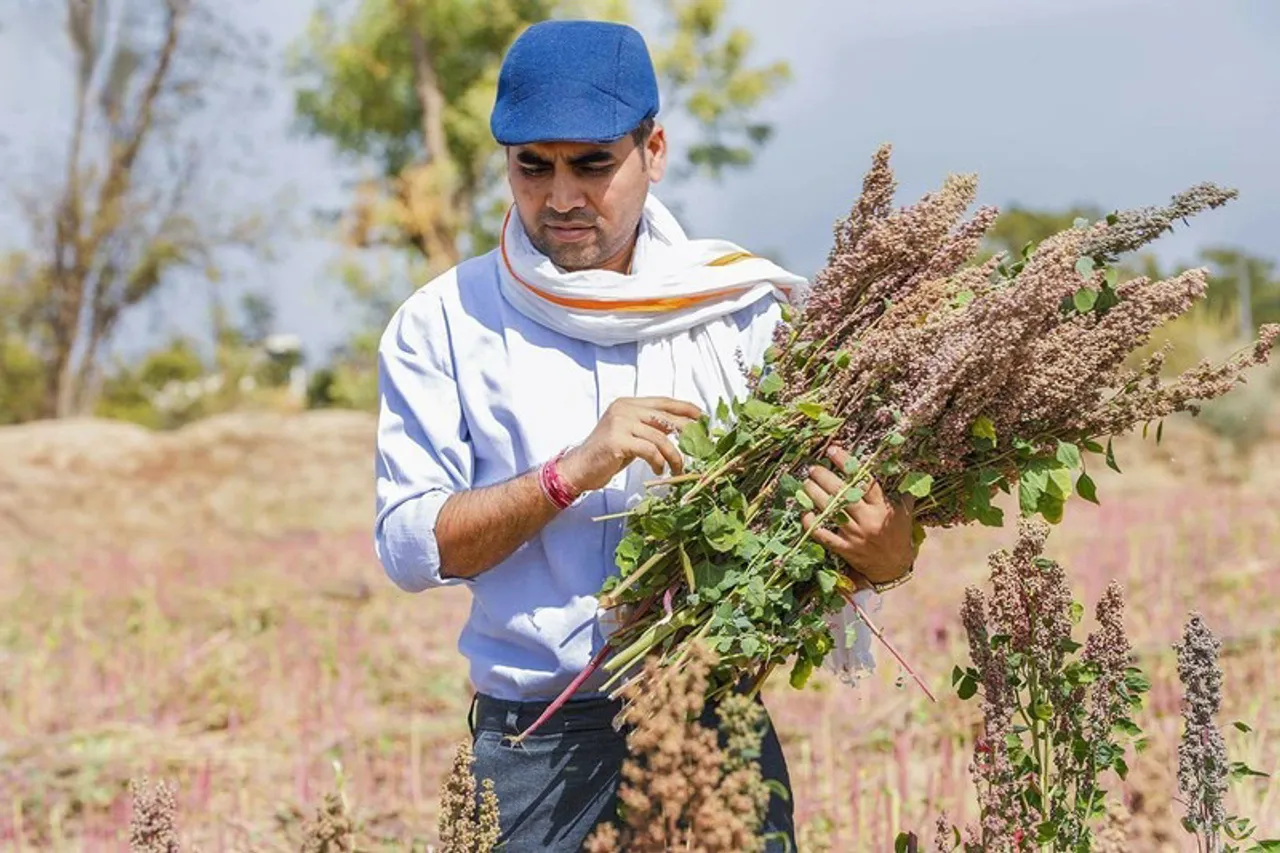 In 2010, after several months of hard work, Yogesh Joshi convinced seven farmers in Sanchore town of Rajasthan to switch to organic farming. He asked them to plant cumin seeds on a portion of their land and assured them that they would get a good yield and profit. But the entire crop on 10 hectares of land failed.
"The farmers were livid. They lambasted me. They said I had broken their trust and saddled them with losses and they were right," recalls Yogesh, who went from failure to an annual turnover of around Rs50 crore.
But back then, Yogesh was crestfallen. He had quit his corporate job and toiled for months to try and convince farmers in villages about the benefits of organic farming. He would leave home on his bike in the morning and visit farmers in the hope of persuading them to give up conventional chemical-based farming that was harming the environment and health.
Also Read: Engineer leaves high paying job at Microsoft for Gerbera farming; creates jobs in his village
At that time, the concept was new and only a few farmers were willing to take the risk. "I identified big farmers and approached them as they had large tracts of land and I hoped some would be willing to experiment." But eventually, the experiment failed.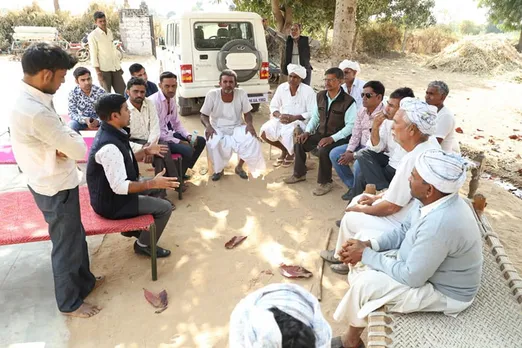 "I had done a diploma in organic farming but I realised that I did not have adequate knowledge. Instead of giving the three-year conversion period to 'detox' the land, we had used organic inputs right away which caused the crop to fail," he says.
Also Read: How this Rajasthan farmer went from zero to millions with organic farming using his own manures & sprays
Chasing a dream
But Yogesh was not willing to give up his dream. He saw a lot of potential in organic farming and wanted to help other farmers realise the benefits of a 20-25 percent increase in earnings and improved health besides insurance and education benefits for their families.
Today, Yogesh has formed three Farmer Producer Organisations (FPOs) with 12,000 organic farmers in Rajasthan's Jalore district. They produce only organic items -- spices, cereals, pulses, edible oils, dry fruits and herbs -- which are sold through Rapid Organic Pvt Ltd.
This is Yogesh's first entrepreneurial venture. After completing his graduation from Udaipur, he got a job in Jaipur with the Morarka Foundation. Working for a year at Morarka, he learnt about the detrimental effects of conventional farming on the land, environment and health and the advantages of organic farming.
Also Read: Residue-free farming: How Nashik's millionaire grape farmer uses technology to get a yield of 10 tonnes per acre
The entrepreneur in him assessed the first-mover advantage. He planned to return to Sanchore and practice organic farming.
He then went around trying to convince local farmers to join him. However, most were reluctant as they did not want to disrupt their well-established farming pattern.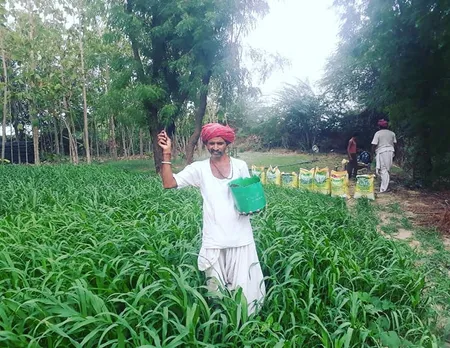 The seven farmers who agreed did not get the expected returns and Yogesh made amends. "I visited the farmers several times and requested them to not give up. I told them I would get a trained person to guide us."
Strengthening the roots of organic farming
He then sought the help of Prof Arun Sharma at the Central Arid Zone Research Institute in Jodhpur. The professor explained the methods to be adopted and trained the farmers. He told them to convert small patches of farmland to organic farming.
Also Read: Organic farming of dragon fruit and lemon triples Punjab farmer's income
"For the next three years, we slowly converted the farmland. Our production was at par with conventional farming. This gave us confidence and, from the fourth year, we started making profit," he says.
Conventional farming yields 500-700 kg of cumin in one hectare of land. While organic farming gave the same yield but the rates were higher by about Rs25 per kg.

Sanchore in Jalore district of western Rajasthan was once an arid region. The situation changed drastically in 2008 when the Narmada Canal project brought river water to the barren region of the Thar desert through a 56 km canal from Gujarat.
Also Read: How Tamil Nadu farmer increased profits & cut costs by 30% through organic farming
Farmers, who could manage only one crop, started growing three crops with the availability of water. Their incomes rose by up to 40 percent. Seeing the success of seven farmers, others in Sanchore approached Yogesh. In the meantime, the demand for organic products also grew.
Coasting to success
In 2017, Yogesh organised the farmers into three Farmer Producer Organisations and guided them on growing organic crops.
Today, the farmers grow organic spices such as cumin seed, mustard, fenugreek, fennel seed, sesame seed, black pepper, turmeric powder, ginger powder, coriander, cardamom, cinnamon and bay leaf and organic cereals like maize, bajra, jowar, wheat, barley and ragi. They also grow organic pulses, edible oils and dry fruits as well as quinoa, chia, buckwheat, mint, tulsi, drumstick and sugarcane.
The firm has 25 collection centres where farmers bring the produce. From there it is taken by road to the company's warehouse in Unjha, Gujarat, where it is cleaned, sorted and packaged before being transported to retail outlets.
Also Read: How organic fruit farming made Rajasthan's Santosh Devi a millionaire
The FPOs provide benefits to farmers such as insurance, annual health check-up camps, help with children's education and providing regular training to farmers to keep them updated with the latest developments in agriculture as well as technical support and inputs for sowing and harvesting purposes. 
Yogesh is a staunch backer of organic farming.
"Farmers too now understand that the chemicals they pump in are poison. I often ask them why they keep chemicals away from children and they reply that it is poison. So, I ask them why they are feeding poison to people, and they concede to my point."
Also Read: Rasika Phatak: Maharashtra's 23-year-old millionaire farmer & agriculture consultant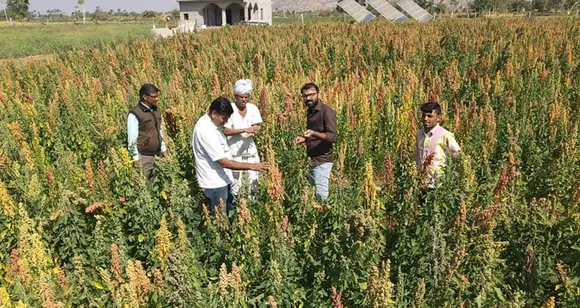 Yogesh says there is still a need for governments and NGOs to work on the ground to clear doubts of farmers on organic farming. "Our philosophy is to lead by example. In every village, we try to persuade at least one farmer to join us. We present him as a role model and seeing his success, others willingly join."
His wife Aruna has started a women's group with 300 women farmers who are also being trained in farming techniques and marketing of the produce.
Also Read: How mushroom farming is increasing incomes for women in Jharkhand
Yogesh has won several awards for his initiative including the International Glory Award 2021, Direct Farmer Linkage Award 2019, India SME 100 award 2019, Jaivik India Award 2018, Organic India Excellence Award 2018, Best Quality Mark Award 2017 and Agri Start-Up Award 2018.
Yogesh says farmers can become exporters; they just need to organise themselves and create a brand for their produce. "If they form groups and do business in large volumes, they will get a market. Farmers have access to social media. They should regularly post their products online and they will get a good response," he suggests.
(Urvashi Dev Rawal is a Jaipur-based journalist specialising in development, gender, and political reporting)
Also Read: Gujarat: Dentist-turned-farmer reaps rich harvest with organic farming of dates