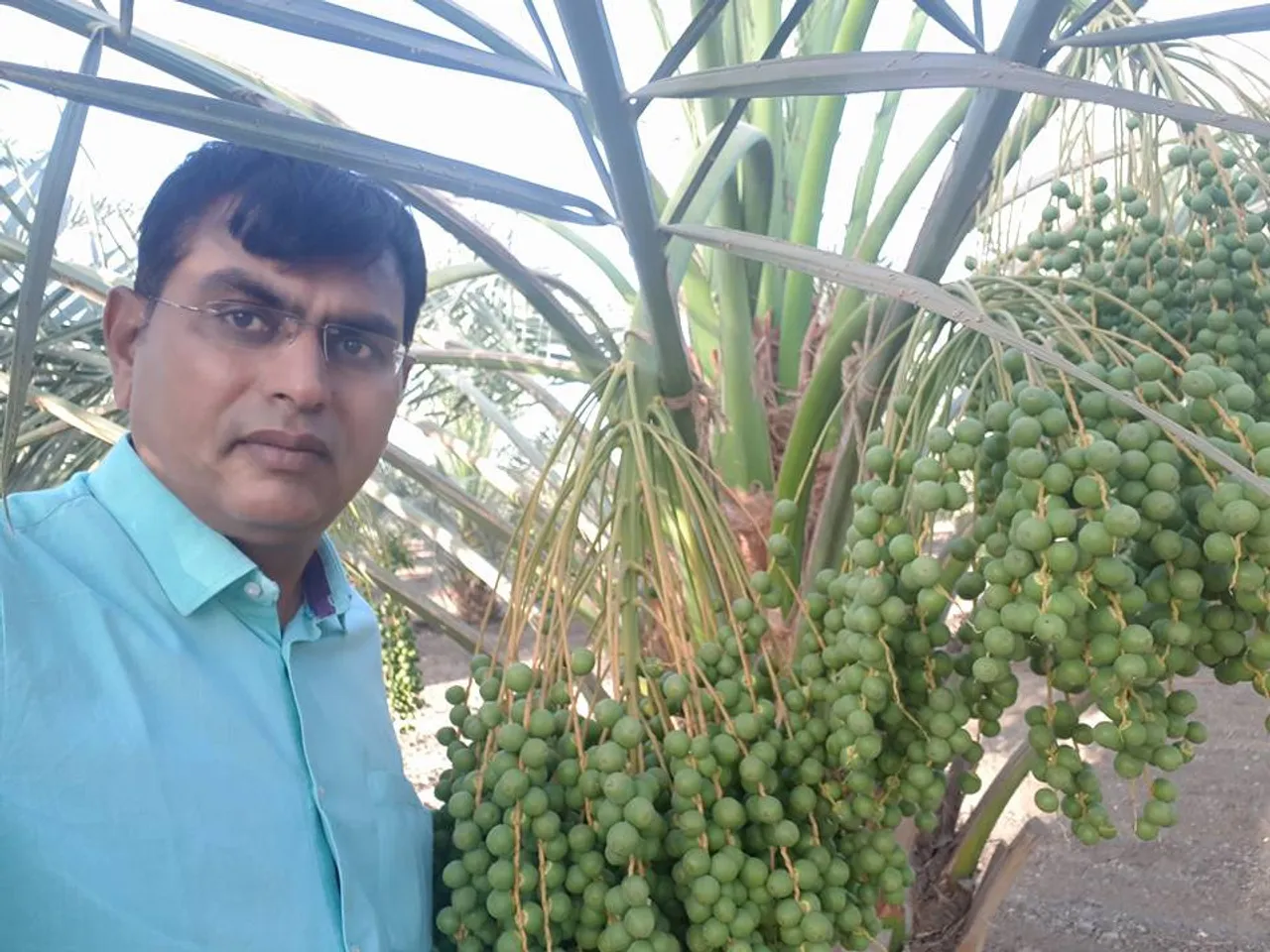 Ramesh Pipalia remembers his father waking up at dawn to water the fields, till the soil and sow seeds on his 20 bighas (8 acres) land in Gujarat's arid Saurashtra region. It was a struggle to irrigate the fields and the harvest was dependent on the monsoon. The unstable nature of agriculture and income made Ramesh's father discourage him from continuing the family tradition. He wanted Ramesh to take up a job that offered stability. And so he became a dentist.
That was 40 years ago but life had different plans for Ramesh.
In 2014, the dentist returned to his land in Jashvantpur town of Rajkot district to start organic farming of dates. Today, Ramesh has a thriving date palm orchard and earns in lakhs.
"I was drawn towards farming since childhood. I wanted to try something new and exciting. However, life had different plans and I became a dentist," says Ramesh.
Also Read: Environment: Gujarat couple quits US jobs to build own food forest; creates orchards & gardens for others
But his heart was drawn to the soil. He would often read on the internet about farming techniques, crops, soil and related aspects. He also watched YouTube videos on farming.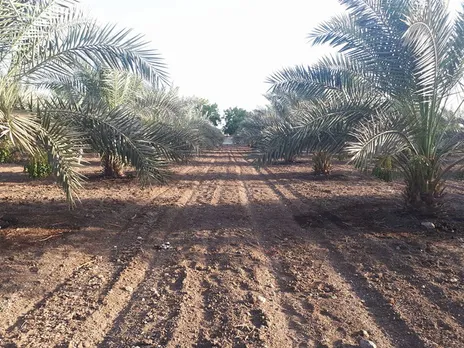 Tissue cultured date trees planted at a gap of 25 feet from each other at Ramesh Pipalia's Radhika Organic Farm. Pic: Radha Organic Farm 
What strengthened his resolve to return farming is the gradual greening of Saurashtra, thanks to government efforts. Farmers have benefitted from better irrigation facilities and subsidies introduced by the government. This encouraged Ramesh, now 53, to leave his dentistry practice and start cow-based organic farming at his Radhika Organic Farm.
Organic farming of dates
Out of the 20-bigha land in Jashvantpur, he planted 260 date plants on 10 bighas in 2014-15. Ramesh bought date plants that were grown using tissue culture. Tissue culture is a technique wherein all other plants are grown using a single cell from the mother plant.
Also Read: Andhra farmer gets triple the market rates for mango & paddy with zero-cost natural farming
"I preferred tissue cultured date plants to ensure uniform quality and taste of fruits," he says.
He purchased the plants from Atul Chemicals, Vapi, Valsad at Rs2800 per plant. The government provided a 50 percent subsidy for the same.
Ramesh planted them at a distance of 25 feet from each other. The plants generally begin to produce fruits from the third year itself. He did not cultivate any other crop on the remaining land. This year, he has sown Kesar mangoes in the space between the date plants.
See: Gujarat's MBA farmer Chintan Shah turns infertile land into organic farm of turmeric, ginger & wheat
He chose date cultivation as they require less on-farm work compared to other crops and give quicker returns.
"I have to work for 4-5 months a year on the farm. Date plans are resistant to weather changes as well. We need more water in the summer season. We have set up irrigation facilities accordingly."
He also purchased 15 Gir cows for the farm as cows are integral to organic farming.
Gir cows are indigenous to the region, with their origin in the Gir forest of Kathiawar, Gujarat. He uses the cow dung, urine, and prepares jeevamrit (also jivamrit) mixture on the farm to enrich the soil.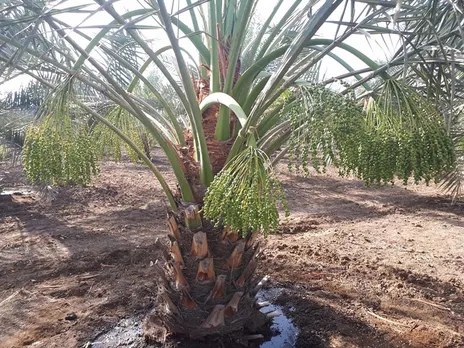 Date trees start bearing fruits from the third year after plantation. Pic: Radhika Organic Farm 
Jeevamrit is liquid organic manure made using cow dung, cow urine, lemon, jaggery, turmeric powder and gram flour. It is a natural source of nitrogen, potassium, phosphorous and other nutrients required for the crops.
"The soil quality was not bad, to begin with. I further improved it through organic farming and spray of farm-made organic mixtures. The produce was ready on time."
Also Read: How this Rajasthan farmer went from zero to millions with organic farming using his own manures & sprays
On his decision to pursue organic farming, Ramesh says, "I chose organic farming because everything that is produced is eventually given back to the soil. Chemicals and artificial substances might give a good yield but they deteriorate the quality of soil over the years. The natural micro-organisms and the micro-nutrients get destroyed due to chemicals."
He says in chemical-based farming money has to be pumped in a never-ending cycle with costs rising every year.
"It requires more and more money and gives you chemical-based harvest which causes health problems for which more money is needed."
The business of dates
The date flowers start blossoming by March and the fruit is ready to be harvested by June. There is high demand for Ramesh's crop due to their organic nature and high quality.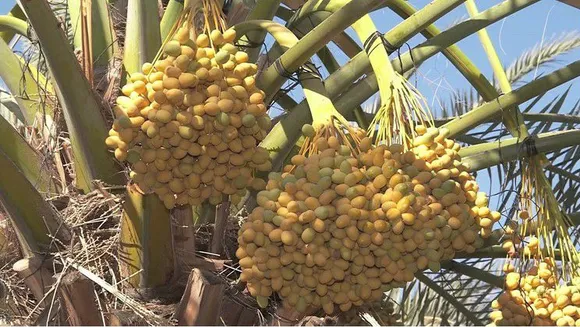 Each plant can produce 60-70kg of dates annually. Pic: Radhika Organic Farm 
He does not have to take the produce to the market as it is sold off within two months of harvest from the farm itself. In the last season, he earned a profit of Rs 10 lakh after deducting costs of irrigation, labour etc.
Gujarat is the top producer of dates in India. Rajasthan, Maharashtra, Tamil Nadu, and Kerala are other states where date palm is cultivated. The crop requires a prolonged hot dry summer, moderate winters and rain-free period at the time of fruit ripening around June-July.
Also Read: How Tamil Nadu farmer increased profits & cut costs by 30% through organic farming
"Date palm cultivation worked well for me because of organic farming, which keeps costs low and is good for soil as well," he says.
The demand for dates is growing given its high nutrition value and fibre content besides the presence of natural sugars. Each plant can produce over 100kg of dates annually.
On average, Ramesh has been harvesting about 12,000 kg dates every year for the last five years.
This year turned out to be lucky as he could harvest 14,000 kg dates which are generally sold at Rs100 per kg in the market. Despite having organic dates, Ramesh does not charge extra prices, unlike many farmers who sell organic produce at higher rates.
"One of the biggest advantages of date crop is that it can even work for a small farmer with just one bigha land. The yield can be nearly Rs2-2.5 lakh a year from that small area."
Ramesh also sells cow ghee at Rs.2000 a kg. Milk and other milk products are mostly consumed within the family. He grows some organic vegetables too for domestic consumption.
Also Read: Residue-free farming: How Nashik's millionaire grape farmer uses technology to get a yield of 10 tonnes per acre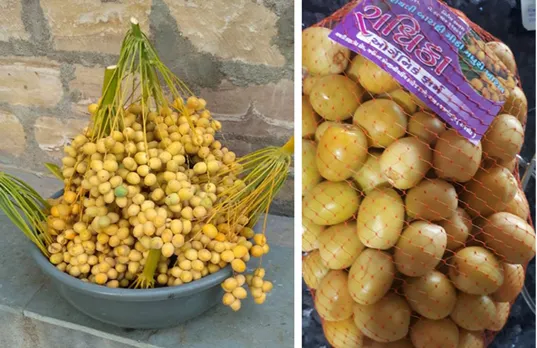 The produce is sold from the farm itself. Pic: Radhika Organic Farm 
Ramesh has two sons. One is in school and the other one is an engineer.
On his children pursuing agriculture, he says "It's a choice they have to make. My father never forced me to take up agriculture. But 30 years later, I started organic farming out of passion. Someday, if my children develop a sense of attachment and passion, they may take it up. But I would never insist on it just because I am passionate about it."
He is happy that his family gets to eat healthy chemical-free food. "The biggest investment one can ever make is on their family's health. I have a place amidst nature, away from the city life and I love it this way," he says.
(Vedant Sharma is a Gujarat-based freelance writer)
Also Read: Marathwada: Farmer in drought-prone Beed gets 60 tonnes papaya per acre through organic farming