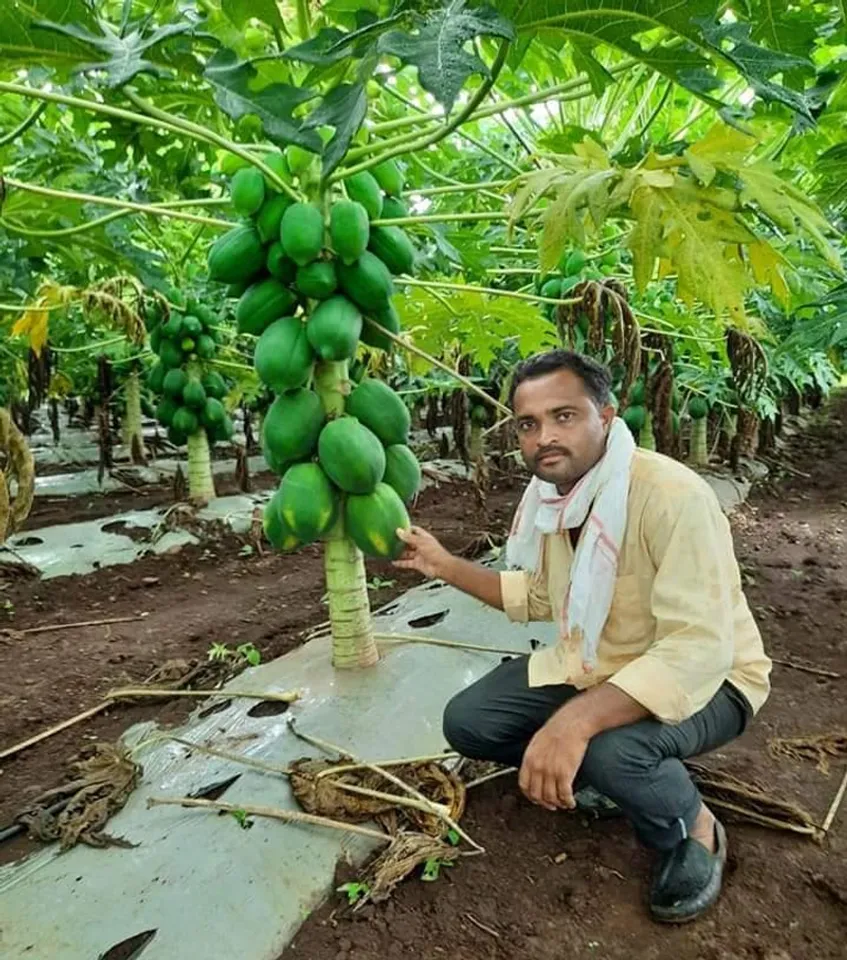 In Maharashtra's Beed district, notorious for the highest number of farmer suicides in India as well as drought, a farmer is producing around 60 tonnes of papaya per acre through low-cost organic farming. While the average papaya yield per acre is 40 tonnes in India, Sandeep Gitte's farm in Nandagaul village in the Marathwada region is a testimony that farming can turn profitable with the right combination of organic practices and technology. 
He earns a net income of Rs 3 lakh per acre annually from papaya cultivation after meeting all the expenses.
Gitte family's 40-acre farm is home to not only plantations of papaya but also watermelon, lemon, mango and soybean. "Until 2019, we cultivated soybean, gram and sorghum (jowar)on a rotation basis on 30 acres of land. The income from each of these crops was only about Rs 20,000 to Rs 23,000 per acre. We cultivated these crops as they have limited requirements for water, which is scarce in the region," Gitte says.
Also Read: Andhra farmer gets triple the market rates for mango & paddy with zero-cost natural farming
Marathwada, which falls under the rain shadow area in the Western Ghats, receives an average rainfall of 683 mm, 30 percent lower than the country's average.
Droughts are frequent due to inadequate rains, climate change as well as lack of water conservation.
Organic horticulture: Handholding + technology = high returns
So while the Gitte family was keen to practice horticulture, it required investments, which they could not afford. "One, you need to invest in good irrigation facilities as fruits require more water. Two, good quality fruit saplings are a must because poor quality plants result in losses."
Also Read: Rasika Phatak: Maharashtra's 23-year-old millionaire farmer & agriculture consultant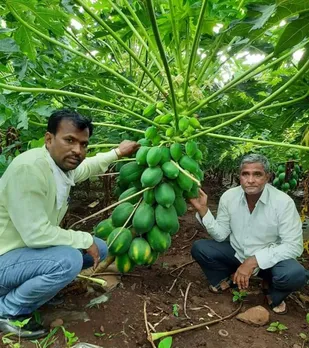 Sandeep Gitte's father, elder brother and other family members also work on the farm. Pic: Facebook/@globalparli 
A papaya sapling costs Rs 12 and about 900 of them are planted over an acre for optimum utilization of land and other resources. 
It was around this time in 2019 that the family heard of social activist Mayank Gandhi's NGO Global Parli, which was working with farmers in the drought-prone areas of Marathwada. They approached the NGO, seeking help in fruit farming.
Also Read: How this Rajasthan farmer went from zero to millions with organic farming using his own manures & sprays
Global Parli provides good quality saplings to farmers at lower-than-market rates. They also bear half the cost of setting up drip irrigation facilities on the farm.
"The quality of saplings available to farmers is often not good. We give them the best available saplings at subsidised rates," says Gandhi, an urban planner-turned activist.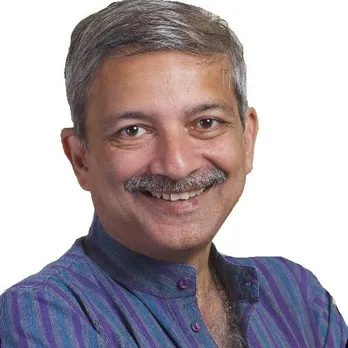 Mayank Gandhi, Founder, Global Parli. Pic: Wikipedia
"We add modern technology to best farming practices and provides books as well as training to farmers every 10-15 days," he adds.
Global Parli, which works in nine districts of Maharashtra and six districts of Madhya Pradesh, also has 24X7 helplines for farmers where agriculture experts, as well as senior farmers, are available for guidance. 
The NGO's work is funded by corporates through their CSR allocation. Global Parli also provides market linkages to farmers by connecting them with fruit and vegetable wholesalers.
Gitte took the NGO's help in not only buying saplings but also in setting up drip irrigation facilities on his farm.
Also Read: Lemongrass oil slowly replacing opium production in Jharkhand's Maoist stronghold Khunti
Typically, drip irrigation requires an investment of Rs 20,000 per acre. 
Drip irrigation is considered the best method for watering fields in arid or drought-prone regions because water is delivered directly to the root zone of the crop. As a result, water requirement is only 20 to 30 percent of what's needed in conventional flooding and furrow methods. 
"The costs for drip irrigation were prohibitive but help from Global Parli made it possible. They give Rs 10,000 for drip irrigation per acre while the balance has to be invested by the farmer. We received Rs 70,000 and invested a similar amount ourselves to cover 7-acre land under drip irrigation," he says. 
Also Read: How mushroom farming is increasing incomes for women in Jharkhand
Keeping costs low with organic farming
Like many other farmers, he too procured saplings of papaya at Rs 6 each, half of the market rate, and planted those over 2.25 acres.
"Between two papaya plants, there is a gap of 6 feet in which we plant eight watermelon saplings. This maximizes the utilization of land and irrigation facilities," he says.
The market rate for papaya is around Rs 10 to 12 per kg from July to December. It then goes down to Rs 6 per kg. "Each papaya tree gives a minimum of 40kg produce annually while some give up to 60 kg. After meeting all expenses, I can earn Rs 3 lakh per acre through papaya," Gitte points out.
From watermelon, the annual yield is 25 tonnes per acre and it sells at Rs 7- 8 per kg, giving net returns of about Rs 1.5 lakh per acre.
Also Read: How Tamil Nadu farmer increased profits & cut costs by 30% through organic farming
After tasting success and money, with papaya plantation over 2.25 acres, Gitte planted it on another 5 acres in 2020. He then procured saplings of custard apple from Global Parli at Rs 10 each against the market rate of Rs 60, planting them over 5 acres; lemon over 5 acres and mango also over 5 acres. 
"We got good quality mango saplings at Rs 20 each from Global Parli while we have to pay Rs 70 to 80 if we buy from local nurseries," he says.
The remaining land, nearly 12.5 acres is used for cultivating soybeans and fodder for cattle.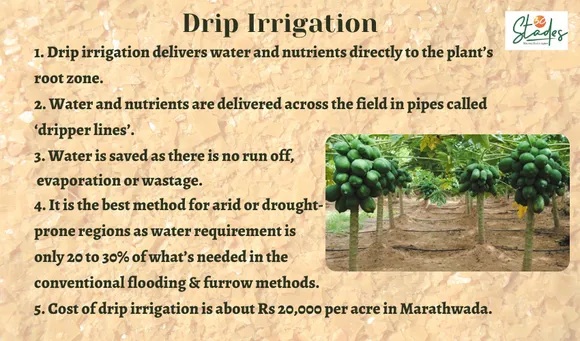 Drip Irrigation. Infographic: 30Stades 
"We have four cows and use their cow dung and urine to nourish the plants," Gitte says. His elder brother, father and other family members work on the farm besides five helpers.
Also Read: Assam's Samir Bordoloi glamourises zero-cost organic farming; draws Northeast youth back to agriculture
"We make our own jeevamrut, manure and other sprays on the farm."
Jeevamrut is slurry obtained by fermenting a mix of cow dung, cow urine, water, gram flour and jaggery for 2 to 3 days and Gitte sprays it on papaya trees every 10 days. Another mix of chaas (buttermilk) and cow urine is sprayed every 15 days.
"Organic farming keeps costs low as we don't have to buy any fertilisers or other inputs from outside. Four cows are more than enough to meet the requirements of our land," he adds.
Papaya trees planted in 2019 have brought Gitte and his family out of financial difficulties. He is now looking forward to bring more land under drip irrigation and horticulture.
(Rashmi Pratap is a Mumbai-based journalist specialising in financial, business and socio-economic reporting)
Also Read: Environment: Gujarat couple quits US jobs to build own food forest; creates orchards & gardens for others