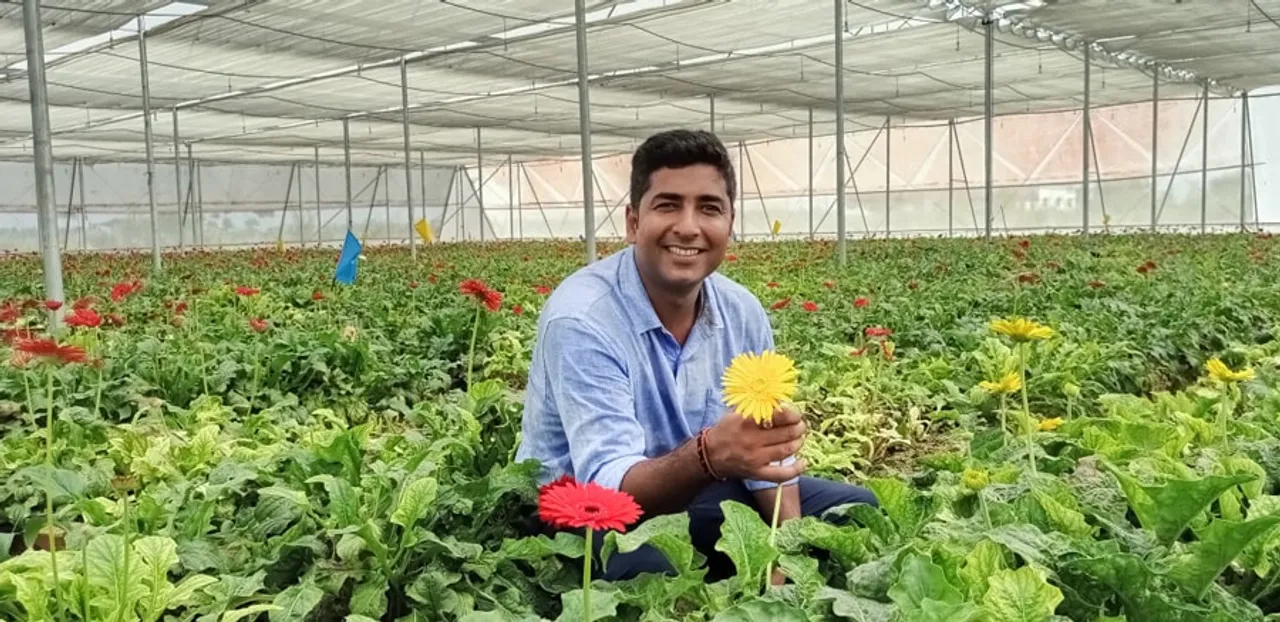 For youngsters living in the villages of India, a cushy job and luxurious life is a dream they chase. However, Abhinav Singh from Chilbila village of Uttar Pradesh's Azamgarh district chose to give up his plush job with Microsoft to start Gerbera farming in his village.
Abhinav's Gerbera cultivation currently yields an annual income of Rs18 lakh and also generates livelihood for about 100 men and women in Chilbila.
Abhinav's father is a hardware businessman and his mother is a housewife. Abhinav did well in school and cleared the CET (Common Entrance Test) and went to Bangalore to pursue B Tech in computer science. After his graduation, he got a placement with Microsoft, something that most would consider a dream job.
Also Read: Gujarat's MBA farmer Chintan Shah turns infertile land into organic farm of turmeric, ginger & wheat
He also worked at the Microsoft headquarters in the United Kingdom at an annual package of Rs 80 lakh. "I was living a luxurious life. I would spend my weekends in Barcelona; drive an expensive car. It was a dream life," says 36-year-old Abhinav.
"There was an absolute balance between work and life. I was at the peak of my career and content with my work. But I was missing the happiness you get from being around family and childhood friends."
Return to roots, respecting farmers
So Abhinav moved back to India in 2014 and began working in Microsoft's Gurgaon office so that he could visit his family over the weekends. He also did some ground research to learn what he could do with his 10 acres of ancestral farmland in Uttar Pradesh.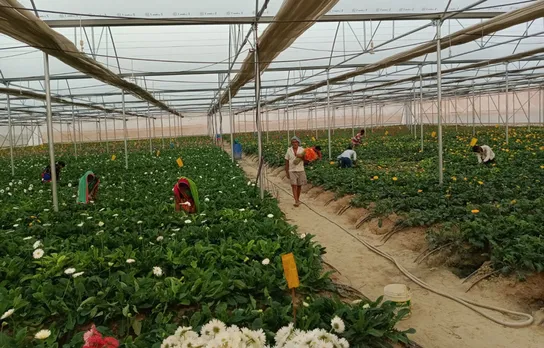 Abhinav Singh is cultivating Gerbera in polyhouse in his village Chilbila, Azamgarh. Pic: courtesy Abhinav Singh 
"I wanted to do something in farming because, except my father, every generation of the family had been into agriculture. My grandfather was a famous farmer, well-known both in the village as well as the district. That is why I chose to become a farmer -- to earn the respect my grandfather had besides generating livelihood for others," he says.
Also Read: Krishna McKenzie: Auroville's British musician-farmer with a food forest & organic café
Abhinav says in Britain farmers are among the richest and most respected people in society.  
"Here in India farmers are struggling and committing suicide. That is what needs to change," he says.
This is also one of the reasons Abhinav decided to pursue farming. 
From engineering to Gerbera farming
In 2016, when he was 31, Abhinav quit his job and researched the available options before zeroing in on Gerbera farming. The Gerbera plant is perennial and its flowers witness high demand in Uttar Pradesh especially during the wedding season when it is sourced from Pune.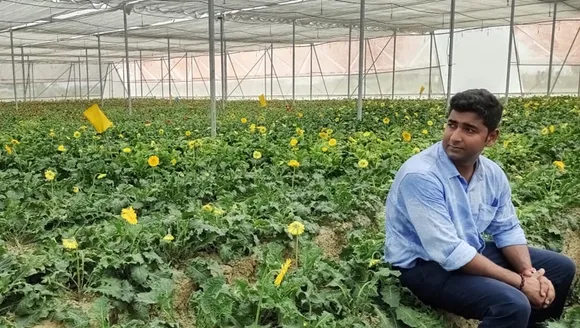 Abhinav Singh quit Microsoft in 2016 to follow his passion for farming. Pic: courtesy Abhinav Singh 
Available in almost 100 colours, Gerbera remains fresh for a long time, making it the fifth most used cut flower in the world after rose, carnation, chrysanthemum and tulip. 
Abhinav decided to source Gerbera plants from Pune, which is famous for its flower farming. He created a polyhouse for Gerbera farming over 4,000 square meters (about an acre) of land in his village as the flower does not grow in very hot temperatures and needs a controlled environment. 
Also Read: How this Rajasthan farmer went from zero to millions with organic farming using his own manures & sprays
The cost of polyhouse construction is the biggest expense in Gerbera farming – a polyhouse spread over an acre requires an investment of Rs 52 to 58 lakh.
In about three to four years, most farmers can break even.
Abhinav got his first harvest in February 2021. "During my research, I came to know that Gerbera flower has a high demand in many districts of Uttar Pradesh and is sourced from Pune. So it does not remain very fresh. Local farming of gerbera was a good option," says Abhinav.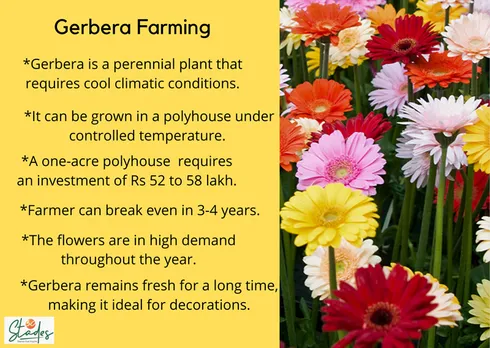 He set up the gerbera unit with an investment of Rs 58,16,000. Of this, Rs 48 lakh was a bank loan and he invested the remaining amount from his pocket. Abhinav later received Rs 29,08,000 as a subsidy under an Uttar Pradesh government scheme. 
Also Read: Marathwada: Farmer in drought-prone Beed gets 60 tonnes papaya per acre through organic farming
Now, he sells 2,000 Gerbera flowers every day across the state including Varanasi, Lucknow, Gorakhpur, Sonbhadra, Azamgarh among other cities.
"Although one year is yet to be completed for the business, we are earning Rs. 1.5 lakh from Gerbera sale every month. Apart from this, farming also helped me to generate direct and indirect livelihoods for others," says Abhinav.
He currently employs about 100 people for working at the polyhouse, packaging and transportation of flowers, vendors for sale, operations management etc. 
Creating income opportunities for others
The Gerbera farming business has made many struggling villagers' lives easy. Not only men, but women have also got the opportunity to earn a regular income.
Kusum Devi, 28, from Chilbila village would spend her day looking after her three children and worked on her small farm. The harvest from the farm would help her put food on the table but did not leave her with any money. 
Also Read: Residue-free farming: How Nashik's millionaire grape farmer uses technology to get a yield of 10 tonnes per acre
Kusum Devi works at the polyhouse and also gets the time to look after her own small farm. Pic: courtesy Abhinav Singh 
"My husband, who drives a tractor on a contract, basis earns around Rs 6000 per month and in some months it is just Rs 1000-1500. We would struggle to have a full meal of daal, roti, rice and vegetables," says Kusum.
However, after Abhinav started Gerbera farming, Kusum started working at his farm, earning Rs 6000 a month. She has been working for over six months now.
"Here the income is regular. Moreover, I look after my house and work here with flexibility. Now we don't have to worry about monthly expenses," says Kusum, who takes care of the flowers.
She finds the time to spend on her farm as well.
Another worker, Shyam Bala Devi, 30, has a similar experience. Her husband works in his small farmland but the earning is negligible. With four children to look after, the couple was struggling to make ends meet.
"We hardly earn anything from farming. We just about manage to harvest some vegetables for self-consumption," says Shyam Bela.
Also Read: Assam's Samir Bordoloi glamourises zero-cost organic farming; draws Northeast youth back to agriculture
"But this Gerbera unit has come to our rescue. Now my monthly income of Rs 6000 helps me run the house with ease," says Shyam Bela, whose work at the farm includes sprinkling medicine, watering and also plucking the flowers for packaging.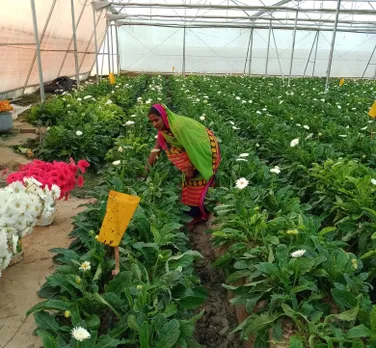 Shyam Bala Devi working at the farm. Pic: courtesy Abhinav Singh 
Abhinav's Gerbera farming has also given employment to some men who lost their jobs in cities during the first lockdown imposed in March 2020 due to the Coronavirus pandemic. Sonu Maurya, 22, who went to Pune after completing his 12th to earn some money for his family, was working in a hotel as a helper, earning Rs 8000 a month.
However, he came back due to the pandemic. "I am thankful to Abhinav bhaiyya. Now I earn Rs 10,000 a month by taking care of the plants and I am also involved in other activities on the farm," says Sonu, who is married and has a child, wife and father to look after.
Also Read: Jayant Barve: Maharashtra's organic farmer who became manure millionaire
"I don't want to go back to Pune or any other city. I will continue working here because I am with my family and I also get time to look after my own farm," Sonu says.
Abhinav said that through his achievements in farming he wants to inspire other farmers. "I may be making less than what I was earning with my job, but the happiness of generating livelihood for others, doing something unique in my hometown and also staying with my family - these can't be replaced by huge money and luxurious life," he says. 
(Bilal Khan is a Mumbai-based independent journalist. He covers grassroot issues, LGBTQ community and loves to write positive and inspiring stories.)
Also Read: Gujarat: Dentist-turned-farmer reaps rich harvest with organic farming of dates