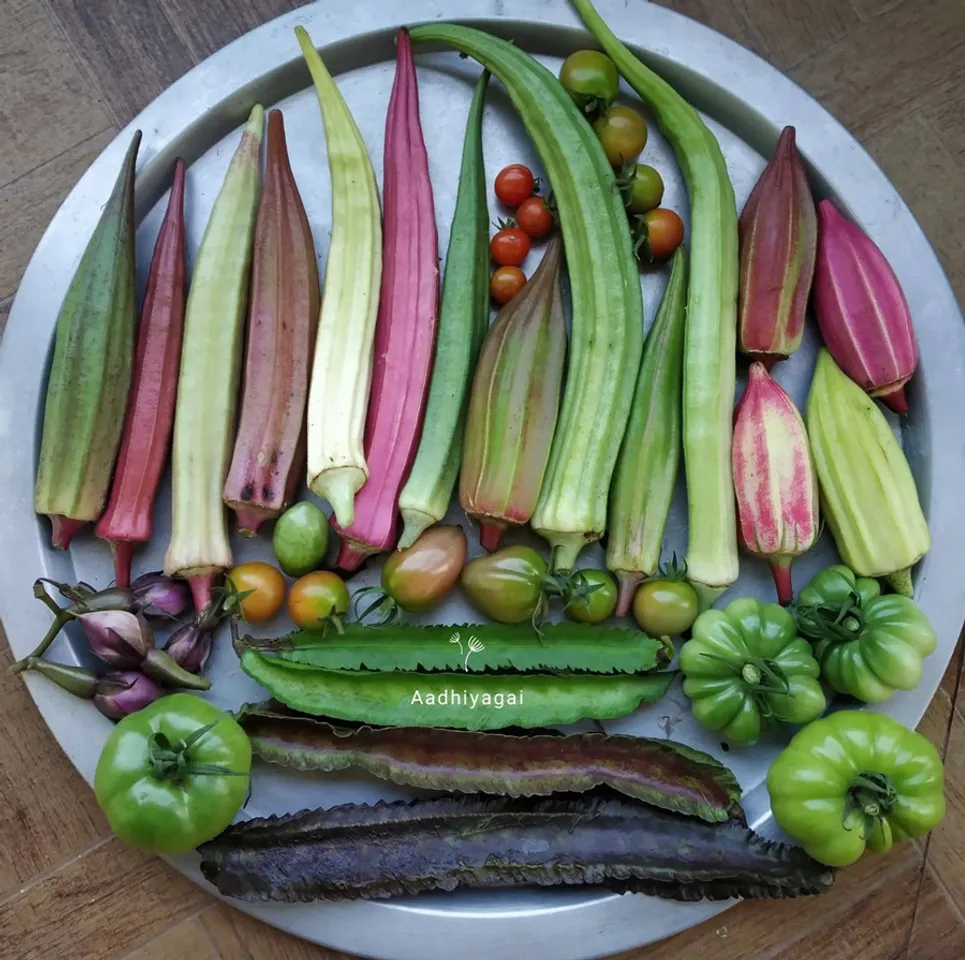 wp:html /
In the coastal areas of South India, toddy or sap from palm trees is collected and fermented to make palm wine. Toddy tappers climb the trees, often 40 to 50 feet high, and collect the sap which oozes out from the flowers. Traditionally, toddy climbers would deflesh, clean and dry round bottle gourds and tie them to palm trees for sap collection. The gourds were not washed between collections and residual yeast in them would quicken the fermentation. This improved the taste and also prevented the growth of unwanted bacteria.
Today, only a handful of palm tree climbers use the gourds as most have switched over to earthen pots. And with the toddy tappers would have perished this variety of bottle gourd because only their community has access to its native seeds. 
Also Read: Gujarat: Dentist-turned-farmer reaps rich harvest with organic farming of dates
But A Parameswaran, an aeronautical engineer-turned organic farmer, met a 70-year-old toddy tapper and requested him to share the seeds of the gourd. Today, that 'toddy' gourd is thriving in many kitchen gardens and fields of small farmers across Tamil Nadu, thanks to the native seed collection bank created by the 30-year-old in his Kuttiyagoundanpudur village near Oddanchatram town of Dindigul district, Tamil Nadu.
Return to roots
"I am from a farming family and didn't want to work in a big city," says Parameswaran, who studied at Coimbatore's Hindustan Engineering College and returned home in 2014.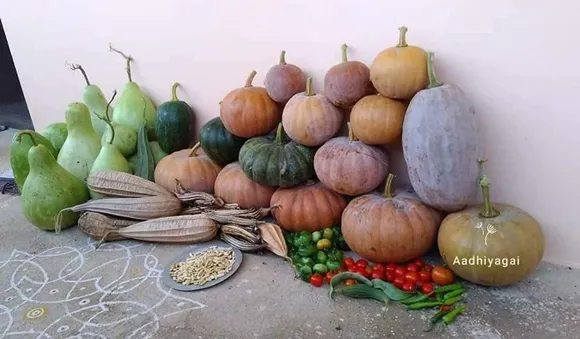 "Though an engineer by training, I am a farmer at heart," he says. Soon after his return, he enrolled for a workshop at the Nammalvar Ecological Foundation in Karur and received training in organic farming, seed saving, awareness about biodiversity conservation and the importance of native varieties of plants.
Also Read: Krishna McKenzie: Auroville's British musician-farmer with a food forest & organic café
Back then, his family was cultivating groundnut, cotton and maize over 15-acre leased land for sale in the local market. Being a dryland area where agriculture is dependent on rain, the land is used for cultivation only for three to four months a year.
"After 2014, we began using the land only for saving the seeds. We grow native grains, pulses, vegetables and local trees like sandalwood, paradise tree, mahogany, rain tree, butter tree (mahua) etc to save their seeds," he says.
The sales are done through WhatsApp and Parameswaran's Facebook page - Aadhiyagai Biodiversity and Ecological Farm. Aadhiyagai means the first bloom in Tamil.
"From 2014 to 2017, we were putting out messages in social media but now, people come from reference through gardeners and farmers," he points out.
Also Read: Shruti Tharayil's wild food walks bring Grandma's greens back into urban kitchens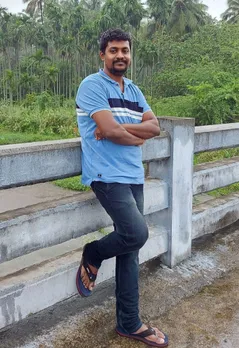 Most farmers begin with cultivation on a small patch of land and depending on the market demand, increase the area of cultivation gradually. Families grow for domestic consumption. "We also give seeds to the horticulture department as the government is now planning to save the traditional varieties," Parameswaran says.
Seed biodiversity conservation – key to cut farming costs
Conservation of seed biodiversity is important as native seeds flourish without the use of any chemicals. By consuming less water, traditional seeds help maintain the water table and cut irrigation costs. Besides, they maintain their strength of germination for decades if properly dried and stored.
Also Read: How Madhya Pradesh homemaker Lalita Mukati became millionaire organic farmer
Typically, for storing seeds, farmers dry the seeds after harvest and treat them with cow dung slurry, cow urine, camphor, common salt, leaf extracts and powders of various plant materials. They are stored in earthen jars coated with various insect repellants like neem oil or in other containers depending on the local climatic conditions.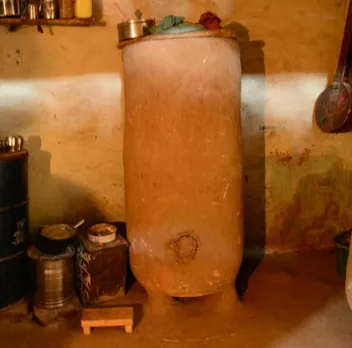 Similarly, for growing bitter gourd or snake groud over one acre, a farmer will have to shell out about Rs 8,000 for seeds of hybrid varieties. Then the farmer has to spend on irrigation as hybrids consumer more water and require chemical sprays etc.
Also Read: Growing green lungs: How Thuvakkam is creating urban forests in Tamil Nadu
In contrast, native seeds can be dried and stored in one season for use in the next season or even later. "Since native plants have grown here for hundreds of years, they have adapted to the local climatic conditions and are more resistant to pests and require less water as well," he says.
Only the rarer native seeds like red okra, feet-long lay finger, 3-feet long snake gourd etc. are sold for Rs 30 per packet. He also conducts workshops on kitchen gardening in his village and across Tamil Nadu and Karnataka. The activity is currently on hold due to COVID19. 
How native seed bank took roots
After Parameswaran completed his training, a friend asked him to get some seeds of vegetables for kitchen gardening. "He wanted native seeds, which I collected from some farmers in my village as they were preserving them." 
Also Read: Assam's Samir Bordoloi glamourises zero-cost organic farming; draws Northeast youth back to agriculture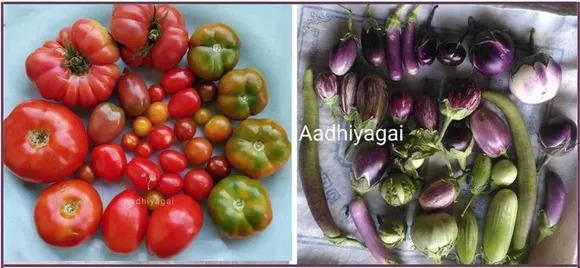 He collected 23 varieties of vegetable seeds and also put them on social media. "That's when many kitchen gardeners from Tamil Nadu started sending native seeds to me for collection. I began the seed centre and have been adding to it gradually," he says.
"We plan seed collection in two ways. The first method is to gather data about a native plant and then we travel to the village or area where it is grown and collect the seeds. The second method is to simply travel and ask the locals about location-specific varieties," he says.
Also Read: Andhra farmers set up own retail chain Amravathi Organics; cut middlemen & get higher prices
These seeds are mostly planted in kitchen gardens or backyards and the small farmers sell in the local markets. "Now, most of the farmers in my village have set aside a small patch to grow native vegetables," he adds.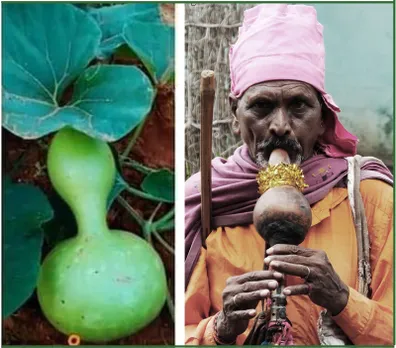 He also participates in native seed festivals and exhibitions and has collected many seeds from Nagpur, Imphal, Chennai, Bangalore and Bhubaneswar. 
Parameswaran says magudi (also called been or pungi in North India), a wind instrument used by snake charmers, is made of bamboo and gourd.
He procured its seeds from a seed festival in Chennai in 2015 and has been growing it since then. Online, however, the fakes of dried magudi sorakkai are sold for as high as Rs 10,000 per piece, he adds.
Also Read: How Bangalore's retail chain Humus is taking fresh fruits & veggies from farms to urban homes
Parameswaran says a lot of native seeds have been lost over the last few decades as farmers switched to chemical farming. Like in the Dindigul district, a brinjal variety called Kottapatti Kathirikai is used in the famous Thalapakatti biryani because of its taste, which is comparable with mutton.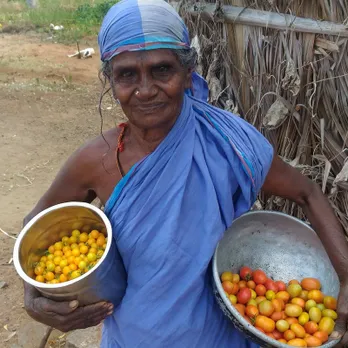 "From 2014 till now, we have collected only 50 varieties and are still travelling and asking people because a lot of the seed varieties are already lost," he says. 
His aim is now to expand his seed collection drive to neighbouring states and conserve as many seeds as possible. The rapid climate change too calls for local living and local eating. Parameswaran had discovered this seven years back.
(Rashmi Pratap is a Mumbai-based journalist specialising in business, financial and socio-economic reporting)
Also Read: Rapid Organic: Rajasthan farmer's venture helps 12,000 organic growers find global market