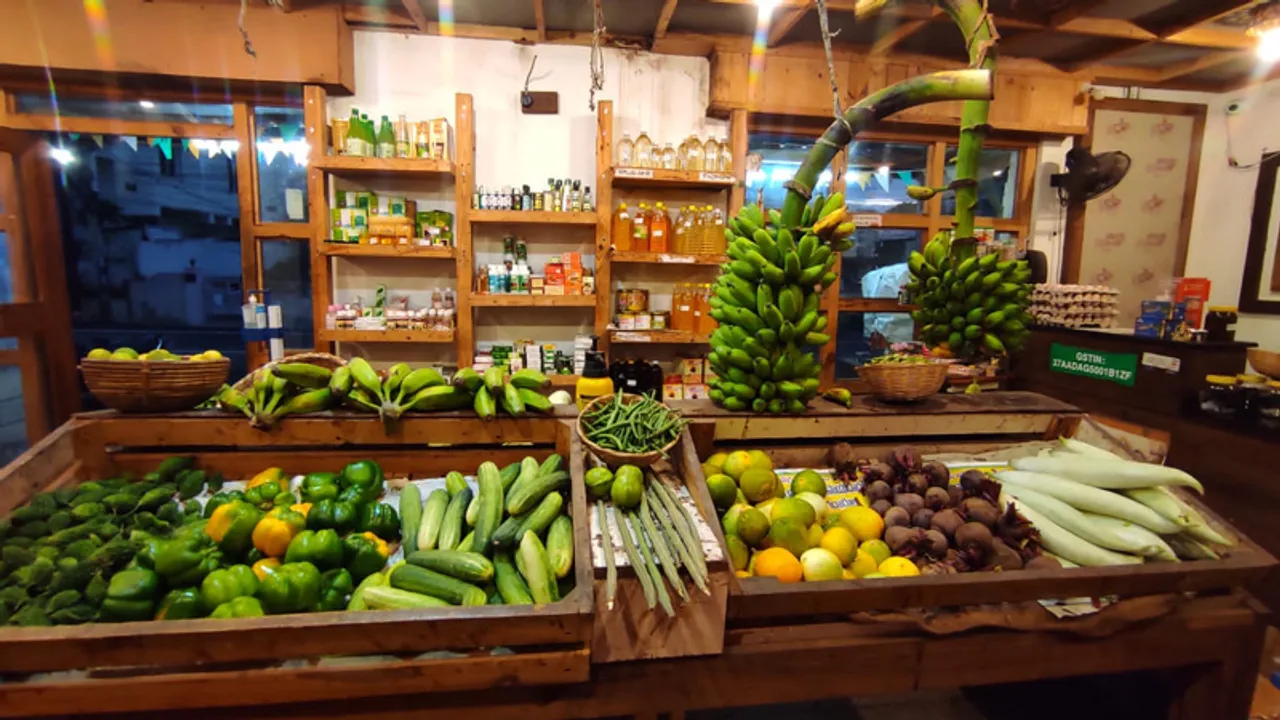 K Kranthi Kumar from Pragadavaram village in West Godavari district, Andhra Pradesh, has been cultivating organic basmati rice and potatoes for the last 18 years. But he struggled to find a market for his produce without the profiteering middlemen, who took a sizable chunk from his income.
His fortunes, however, changed in 2016 when he became a member of Go Aadharita Prakruthi Vyavasaya Paraspara Sahakara Sangham, a farmer producer organisation (FPO) that sells fruits, vegetables, cereals and other produce directly to consumers under the Amravathi Organics brand.
Also Read: Andhra farmer gets triple the market rates for mango & paddy with zero-cost natural farming
"My income has increased by more than 25 percent and we also get the much-needed support towards organic farming through Amaravathi," says 52-year-old Kranthi Kumar.
Amaravathi Organics, started by a group of organic farmers in Andhra Pradesh, has benefitted both farmers and consumers.
Their work is two-pronged: one, providing a helping hand to farmers by training them in organic and natural farming and giving basic agriculture inputs and two, taking their produce directly to consumers, eliminating middlemen from the supply chain to improve incomes.
Also Read: How Tamil Nadu farmer increased profits & cut costs by 30% through organic farming
"I have started cultivating coconut as well now. Amaravathi helps me with inputs. They also collect traditional paddy seeds and give them to the farmers," says Kranthi Kumar.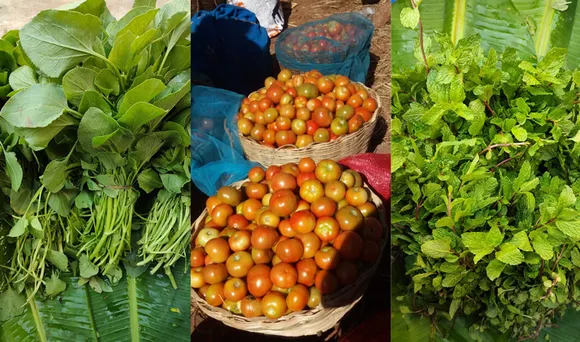 Amravathi Organics procures and sells only organic agri produce from its 615 member farmers. Pic: Amravathi Organics 
At the core of Amravathi Organics is the concept of natural and organic farming without the use of harmful pesticides or weedicides. All its members use only organic inputs and methods of cultivation.
The growth story
The idea for Amravathi Organics took shape in 2014 when a group of farmers came together to start an FPO. The aim was to provide a better price to the farmers for their produce and, at the same time, provide healthy food to consumers.
The FPO was started with an investment of Rs5 lakh which was contributed by the members.
In 2015, Amaravathi Organics organised a state-level organic farmers' conference in Vijayawada which was attended by 5,000 farmers. Encouraged by the response they received, the society conducted the first state-level organic exhibition in Vijayawada in which the farmers sold their produce directly to consumers.
Also Read: Banker during the week, farmer over the weekend: How Prateek Sharma built Bhopal's Green & Grains organic grocery start-up
In November 2016, its first organic store was inaugurated in Moghalrajpuram, Vijayawada with a turnover of Rs 5,000 per day. The brisk sales and popularity of the store encouraged the members to register the society in 2017.
Today, it has a monthly turnover of Rs20 lakh and 615 registered farmer members, who are shareholders of the society.
Its 12 retail outlets are spread over Vijayawada, Hyderabad and Koyyalgudem in Andhra Pradesh.
Also Read: How this Rajasthan farmer went from zero to millions with organic farming using his own manures & sprays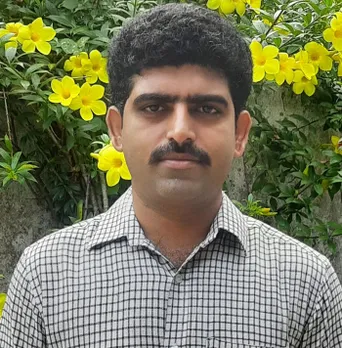 Amravathi Organics CEO Bharat Varma. Pic: Amravathi Organics
"We decided to start a separate market for organic farmers to get them a better price," says Bharat Varma, CEO of Amaravathi Organics.
Of the 615 registered farmers, around 500 supply vegetables and other farm produce to the FPO daily. The produce is taken to its warehouse in Patamata in eastern Vijayawada where it is cleaned and sorted by the staff members. It is then transported to the outlets through mobile vans.
The most distinguishing feature of Amravathi Organics is a fixed rate for procurement and sale of the produce.
"We procure vegetables, fruits and other food crops at Rs30 per kg and sell at Rs40 per kg throughout the year," Varma says.
This leaves a margin of 25 percent for the society to cover its transportation, sorting and other costs. The socienty's directors are Muttavarapu Murali Krishna, Vallabhaneni Asha Kiran, A.V.R.K. Chowdary, Bhupatiraju Ramakrishna Raju, L.G.B.S. Rama Raju, G.V.Rao, Chava Sudhakar, Sri Prasad, Sita Ramireddy, and Hanumantha Rao. The society has flourished under the mentorship of Kumar Swamy, All India executive member of the Bharatiya Kisan Sangh.
Also Read: Residue-free farming: How Nashik's millionaire grape farmer uses technology to get a yield of 10 tonnes per acre
Benefitting the farmers
Amaravathi Organics conducts training programmes and exhibitions of the produce grown by farmers in every district.
Through the exhibitions, farmers can market their produce and directly connect with local consumers.
Amaravathi also creates awareness about organic farming through exhibitions. Any farmer interested in organic cultivation can approach Amaravathi directly.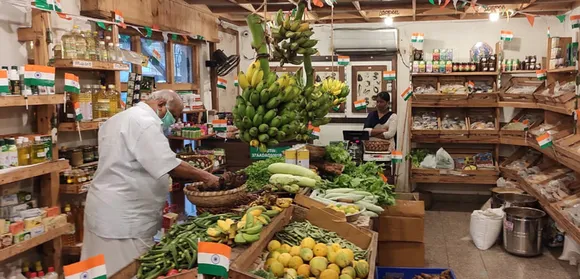 Amravathi Organics currently has 12 outlets and plans to start a processing unit soon. Pic: Amravathi Organics 
Varma says with the rising number of farmers registering with the society they are trying to increase the number of outlets.
"We plan to set up a processing unit to add value to produce and market the final products directly to consumers," he says.
Work on setting up the unit will start in a couple of months in Kotturu Tadepalli village, 15 km from Vijayawada. Already, the FPO sells over a tonne (1,000 kg) of fruits and vegetables every day. A processing unit will convert fresh produce into storable form besides commanding a better price in the market.
Also Read: Gujarat's MBA farmer Chintan Shah turns infertile land into organic farm of turmeric, ginger & wheat Also Read:
Varma says in the last mango season they sold more than 1 lakh mangoes. "For non-perishable produce, like pulses, we give farmers 25 percent margin," he says, implying
The society also exported 2.5 tonnes of mangoes to Singapore in 2020 and 5 tonnes in 2021.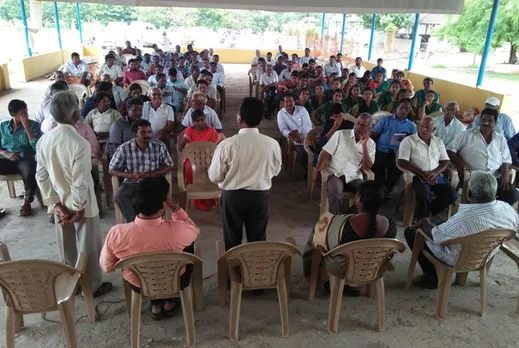 A farmer training session organised by Amravathi Organics. Pic: through Amravathi Organics 
Following their association with Amravathi Organics, farmers have been able to convert more area under cultivation into organic farming with support from training as well as an assured selling point. The area under organic cultivation by society members is now 1800 acres. "They have got access to a good customer base by participating in our exhibitions. And some farmers have set up their own outlets near highways," Varma says.
Also Read: Krishna McKenzie: Auroville's British musician-farmer with a food forest & organic café
P Anjani Prasad, 32, an employee at Amaravathi Organics, says every district of Andhra Pradesh has a minimum of 10 members registered with Amaravathi.
"Our product range includes bottle gourd, snake gourd, ladyfinger, tomato, chillies, cucumbers, curry leaves, coriander, mint, pomegranate, papaya, mangoes among others," he says.
Andhra Pradesh government provided financial aid to Amravathi Organics for buying vans for transportation. Pic: through Amravathi Organics
Amaravathi has also received Rs 20lakh financial aid from the state government to buy five mobile sales vans, three of which are battery-operated, and to conduct exhibitions on organic farm produce. "The government has also given subsidies for cold storage but lately, we haven't been using it," says Varma.
Also Read: How Madhya Pradesh homemaker Lalita Mukati became millionaire organic farmer
But there's more that the farmers want. "The expensive part of organic farming is infrastructure because we have to maintain cows, cowsheds and water supply etc. But if these are strengthened, our cost of production will come down," says Kranthi Kumar.
"Today farmers are indiscriminately using pesticides all over the country. We, organic farmers, have appealed to both the Centre and state governments to link MGNERGA with de-weeding so that the use of chemical herbicides can be eliminated. There has been no response to this appeal, however, so far," he says.
Kranthi Kumar's concerns are justified. Last year, 500 people were hospitalised in West Godavari because of pesticides in vegetables. But then as FPOs like Amravathi Organics multiply, people will have access to healthier options.
(Sravasti Datta is a Bengaluru-based independent journalist, who writes art, culture and human interest stories)
Also Read: How Bangalore's retail chain Humus is taking fresh fruits & veggies from farms to urban homes