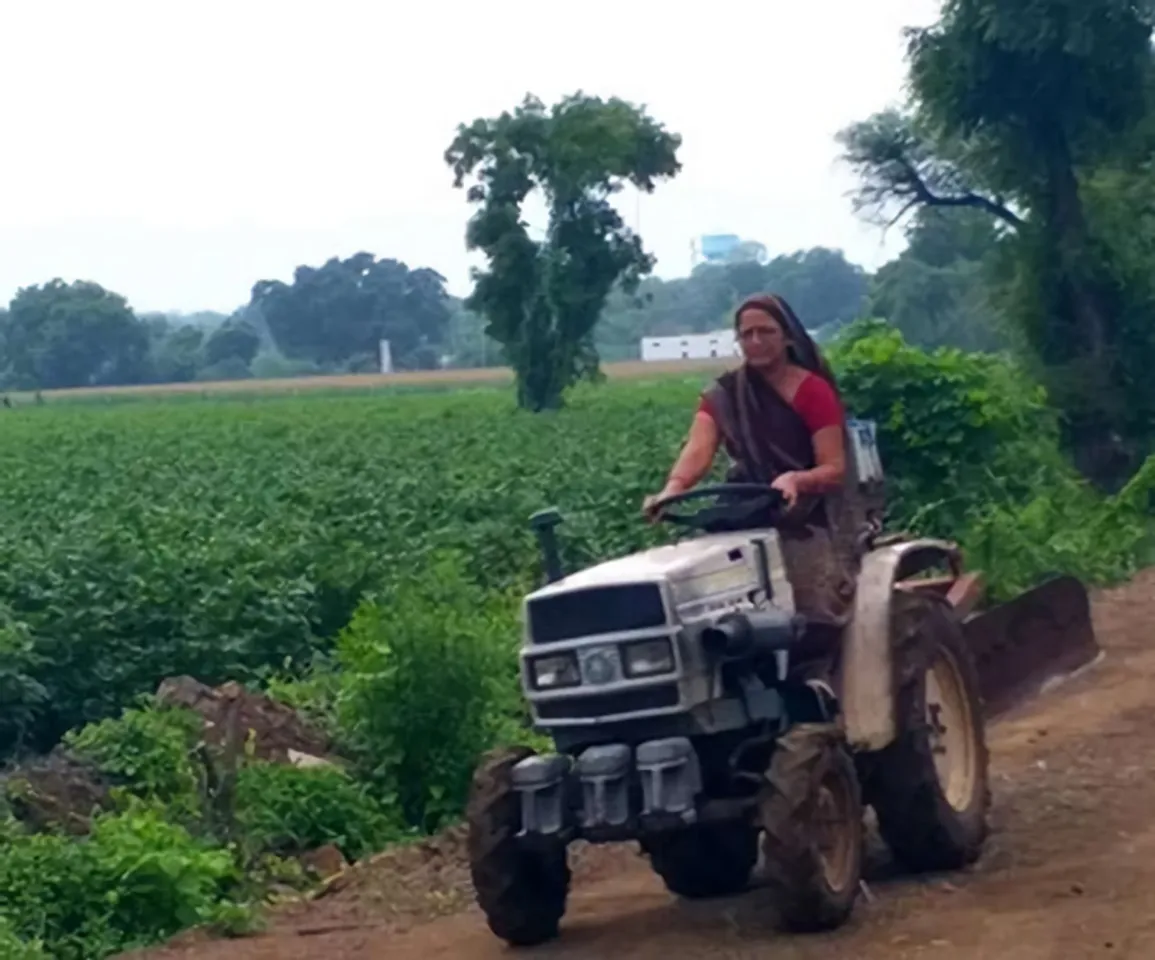 Fifteen years back, Lalita Mukati's husband Suresh Chandra was a worried man. Despite increasing inputs, their 105-acre land in Borlai town of Barwani district in Madhya Pradesh was seeing declining returns. At Lalita's instance, Suresh switched to organic farming, planting fruit orchards that turned around the sinking business.
"I would sometimes go to the farm with my husband and we would discuss issues. He would say that the input costs were very high but the returns were diminishing," she says.
Also Read: Assam's Samir Bordoloi glamourises zero-cost organic farming; draws Northeast youth back to agriculture
Chemical to organic farming 
Lalita's husband and his elder brother jointly own 105 acres of land. The elder brother was running his factory in Dewas. So Suresh who has an M.Sc degree in agriculture used to take care of the farm. But since he too had to travel frequently for training to different places, Lalita was required to step in. 
She decided to go organic when she saw the harmful impact of chemical farming.
Also Read: Jayant Barve: Maharashtra's organic farmer who became manure millionaire
"I realised that in addition to the costs, the chemicals were harming the soil as well as the environment and the food too was not safe to consume. If we destroy the environment, what will we leave behind for our future generations? So, I felt that organic farming would be a win-win situation," she says.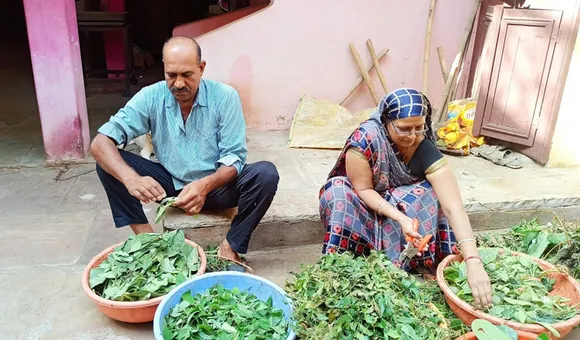 "The use of DAP, urea, pesticides, weedicides, and vitamins to improve soil health was actually deteriorating the soil. So, I suggested that we should shift to organic farming and plant orchards which are easy to maintain," says the 53-year-old.
Also Read: Residue-free farming: How Nashik's millionaire grape farmer uses technology to get a yield of 10 tonnes per acre
Lalita took the initiative to slowly convert sections of the land to organic and continued to grow grains and pulses such as wheat, cotton, groundnut, horse gram and maize. In addition, she planted custard apple, lemons, gooseberry, chiku, guava and sugar cane. The fruit orchards are spread over 70 acres of the total land.
She grows custard apple in 40 acres, lemon in 10 acres, sugar cane in 10 acres, chiku in five acres, guava in four acres and gooseberry in three acres.
Also Read: Gujarat's MBA farmer Chintan Shah turns infertile land into organic farm of turmeric, ginger & wheat
Lalita says they sort and pack the wheat, cotton, groundnut and horse gram at home and it is sold in the Indore agriculture market. She has also started a WhatsApp group where people can place orders for grains and fruits.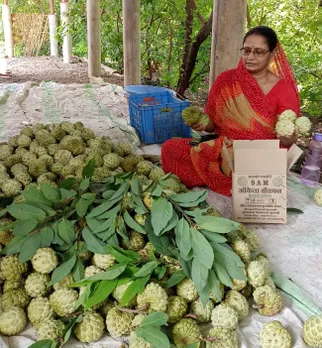 She has put up a processing unit to de-seed custard apple and remove the pulp. This is purchased by wholesalers for preparing ice-creams, kulfi, milkshakes and other products.
Also See: Rasika Phatak: Maharashtra's 23-year-old millionaire farmer & agriculture consultant
From homemaker to a successful farmer
Lalita, whose father is also a farmer, was married at 19 years. She had an interest in farming but after marriage she was a homemaker, raising her two children and taking care of the family.
"It was when the kids grew up and I had time to spare that I accompanied my husband to the farm and started taking an active interest," says Lalita who is an Economics graduate.
Also Read: How Tamil Nadu farmer increased profits & cut costs by 30% through organic farming
Her husband encouraged her foray into agriculture and taught her the basics of farming. She also took training in organic farming from a government-run Krishi Vigyan Kendra near her home.
She learnt the ropes quickly and became more and more involved in the agriculture business.
To increase soil fertility, she makes Jeevamrit by fermenting cow dung, cow urine, jaggery and organic soil with water. This mixture is kept standing for 21 days and stirred every day. After that, it can be used as a spray.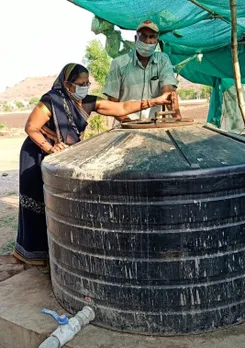 For biopesticides, she uses leaves of plants such as neem, dhatura, and custard apple, which are not eaten by animals. The leaves are ground and left to ferment for 7-8 days. Then the mixture is sifted through a sieve and the liquid obtained is mixed with water for spraying on plants.
Also Read: Organic farming of dragon fruit and lemon triples Punjab farmer's income
In 2014, Lalita was part of a group of farmers who were selected under the Mukhya Mantri Kisan Videsh Adhyayan Yojana and went to Germany and Italy. They visited organic farms there and learnt new and higher-yielding farming techniques.
"I saw that they use a lot of solar energy there. So, when I returned, I installed two solar panels at home," she says.
"Our irrigation is done by solar power, which has cut electricity costs. We use solar power at home as well. I also installed a biogas plant and don't use LPG in kitchen."
The excess solar power is sold to the government.
Lalita is also inspiring other farmers in the area to adopt organic farming. She has formed the Maa Durga Krishi Mahila Sangathan, an organisation that is creating awareness about the benefits of organic farming and encouraging women to quit harmful conventional farming.
Also See: How organic fruit farming made Rajasthan's Santosh Devi a millionaire
Lalita has received various awards for her progressive farming initiatives including the Haldhar award in 2019 and the IARI 'Innovative Farmer Award' in 2018.
The future is hydroponic
Even after all these years, Lalita is still keen to innovate and try out new techniques. Her elder son, who graduated in agricultural science, is now helping her on the farm.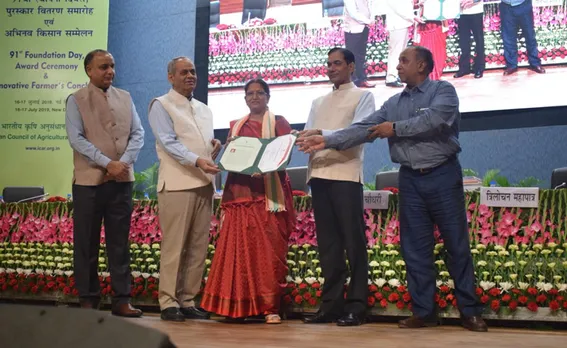 "He is experimenting with hydroponic agriculture. He has planted 15-20 plants of tomatoes, bottle gourd, chillies, spinach, coriander and fenugreek," she sayd.
Also Read: Bijit Basumatary: Paddy farmer's son whose organic teas from Assam have found market overseas
Hydroponic farming involves growing plants in water instead of soil. Nutrients such as phosphorus, calcium, nitrogen are added to the water to provide nutrients to plants for a healthy yield. The advantage of hydroponic farming is that it does not need a large tract of land or large amounts of water for cultivation. Also, the plants have a high nutritional content.
"I also plan to take training in hydroponic farming with my son," Lalita signs off, ever in the quest of learning and doing new things.
(Urvashi Dev Rawal is a Jaipur-based journalist specialising in development, gender, and political reporting) )
Also Read: Marathwada: Farmer in drought-prone Beed gets 60 tonnes papaya per acre through organic farming