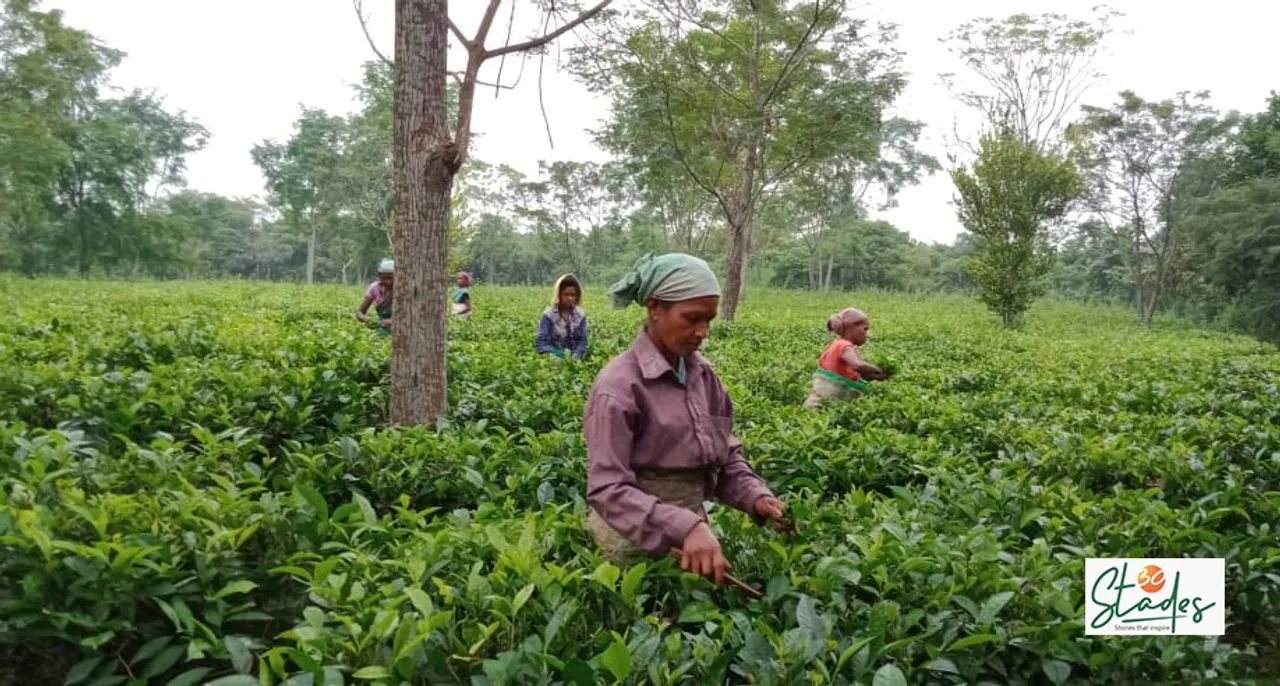 In the picturesque backdrop of lush green Chakrashila Hills in Assam's Kokrajhar district is a tea estate where one of India's finest organic teas is produced. Long rows of perfectly aligned tea plants, about 1.5 m in height, are interspersed with women plucking tea leaves during the harvest season from March till mid-November.
While this may sound similar to any other tea estate in India, the Chakrasila Tea Garden is different because it is not a property inherited by entrepreneur-farmer Bijit Basumatary. He cleared almost three acres of unused land, planted tea saplings and waited for five years for the first harvest to be ready.
The venture turned profitable in 2015. Today, organic teas from his Chakrasila Tea Garden are exported to Canada and Australia besides being marketed by local entrepreneurs under their own brand.
Indian teas are world-famous and the country is the second largest tea producer after China globally. Assam is India's tea capital, accounting for over half of the country's production (1255.60 million kg in 2020).
Also Read: Tamul's areca nut leaf plates travel from Assam to the world as plastic ban gets stronger
Reinventing at the roots
After completing his graduation in arts from Shillong, Bijit was sure that he didn't want to take up a job and move away from his rural roots in Kokrajhar. "I wanted to be here and do something for my community," he says.
Bijit Basumatary, owner, Chakrasila Tea Garden, Kokrajhar, Assam. Pic: courtesy Bijit Basumatary
Bijit's parents had been cultivating paddy and vegetables for a living and he thought farming would be a good option for him too. But instead of joining his parents, he decided to experiment with tea cultivation. The advantage of starting on a fresh piece of land is clear – the soil is not polluted by chemicals and one can get organic certification quickly.
Yet, as with most enterprises, Bijit had to put in a lot of hard work before he could start earning revenues from his organic plantation. "I started with 3 acres of government land given by the government on lease. At that time, in 2007, the concept of organic farming was new and we didn't know how to manage the soil," he says.
Also Read: How this Rajasthan farmer went from zero to millions with organic farming using his own manures & sprays
"That land was in the jungle on a small hill near the Chakrashila Wildlife Sanctuary. My first task was to clean up the wild plants and weeds."
Alongside, he started making a nursery of tea saplings which could be planted once the land was ready. Bijit spent Rs 30,000 on labour for clearing up the weeds etc.
While tea plantations mature after four to five years, they require regular pruning to make the bushes. "It is a continuous investment. As for the soil, we didn't buy any manure from the market. I read up on organic ways of maintaining the garden and followed traditional wisdom," he says.
Also Read: How Tamil Nadu farmer increased profits & cut costs by 30% through organic farming
Tea has been growing in the wild in Assam for many centuries when it was called Phalap by the local Singphos tribe.
They boiled its leaves and drank the liquid. But it was the British East India Company that began the large-scale commercial production of tea in Assam in the early 1820s. The British made clones from plants growing in the wild, leading to a rapid expansion of tea gardens.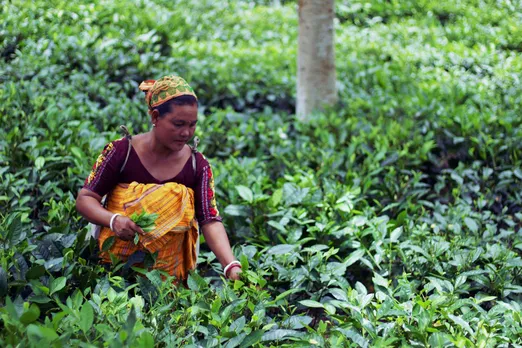 Bijit Basumatary's tea garden received USDA Certification in 2012. Pic: courtesy of Esah Teas 
"Earlier, chemicals and fertilizers were not added. The tea grown was naturally organic. It was around the 1970s that the use of chemicals began. But by 2006-07, there was an increasing awareness to go back to organic farming," says Bijit.
Also Read: Gujarat's MBA farmer Chintan Shah turns infertile land into organic farm of turmeric, ginger & wheat
Going organic all the way
According to the Tea Board, the average use of chemical pesticides was estimated at 11.5 kg per ha in the Assam valley. Overuse of chemical pesticides can not only cause secondary pest outbreaks but also lead to pesticide residue in the ready tea. But younger farmers in Assam like Bijit are opting for organic cultivation.
He uses two types of compost prepared on the farm itself – one, made from dry and green leaves, and another made using cow dung.
"We also make a liquid organic fertilizer by fermenting cow dung with water, cow urine and some green leaves for 15-20 days. It works very well for plants," says Bijit, who now grows tea in over 6 acres.
But learning about and implementing organic farming practices was not the only challenge for him. He had to set up the infrastructure for the processing of tea as well. "Tea is a perishable product and there was no big unit nearby which was processing organic tea," he says.
Also Read: Adavi: organic coffee that brewed a new life for Karnataka's Soliga tribe
"If I would give my produce to factories processing non-organic tea, then the purpose of organic cultivation would be lost. So I decided to invest in my own processing unit," he says.
This is where most small tea growers often fail – they are unable to process the tea within their own premises and are forced to sell to large factories which process organic and inorganic teas together.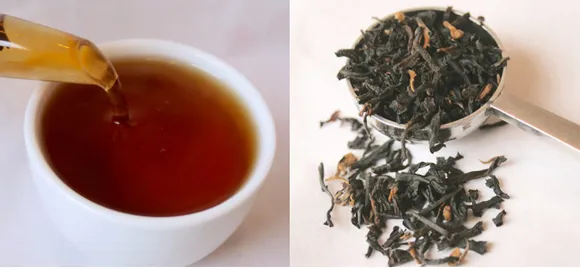 Tea is a perishable product and requires processing soon after plucking. Pic: Esah Teas 
Bijit began to learn about tea processing and connected with people who had worked in the sector. He learned about a person who was working as a fitter in a tea garden. "He had left his job and was developing his own machines. I requested him to make for me the necessary machinery for rolling and drying tea. I invested Rs 2lakh in the setup and my processing unit was ready in 2011," he says.
Also Read: Udaipur's Jovaki empowers tribal women by processing wild fruits & vegetable
In 2012, Chakrasila Tea Garden received USDA organic certification, given to products that contain 95 percent or more organic materials and have been grown and processed without synthetic fertilizers, pesticides or antibiotics.
The processing and sale of tea leaves
"In one day, we can process 50 kg of green leaf. All my family members are involved in the work. Many small farmers are now importing tea processing machines from Taiwan and China in the absence of local supplies," he says.
Also Read: Jayant Barve: Maharashtra's organic farmer who became manure millionaire
Bijit's unit annually produces 2000kg Orthodox black tea and 200kg of green tea.
Tea leaves are handpicked and taken to the factory where they undergo withering – the process of reducing moisture content by one-third to half to ensure adequate development of aroma and flavours in the leaves. "We need 15 to 16 hours to reduce the moisture of the leaves through withering," he says.
In the case of green teas, however, the leaves go for the second step of steaming without undergoing withering. Steaming the leaves inactivates the enzyme by heat as they can otherwise impact the flavour.
Also Read: Environment: Gujarat couple quits US jobs to build own food forest; creates orchards & gardens for others
The damp leaves are then rolled into wrinkled strips using a rolling machine which causes the tea to wrap around itself. Then the leaves are fermented and later dried at Bijit's unit using a dryer though many establishments follow panning or sun-drying as well.
The final stage is sorting and grading of leaves, depending on their size, aroma etc.
While he exports to Canada and Australia, startups like Esah Tea and The Tea Leaf Theory also procure his produce for sale. Esah Tea, founded by Bijit Sarma, sells them as Chakrasila Organic Classic Assam Black Tea, Chakrasila Organic Artisan Assam Pekoe Black Tea, Whole Leaf Tea etc. under the Esah brand. They are also sold online through Amazon.
Right now, Bijit is focusing on expanding the land under cultivation beyond 6 acres as well as bringing in newer varieties of tea. "There is a rising awareness around the benefits of organic tea globally. This augurs well for farmers like us," he adds.
(Rashmi Pratap is a Mumbai-based journalist specialising in financial, business and socio-economic reporting)
Also Read: Assam's Samir Bordoloi glamourises zero-cost organic farming; draws Northeast youth back to agriculture