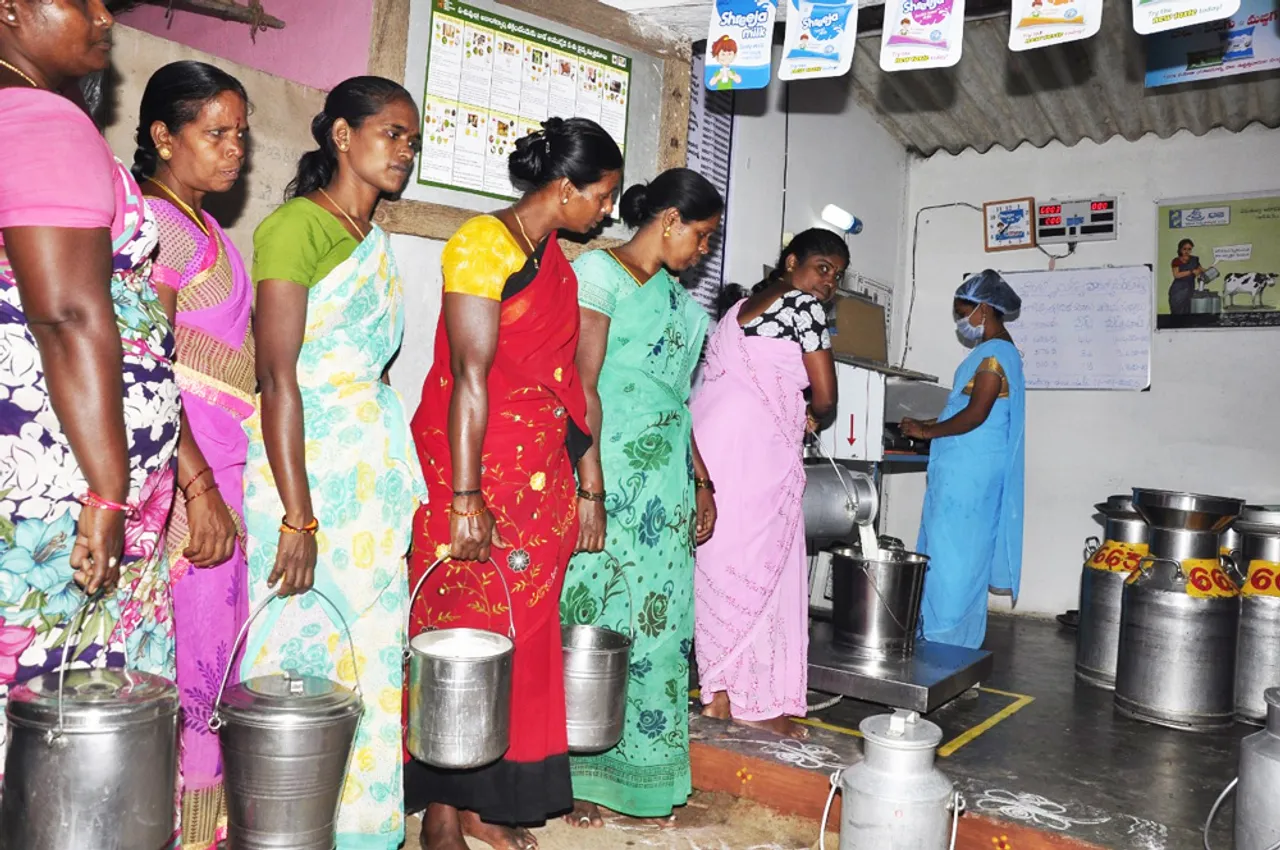 In 2009, when P. Sajini's husband passed away, the 32-year-old was devastated. Left with two young sons and no steady means of income, Sajini struggled to make ends meet till she became a member of the Shreeja Mahila Milk Producer Company in 2014.
"It's 200 percent due to Shreeja that I have been able to put my life back together again," says Sajini who lives in Penumuru village of Chittoor district in Andhra Pradesh.
Her husband was working in the field when he was bitten by a snake and died. "I faced a lot of difficulties. Farming did not provide me regular income as rains were unpredictable and sometimes crops failed. My input cost was Rs6000-7000 and I was barely left with any income," says Sajini.
Also Read: Gujarat: How this lawyer-turned-organic farmer made her family's dairy business profitable
In 2014, a producer institution-building team from Shreeja Mahila Milk Producer Company held a meeting in her village where they informed villagers about the benefits of dairy farming.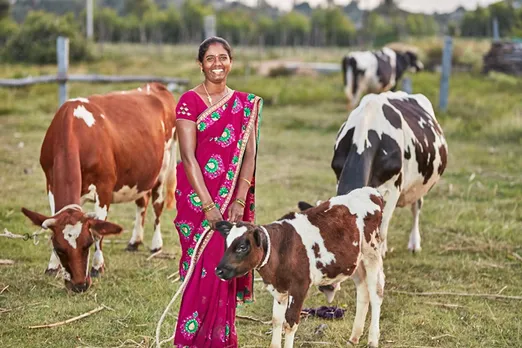 Sajini, who had one cow, became a member of Sreeja. "Initially villagers objected to my going for Sreeja meetings. They would say why are you going? These people will cheat you. But when they saw that the company opened a bank account in my name and paid me every 15 days, they slowly started trusting it."
Sajini is not the only beneficiary of India's dairy cooperative movement, which has led to women empowerment. As of March 2019, over 16.93 million farmers are part of 1,90,516 village-level dairy cooperative societies in India.
Also Read: Jharkhand: Tech graduate duo's dairy venture Puresh tastes success amid COVID-19
As Sajini got a regular income, she procured two more cows and now supplies 12-15 litres of milk per day and earns Rs15,000-16,000 per month. From her village, 75 other women are also now Sreeja members.
It is present in more than 1,350 villages of Chittoor, Anantpur, Kadapa and Nellore and has an annual turnover of Rs515 crore.
Also Read: How Dolphin IBA's donkey milk beauty products from Kerala reached 40 countries
Milking success in dryland
Chittoor district falls in the Rayalseema region of Andhra Pradesh which is water-scarce and drought-prone. There aren't many little employment opportunities and locals are involved in agriculture, growing mostly mangoes. Men also migrate to cities in search of jobs.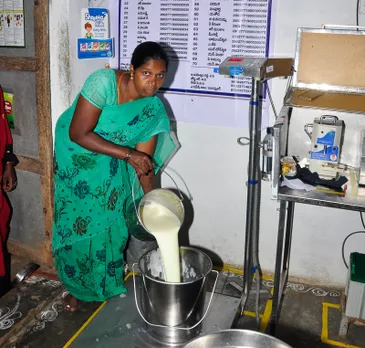 Shreeja Mahila Milk Producer Company has helped turn around the lives of thousands of women such as Sajini, making them financially independent.
G. Revathi, another Sreeja member from Enugukondakindhapalli village, used to supply milk to private dairies earlier.
The private dairies procured milk at Rs25-26 per litre while Shreeja pays Rs20-32 per litre depending on the quality of the milk.
Revathi had one cow but after she joined Shreeja, she bought two more. She now supplies about 10 litres of milk per day and earns Rs7000-8000 per month. Her children too are well settled. Her son is a computer operator in the Indian Air Force while her daughter is married.
Also Read: In shortage of vets, Pashu Sakhis support cattle & poultry farmers in Jharkhand's tribal hinterland
The precursor to the Shreeja cooperative was the Chittoor Dairy union that flourished from the 1970s to the 1990s. However, it shut down in 1999 due to corruption.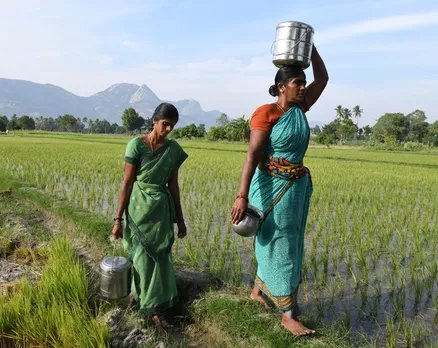 "This part of Andhra has water scarcity and is drought-prone. Earning a livelihood for the people here was difficult and it was to provide them with a means of livelihood that the Chittoor dairy union was started with the support of NDDB," says Jayatheertha Chary, chief executive of Shreeja.
During the 1970s, dairy farmers across the country did not receive remunerative prices and were exploited by middlemen.
The beginnings of Sreeja
After the Chittoor dairy union shut down, local politicians approached Dr Verghese Kurien, father of the 'White Revolution' which enabled India to become the world's largest milk producer and made the dairy farming industry among the largest rural employment generators.
Also Read: Rajasthan's Camel Charisma builds a superfood business with camel milk and cheese
Dr Kurien brought the concept of a producer company, which was a relatively new idea at the time, and started the Balaji Dairy in Tirupati. The dairy procured 20,000 to 30,000 litres of milk daily from women.
Some years later, NDDB launched national dairy services from Delhi to promote Farmer Producer Companies in milk production. They conceived this idea and Shreeja was launched in July 2014 with 27 members which have grown to around 1 lakh in 7 years.
The quality is checked at the pooling points where each member is provided with a printed receipt denoting the quality and quantity of milk. The major share of 4.5 lakh litres of cow milk is sent to Delhi where the demand is high.
Also Read: Adavi: organic coffee that brewed a new life for Karnataka's Soliga tribe
Chary says the company realised that bulk sales of milk were not enough to meet expenses and give more money to the hands of members.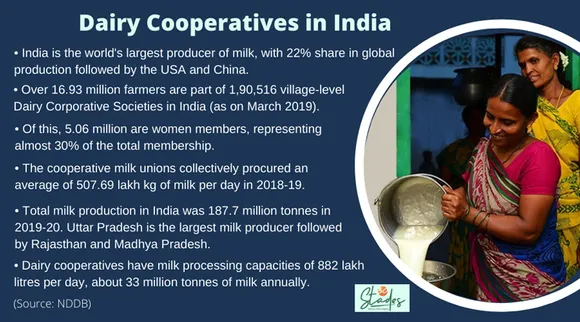 So they started milk processing to bring out a range of milk products under its own Shreeja brand. "We felt if we did our own retailing we would increase our earning and give more money to members, which is our primary objective," says Chary.
Since the company had to create its own capital, it began with equity participation of five shares of Rs 100 by each member. So, each member made an initial contribution of Rs500.
As the milk procurement from members increased, their equity participation also rose. In this manner, the company has collected a share capital of Rs20 crore in the last seven years.
Also Read: Koraput Coffee: How Odisha tribals brew a global coffee brand
As per NDDB, India produces 187.7 million tonnes of milk annually. Of this only 20 percent comes from the organised sector, i.e private players and cooperatives.
The dairy and animal husbandry sector currently contributes to around 4.5 percent of the national GDP.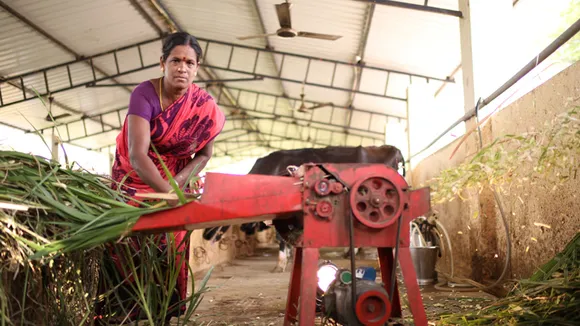 Women have played a leading role in the dairy farming sector and have contributed significantly to India's White Revolution. The involvement of women in the dairy sector has helped them become economically independent micro-entrepreneurs. This has empowered them giving them a larger role in decision-making, says Chary.
For thousands of women like Sajini and Revathi, dairy farming has meant freedom and empowerment. "As soon as the situation allows, I plan to visit my son in England. Some years back I would never have thought this would be possible," a content Sajini says.
(Urvashi Dev Rawal is a Jaipur-based journalist specialising in development, gender, and political reporting) )
Also Read: Sundarini: the organic milk revolution by women of Sundarbans
-