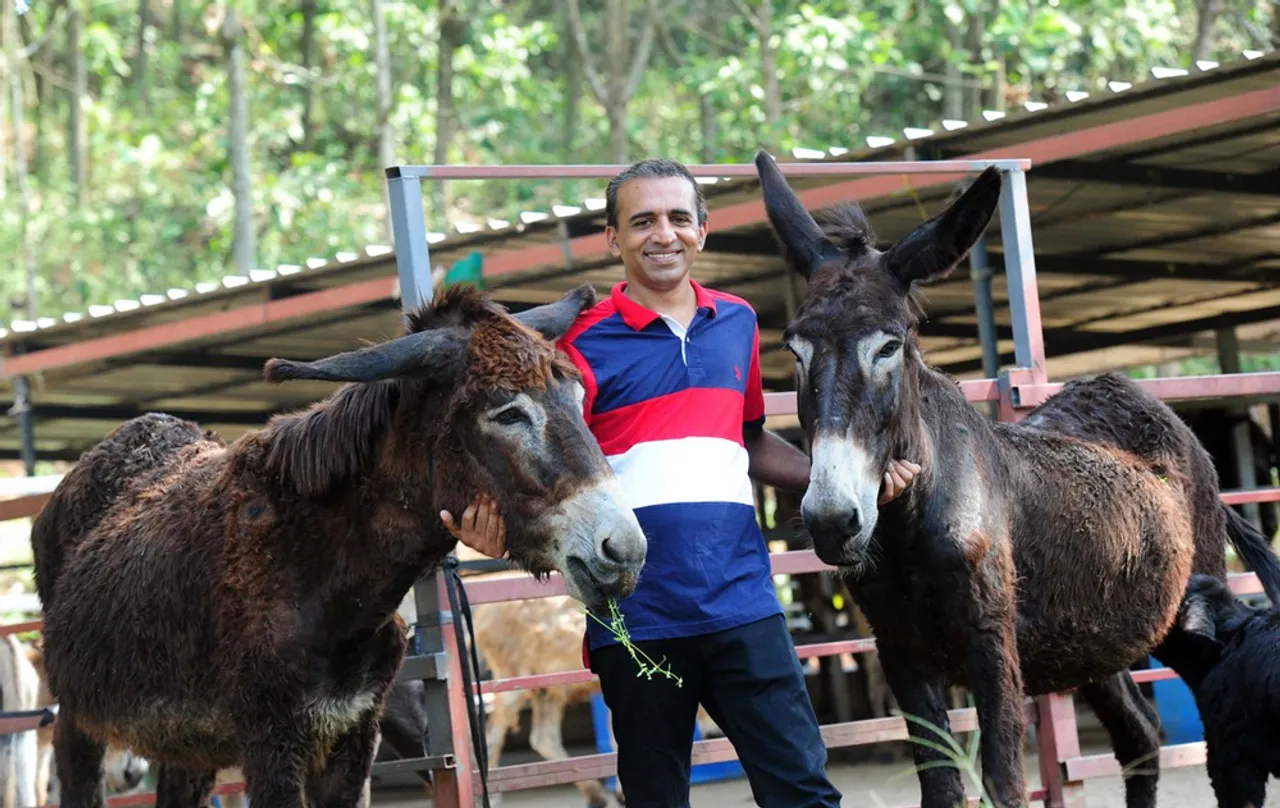 wp:paragraph
Father of medicine Hippocrates is said to have prescribed it for the treatment of liver disease, fevers, and even arthritis in ancient Greece. Legend has it that Egyptian warrior queen Cleopatra bathed in it daily to preserve her youth. And now a Kerala-based company is using it to make organic skincare products, which are selling in 40 countries across the world and have found buyers even in Hollywood.
Donkey milk, one of the world's oldest beauty ingredients, is finding new global patrons thanks to Dolphin IBA Founder Aby Baby and the donkeys in his farm at Ramamangalam, about 30 km from Kochi.
"I wanted to come out with a very special beauty product and was searching for a unique ingredient. I had read about the benefits of donkey milk and that's how I began my product research in 2008," says Aby, who studied Computer Science and began working as an IT executive in 1996.
He credits the Bible for helping him zero in on donkey milk as the "unique ingredient" he was in search of. "In the Bible, Job had 1,000 female donkeys and Abraham also had them. Since male donkeys are used for lifting load, female donkeys must have been nurtured for milk, considered good for health and beauty. So I began to look for methods to use it," he says.
From Bangalore kitchen to global markets
Back then, Aby was working in Bangalore. He bought some raw donkey milk and turned the kitchen into his laboratory. "The most important thing I figured out was that it wasn't possible to work with donkey milk as a liquid for creating beauty products. It had to be converted into a dry form," he says.
Also Read: Rajasthan's Camel Charisma builds a superfood business with camel milk and cheese
Now the National Horse Research Centre in Hisar, Haryana, has decided to open a donkey milk dairy for which it has ordered 10 donkeys of Halari breed from Gujarat.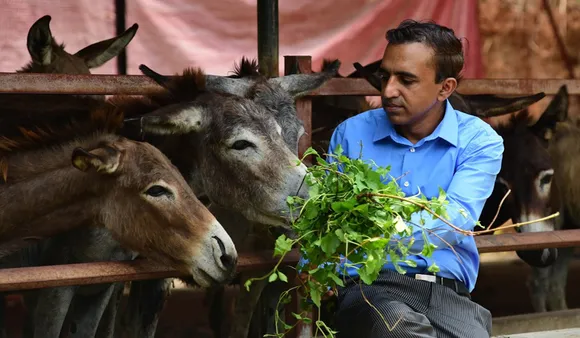 Dr B N Tripathi, former Director of National Research Centre on Equines (NRCE), says creating products using donkey milk will help improve the utility of the animal, which is losing relevance as a carrier of weight after the proliferation of mechanical methods. "Many enterprises are working in this direction and it should help arrest the decline in the donkey population," he says.
Also Read: How a daily wage earner set up Rs 250-crore breakfast company ID Foods
From 2012 to 2019, the donkey population in India declined 61 percent to just 1,20,000, according to the 20th livestock census released in December last year. The same has been the trend for camel population. It is dwindling so rapidly in India that it the camel now faces an extinction threat.
He brought them in a truck to his 2-acre Dolphin IBA donkey farm in Ramamangalam where they are fed wheat and rice bran, coconut husk and CO3 grass, which has high crude protein content. About a kilometre away is the Dolphin IBA factory where 10 people work on donkey cosmetics and cosmeceuticals, which are cosmetic products with bioactive ingredients purported to have medical benefits. "We are also working on nutricosmetics," Aby adds. Nutricosmetics are products that act as nutritional supplements for skin, nails and hair.
Also Read: Adavi: organic coffee that brewed a new life for Karnataka's Soliga tribe
No donkey work
For Dolphin IBA products, the donkey milk is frozen to minus 40 degrees Celsius and the water is removed through the freeze dry method. "The end result is a powder packed with the benefits of donkey milk. This also makes production very scalable," he says.
"We use the high-end freeze drying resources from India's top technology providers to ensure that we compress milk without compromising on its properties," Aby adds.
"The products are loved by users because the procedure we follow helps in making skin softer and blemish-free. It also works on skin ailments like psoriasis, itching etc.," he says.

Charles Jako says Dolphin IBA cream has helped relieve symptoms of psoriasis. "I would spend sleepless nights due to continuous itching earlier. I heard about Dolphin products through a friend. Its application stops itching within minutes," he says.
Also Read: Last Forest takes honey & beeswax products from Nilgiri forests to global markets
Aby says when T cells, or T lymphocytes, which are an important component of the adaptive immune system, become weak, then allergies occur. "Donkey milk helps correct those deficiencies," he says, adding that he doesn't have any scientific research to back it though.
Dolphin IBA is seeing interest from investors who see a potential in the market. "But I am yet to find a like-minded person with whom I can partner in growth," he says.
The existing product range includes donkey milk shower gel and shampoo, facial kit, morning and evening creams besides skin tightening products. 
"We are going to come out with higher versions of the existing product range. Our luxury premium brand, to be called Aby Baby, will soon hit the market," he adds.
Also Read: GreenKraft: taking banana bark baskets made in Madurai to Sweden's IKEA & beyond
Currently, Dolphin IBA products are being sold across India through online marketplace Amazon. "We send our products to 40 countries, covering all the continents. They place the orders online and we use India Post shipping for sending the product overseas," he says.  
"Arabs love Dolphin IBA products," says Aby, who is now gearing up to open his first exclusive overseas outlet in Muscat, Oman. It will be operational from December. Other stores will be set up in Dubai, Singapore and Mumbai over the next few months. He will also expand the range to include lip balms and other products. Dolphin IBA's expansion and success does not only mean business growth for Aby. It will also give a new lease of life to donkeys in India.
(Lead pic courtesy of Dolphin IBA)
(Rashmi Pratap is a Mumbai-based journalist specialising in financial, business and socio-economic reporting)
Also Read: Vistaraku: How Telangana's start-up is taking traditional Indian leaf plates to the world