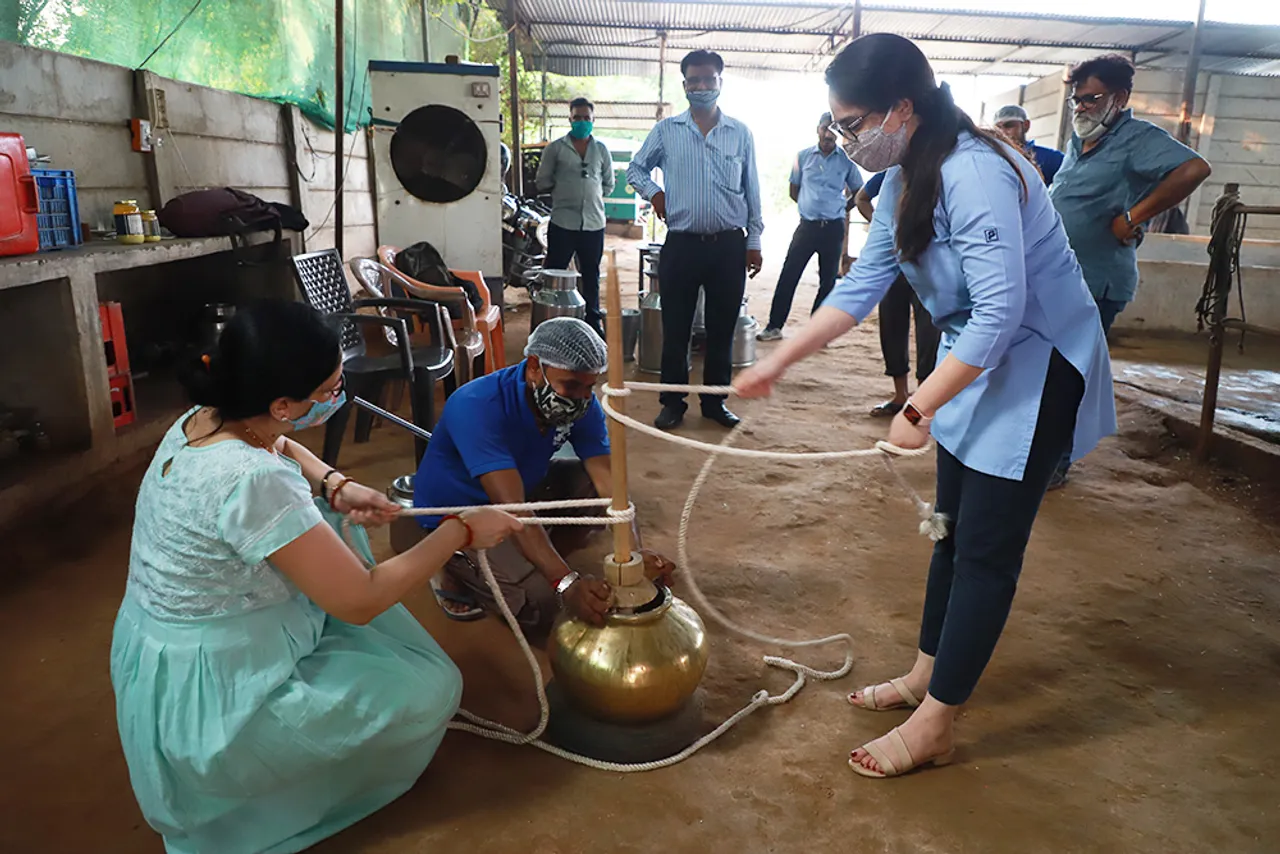 Vikram Pandya, an IIM-Ahmedabad alumnus, decided to foray into the dairy business because of his love for rearing cows. The year was 2012 and Pandya wanted to develop an organic dairy model to contribute to the livelihood of rural people in Jilod Taluka, Anand, Gujarat. Having grown up in a family where cows were nurtured, it was easy for him to start with a few cattle. He began selling cow milk and milk products to relatives, friends and other acquaintances.
But one wrong decision after the other began to haunt the business and eight years later, Shankar Farm Fresh was on the verge of shutting down due to mounting losses and dying cattle.
Also Read: Rajasthan's Camel Charisma builds a superfood business with camel milk and cheese
It was in September 2020 that Vikram's lawyer daughter Kalyani Pandya took over the operations and turned the farm into a profitable venture in less than a year, selling organic A2 milk and ghee both online and offline.
The milk from indigenous cow breeds is high in A2 beta-casein protein and is considered more nutritious than A1 milk obtained from cow breeds of Western origin like Jersey and Holstein Friesian.
Learning from past mistakes
"I took over around eight months back in the middle of the Coronavirus pandemic for two reasons. One, I am deeply attached to the idea of caring for animals; and, two, I wanted to give back to society. Organic dairy business was the best way to achieve both," says 27-year-old Kalyani, who completed her Masters in Law from University College London (UCL) in 2018 and holds specialization in competition law.
For her, the business mistakes made earlier at Shankar Farm Fresh were lessons in what to avoid while charting the new trajectory. "While we had started with a few cows in 2012, a family friend advised that we sell the milk to Amul as well."
Also Read: Jharkhand: Tech graduate duo's dairy venture Puresh tastes success amid COVID-19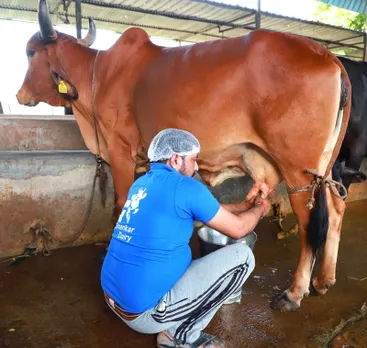 Milk obtained from indigenous cow breeds is high in A2 beta-casein protein. Pic: through Shankar Farm Fresh 
So Shankar Farm began selling milk to Amul and gradually added 30 buffaloes to their stock of about 70 cows. "The first few months were easy. It was from the third month that we realised that we were short of resources. We did not have enough manpower, space and food for the cattle. Those were the initial days and we lacked the knowledge and experience," she says.
The buffaloes were milking but there wasn't enough manpower to milk them.
"We realised the need to provide ample space to our cattle and also figured out that lack of experience can be harmful. We ended up selling the 30 buffaloes within six months," she says.
Another instance, she recollects, was when they did not know the right way of feeding the cattle. One of the cows fell ill and caught a virus. About 10-12 cows got infected and one died. "This also made us realise that we should decrease the size of our cattle to do could do justice to the animals and our work as well," says Kalyani.
Such instances proved detrimental to the venture and it couldn't make profits.
Also Read: How Dolphin IBA's donkey milk beauty products from Kerala reached 40 countries
Branding, e-commerce & organic dairy farm
Kalyani not only learned from past mistakes but also used a mix of marketing and branding to push for organic milk and ghee, the awareness around which is already rising among Indian consumers.
She set up the Shankar Farm website and also partnered with Amazon and Flipkart to sell the products online across the country.
Kalyani also used social media and her friend circle to spread the word about the products.  Word of mouth references helped her succeed, especially in Mumbai, where Shankar Farm has a dedicated client base now.  The products are sold in 15 states.
The ghee is branded Ghrita – the Sanskrit word for clarified butter -- and is available through Amazon & Flipkart as well. Pic: through Shankar Farm Fresh 
"The increasing awareness among people towards organic products helped us drive sales. We are making profits for the first time since 2012," says Kalyani, whose mother Rati Pandya is also involved in the business.
Also Read: How this Rajasthan farmer went from zero to millions with organic farming using his own manures & sprays
The farm, spread over 48,000 sq feet, now has only 35 cows. They are desi or indigenous cows, a mix of Gir, Kankrej and Desi-Gir mix breeds.
"We grow our organic fodder for the cows. The idea is to keep the size of our herd small as we want them to roam freely," says Kalyani.
Also Read: Organic farms turn favourite holiday getaways for Indians tired of urban life
Protected open spaces provide the essential habitat needed for the continued existence of native plants and wildlife. "We are not aiming to be a huge commercial enterprise. We are happy to have a small self-sustaining venture," she adds.
The calves are first allowed to have as much milk as they want after which the cows are milked. Otherwise cows tend to produce less milk and stay gloomy.
Music is played on the farm as cows graze organic grass. They are also fed dry and wet nutrient-rich fodder grown organically. Besides, Himalayan Salt once every two weeks is given to them as it increases milk productivity.
The farm also has a vermicomposting unit and sells organic manure to farmers and nearby dairies at Rs100 a kg.
Also Read: Jayant Barve: Maharashtra's organic farmer who became manure millionaire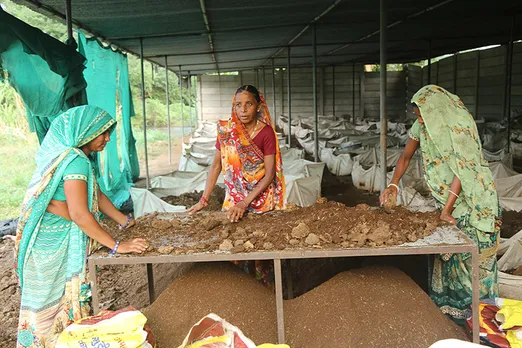 Kalyani has increased the salary of workers, who have been trained by veterinaries to take care of the cows. This will ensure that incidents of animals falling ill or dying will not be repeated on the farm. 
Traditional ghee, modern buyers
While Shankar Farm sells cow milk to Amul dairy and local buyers at Rs 70 a litre, their more popular product is the ghee, branded as Ghrita – the Sanskrit word for clarified butter. This ghee is made using the traditional bilona method where churning is done by hand using a wooden mathani or bilona (churner/hand blender).
"The ghee is made in two different ways. The basic method is to boil the milk, allow the cream to settle, separate it and then churn it. The butter floats on top, is removed and boiled in earthen vessels," says Kalyani.
Also Read: Joynagar Moa: the 117-year-old GI-tagged Bengali sweet that's going global now
The second and more effective method of making ghee, according to Ayurveda, is by heating the milk, letting it cool and then making curd out of it. We churn the curd in a copper vessel using the bilona and the butter is separated. It is then boiled in an earthen pot and filtered to extract the ghee.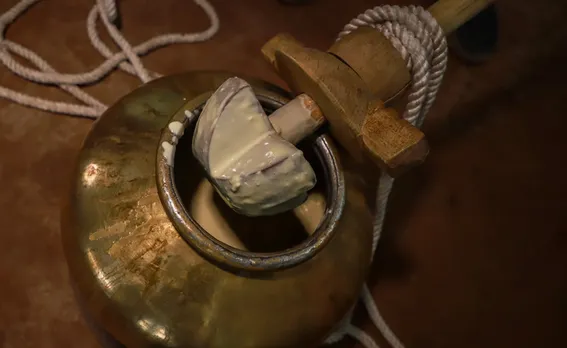 The ghee made using the first method is priced at Rs2500 per kg and is generally sold through the website on a day-to-day basis.
"We make ghee using the second method (after setting curd) based on orders. It is priced at Rs3200 a kg since more milk is used for making it."
Since the ghee is made using A2 milk, it is branded as A2 cow ghee. "A1 and A2 are types of proteins found in cows. We have tested our cows for A2 properties. A2 milk is more nutritious and easier to digest."
They have tested their ghee and milk at an ISO certified laboratory in Ahmedabad. The process and procedure for getting Organic Certificates take a lot of years. However, this is an ongoing process.
"I am happy that I could preserve my family tradition," says Kalyani.
(Vedant Sharma is a Gujarat-based freelance writer)
Also Read: Sundarini: the organic milk revolution by women of Sundarbans