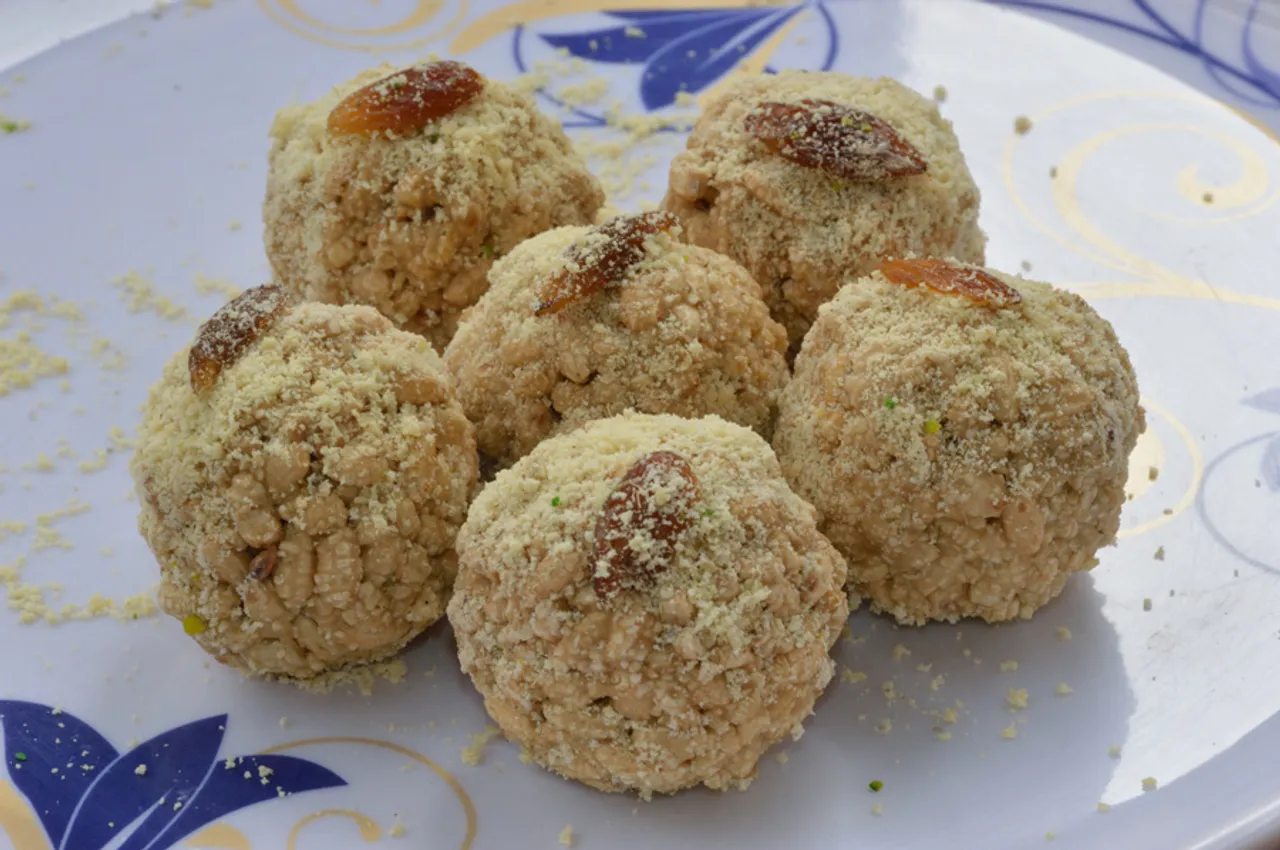 It is late in the evening and Ashok is stirring nolen gur (date palm jaggery) in a large iron wok using a wooden ladle. As soon as the jaggery is fully melted, he brings down the wok from the stove, lets it cool down slightly and adds kanakchur khoi (fried aromatic rice), which is a slender and scented paddy variety cultivated in Joynagar in West Bengal's South 24 Parganas.
After an elaborate process requiring periodic addition of warm jaggery besides thickened milk, Joynagar Moa or Joynagarer Moa – a light round-shaped winter sweet that received the Geographical Indication tag in 2015 – is ready the next morning.
Ashok works at Shatadal, one of the 26 authorised makers of Bengali sweetmeat, which traces its origins to the year 1904 when Ashutosh Das first made it in Joynagar.
Also Read: From ragi momos to snails, how tribal food is becoming the ambassador for Jharkhand's indigenous culture
"Preparing the Moa takes eight to ten hours. If the sweet has to be prepared for the next day, the process begins from the evening itself," says Amit Kumar Koyal, owner of Shatadal, which received the GI certification in 2015.
Why the GI tag for Joynagar Moa?
"It takes considerable experience to make the Joynagar Moa as it involves an elaborate, traditional method," says Koyal, who learnt it from a generation of sweet makers. The Joynagar Moa area of production lies between Joynagar Block I and Block II under the Joynagar-Mazilpur Municipality, about 50 km from the capital city of Kolkata.
Also Read: How 2 sisters are reviving cuisine of Bannuwal Hindus who migrated from Pakistan after Partition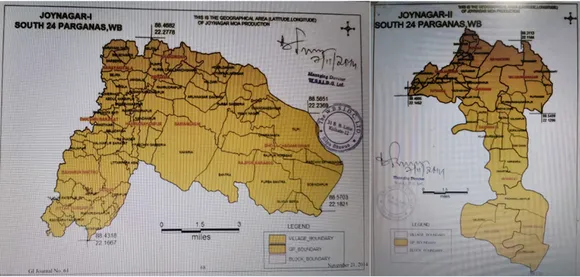 The sweet is unique because the main ingredients, kanakchur khoi and nolen gur, are available only during the winter months between November and January.
The sap is kept undisturbed for four days after which the jaggery is prepared and stored only in earthen pots.
"Kanakchur khoi and nolen gur are not easily available everywhere. Due to the high demand of the seasonal sweet, often less expensive versions of the moa are made using chemicals," says Ashok Kumar Kayal, secretary of Joynagar Moa Nirmankari Society, which was set up in 2005.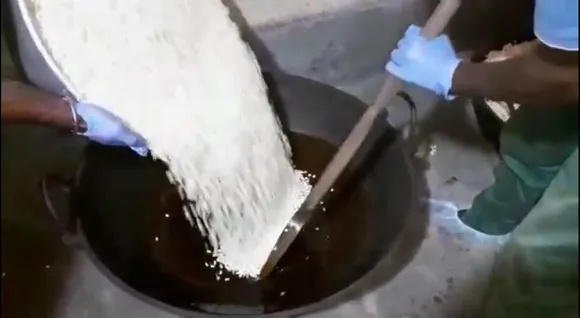 GIs identify a good as originating only within a region or a locality, where a given quality of the good is attributable to its geographic origin. The tag also ensures that none other than those registered as authorised users are allowed to use the popular product name.
Also Read: Kashmir's local bread-baking thrives as kandurs serve up delectable breads
Only authorised users make the Moa in Joynagar. "The society conducts a thorough examination before authorising any outlet to make the sweet," says Kayal.
APEDA had held a meeting with the Society on January 10. "And that is when the decision to export the sweet was taken" Kayal says.
For the export, the highly perishable product was specially packaged in dry ice. "The moa was exported by DM Enterprises from Kolkata via Air Emirates through APEDA-funded Centre for Perishable Cargo. The next consignment to Bahrain will be sent soon. There are plans to export to Italy and Canada as well," says Sandeep Saha, accountant, Agricultural and Processed Food Products Export Development Authority (APEDA).
Also Read: Christmas: 5 desi cakes made using petha, murabba, mawa & more
The making of Moa
Koyal of Shatadal explains that once the khoi and jaggery are mixed, they are allowed to rest for an hour. Then another round of more watery jaggery is heated and blended with the mixture.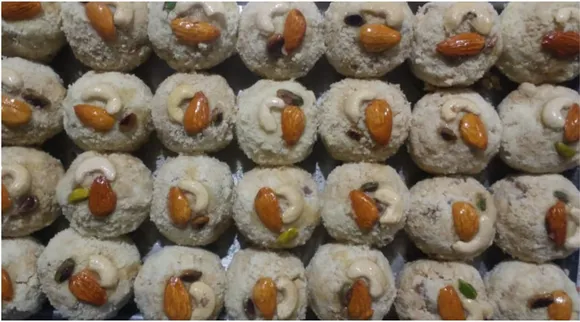 The next morning, some more jaggery is heated for going into the mixture. Cashew nuts, raisins and cardamom are added for flavor. After that khoya kheer or thickened sweet milk is poured into the mix. Ghee or clarified butter, made from cow's milk, is applied on palms to roll the mixture into small, round balls of Moa. 
Moa 'n' More, another authorised maker of the sweet, sells about 20 to 30 kg Moa every day during the season. Its owner Dipak Naskar says it is easy to source kanakchur because the paddy variety is grown locally.
Also See: Maharashtrian food in pictures
Moreover, a large number date palm trees have been felled over the years, reducing their numbers, he adds.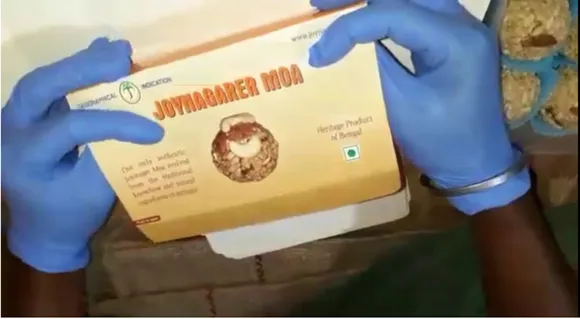 Apart from Joynagar Moa, two other sweets from Bengal to have received the GI tag are Burdwan's Mihidana and Sitabhog, both rice-based sweets. Bihar's Silao Khaja, which stands out for its crispiness and multiple layers, is the result of local water and climate of Silao (a small town in Nalanda district). It received the GI tag in 2018 while Srivilliputtur Palkova, made using milk only from cows reared in and around Srivilliputtur in Tamil Nadu, was granted the GI tag in 2019.
Before granting the GI certification, consultative group meetings are held to ascertain whether a product merits it. "Then they publish a journal and if anyone wants to challenge it, there is a hearing. After considering all the arguments, the GI office takes a decision," says Kayal.
For now, the Moa makers of Joynagar are busy preparing for their next overseas consignment. The sweet's season lasts just a few months and they have to work extra hard to meet the growing demand.
(Lead pic by Biswarup Ganguly through Wikimedia)
(Sravasti Datta is a Bengaluru-based independent journalist, who writes art, culture and human interest stories)
Also Read: How home chef Sumitra Kalapatapu is popularising the little-known Andhra Brahmin cuisine