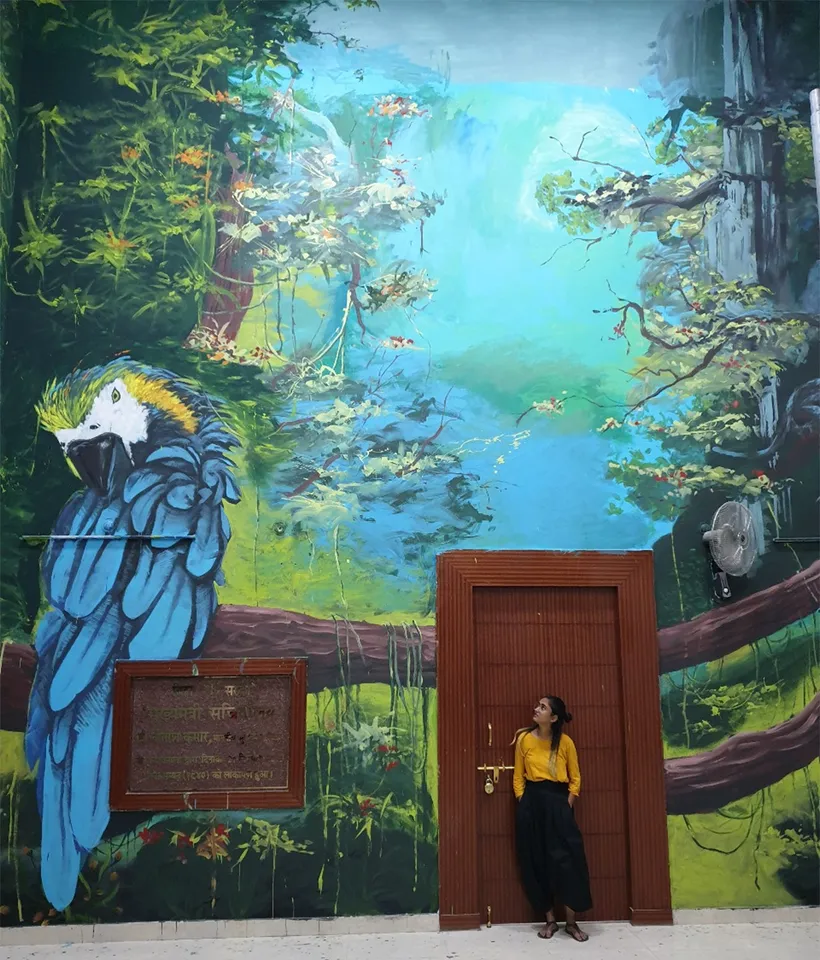 wp:html /
In 2016, when Ankita Raj was studying at the College of Arts and Crafts in Patna, Bihar, students had to pick an art category for a project. She chose to paint a wall and was assigned a wall for her work.
Wall art in India has largely been male-dominated as it requires working in extreme weather conditions and prolonged exposure to public places. But Ankita was determined to break free of stereotypes in the art world. 
But instead of being intimidated, Ankita replied to her detractors through her colours. She turned the wall into beautiful art, which came as a slap on the face of the bullies. Since then, spreading colours and social messages through art has become her signature style.
Also Read: Pithora art: How Jhabua's Bhuri Bai broke centuries-old taboos with a brush & colours
Dissent & awareness through street art
Street art is displayed in public spaces like walls and buildings and traces its roots to graffiti, which was first done in the late 1960s in Philadelphia (Pennsylvania). It was writers Cornbread and Cool Earl who wrote their names on walls across the town to gain attention from the community and media. Graffiti has often been used as a mode of dissent since then.
Traditionally, spray paint was used for street art but now the media has expanded considerably to include LED art, mosaic tiles, stencils, stickers and other forms.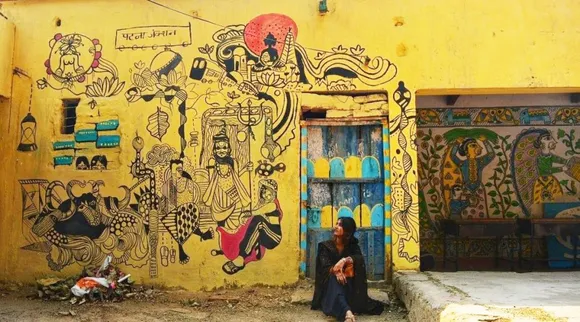 Ankita uses her art to raise awareness about issues like climate change, gender equality, women empowerment and to promote sustainable living. She has been breaking stereotypes and providing the local art enthusiasts with a platform and a chance to explore their creativity, which she was once denied.
Also See: In pictures: Didi vs Modi in West Bengal's election graffiti
Elbowing through the industry ruled by men, the young artists has completed more than 100 street art projects on different themes and has designed the interiors for over 60 cafes, offices, and private properties. She works with several artists, especially women.
Having a keen interest in interior designing, Ankita had redesigned her house when she was in class 8. She went on to finish her graduation from the College of Arts and Crafts, where she noticed her seniors and other artists doing the same kind of art for many years.
"I saw my seniors working as art directors, designing posters, painting portraits. But there was no growth; art should have variants," says Ankita, who tried experimenting with different styles, fusing traditional art with modern ethics and ideas.
Also Read: How Kalyan Joshi has made Rajasthan's 1,000-year-old Phad paintings trendy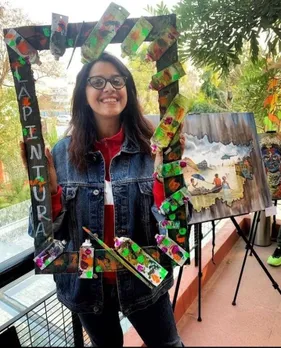 So chances are that while strolling through the streets of Patna, you might spot Ankita, surrounded by a myriad of colours and paintbrushes, staring at a blank wall, which she intends to make her canvas for the day. Her brush would meticulously work through the surface of the wall with her eyes focused to elicit the image she has in her mind. Within the course of the next few hours, the wall will be covered in colourful graffiti designs, depicting social issues like environment protection or women empowerment.
Expanding the colour palette
It takes 3-4 days to paint an entire wall. Ankita uses different colour mediums like wall paint, acrylic, poster, sprays, and mostly paints free-hand as it enhances the skill. Due to financial constraints, she couldn't invest in projectors or cranes that are the basic minimum for street arts.
Also Read: Women artisans help resurrect Karnataka's Kinnal hand-painted woodcraft
Her charges vary from Rs260 to Rs500 per square ft, depending on the design.
Ankita faced several roadblocks when she stepped into the professional world in 2016. She struggled to find genuine clients and good opportunities, which was limited at that time. "I was a young girl and people were not ready to trust me, they would often rebuke me and preferred calling artists from other states. Then, I started giving free demonstrations to familiarise them with art and added it on social media," says Ankita.
It was the growing café culture that brought her business as people wanted trendy designs for their outlets.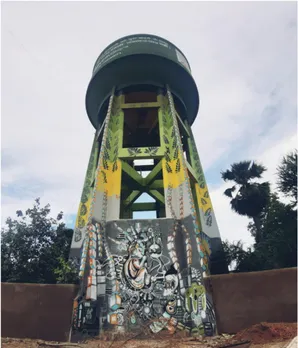 Ankita has also done government projects that include creating graffiti on a 160 feet high water tank, and several government offices. Although the government projects are economically rewarding when compared to private projects, it involves a lot of bureaucratic hassle with the officers, she says.
Also Read: Pattachitra: Odisha's Raghurajpur turns hub of recycled art as artisans combine 12th century craft with sustainability
Giving unsung artists a platform
Over time, Ankita forayed into the business of interior designing and product designing. An advocate of sustainable living, Ankita ensures that all the scrap generated from her projects is used in her upcoming projects. She also creates furniture like ottoman tables and chairs out of eco-bricks and waste materials.
As the workload increased, she began employing local artists on a project basis. Along with the artists came their stories, and Ankita realised that just like her, many artists never got a platform and were forced to switch professions.
Determined to provide them with a chance, Ankita started her art studio La Pintura, which is Spanish for 'the painting'. Here, she began hosting exhibitions, art classes and workshops, which brought artists and art enthusiasts under one roof.
Also Read: Abira: Pune's all-women enterprise where slum dwellers handcraft ecofriendly products for global brands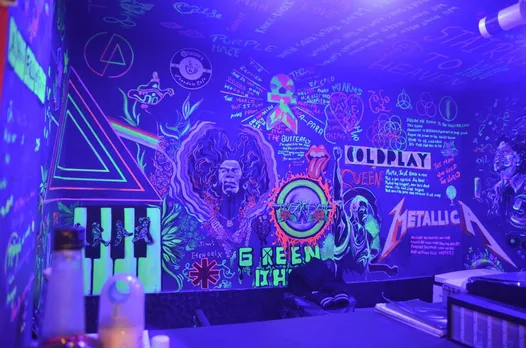 She also hosted art exhibitions at cafes, where other artists could display their talent. She presented the work of new artists.
Ankita also hosts preliminary art classes at a minimal cost and free product development workshops for slum kids. She received a very good response for these initiatives. Around 500 people turned up for her art exhibitions, taking the sales to Rs40,000. She has featured the works of more than 100 local artists and hosted several workshops, benefitting both the artists and students.
Currently, seven full-time employees help her with work and projects. And their salary ranges from Rs 5,000 to Rs 25,000 depending on the nature of the job.
Also Read: From bamboo toothbrushes to probiotic dish wash bars, Chennai's Goli Soda takes sustainable living to the next level
On the work front, Ankita says she had a lot of work before COVID. "I received around 10-15 project enquiries per month. I then found it difficult to cater to everyone due to the small team size."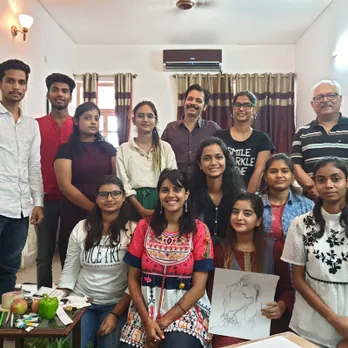 However, the business has been adversely impacted by the pandemic, leading to a drastic decline in enquiries. Her annual revenue has declined from Rs 80 lakh to Rs10-15 lakh. But Ankita continues to expand her art and use it as a medium to raise awareness about social issues.
"Artists always strive towards bringing a positive change in the society but in the process, they struggle to earn a decent living. Hence, they need to multitask and explore; an artist has to be a good business person as well," she says.
(Rishika Agarwal is a Patna-based writer specialising in art, culture and human interest stories)
Also See: Chandan Chanda: The murder-convict drawing election graffiti for BJP & TMC in West Bengal