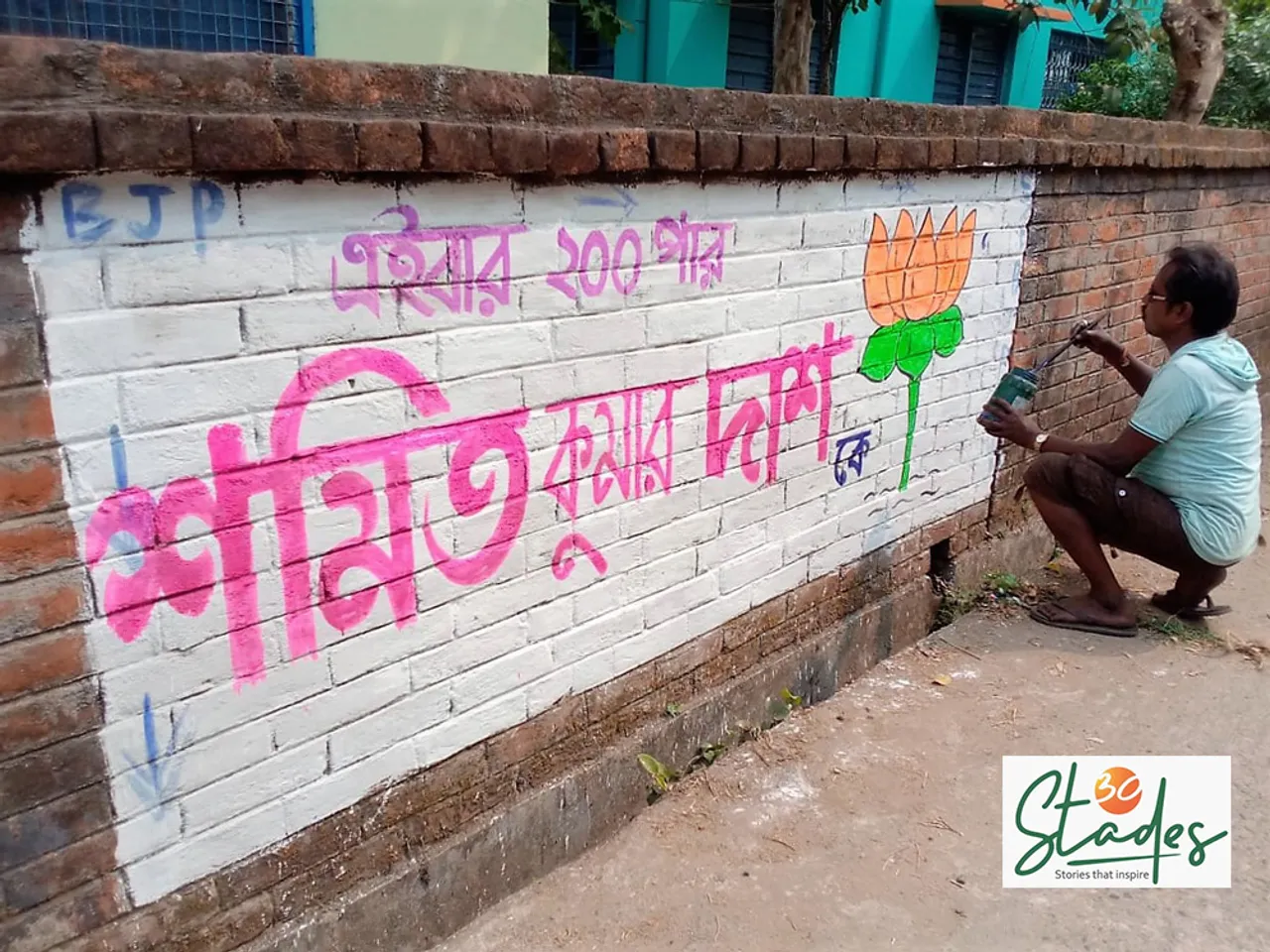 wp:paragraph
At 6 in the morning, a convict, sentenced to life imprisonment for murder, walks out of Midnapore Open Correctional Home, some 130 km from Kolkata. He carries a few brushes and colours in a pouch, gets on his motorbike and reaches a market area with a clean wall. In the next 10 minutes, he paints it with symbols and slogans of Bharatiya Janata Party (BJP) and Trinamool Congress (TMC) as West Bengal gears up for the 2021 assembly elections.
By 8pm, he is back in his prison cell. Chandan Chanda (47) has spent the last 17 years of life behind bars after he was sentenced to life for murder in 2004.
"I don't have voting rights, though I have a voter ID card," he adds.
While article 326 of the Constitution allows every citizen of India, not less than 18 years of age, to vote, prisoners or under-trials are prohibited from voting under section 62(5) of the Representation of the People Act, 1951.
Politics, art and open jail
Chanda has been serving the sentence at the open jail, where he was shifted following his decent conduct on July 23, 2018. "We found him well-mannered. So, he was moved to open jail, which is an intermediate state, where an inmate gets half-life, half-custody, so that he can return to the mainstream in future," says Additional Inspector General, Correctional Service West Bengal, Biplab Das. 
Also Read: Rajasthan: Dacoits from Chambal's badlands give up guns for farming
The Prisons Act 1894 doesn't have the provision to pay wages to inmates shifted to open jail. Surrounded by a 17-feet high-wall, the 'Open Jail' is a two-storied building adjacent to the Midnapore Central Correctional Home. The solitary advantage an inmate gets here is the permission to go out of captivity for 14 hours per day to earn a livelihood.
Also Read: Pithora art: How Jhabua's Bhuri Bai broke centuries-old taboos with a brush & colours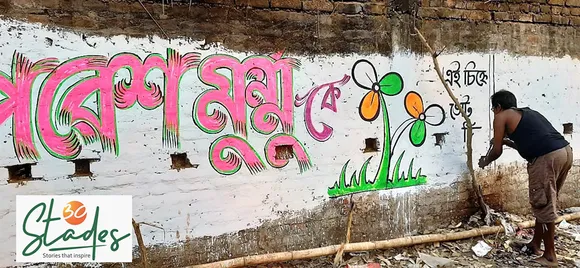 So Chanda has taken to painting, making clay idols, canvassing and graffitiart for a living. "Being an artist, I am approachable to all," he says.
The challenge, however, is to work under the scorching sun. And paucity of time – he has to be back at the reformatory by 8 pm.
"I charge Rs200 per wall, irrespective of the size, including colours and pay Rs300-Rs400 per day to a helper if I need to hire one," says Chanda, who dropped out of school after class 8th.
Soon after he was shifted to open jail in 2018, Chanda rented a place to set up his studio at Ashoknagar, close to Midnapore railway station. His first order was to make 15 idols of lord Viswakarma and it was followed by five Durga idols. He has made around 200 signboards since then.
Also Read: Poems of closet poets: From romance to war, unpublished poets write about them all
"I wouldn't be worth a penny had I not been in artwork. Art is my passion," adds Chanda, who completed secondary examination with 85 percent marks in 2011 while serving his term.
Art that bloomed behind the bars
Chanda had dabbled in clay idol-making, painting and other arts before he was sent to jail. At 17, he had fled his home in Kantai village, Paschim Medinipur, and reached Kolkata to learn painting and clay idol-making.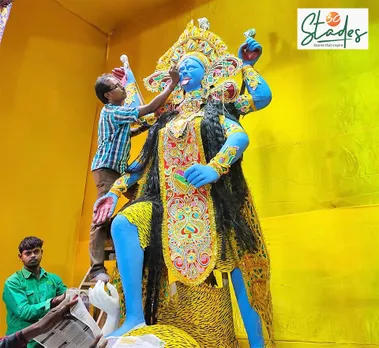 He spent two years with a kind family at their Barrackpore Trunk Road residence. The Duttas helped him learn art from an artist from Rabindra Bharati University.
Later, Gorachand Pal of Kumartuli, the traditional potters' locality in north Kolkata, trained him in clay modeling. "I made my first idol of lord Kartik at the Dutta residence after completing my training," recalls Chanda. He then returned home and continued to make clay idols till his conviction.
But it was behind the bars that he achieved success. When he was lodged at the Midnapore Central Correctional Home between January 30, 2004 and January 30, 2008, noted sculptor Chitta Dey of Flight to Harmony Foundation was looking for some artist to work with.
Also Read: Ghurni: Bengal's craft village where life-like clay dolls are bridging the rich-poor divide
Senior prison officers suggested his name and Chanda was then transferred to Alipore Central Jail, Kolkata, where he ended up staying till 2018.
"I was lucky enough to have met former president Pratibha Singh Patil at Raj Bhawan, Kolkata in August 2008, where I presented her a clay model titled Pakhimaa (face of Goddess Durga in bird shape)," he recollects.
Chanda has luckily found mentors and guides at various turns of his life. Dey organised a solo exhibition for Chanda at Gallery Gold in 2011. Curator Rashmi Chatterjee, Founder of Hello Heritage, continues to help him by providing colours, brushes, etc. In 2017, he had an opportunity to visit Delhi's Tihar Jail for the National Art Competition.
How the artist Chanda ended up in prison
Asked how he landed in prison, Chanda recalls that it was the evening of November 19, 2000, when four-five children were rehearsing a plot of drama titled – 'Agnishishu Khudhiram' at his spacious house in Kantai.  
Little Ratan, who was playing Khudiram, tied a piece of cloth on an iron ring dangling from the bamboo ceiling to enact the scene of Khudiram's hanging.
Unfortunately, other children who were playing with him fled seeing this. There were no adults present at home at the time of the incident. "An FIR under section 302/201/34 of IPC was filed by Basudev See, the maternal uncle of the deceased child. My wife, sister and I were arrested on the charges of homicide next day," rues Chanda.  
Also Read: Women artisans help resurrect Karnataka's Kinnal hand-painted woodcraft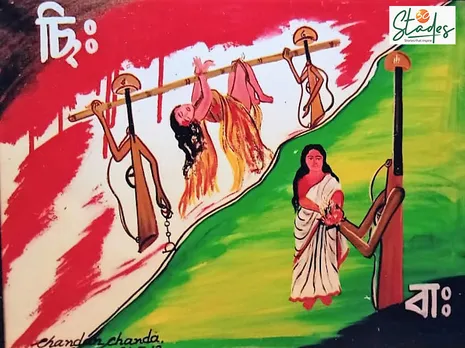 The trial continued at the West Midnapore Session Court, which pronounced them guilty on January 29, 2004. The next day, Chanda was directed to Midnapore Central Correctional Home while the ladies were sent to Purulia Women's Correctional Home. Upon challenging the verdict at the Calcutta High Court, his wife and sister were acquitted while Chanda's punishment was upheld.
Since then, Chanda's life behind the bars has been revolving around art. The correction facility has 66 other inmates, some of whom find work and some don't. While Chanda rues what he suffered, what gives him solace is the fact it was only due to his imprisonment that he could hone his art and become what he is today – an accomplished artist.
"I am waiting for my liberty orders. I am hopeful that the day is not far off when I will also be a free bird. Right now, I am a convict and a convict dies every day," he says.
(Partho Burman is a Kolkata-based award-winning journalist. He writes inspiring human interest and motivational stories.)
Also Read: How Culture Therapy is transforming lives of inmates in West Bengal's prisons