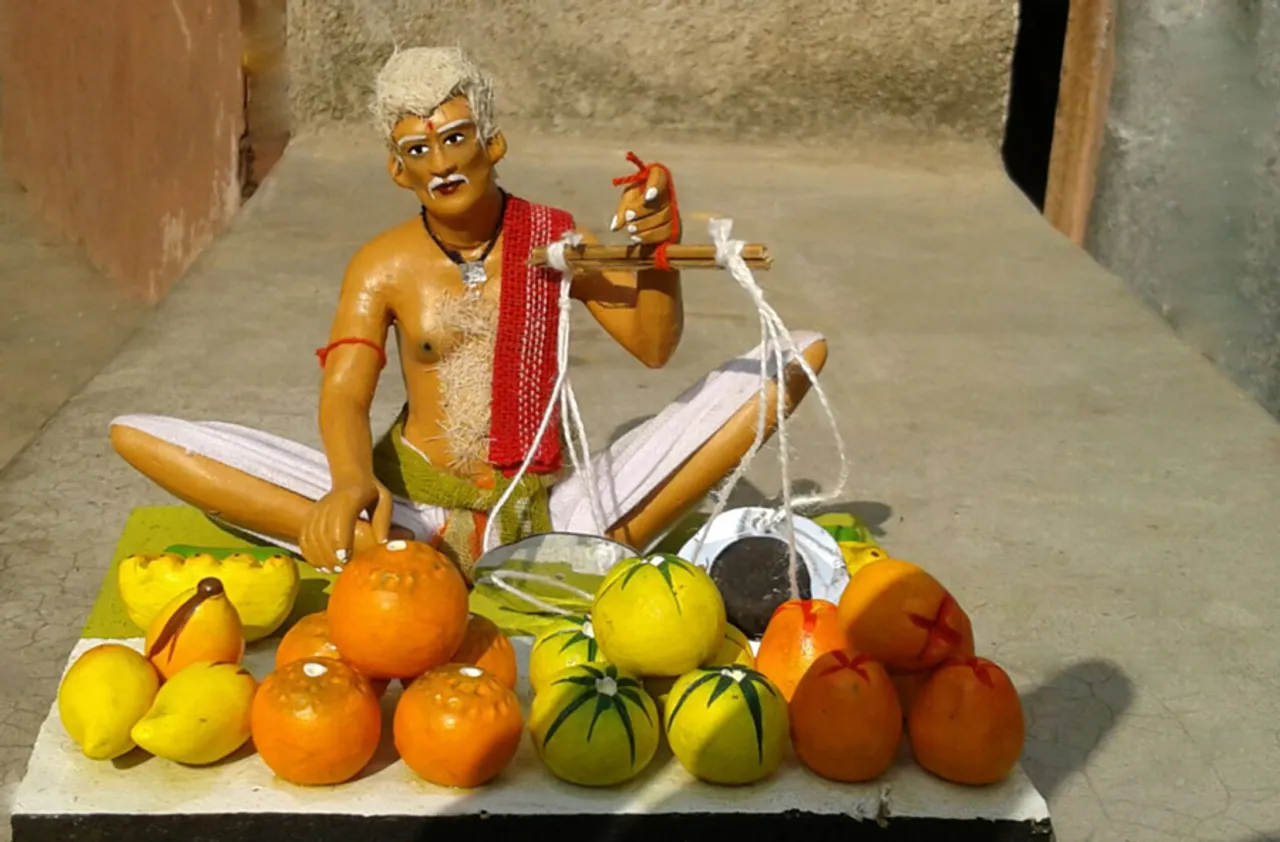 wp:paragraph
Over half-a-century back, when Kanchan Bag was still a child, his father would hand-pull the rickshaw to feed his 10-member family. Bag's family, comprising his parents, grandparents and five siblings lived in Ghurni, in the Krishnanagar tehsil of West Bengal's Nadia district. 
"We were so poor that on some days we did not have anything to eat. Yet, my father never let us pull the rickshaw as he wanted us to be in a more respectable profession, which would also guarantee a steady income," Bag, now 57, recollects.
Democratisation of doll-making
With no formal schooling due to poverty, the other option for Bag's father was to let his sons learn the local Ghurni doll-making from a putul shilpi (literally doll artist) of the Pal or Paul community, who have been the custodians of the clay craft for nearly four centuries in Krishnanagar. The dolls are also called Krsihnanagar clay dolls.
Also Read: Pothi Chitra: Odisha's 900-year-old palm leaf engraving finds global patrons
So Bag's father got one of his sons to work as a potter's apprentice for free.
He later learnt doll-making from his elder brother and eventually, both of them became expert craftsmen. Their incomes increased and the family came out of the web of poverty. "Even when I just started to make the clay models and the products were not very well finished, it fetched us money," Bag says with a smile.
Also Read: Bengal's Natungram: Craft village where wooden dolls come alive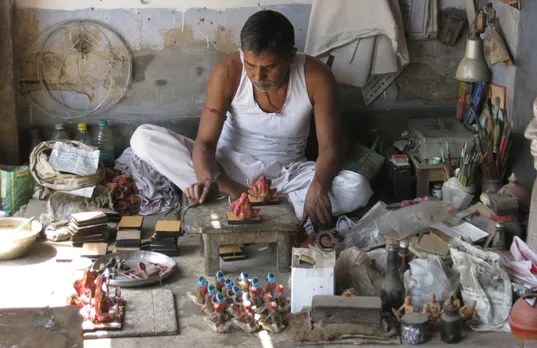 "The uniqueness of the Ghurni or Krishnanagar clay dolls lies in the masterful replication of the human figure, draped in real clothes, and the quality of finish, capturing the minutest details," says Bag, who has been creating clay art since the age of four. Not surprisingly, the dolls are exported and loved the world over.
Ghurni dolls – history & geography
Ghurni, about 150km from Kolkata, is nestled along the banks of the Jalangi River, which flows through Krishnanagar. The town, also called Krishnagar, came into existence in the mid-1600s when the royal dynastic rulers of Bengal were extending their fiefdoms and zamindaris. 
The local king, Krishna Chandra, who was fond of art and culture, is said to have brought some Ghurni clay doll craftsmen to Krishnanagar from Natore (now in Bangladesh), the royal house of which had links with the royal house of Krishnanagar. 
Also Read: Women artisans help resurrect Karnataka's Kinnal hand-painted woodcraft
"In the early days, the doll makers were encouraged by the royals to create clay idols of gods and goddesses," says Rintu Das, Kolkata's renowned clay idol creator, who has conceptualised award-winning idolsof gods and goddesses during the festivities, especially Durga Puja. 
Fruits and flowers, vegetables and other eatables like eggs (boiled eggs sliced in half is a common and popular theme) and other everyday items too took on miniature clay versions. 

According to historians, after the advent of British rule in 1757, the administrators were so impressed with the clay idols that they encouraged the artisans to create clay statues representing their Christian faith. Thus were born clay dolls of Jesus Christ, Mother Mary, tiny figurines of the Mother and Child among others. 
Also Read: Village in Jharkhand's Maoist hub transforms into eco-tourism spot reviving lost arts
It was around this time that the clay dolls were also exported to Britain and other European countries and it began to gain world prominence. 
Innovation in clay craft
While the craft has evolved over centuries, what has remained constant is the focus on the intricate craftsmanship including the fine finishing, detailing and the emphasis on vibrant colours, not to mention the range of themes that the artisans work with. 
Bag says while large orders come from clubs and communities during festivities like Durga Puja, smaller clay dolls are sought after at times of other celebrations like the Jagannath Rath Yatra of Puri or Jhulan festival when people in Bengal decorate corners of their homes and even public spaces with tiny toys depicting human activities.
Over the past five decades, he has advanced from being a creator of small clay figurines and dolls to large statues and idols, murals and other terracotta decors.
Also Read: Maharashtra's Chitrakathi painting: keeping alive the legacy of Chhatrapati Shivaji's spies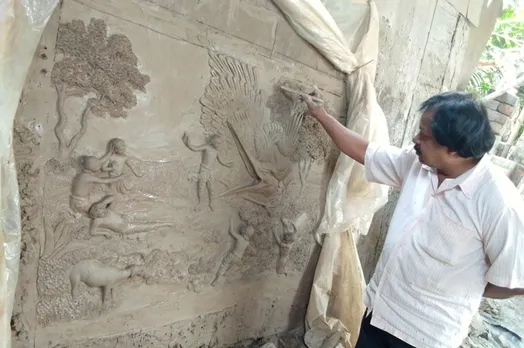 "When I started, I used to make everything from gods and goddesses (especially Goddess Lakshmi and Goddess Saraswati, because they are worshipped in many common households and had huge demand) to figures of young boys playing football and people doing various chores." 
He also visited the Rashtrapati Bhawan for working on a museum when the late Pranab Mukherjee held the post. 
Also Read: Cheriyal: How Telangana's centuries-old scroll art continues to educate and entertain even today
The process of making Ghurni clay dolls
Apart from the willingness of Pal community members to share their knowledge with others, the low investments involved in the craft also made it popular. "The clay or mud was everywhere so we did not have to buy it but when the demand went up, we had to procure the raw material," says Bag.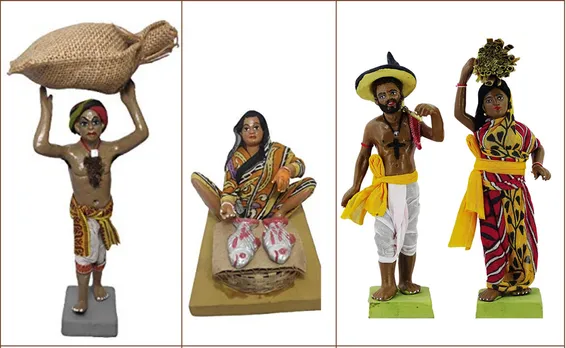 Earlier two basketfuls of dry clay or mud cost only Rs10 and the products made out of them fetched them around Rs700 to Rs 800. "The dolls between 3 to 6 inches would be priced anywhere between the lowest of 50 paise and the highest Rs20, which was a lot in those days," says Bag. 
These dolls are sold online though marketplaces like Amazon and Flipkart as well as websites like Gaatha. Many artisans have their own Facebook page to sell their products across the globe.
"The value of the art forms has gone up," says Bag, now leading a comfortable life with his wife and son.
Also Read: How Kalyan Joshi has made Rajasthan's 1,000-year-old Phad paintings trendy
He does have a few grievances, however, and says that clay doll artists who cannot negotiate well are exploited by middlemen who reap the benefit of the newfound surge in the valuation of handicrafts around the world. He also says that he has been duped by several people who did not give him the promised money and asks if we could mention that in our report. 
"The Coronavirus and the lockdown too played havoc with the economy at Ghurni as there was very little trade during the pandemic," says Bag, hoping for better times to return soon.
"Now things are much better," says Tarit Paul, who is from an original potter family. He proudly proclaims that "clay doll making is in our blood because our ancestors have been engaged in this art for nearly three-and-a-half centuries."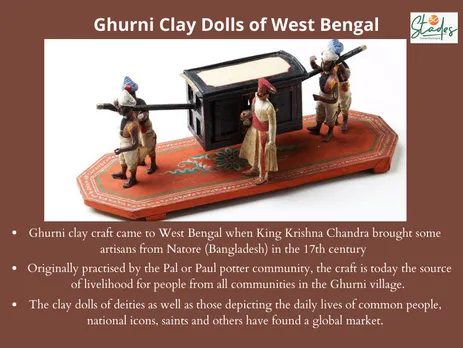 The 56-year-old has won several awards, including at international festivals. His entire family, which includes his parents, wife, two brothers, and sons are involved in the making of clay dolls.
Also Read: LifeCraft: empowering Jharkhand's Kuiani women through fabric hand dyeing
After procuring the clay, it has to be soaked in water for a few days. The water quantity has to be just right because if disproportionate, it will cause the clay to be either too tight or too loose. The clay is very soft. It is kneaded and rolled like dough for shaping into figures. 
Sometimes it is cast in a mould or model. The artisans also use tiny iron rods to provide the skeletal structure for the figurines and add different body parts like legs and arms made from separate pieces of clay. The eyes, mouth and other features are carved on the face. The dolls are then dried in the sun for a few days and later placed in a covered, charcoal-fed kiln and baked. 
Also Read: Joynagar Moa: the 117-year-old GI-tagged Bengali sweet that's going global now
Later, the dolls are coated with a layer of varnish followed by colour using a brush. The paint is prepared by adding tamarind seed power to a clay mix and then adding watercolour to it. Often fabric paint is added too. The dolls are then costumed with miniature clothing.
For many artists like Bag, Ghurni clay dolls have meant the transition from poverty to a life of comfort. And that is the biggest tribute to this centuries-old craft.
(Dola Mitra is a Kolkata-based journalist and author of 'Decoding Didi'. She is the Editor of digital news portal Cuckoo News)
Also Read: MP's Jhabua scripts a success story with its traditional tribal dolls