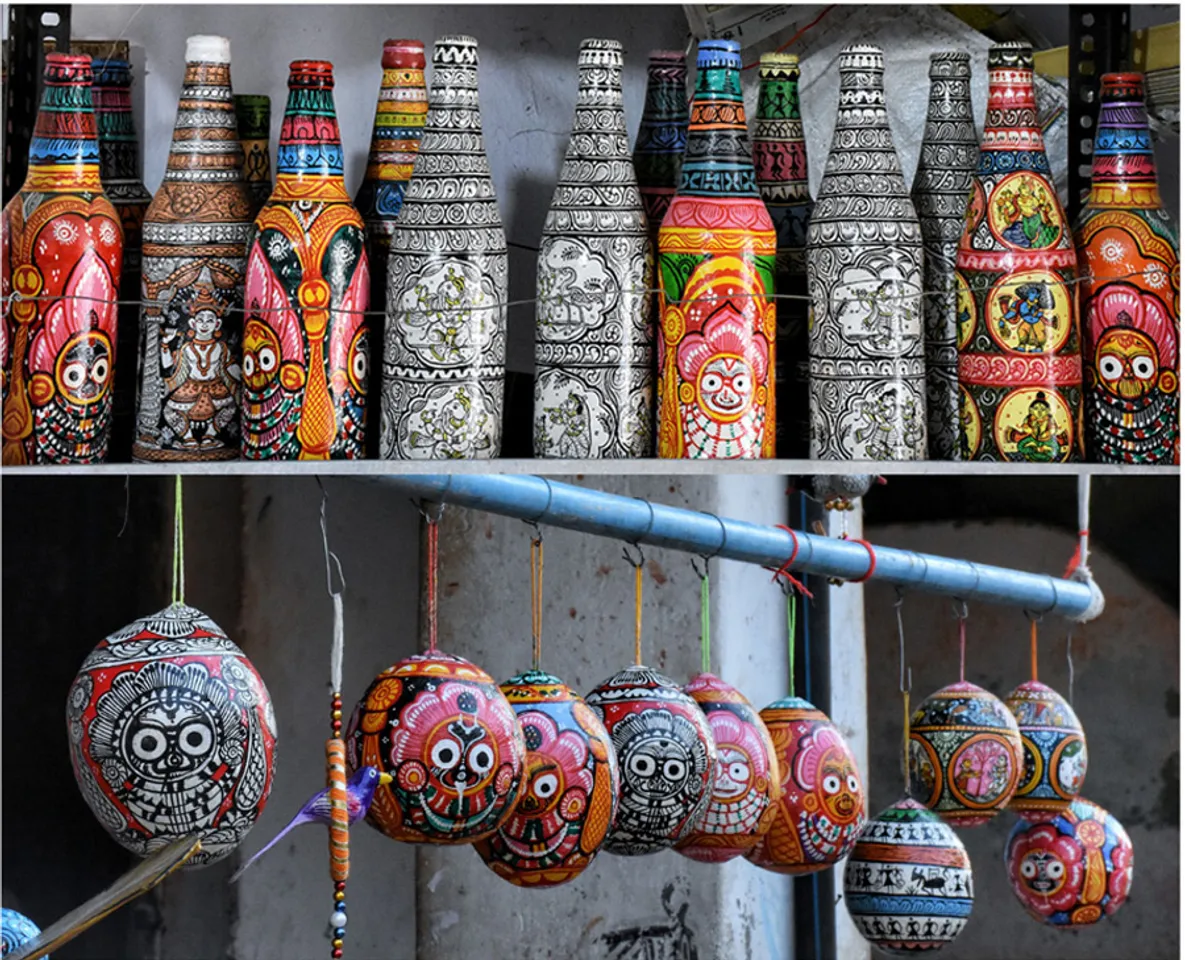 About 14 km from the temple city of Puri, the seat of Lord Jagannath in Odisha, is a village nestled among groves of mango, palm and coconut. Raghurajpur, on the southern banks of river Bhargavi, is no less than a museum of fine arts where walls of houses have colourful murals of Radha-Krishna with Gopis, episodes from Ramayana, dancers performing Odissi and Gotipua and flowers, forests and more.
Building on a legacy
'Patta' means cloth and 'chitra' means painting, done by the Chitrakara community (mostly Mohapatra or Maharana surname) in Odisha on scrolls of cotton or silk. Most of these paintings are based on incidents from the life of Lord Krishna, the avatars of Vishnu, Lord Jagannath and the triad of deities, tales from the Ramayana and Mahabharata besides folklores.
Also Read: Bengal's 12th-century Patachitra art moves from paper to metals, wood & ceramics to reach global markets
But today, Pattachitra is much more than mythological scenes on scrolls that are a mix of classical and folk elements.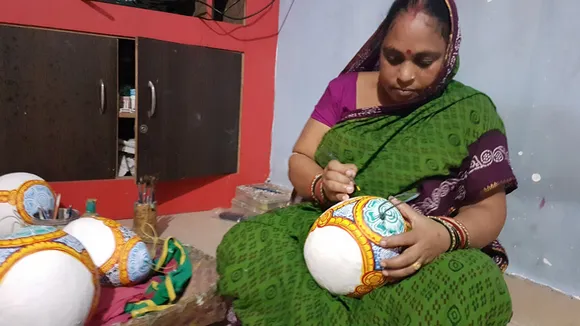 Discarded liquor bottles, coconut shells, newspapers, paper wastes, clothes etc. are used by several artists here to create recycled art. "We use these items, combining them with the traditional skills to create new artefacts like paper-mâché masks, figurines of gods, goddesses, animals and toys for kids," said Abakash Nayak, a septuagenarian artiste from the village.
Also Read: Women artisans help resurrect Karnataka's Kinnal hand-painted woodcraft
"A common waste item is discarded liquor bottles. We clean them and paint them with flowers, animals or with gods and goddesses. These colourful bottles are used for decoration, keeping plants or as flower vases," says Nayak. These bottles, which are rapidly gaining popularity, sell upwards of Rs650 per piece at most online platforms including Amazon and Flipkart.
"The beautifully crafted trays in many hotels are paper-mâché products that we prepare here using waste paper," he adds.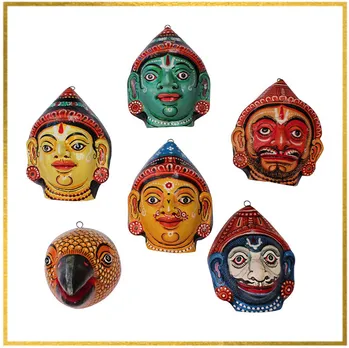 To make them, waste paper is soaked in water for many days. This soaked paper, paddy straw and some old cloth are pounded in a stone mortar to make a fine pulp. Glue is added to it and the mixture is applied over moulds. Once fully dried, the artwork is removed from the mould, smoothened and then painted.
Also Read: How Kalyan Joshi has made Rajasthan's 1,000-year-old Phad paintings trendy
Leena Das is another artiste working from the verandah of her house in Raghurajpur. Her husband and other family members are also involved in the craft. After finishing the daily chores, she takes over paints and brush to make decorative pieces like door hangers using coconut shells.
"In urban areas as well as in the countryside, we see a lot of discarded coconut shells. We use them by removing the coir and then clean and dry them before painting it," she says.
Like Leena, several women are involved in supporting the art at Raghurajpur, which houses 140 families. At least one member of each household and, sometimes all of them, are involved in Pattachitra or other crafts.
Raghurajpur's connection with Lord Jagannath
Raghurajpur was developed as a heritage village by the Indian National Trust for Art and Cultural Heritage (INTACH) in the year 2000. It is also the birthplace of legendary Odissi dancer Guru Kelucharan Mohapatra.
Also Read: Maharashtra's Chitrakathi painting: keeping alive the legacy of Chhatrapati Shivaji's spies
The origin of Pattachitra is rooted in the temple of Puri. On Jyeshtha Purnima, which mostly falls in June, the painted wooden images of Lords Jagannath, Balabhadra and their sister Subhadra in the Puri temple are cleansed with holy waters as per rituals. This discolours the idols and they are removed from the temple for 15 days for repainting.

Most artists back then lived in the villages of Raghurajpur and Dhandasahi and these places continue to be the hub of Pattachitra even today though some Chitrakars moved to other locations where Jagannath temples were built later.
Also Read: Pithora art: How Jhabua's Bhuri Bai broke centuries-old taboos with a brush & colours
Most of the households in Raghurajpur are workshop-cum-exhibition and sale centres. The village has developed as an important hub of rural tourism in Odisha with the state as well as the union government granting special funds to boost the artworks here.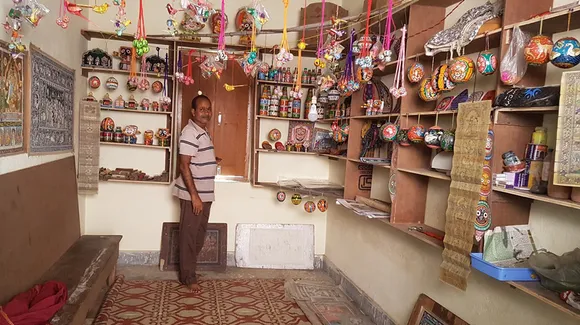 Most artworks are purchased by visitors and tourists directly from the artists without the involvement of any middlemen.
The process of making Pattachitra
One reason, why this art form remains popular almost 10 centuries after it first appeared, is the consistency in style and use of vegetable and mineral colours for the paintings. 
Also Read: Praised by PM Modi in 'Mann ki Baat', Etikoppaka GI-tagged wooden toys awaiting non-toxic certification since 2008
This glue is prepared by soaking crushed seeds in water for half a day and then grinding them into a thick liquid, which is filtered. Sometimes, three to four layers of cloth are joined to prepare the canvas over which a thematic painting is made, explains Nayak.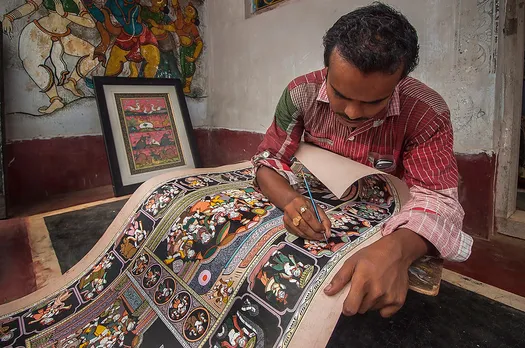 The white colour used in the Pattachitra is prepared from conch shells, found in abundance along the sea coasts.
Most other colours like purple, grey etc. are obtained by mixing base colours in various proportions. "We use only eco-friendly colours, making Pattachitra art sustainable," says Nayak.
Also Read: Ghurni: Bengal's craft village where life-like clay dolls are bridging the rich-poor divide
Artisans use gum in colours to make them permanent. The gum is obtained from the neem tree and kapitha (elephant apple) and is liquefied by the addition of water. Lacquering, which gives a durable finish, is also considered a binding medium. Lacquer is applied after the painting is finished.
Bengal also has a scroll art form, which is called Patachitra (with a single 't'). But unlike Odisha's Pattachitra, it also includes tales on Hindu mythology, folklore as well as Sufism. Moreover, those paintings don't have the decorative borders, which are a hallmark of Odisha's Pattachitra.
Nayak says, "Apart from tourists who buy from us, we also sell online through Amazon, Flipkart, Gaatha and other websites. Many artists get orders on WhatsApp or through their Facebook page as well." He is happy with his art and business. The combination of 12th century art with 21st century technology is bound to ensure the continuity and popularity of the Pattachitra in the future as well.
(Manish Kumar is a Bhubaneswar-based freelance writer)
Also Read: Cheriyal: How Telangana's centuries-old scroll art continues to educate and entertain even today