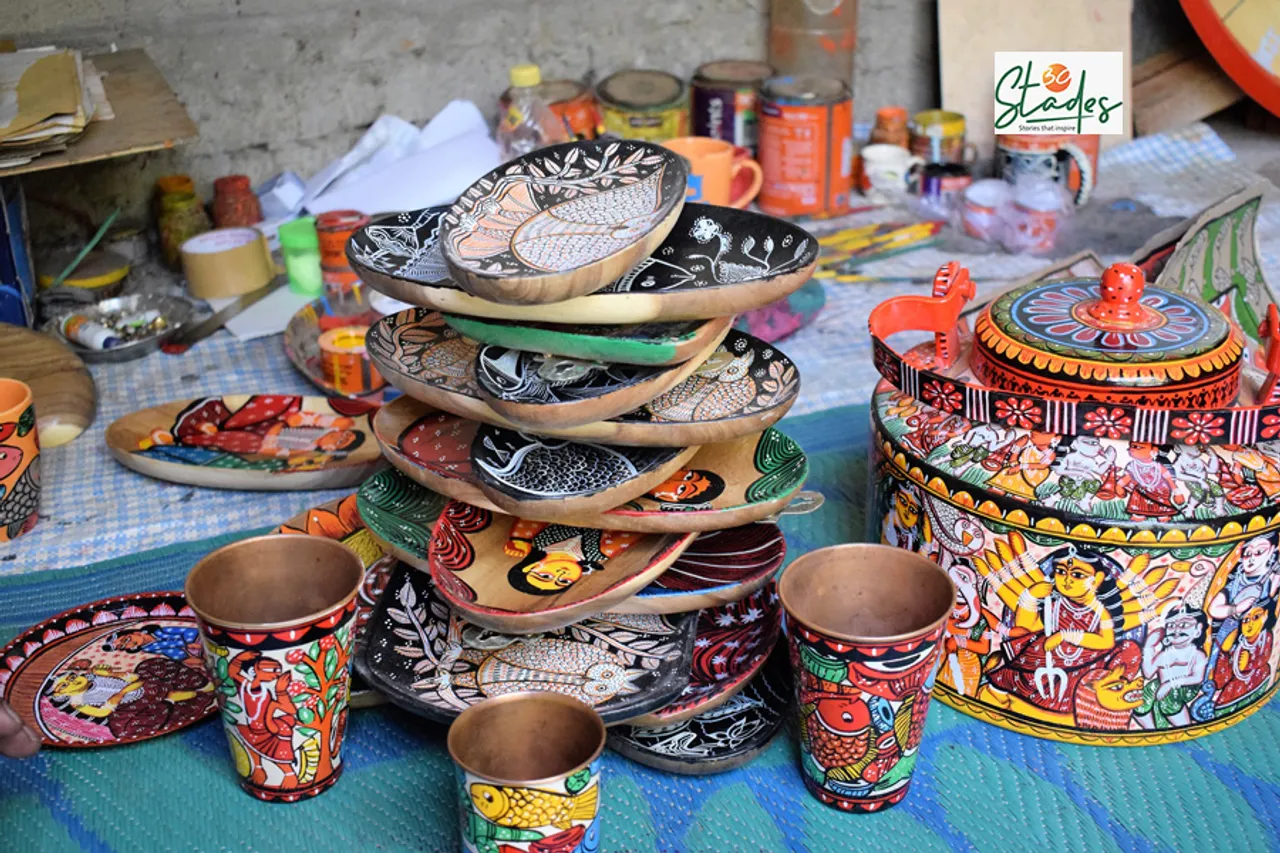 As the day breaks at Naya village in West Midnapore district, about 107 km from Kolkata, Chandan Chitrakar rolls out a mat in his workshop and readies his paints and brushes. He takes a copper kettle and in the next few hours, his deft hands turn it into an exquisite piece of art painted with bright yellow, red, green and blue colours. The result is a depiction of Lord Ganesha with his mother, Goddess Parvati, and other demi-gods who are believed to inhabit Mount Kailash, the abode of Lord Shiva in the Himalayas.
Chandan, belonging to the Patua or Chitrakar community, is a Muslim and so were his ancestors, whose history goes back to the 12th century when the art of making Patachitra or scroll paintings took roots in what is now West Bengal. Patachitra remain an integral part of India's rich art and culture heritage.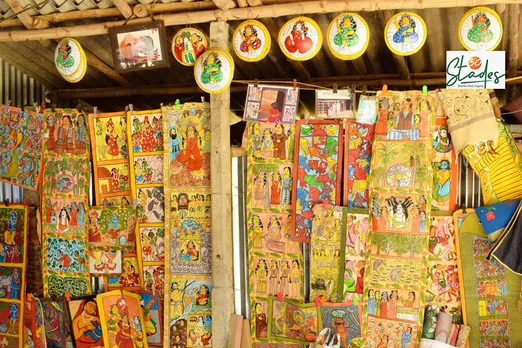 Ballal Sena (1160–1179), the second ruler of the Sena dynasty of the Bengal region, and his son Lakshman Sen (1178–1206) are said to have patronised Patachitra about a thousand years back.
Also See: Images: From Covid to elections & mythology to water conservation, the vast canvas of Phad paintings
Patachitra – paintings with a song
Patachitra paintings depict stories from folklore, Hindu mythology, Sufi traditions and even social issues. The art is characterized by bold natural colours and sharp lines.
Also Read: Pithora art: How Jhabua's Bhuri Bai broke centuries-old taboos with a brush & colours
Before the advent of television, Patuas went from village to village with their Patachitras, each of which has a song behind it. They would slowly unfurl the painting while singing pater gaan (narrative songs).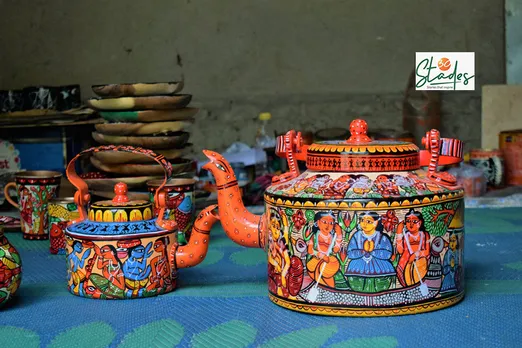 "The art of story-telling with Patachitra has been an integral part of Bengal's rural community life. The vertically painted scrolls are called Jarano-Patachitra. Jarano means spool. Recycled cotton fabric is pasted on the reverse side of the paper to make the scroll stronger," says Chandan.
Also Read: Praised by PM Modi in 'Mann ki Baat', Etikoppaka GI-tagged wooden toys awaiting non-toxic certification since 2008
The art has been passed down from generation to generation through the word of mouth. "We don't have anything documented. The objective of a Patua is to create awareness through paintings and to entertain people," says Ajay Chitrakar, a veteran artist in Naya village, where even the mud houses are beautifully painted with Patachitra.
Apart from Bengal, the art is also practiced in Odisha and some villages in Jharkhand. In Odisha, the Patachitra paintings done on palm leaf are called Pothichitra.
Recipient of a national award, Gurupada Chitrakar (57), says, "We are 'Patiduar' -- an amalgamation of 'pati' meaning scroll and 'duar' meaning door – as we carry social messages door-to-door. Over time, the word became Patua."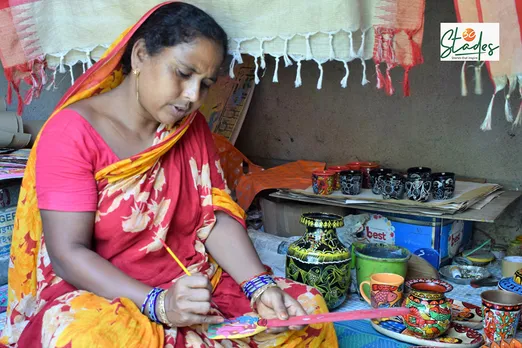 As Patuas went singing door-to-door, they were given alms in cash and kind.
Also Read: Ghurni: Bengal's craft village where life-like clay dolls are bridging the rich-poor divide
"We would get up to 5-10kg of food on days we went singing with scrolls. Some villagers even provided us lunch. We would return home by 4," she adds.
Also Read: Bengal: Boat makers of Balagarh struggle to keep afloat the 500-year-old craft
How Patachitra reached global markets
The artists no more need to go out as their artworks have gained worldwide recognition with huge demand in the global markets.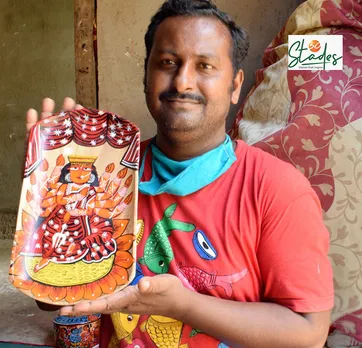 Putul was recognized for her skill in pot painting by the West Bengal State Akademi of Dance, Drama, Music & Visual Arts in March 2011 and by Indira Gandhi Rashtriya Manav Sangrahalaya, Bhopal in February 2015.
Putul told 30 Stades that she has never been to school and learned the songs by just listening to her father. "The song isn't mandatory in most art forms like Madhubani, but it's important for us. Each Patachitra story has a song and this is our tradition," she says.
Putul has learnt 14 songs, which her father had composed. "I still sing them without any instruments though we don't go around villages anymore," she adds. In West Bengal, the art is concentrated in the districts of Hooghly, Howrah, Birbhum, Malda, Murshidabad, South 24-Parganas, East and West Midnapore.
"The Patachitra paintings also have some similarity with the paintings of Mohenjo-Daro and Harappa," says Gurupada Chitrakar, who received the national award from the then President of India, Dr APJ Abdul Kalam, in 2004.
Also Read: Bihar's Sikki grass craft finds global market amid rising demand for eco-friendly artifacts
To make it durable, glue prepared with flour, arrowroot and copper sulphate is used to stick the cotton fabric at the back.
But Patuas did not have a market for their products until about 50 years ago. Their art received attention during the 1970s when some of these painters began to visit cities. They participated in fairs organised at the district and state level like the Kolkata Hasta Shilpa Mela.
This gave them recognition and they soon began to get international orders. The large orders can bring in even Rs 2 lakh in one go but the incomes aren't fixed. "On average, we make about Rs 20,000-Rs 23,000 per month," Chandan says.
Also Read: Sholapith: Bengal's eco-friendly ivory craft intrinsic to life and death
How Chitrakars contemporized the thousand-year-old Patachitra art
Since there aren't many buyers for large scroll paintings, Patuas now make Patachitra on items of daily use as hand painted household items have a wider market.
They include metallic, ceramic and wooden teapots, kettle, cutlery, trays, tea sets, coffee mugs, water bottles, terracotta household items, hand-fan, kulo (winnowing clatter), T-shirt, kurta and kurti, dupattas, sarees etc. Among fabrics, they now work on Kerala cotton, tassar silk and Murshidabad silk. With COVID, Patachitra handmade face masks have gained popularity.
Also Read: How Kutch's Abdul Gafur Khatri is keeping alive 300-year-old Rogan art
"We contemporized the art, making smaller paintings, depending on market requirements. Some art lovers of Kolkata suggested we shift from paper to furnishings. Some preferred designs on doors, bathroom, tablecloth or mat, etc.," says Chandan.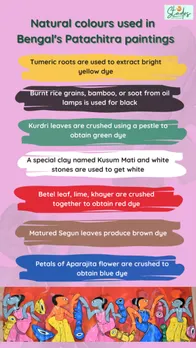 A primary school dropout, Chandan, who learned the art from his grandfather and father, has won six state-level awards. "I have travelled overseas many times. My paintings have been exhibited and sold at London, the USA and China."
Also Read: How Nizamabad's 500-year-old black pottery is regaining lost glory
Orange, yellow, red, ash, pink, black, blue and green – the bright and beautiful colours are the key to making Patachitra.
Colours are also extracted from rose, beetroot and carrot while petals of Aparajita flower are crushed to get blue. For black, sunned rice is baked till it turns black or soot from lamps is used. Special glue made using wood apple pulp is mixed with the pigments to make colours long-lasting. Artists apply fabric colour for art on metal, textile, wood and leather items.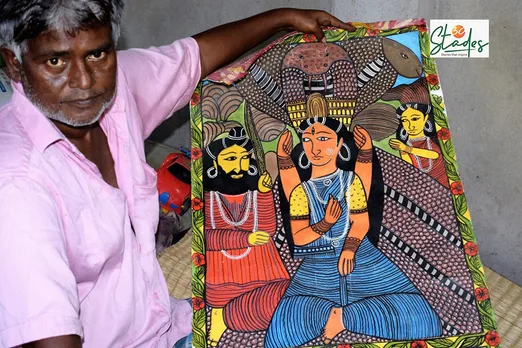 The colours of Patachitra not only narrate divine tales but also raise social issues like afforestation, polio immunisation, adult literacy, HIV AIDS and Coronavirus (COVID). 
Also Read: How COVID-19 and India-China tensions have changed India's 900-year-old Patan Patola weaving
Meanwhile, Chandan is all set to finish a unique painting using fabric colour, where he has designed an imaginary temple of Lord Jagannath, Lord Balaram and Goddess Subhadra situated deep within a forest. All the figures will be two-and-a-half inches in height. "The painting will be ready in the next six months," he says.
(Partho Burman is a Kolkata-based award-winning journalist. He writes inspiring human interest and motivational stories.)
Also Read: Cheriyal: How Telangana's centuries-old scroll art continues to educate and entertain even today