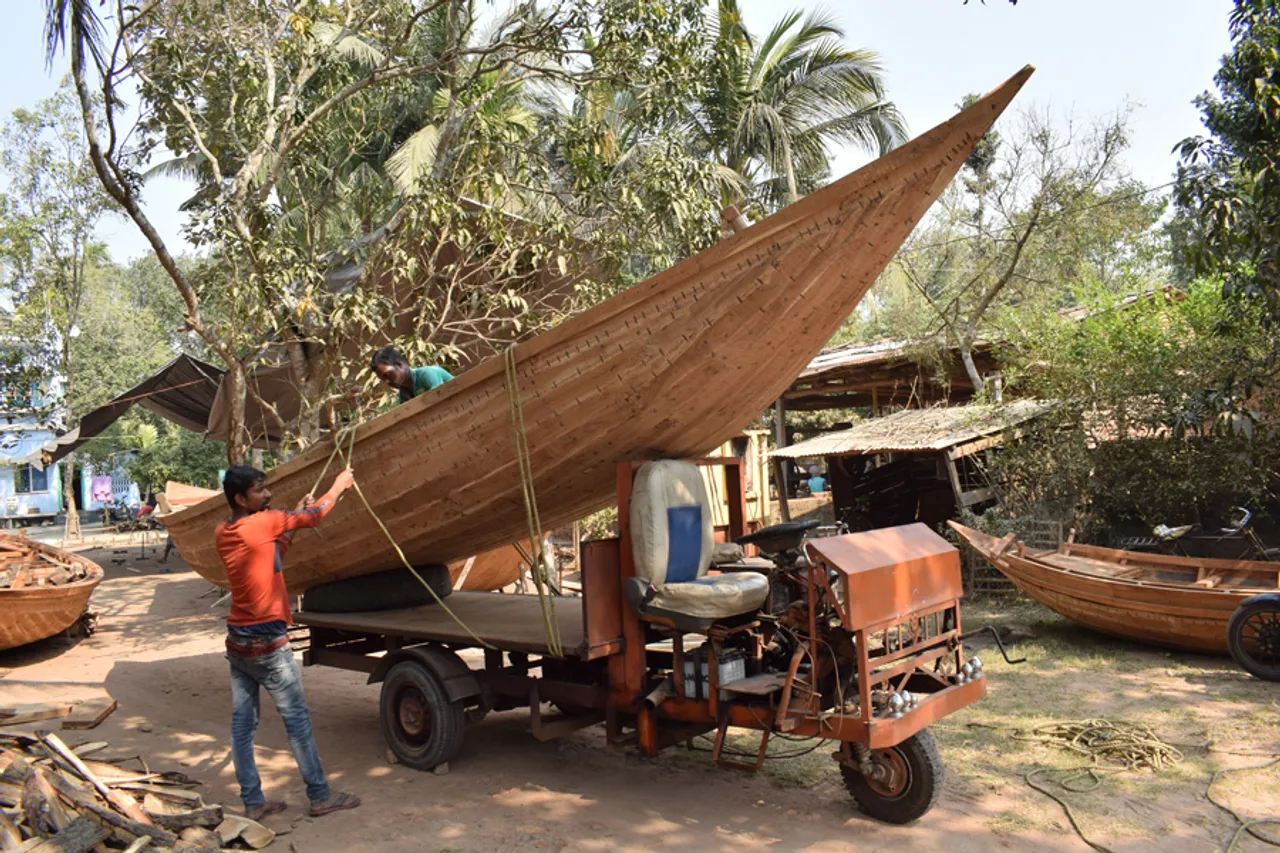 About half a century ago, when Biswanath Majhi joined a unit in Sripur, Balagarh, West Bengal's boat-making hub in Hooghly district, his daily wage was 25 paise. The then 12-year-old had never attended school but learned to apply the Archimedes' principle (physical law of buoyancy) along with the precise measurements that go into the making of a boat. 
Today, he owns a boat manufacturing unit on the banks of river Ganga in Hooghly, about 77 km from Kolkata, but is not sure about the future of his business as bridges and highways are rapidly making boat travel redundant.
Also Read: Kolkata floating market gets tourists but awaits regular customers three years after it opened
Historic industry swept by winds of change
"I have seen the industry shrinking in the last two decades. From 44 units, the number is down to just 14 today. The younger generation is not interested in continuing the craft because of low sales, hard work involved and lack of financial returns," says 61-year-old Biswanath, who has never used pen and paper to keep notes of measurement or business accounts.
About 2,000 daily wagers are still attached to the industry but not all of them get work every day because the units are shutting down and work has dwindled.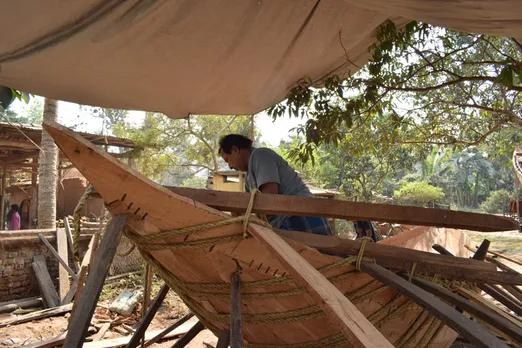 "I reach factory at 6 in the morning and leave after 2 pm. I earn Rs350-400 on days when I get work," says Ramprasad Halder (48), a skilled boat maker, referred to as 'mistry' in local parlance.
Also See: COVID-19: Srinagar's Dal Lake gets first-ever boat ambulance service
With 36 years of experience behind him, Ramprasad finds it difficult to run the household with the current wages. "But I cannot think of taking up any part-time work also because boat-making is laborious and drains out all energies. Continuously hitting the wood and nails with hammers is exhausting," he says.
Moreover, as per historical records, Islam Khan Chisti (1570 – 1513), Mughal general and the Subedar of Bengal used boats for both trade and warfare. He had also built a guard station (chowki) at Sripur.
Also Read: Sundarbans residents turn homes into homestays as tourists look for authentic Bengal experience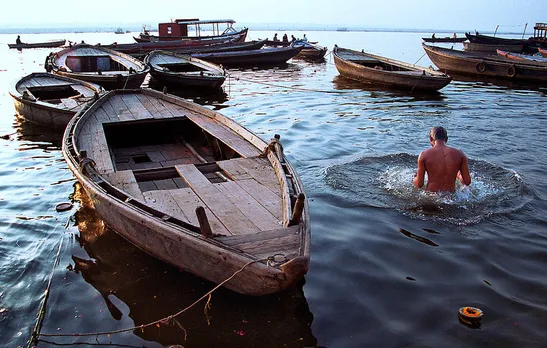 "The boat-making industry doesn't have any certified documents but I've heard from my father that it goes back many centuries," says Kalipada Barik, the 72-year-old President of Nau Shilpa Balagarh, the local industry body.
The construction of bridges over rivers has closed many ferry services forever. "So the need for a boat at a ghat (river bank) doesn't arise," says Ramprasad. 
The buyers now comprise mostly poor fishermen, who also have limited means of investing in boats. This has taken the sheen away from the industry, which is also struggling because loans are not available and workers don't have any social security. 
"Moreover, it has become a seasonal business. The requirement for boats escalates only during the monsoon," Ramprasad adds.
Also See: In pictures: Empowered & financially independent Koli fisherwomen of Mumbai
How boat makers of Balaghar make boats for all seasons
Balaghar units mostly make three types of boats – for sand-loading, fishing and ferrying passengers. The woods used mostly include Sal, Teak, Khaya Anthotheca (Mahogany), Indian Acacia, Madras Thorn, and Lebbeck.
A 12-hand sized boat requires 12-17 cubic meters of woods. Iron nails and 2-inch long 'jolui' (iron-straps), weighing 5kg in all, are used in the boat and it takes a week to complete it with the help of two workers. 
A bigger 28-hand sized boat requires 120 cubic metres of wood and about 40 kilos of iron material, taking about a month to complete.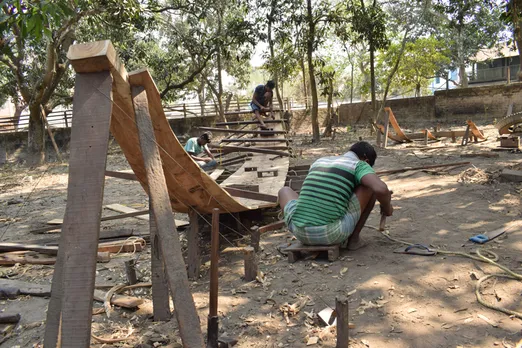 The price of the boat depends on the quality of the wood. The 10-hand sized boat is priced at Rs 15, 000 while a 12-hand sized boat of Indian Acacia would cost Rs 16,000 to Rs 18,000. It will last at least 7 to 8 years. 
"Sal and teakwood are the best but expensive. However, Indian Acacia and black Mahogany woods are the second-best bet because buyers prefer low-priced boats," informs Biswanath. 
Also Read: Sankha Conch Bangles: How Bengal's Sankhari community is fighting all odds to keep the craft alive
The boat-makers continue to use centuries-old basic tools like rope, saw, hammer, iron rod, wooden plank, bamboo etc. Boats are designed based on the geography where they will be used. For example, Kakdwip or Sundarban are delta areas; therefore, the height of the head and sides is more so it can comfortably meet the high waves. 
For normal water conditions like lakes, boats are built broader in shape with low heads and small sides.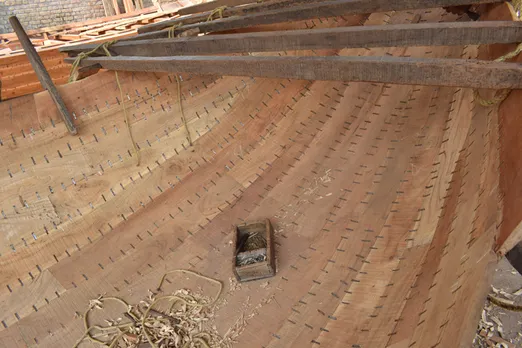 "We buy logs from contractors and get them sliced at a nearby sawmill. Using the heating and pressing process, some logs are bent for shaping curves on boats. An experienced eye can identify the naturally-curved logs that need to be sawed," says 27-year-old Suman Majhi, the only youngster around. He joined a unit as a helper because his company in Kolkata has been shut since the March 2020 lockdown. 
The craftsmen of Balagarh use neither pen nor paper, which speaks volumes of their expertise. The approximate dimensions of a full-length boat are mentally calculated. For a 12-hand sized boat, the floating measurement rests on a 26-inch base with 15-16 inch height. 
Then the pieces of wood are nailed one next to the other. The boat is ready after 14-15 scaffolds. 
Also Read: Sholapith: Bengal's eco-friendly ivory craft intrinsic to life and death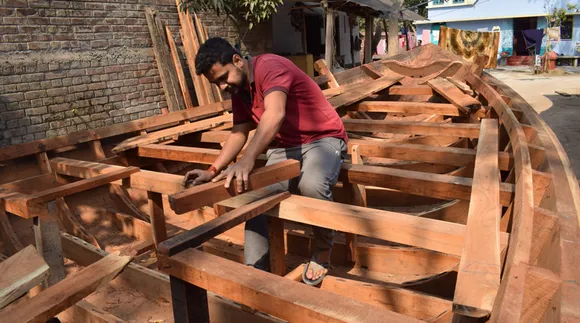 "For carrying heavyweight materials like sand, boats are made flat-based. It can be rowed in low water in the river of Damodar at Burdwan district. Most of our clients are from Kakdwip, Namkhana, Diamond Harbour, Burdwan, Purulia and Chhattisgarh," says Ramprasad.
GenNext keeps its distance from boats
In a dull market, most units sell 2-3 boats per month. But the sale escalates to 8-10 boats during the monsoon, including small fishing boats. The yearly production differs from one unit to another. 
Kalipada says the younger generation doesn't want to join because they have seen their elders struggling. Pramanick Boat Builders, a boat-making unit, is a case in point. It shut down a decade back after the demise of its owner Bhanu Pramanick.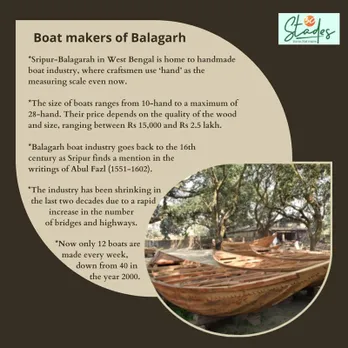 His eldest son Sanjoy Pramanick (38) now runs a hardware store while another is involved in masonry work as a daily wager and the youngest one is a LIC insurance agent. 
Also Read: Aranmula Kannadi: How tech-savvy GenNext is preserving Kerala's 500-year-old metal mirror craft
Biswanath, who set up Vishwakarma Boat Builders in 1993, laments the lack of expert boat makers. "We cannot produce new skilled labour unless youngsters step into the profession. The percentage of newcomers is zero." 
Suman also came here for work only after his company was shut. With an Engineering Diploma in Computer Science from TPI College, Hooghly, he arrives at the workshop at 6:30 am. "I assist them. To become a mistry, one needs to be a helper first. It takes years to learn. I am learning this because I am jobless right now," admits Suman. 
Also Read: Women artisans help resurrect Karnataka's Kinnal hand-painted woodcraft
Biswanath says there is a lot to learn in boat-making. "Our business is also done verbally; we don't keep accounts. Buying raw material and selling finished goods are our only concerns," he says.
The turnover at his unit is between Rs 2 lakh and Rs 2.5 lakh. "We are somehow making ends meet."
Yet, Biswanath will stay in this business until his last breath. "Till the water exists on the planet, the boat will sail," he says with a smile, remembering the times he earned 25 paise a day.
(Partho Burman is a Kolkata-based award-winning journalist. He writes inspiring human interest and motivational stories.)
Also Read: Ghurni: Bengal's craft village where life-like clay dolls are bridging the rich-poor divide