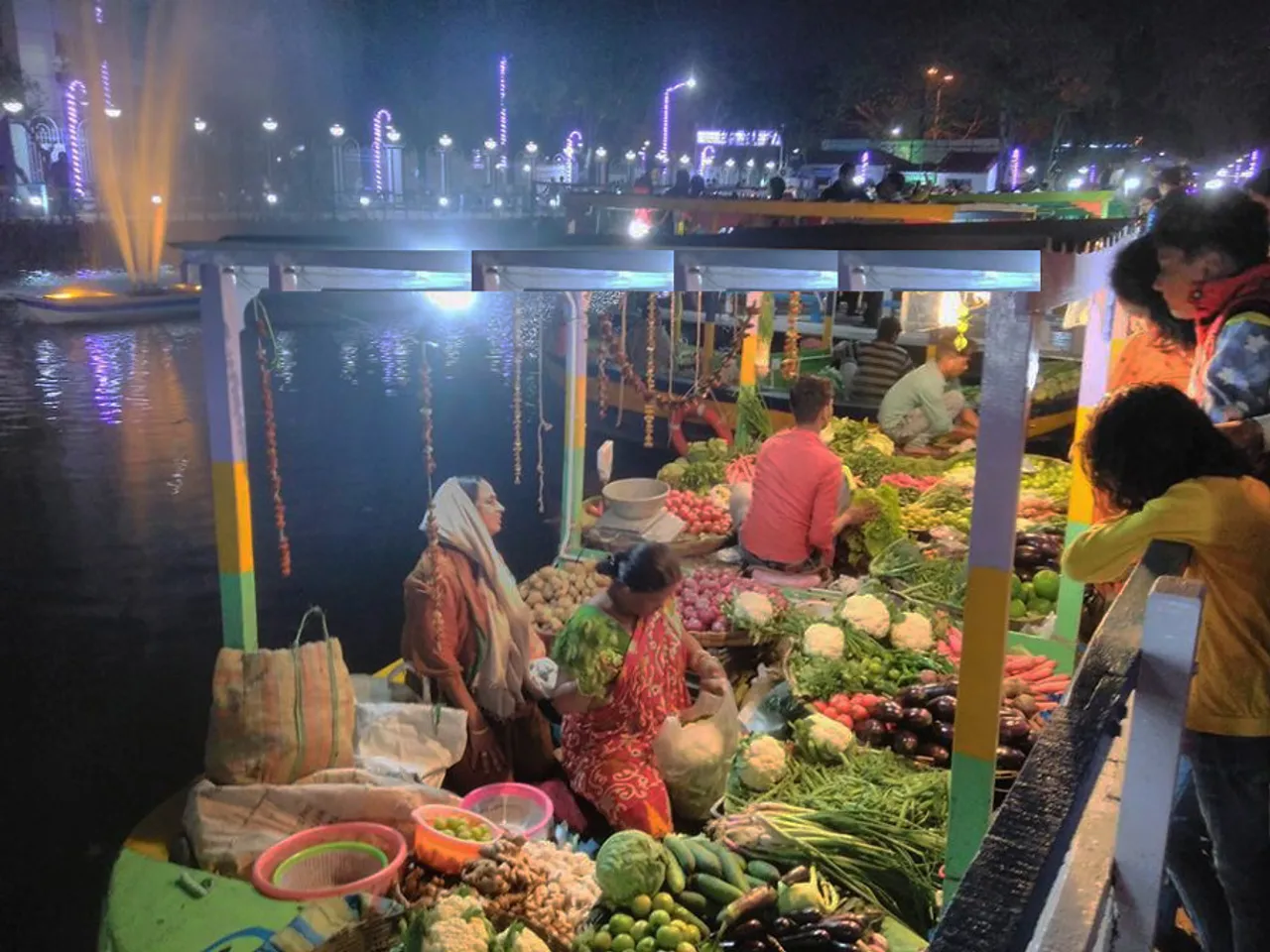 wp:paragraph
Over 250 colourful boats dot Lake Patuli in a southern suburb of Kolkata. There's nothing unusual about these boats except that some of them are beauty salons, some are tailor shops and others are fast food eateries. The boats are shops selling vegetables, fruits, flowers, chicken, fish, meat, eggs, grains, groceries and everything else in between.
The floating market opened in January 2018 to provide livelihood to vendors who were shifted from a busy roadside market nearby. While it has helped these shopkeepers keep afloat, the market is today a bigger tourism destination than a shopping place.
Vegetable seller Marjina from Champa Hati village says she earns enough from the floating market to look after her husband and five sons but feels that more emphasis needs to be put on showcasing it as a marketplace rather than a tourist spot. "I am not complaining because the floating market ensured I still have a shop and income," she says.
Also Read: India's Tot people: Chased out of Assam & living in West Bengal in search of identity
Doing good, waiting for better
For many years, these vendors had been doing thriving business near the Eastern Metropolitan bypass until the Kolkata Metropolitan Development Authority (KMDA) decided to widen the bypass road in 2012. While the vendors were first located about 3km away from the old market, the distance discouraged the locals from shopping at the new destination.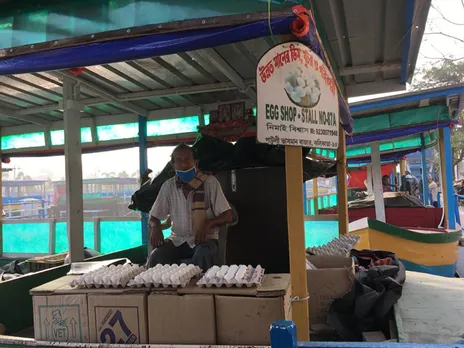 The West Bengal government then spent about Rs 10 crore to set up the market over the lake in Patuli, an erstwhile rural locality, which many years ago was reclaimed for the creation of a township. 
Also Read: Joynagar Moa: the 117-year-old GI-tagged Bengali sweet that's going global now
"While the initial worries of losing our source of income was somewhat assuaged by the fact that the state government gave us an alternate place to do our business, we were not sure buying and selling would be as vibrant as before," says Nimai Biswas, a 55-year-old shopkeeper who has run an egg business for 25 years in the market before expressway was widened.
"Initially there were a lot of visitors, who often came not just to buy but to check out the place, which has become a tourist attraction of sorts," he says. "But most of them ended up doing a lot of unplanned marketing as it often happens and this meant good business for us."
Also Read: Sundarbans residents turn homes into homestays as tourists look for authentic Bengal experience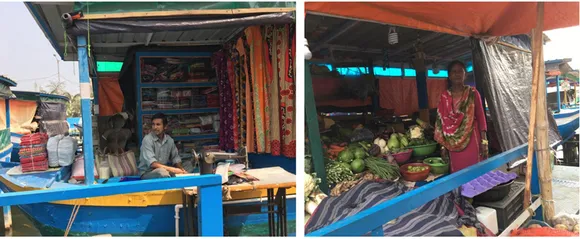 Though he politely declines to reveal exactly how much he makes per day selling eggs, Biswas, who is from a village in the South 24 Parganas district, says the income from his boat shop is enough for him to look after his wife and child. "The floating market ensured that we did not lose our livelihoods and I am grateful for that," he says.
More tourists than buyers
Fitting right into one of West Bengal chief minister Mamata Banerjee's "beautification of Kolkata" schemes, the floating market is reportedly inspired by and loosely modelled after a similar floating market in Bangkok, Thailand. Constructed by the KMDA, the Patuli floating market project not only involved providing the boats to shopkeepers but also created bridges and pathways to navigate the boat stores.
Also Read: Biren Basak: The boy from East Pakistan who became India's handcrafted saree tycoon
A fountain, which is illuminated at night, was installed in order to circulate the water so that it would not become stagnant. State urban development minister Firhad Hakim, in fact, had touted the floating market as a tourist site that would one day become comparable to other Kolkata icons like the Howrah Bridge.
She comes to the floating market everyday from her village in the vicinity. Her husband works as a daily labourer and her 21-year-old son does not work. She says that it is on her income that the family depends as her husband is often unemployed.
Also Read: How Bihar's GI-tagged Magahi paan is losing out to Calcutta & Desi varieties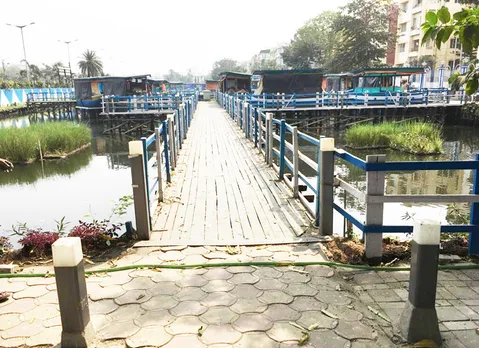 Bonik is happy that the widening of the road did not lead to displacement. However she feels that sales at the floating market would pick up only if the public is made more aware of it as a functioning market rather than a tourist spot. "More people are interested in coming here and taking photos and selfies than in buying vegetables," she laughs, a tad indulgently.
How COVID and Amphan hurt the floating market
The shop owners concur that the Coronavirus pandemic and the super cyclone which ripped through West Bengal and Calcutta in the middle of the health emergency resulted in a huge setback. Lockdown forced people to stay indoors and they ordered their groceries and other goods online. 
Also See: How mushroom farming is increasing incomes for women in Jharkhand
The super cyclone Amphan, which tore through Kolkata on May 20, almost destroyed the floating market. Boats were upturned and bridges were uprooted. "Fortunately it was all renovated and recreated," says Biswas. 
Others are still trying to pick up the pieces, some like Sanjit Sil, a 40-year-old tailor, literally. He picks up pieces of colourful cloth from a stack of fabric in his boat shop and says that he is waiting for customers to come back and place orders.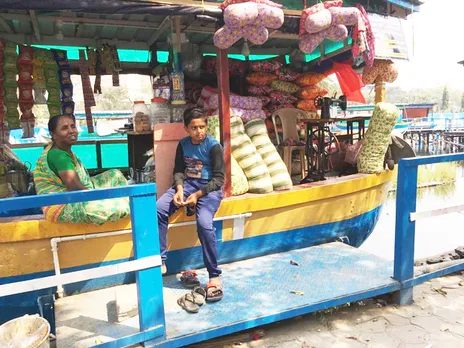 His fellow shop owners console him. "The floating market had only been completed a couple of years before the pandemic descended and then the Cyclone took place," says Biswas. "We have to remember that for the first two years we did very good business. The year 2020 was a disaster not just for us at the floating market but everywhere around the world. I am sure we will get back to business again."
Also Read: How Nahargarh's 300-year-old water harvesting system beat the desert's water blues
Indeed, when the market opens at 6 in the morning, customers, many of them morning walkers from the nearby neighbourhoods, start to walk in. 
The vendors, who are mostly from the villages, carry their lunch with them and often take a nap in their boats before the evening session. Later, they take trains, buses, and autos to go home. Some cycle or even walk back.
"I think the floating market will stay afloat," says a customer, who says he only buys his vegetables, fruits, flowers and groceries from the floating market. The IT professional lives nearby and says that he thinks that it's a great venture. "In the morning I come here for the fresh greens and other vegetables and in the night I come here to witness the lighting. I think gradually it will become a big success."
The vendors smile. The cyclone knocked the boats down but did not drown them, points out one of them. "Yes, the floating market will stay afloat, come what may," agrees another with the customer who just bought a sack full of vegetables from her.
(Dola Mitra is a Kolkata-based journalist and author of 'Decoding Didi'. She is the Editor of digital news portal Cuckoo News)
Also Read: Bihar: Asia's largest oxbow lake Kanwar caught in the crossfire between farmers & fishermen