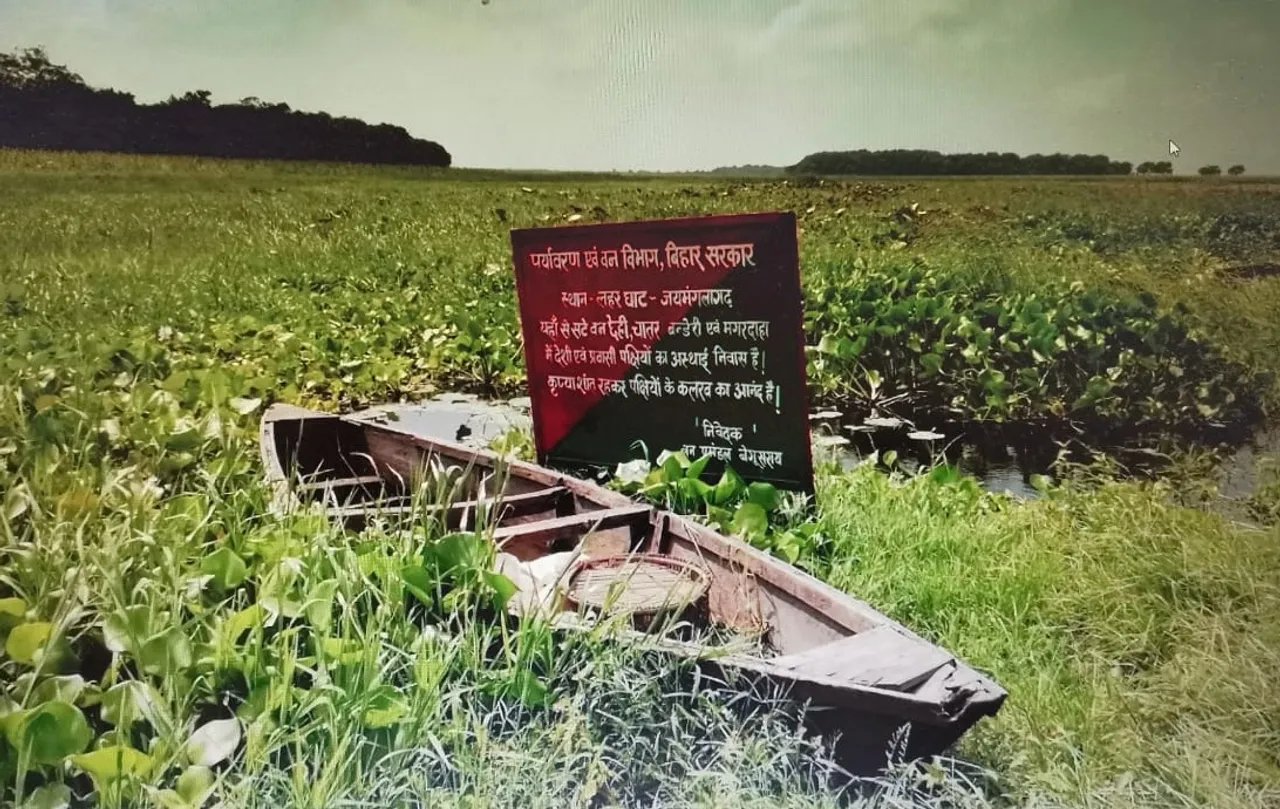 wp:paragraph
A bird sanctuary, a fishing lake, paddy fields and the epicentre of a conflict – that's Kanwar Lake - Asia's largest oxbow lake in Begusarai, Bihar, which is rapidly drying up due to illegal encroachment for cultivation as well as construction.
Declared a bird sanctuary in 1989, Kanwar Lake was once the nesting ground for more than 150 species of birds and home to millions of fishes but has deteriorated drastically over the past two decades following conflict between local fishermen and farmers.
Kanwar Lake (also Kabad Taal), which was formed due to the meandering of the Ganga's tributary Gandak, spanned across 6,786 hectares in 1984 but was reduced to 6,044 ha by 2004. The area sharply declined over the next eight years to 2,032 ha in 2012, according to a study directed by Dr Ashok Ghosh, Chairman of Bihar State Pollution Control Board.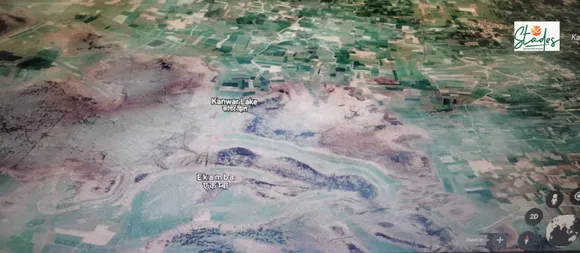 The lake has shrunk to about a fourth of its 1984 size due to the encroachment of canals, lack of documentation and the government's apathy to the lake.
Also Read: From weathering cyclones to tiger attacks, how Sundarban inhabitants forge resilient lives
Farmer-fishermen conflict killing Kanwar
The farmer-fishermen conflict has played a pivotal role in the lake's decline. Amar Sahni, a local fisherman, says his family had been fishing in Kanwar lake for many decades but due to the shrinking area and rising pollution levels, the fish catch has gone down drastically. "In the late 1990s, my grandfather says the daily fish catch from the river was 2 tonnes (about 2,000kg). Now it is not even 200kg," he says.
Also Read: How a Jharkhand schoolgirl, once teased as 'Sulabh Shauchalaya', is leading a 'Swachhata' mission
"The farmers have been bringing more and more areas of the lake under cultivation, mostly paddy and mustard. Many Nishad families have left the area due to reduced fish count," adds the 23-year-old.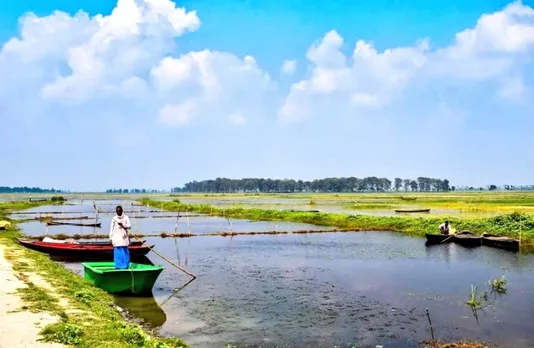 The landlords inhabiting the land are filling the wetlands and blocking the canals. The 15km canal connecting Kanwar Lake to Gandak has been encroached upon and attempts to revive this canal have been initiated under the Bihar government's Jal Jeevan Hariyali programme. But not much progress has been made so far.
Moreover, fertilisers used in farming are seeping into the water, causing eutrophication (excessive growth of algae due to nutrients) and loss of fishes of important species. In addition to this, migratory birds have fallen prey to hunting and combined with the shrinking area, their numbers are dwindling.
Also Read: From hinterland to Europe, how Jaipur-based Raksha is helping birds & animals reach home
Ornithologists Salim Ali had discovered around 60 species of migratory birds and 106 species of local birds when he visited Kanwar in the 1980s. Of late, around 19 species of birds are no longer spotted in this area.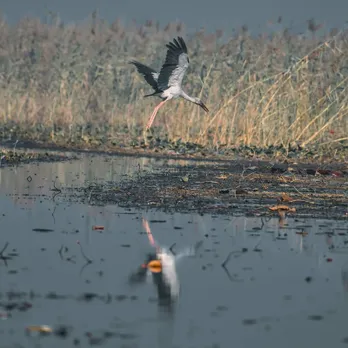 Magsaysay Award winner Rajendra Singh says to end the fishermen-farmer conflict, the lake boundaries should be identified, demarcated and notified to ensure there is no encroachment. 
"When the land mapping is done and anomalies rectified, then fishermen can undertake fishing because landlords don't have right over this natural resource," says Singh, also known as the Waterman of India and winner of the Stockholm Water Prize 2015.
Also see: In pictures: hands that feed stray animals during COVID-19 lockdown
Why Kanwar Lake conflict resolution is important
Dr Syamal Kumar Sarkar, Senior Director, Natural Resource and Climate at TERI, says wetlands are "kidneys removing liquid wastes" and while the farmer-fishermen conflicts are universal to wetlands they should be resolved amicably. He cites the example of East Kolkata Wetlands, also a Ramsar site, where the two communities have established equilibrium. "Farming is done during dry seasons while fishing is carried out during monsoons," he points out.
In 1986, the Bihar government declared Kanwar a protected area under the Wildlife Protection Act (1972) and any buying, selling or poaching on the land was not allowed. But owing to poor implementation, the landlords continue to sell or purchase the land unchecked.
Also Read: Environmental sensitivity will lead to climate empowerment
Shivali Jainer, Programme Manager at the Centre for Science and Environment, who has studied the wetlands in Bodhgaya, Bihar, says, "Majority of the wetlands are not registered and nobody is responsible for their conservation. Hence, any encroachment or development cannot be traced, which further encourages illegal activities."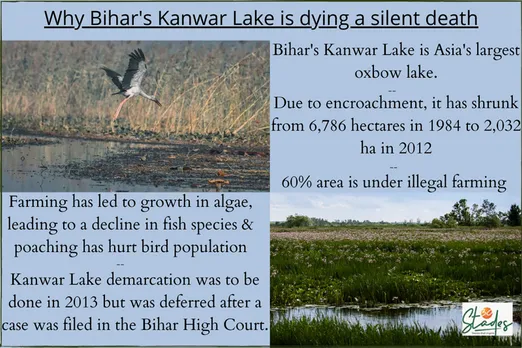 Singh says wetlands are crucial for the ecosystem and their neglect can have catastrophic outcomes. "Wetlands and water bodies are underground aquifers (storehouses of water). These are crucial for maintaining the water table of an area," he adds.
"East Calcutta Wetland is an ideal example of wetland conservation. The government is taking care of the needs of all local stakeholders and the Bihar government should follow suit," he says. 
Also Read: How Maldharis & Rojamdars live with Asiatic lions in Gir forest & help in conservation
Singh says the shrinking of these bodies is not native to Bihar; it has happened in other places including Delhi, which is dependent on the Yamuna for water. "Even though the water table of Bihar is comparatively better, the quality has worsened. If rampant encroachment of wetlands like Kanwar is not checked, Bihar is likely to meet a similar fate," he adds.
(Lead pic through Google Earth)
(Rishika Agarwal is a Patna-based writer specialising in art, culture and human interest stories)
Also Read: How a sociology professor is turning arid Rajasthan green