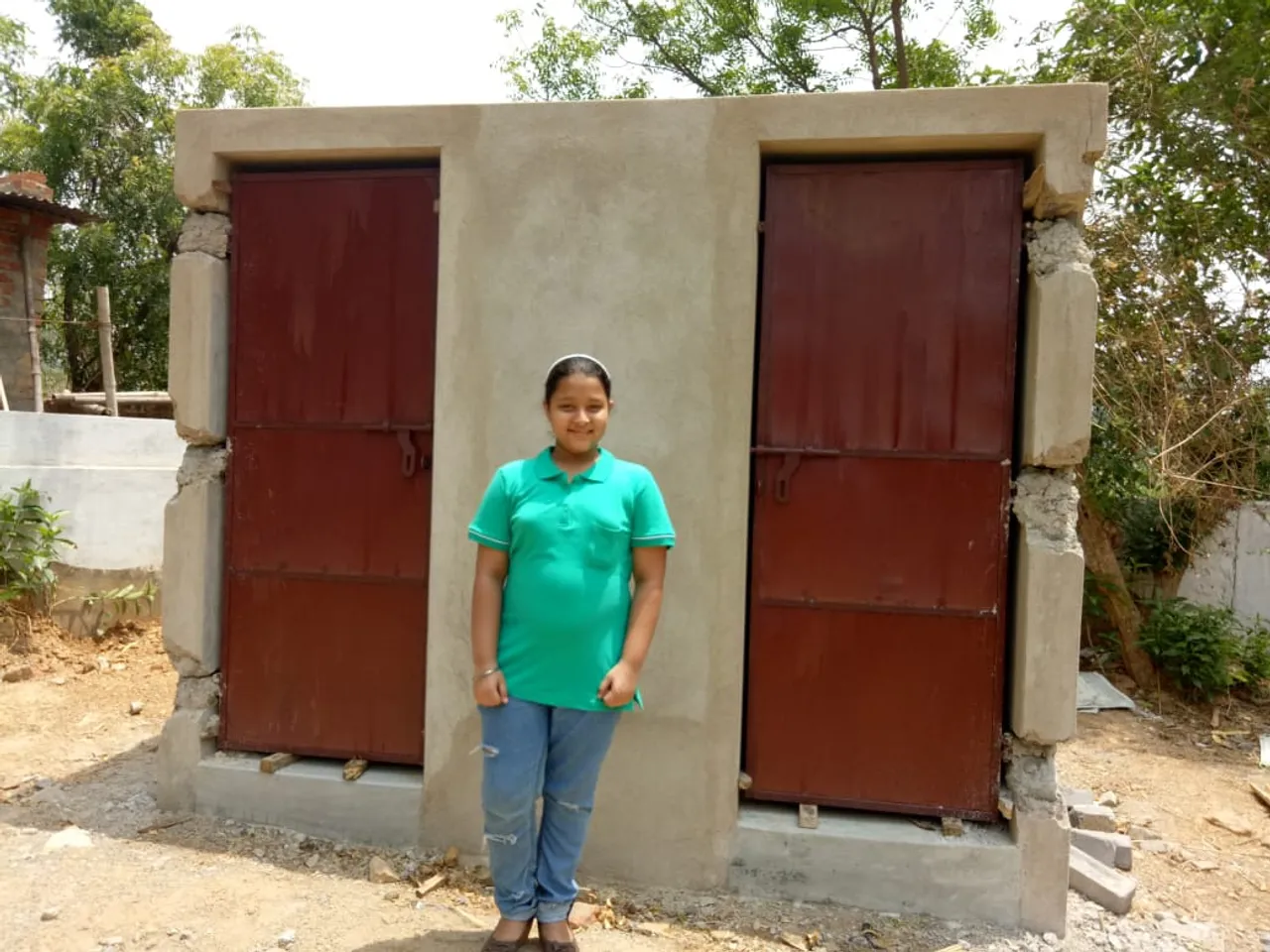 When 12-year-old Mondrita Chatterjee broke open her piggy bank in 2016 to contribute Rs 24,000 to build toilets, her friends teased her as 'Sulabh Shauchalaya'. Four years later, not only has she built 10 toilets in four villages of East Singhbhum district in Jharkhand, but has also become an inspiration for others.
Many school students are now using their savings to build toilets in Jharkhand villages at a time when the Coronavirus (COVID-19) pandemic has made health and hygiene practices more important than ever.
Designated as the Swachhata ambassador for Jamshedpur in 2017 by the then district magistrate, Chatterjee was chosen not only for her efforts in constructing toilets but also creating awareness among villagers and students about good hygiene in a state which was declared Open Defecation Free in 2018. Chatterjee, now 16, is a class 10 student of Hill Top School in Jamshedpur.
Also Read: Lemongrass oil slowly replacing opium production in Jharkhand's Maoist stronghold Khunti
Chatterjee's efforts towards building toilets
It was on October 2, 2014 when the Swachh Bharat Mission was launched, Chatterjee, then 14, was watching TV along with her father Amitava Chatterjee, an administrator at Meherbai Tata Memorial Hospital in Jamshedpur. Fond of reading newspapers, Chatterjee had read how girls were dropping out of schools due to unavailability of toilets. And it was then that she expressed her desire to save money for building toilets.
Her father was surprised at Chatterjee's persistence for the cause of Swachh Bharat Mission.
Her parents also chipped in. After a survey found that the Kendradih village on the outskirts of the Tata Motors township (formerly Telco colony) in Jamshedpur, with a population of over 350 at the time, did not have a toilet, they arranged a mason to build the same.
Also Read: Tendu leaves cushion tribals from economic deprivation during COVID-19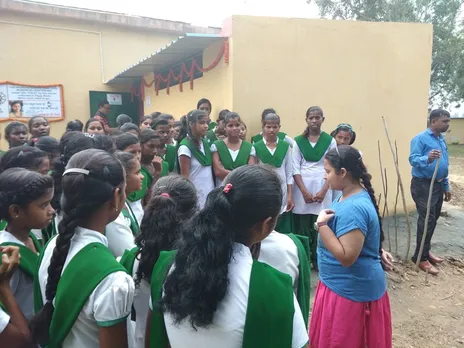 In the last four years, Chatterjee has topped up her own humble kitty with contributions from well-wishers and friends. Now she has built two toilets each at Kendradih in Chotta Govindpur and Haludhbani in Parsudih, three at Manav Vikash School in Gorurbasha and three at Palli Mangal School at Shantipur village in Potka Block.
An inspiration for villagers and school children
Initially, Chatterjee said her friends teased her. However, after becoming the Swachhata ambassador and her name featuring in newspapers, her friends started understanding the importance of the cause. "Now they are sharing their savings with me for constructing toilets and have also started using their savings in constructing toilets in other villages along with spreading the message on importance of hygiene like proper hand washing and donating sanitary napkins for girls in schools," beams Chatterjee. .
Many villagers are following too. Durgaboti Sardar (25) a handicraft artisan and homemaker in Kendradih village persuades children, women and other villagers about proper hand washing and wearing masks during the pandemic apart from motivating villagers about the importance of toilets.
Also Read: India's Tot people: Chased out of Assam & living in West Bengal in search of identity
"It was due to Mondrita (Chaterjee) that we had the first toilet in December 2016. The girl has so far constructed one more toilet in the village and the women folk are very happy and inspired by the message of cleanliness and sanitation which she gives," says Sardar, a former panchayat samiti member in her district.
Environmental edge
The villagers are now eager to construct more through collaboration with government authorities. Alongside, they are also focusing on minimising pollution by using waste materials for toilet construction.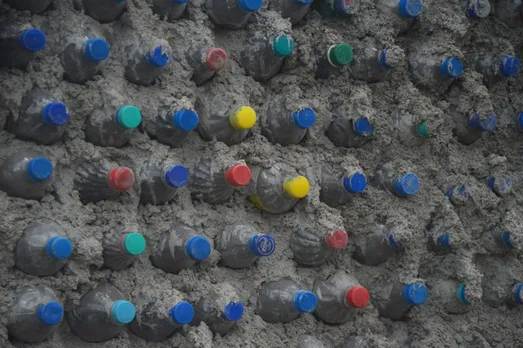 These bottles are stacked on their sides and can be bound together with mud or cement mix.
Also Read: Discarded temple flowers bloom into cosmetics, colours & compost
But Chatterjee and villagers used fly ash instead of cement and, in the process, got rid of two pollutants -- plastics and fly ash. The wall structures are well insulated as well as strong.
Mihita Singh, a 16-year-old classmate of Chatterjee and resident of Agrico in Jamshedpur is among those motivating peers about the importance of saving and contributing for environment friendly causes. "I read about the harmful effect of plastics to our environment and I decided to join hands with Chatterjee not only to contribute financially but also share ideas about collecting waste plastic bottles," she says.
This was one of the projects that Chatterjee first picked up. Incidentally, the two toilets at this school have been made using plastic bottles.
How Chatterjee became Swachhata ambassador
The Manav Vikash School project won her recognition from both the Prime Minister Narendra Modi and then chief minister Raghubar Das, and she was also made the Swachhata ambassador of the district.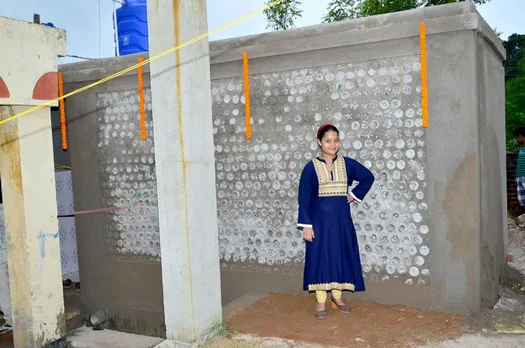 "It was my way to do something in order to make India clean by October 2019. Swachh India is not only about making toilets, keeping roads clean, it also requires a change of habits and mind-sets. There are 1,000 ways how people can involve themselves for the cause of Swachhta, I urge people to just take that crucial step. No one is too small to spark a transformation. If 100 people like me come forward and do their bit to change society, the fate of our country can change," she implores. .
During one of her visits to Birsa Public School at Adharjore village in Boram block of East Singhbhum district in March this year, students expressed their eagerness to save money and construct toilets. She donated over 25 piggy banks to the children so they could save and decided to visit the village frequently to help and guide in the construction. And thus, in a humble way, the toilet revolution of Jharkhand has begun.

(Shawn Eli is a Jharkhand-based freelance writer)
Also Read: COVID-19: Migrant workers turning mining hub West Singbhum into a fruit bowl