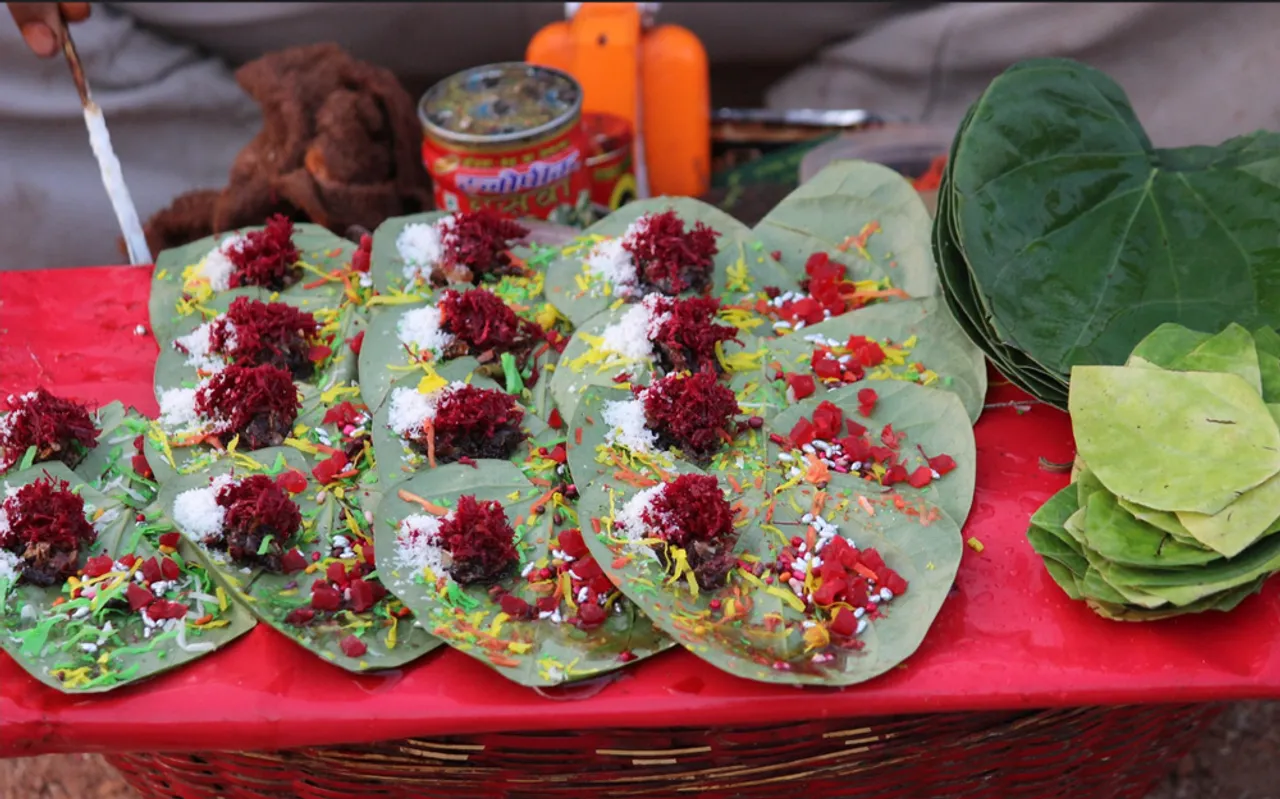 The paan (betel quid) that gives a red hue to Amitabh Bachchan's lips in the iconic Bollywood song 'khaike paan Banaras wala' is wrapped in betel leaf grown not in Banaras (now Varanasi) but in Bihar's Magadh region. So the famous Banarasi pan is actually rolled in a Maghai (or Magadhi) paan leaf, which received the Geographical Indication (GI) tag in 2018.
It is, however, now losing out to Calcutta, Bangla and Desi paan varieties, leaving the growers high and dry. And this decline in Maghai paan's market is not because of lack of patronage by connoisseurs but because it is no more profitable to cultivate the betel vine in Central Bihar.
Also Read: How Tamil Nadu farmer increased profits & cut costs by 30% through organic farming
What makes Maghai paan special?
The GI tag covers four districts of Aurangabad, Gaya, Nawada and Nalanda, where the Chaurasia (or Chaurasiya) community (also referred to as Barai caste) has been cultivating the Maghai variety for many centuries.
"Pehle lockdown in barbaad kiya, phir sheet lahar ne (First it was the Coronavirus lockdown that destroyed the crop and then came the cold wave)", says Ranjit Chaurasia, a farmer in Dhuri village of Nawada district.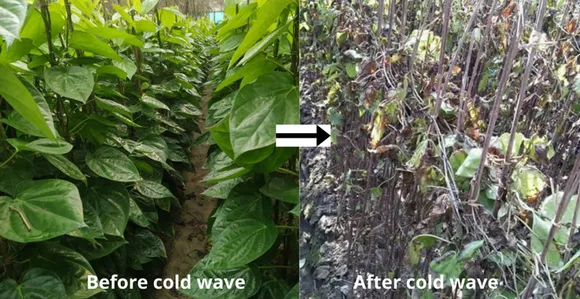 Once featured on local channels as safal kisan or successful farmer of the region, he lost Magahi paan crop worth Rs 3 lakh last year. This year too, extreme cold has hit the betel vines, dashing all hopes of recovery.
The Maghai variety stands out for its unique characteristics, which have made it worthy of a GI tag but which also make it a high-cost crop, which requiring extra efforts during cultivation.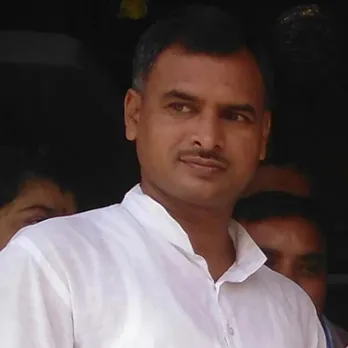 One, the land on which Maghai paan is grown during a season cannot be used the next year because the soil requires recharge through cultivation of other crops like lentils. Two, it requires the construction of a bareja or a conservatory using local materials like bamboo, paddy straw, pigeon-pea stalks and coconut coir. With a height of about 3 metres and surrounded with thatched wall roofs strengthened with bamboo poles, the bareja has to be erected afresh every year where Maghai paan is cultivated.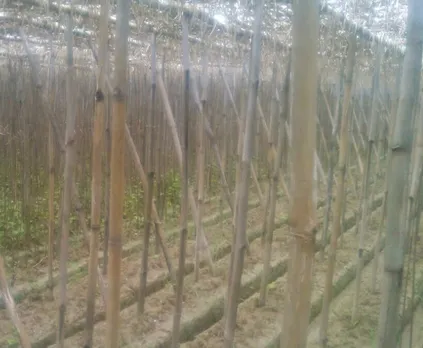 "So bareja acts as a protection against harsh climatic conditions," says Naveen Kumar Chaurasia alias Nageena Chaurasia, a paan grower in Dola village, Pakri Barawan in Nawada district. He is also the General Secretary of Janata Dal United's (JDU) professional cell in Bihar.
Also Read: How organic fruit farming made Rajasthan's Santosh Devi a millionaire
The conservatory is set up at an elevated piece of land to ensure adequate water drainage. The cost of putting up this bareja alone is about Rs 20,000 per kattha (32 katthas make an acre). The bareja requires sanitation after the onset of monsoon and the crop requires periodic application of mustard cake, neem spray etc.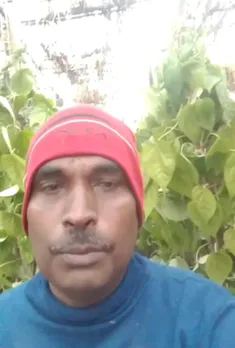 "The daily labour rate here is Rs 300 and we need labour for ploughing, tilling, adding manure, harvesting etc. That brings the total cost per kattha to Rs 35,000-Rs 40,000 per crop," points out Ranjit.
Losing ground
Betel leaf cultivation is not protected under any government scheme. So in case the crop is lost due to any natural reason, growers are not entitled to compensation. In 2017 too, the Magahi paan crop was destroyed due to the cold wave and after multiple requests, the Bihar government had provided a relief of Rs 300 per kattha, less than one percent of the cost of cultivation.
Also Read: Hukumchand Patidar: Rajasthan's millionaire organic farmer who exports to Germany, Japan & Switzerland
While official figures are not available, it is estimated that nearly 8,000 farmers were involved in its cultivation between 2013 and 2015 but the number has now come down to 3,000.
Hare Ram Chaurasia, chairman of the Chaurasia Samaj in Patna, says due to the decline in profitability, the younger generation is moving away from betel leaf farming. "The area under paan cultivation is shrinking rapidly," he says.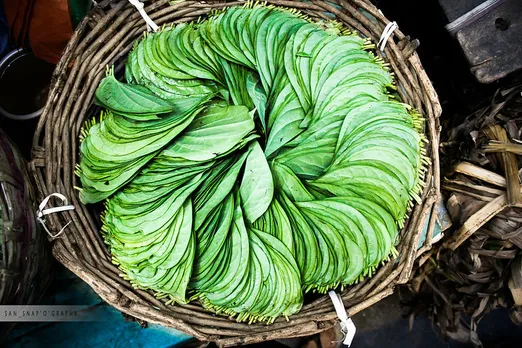 Naveen says in his village, about 200 young men are now migrant workers in Tamil Nadu, Punjab and other states due to lack of profitable farming opportunities back home.
As a result, Magahi paan is losing out to Calcutta, Bangla and Desi varieties, which have been flooding the market. "Unlike Maghai paan, these varieties are much easier to grow. Once a vine is planted, it can continue to give leaves for almost 20 years unlike Magahi paan where vine cuttings from mother plants are taken and planted afresh every year," says Ranjit.
Also Read: Why is Kashmir's 800-year-old apple economy in shambles?
Moreover, the leaf size is bigger in the non-Magahi varieties, allowing it to be stuffed with more herbs, lime, spices and dried fruits. "It sells for even Rs 500 per dholi," Ranjit says.
They are cultivated in Assam, Andhra Pradesh, Bihar, Gujarat, Odisha, Karnataka, Madhya Pradesh, Rajasthan, West Bengal and Maharashtra. 
The 70-year-old Varanasi market where paan leaves are auctioned
Another problem with Magahi paan farmers is the absence of effective market linkages that can ensure fair price of the produce. 
Also Read: Also Read: Organic farming of dragon fruit and lemon triples Punjab farmer's income
Across the four districts, Magahi paan leaves are sold in local haats (small rural marketplaces) like the Kutiya (meaning hutment) Bazaar in Khadiha village of Aurangabad, held twice a week. This over 100-year-old haat is now on the verge of closure as the lockdown and the subsequent crop destruction due to cold wave has hit production.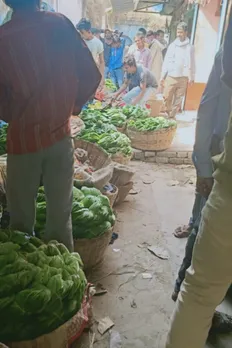 Farmers end up giving a commission of up to 25 percent to middlemen in these small marketplaces.
In the bigger mandis of Gaya (Bihar) and Varanasi in Uttar Pradesh, Magahi paan trading is done every day. The Sri Barai Sabha, Kashi, which was set up in the early 1950s in Varanasi, remains the biggest market for Maghai paan leaves. However, cultivators are not allowed to sell their produce directly or trade in any way in this market.
Also Read: Also Read: Rasika Phatak: Maharashtra's 23-year-old millionaire farmer & agriculture consultant
All the work is done through arhatiyas or commission agents – a link between farmers and buyers. 
During the lockdown, trains were not running and have not resumed even now. Some farmers are able to send the produce through trucks but most others have to suffer due to wastage.
Interestingly, Maghai paan, which withstands the January cold and is harvested in February and March, is of the best quality and fetches the highest price of up to Rs 400 to Rs 500 per dholi for farmers.
Yet, it is the buyers who make the most of it.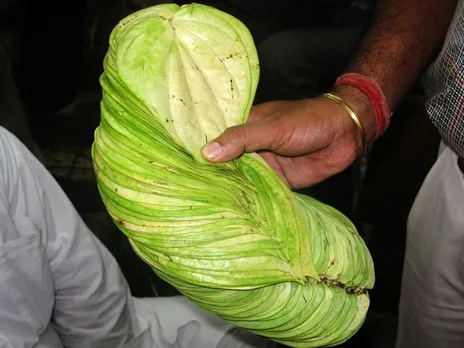 While some farmers are trying to find alternate market linkages, it is not an easy task given the historic chain of selling paan leaves. They have been urging the Bihar government to create a market in Gaya, where cultivators can sell the produce instead of depending on Varanasi arhatiyas.  But no action has been taken so far. In a state already devoid of employment opportunities, it will be good to protect the growers of a GI-tagged commodity.
(Rashmi Pratap is a Mumbai-based journalist specialising in financial, business and socio-economic reporting)
Also See: How mushroom farming is increasing incomes for women in Jharkhand