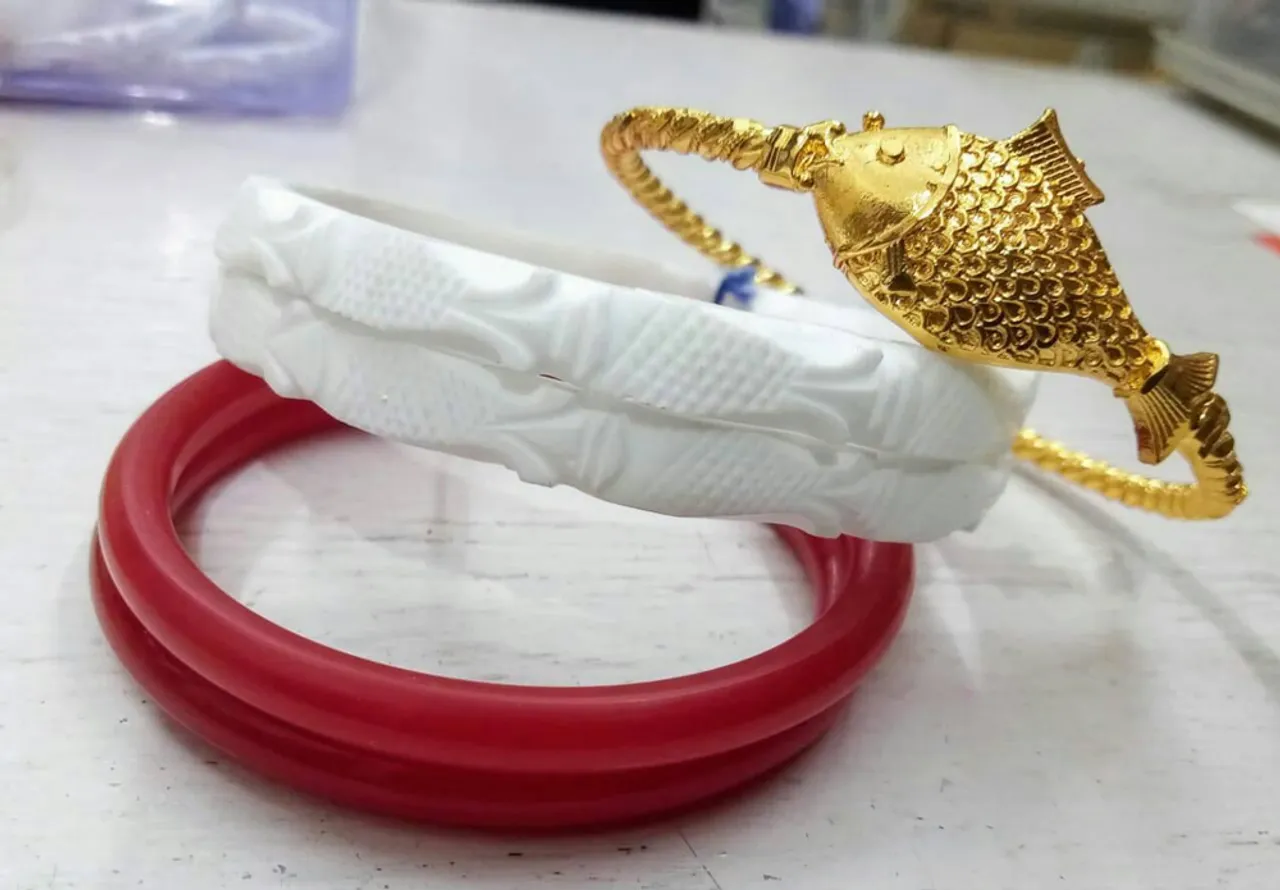 Sujay Nandi sits with conches and their pieces all around in his small unit at Lalkuti in Kolkata's Sankha Banik Colony. He takes a sankha or shankha (conch), whose conical top and tail have been cut, and breaks it into two from the middle. These two almost-round pieces of conch are then smoothed using a grinding machine and sliced into smaller pieces to make four or five bangles. 
Nandi uses a chisel to create patterns and designs on Sankha – the conch shell bangles worn by married Hindu Bengali women as a symbol of marriage.
Sankharis, who make Sankha bangles unique 
These round-shaped bangles may appear similar but each piece is unique as the bangles are made from the middle part of a conch, which varies in circumference from one end to the other. 
Also Read: Meet Bandana Jain, who uses cardboard to make furniture, sculptures and more
"We smoothen the inner side of the bangle by grinding. The outer part is engraved. Conch is delicate; so we have to ensure that it does not crack while designing," says Nandi, who makes about 20 pairs of bangles every day at his unit Jay Guru Shankha Bhander.
His great grandparents had migrated to India in 1947 from Dhaka's Shankhari Bazaar when Dhaka became a part of East Pakistan (now Bangladesh).
Also Read: Biren Basak: The boy from East Pakistan who became India's handcrafted saree tycoon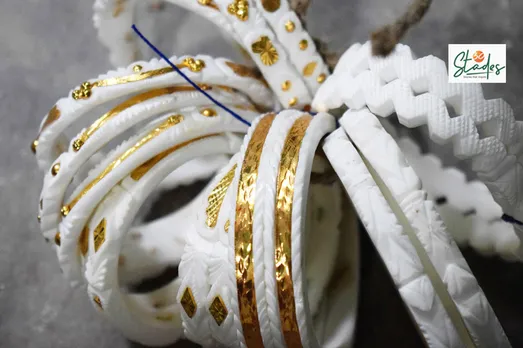 After almost 70 years since that migration, Sankha or Shankha craftsmen and traders are struggling to make money from conch shell bangles – worn along with the red pola and iron or loha bangles during Durga puja, marriage ceremonies and every auspicious occasion.
Today, the demand for Sankha is dwindling because the younger generation does not consider it fashionable to wear them. The quality of raw conches is not as good as it was two decades back, machine-made plastic bangles are flooding the market, and wages are low, making craftsmen like Nandi disillusioned.
Around 240 Sankhari families in Sankha Banik area are engaged in wholesale and retail trade of these conch shell bangles, which mostly sell in Bengal but are also supplied to Assam, Tripura and Bangladesh.
Also Read: MP's Jhabua scripts a success story with its traditional tribal dolls
Facing the challenges
Conch belongs to the Mollusca species with the scientific name of Turbinella pyrum and is called 'shankham' in Sanskrit. The word is derived from 'shum' meaning something good and 'kham' denoting water.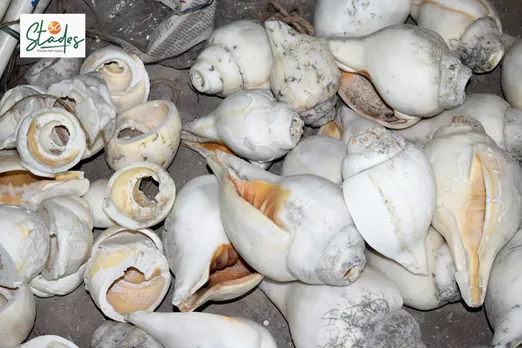 "There are two types of fishing – net fishing and dead fishing. Net fishing is restricted in India but allowed in Sri Lanka, where live conches can be fished out of the ocean. We use dead fishing, where divers fish out dead conches from the seabed," Asit Sur, Secretary of Barrackpore Sankha Shilpi Babsayee Kalyan Samiti, told 30 Stades.
"We are safeguarding the ecosystem," he emphasises.
Also Read: Environmental sensitivity will lead to climate empowerment
Amit Rakshit, who owns Sri Guru Shankha Bhandar in Barrackpore, says: "We don't get the naturally-grown conches as we used to get two decades back." 
As a result, Sankharis now use cultured conches. Breeders use eggs to cultivate them in the coastal areas of South India under the right mix of temperature and salinity levels. "They are rather mediocre in quality," Rakshit says.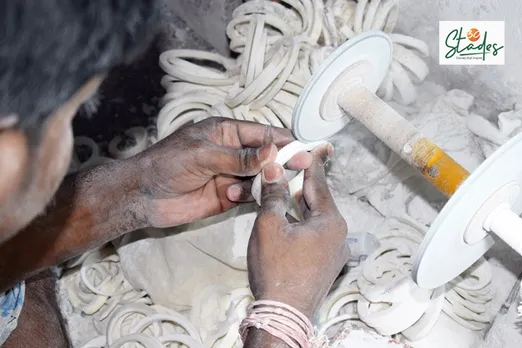 Currently, conches are brought to Kolkata from Rameswaram and Thoothukudi (earlier Tuticorin) in Tamil Nadu, where they are cultivated, or imported from Sri Lanka. They are sent in containers, each with 200 gunny bags. A gunny bag contains around 35-50 pieces of conches depending on size and shape.
Also Read: Ghurni: Bengal's craft village where life-like clay dolls are bridging the rich-poor divide
"The sale has dipped sharply. Customers cannot afford the price. Hence, they select plastic or other material for bangles," rues Rakshit.
The result is that Sankharis now have two sets of youngsters – those reluctant to pursue their traditional craft and opting for alternative professions and those continuing it because of lack of jobs in the market.
Also Read: Lambani: How bold Banjara embroidery with cowrie & coins travelled from Bellary to the world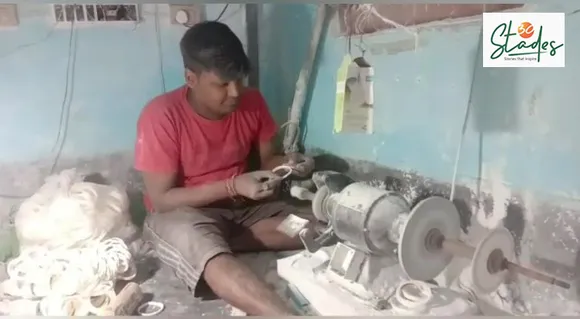 "Lack of interest among youngsters is creating a crisis of skilled labour force, affecting smooth operations," Nandi says.  
How are Sankha conch bangles made
Carving conch into bangles is an art, requiring patience and practice. An attractive finished pair of bangles goes through multiple stages and it takes at least 12-16 hours for an artisan to ready a set from cutting to polishing.
First, the top pointed area of the shell is removed manually or using a machine. Then a hole is made in the inner shell following which the shell is left in water. This helps to clean it of dirt and other particles and softens the conch's texture, making it easier for the artisan to work on it.
Also see: Watch Saima Shafi: Kashmir's engineer-cum-potter reviving the clay craft
After sun drying, conch shells are broken into two from the middle, giving an almost round shape, which is refined on a grinding machine. The conch is then sliced, giving 4 to 5 bangles and then designs are engraved on bangles using a chisel as well as machines.
The names of these motifs are said to have been given by the fishing community of Bengal, who could not afford metal ornaments.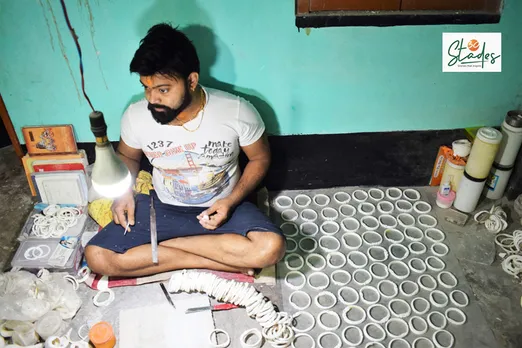 Cargo bangles, currently, are a rage. "Cargo is a broad-sized bangle. Unlike two, only a single pair is extracted from one shell. The motifs are shaped to fascinate the users. The pair is expensive," says Arup Kamte, an artisan.
Artisans also embellish bangles with gold on buyers' preference, in which case the price goes up depending on the quantity of yellow metal used.
Also Read: Why it's time to invest in gold right now
The retail price of regular pair ranges between Rs 150 and Rs 1,600 per pair. 
The rate fluctuates depending on demand, going up during marriage and festive seasons. The Sankha banik, as the traders are referred to, engage additional workers when the demand rises. The craftsmen work extra hours, making 100 pairs a day. Accordingly, their wages go up to Rs 1,000 per day.
Artisans use all parts of conches, making necklace, pendants, rings, earring and showpieces from smaller pieces. "Nothing goes to waste," Nandi says.  
Sur says the demand for bangles is on rise. "The new models grasped the market. Bangles with city gold (only gold plating) have replaced the yellow metal now. They weren't available 20 years back," he adds. As the artisans continue to come up with new designs to meet the new demands, the craft too will adapt with the changing times.
(Partho Burman is a Kolkata-based award-winning journalist. He writes inspiring human interest and motivational stories.)
Also Read: Aranmula Kannadi: How tech-savvy GenNext is preserving Kerala's 500-year-old metal mirror craft