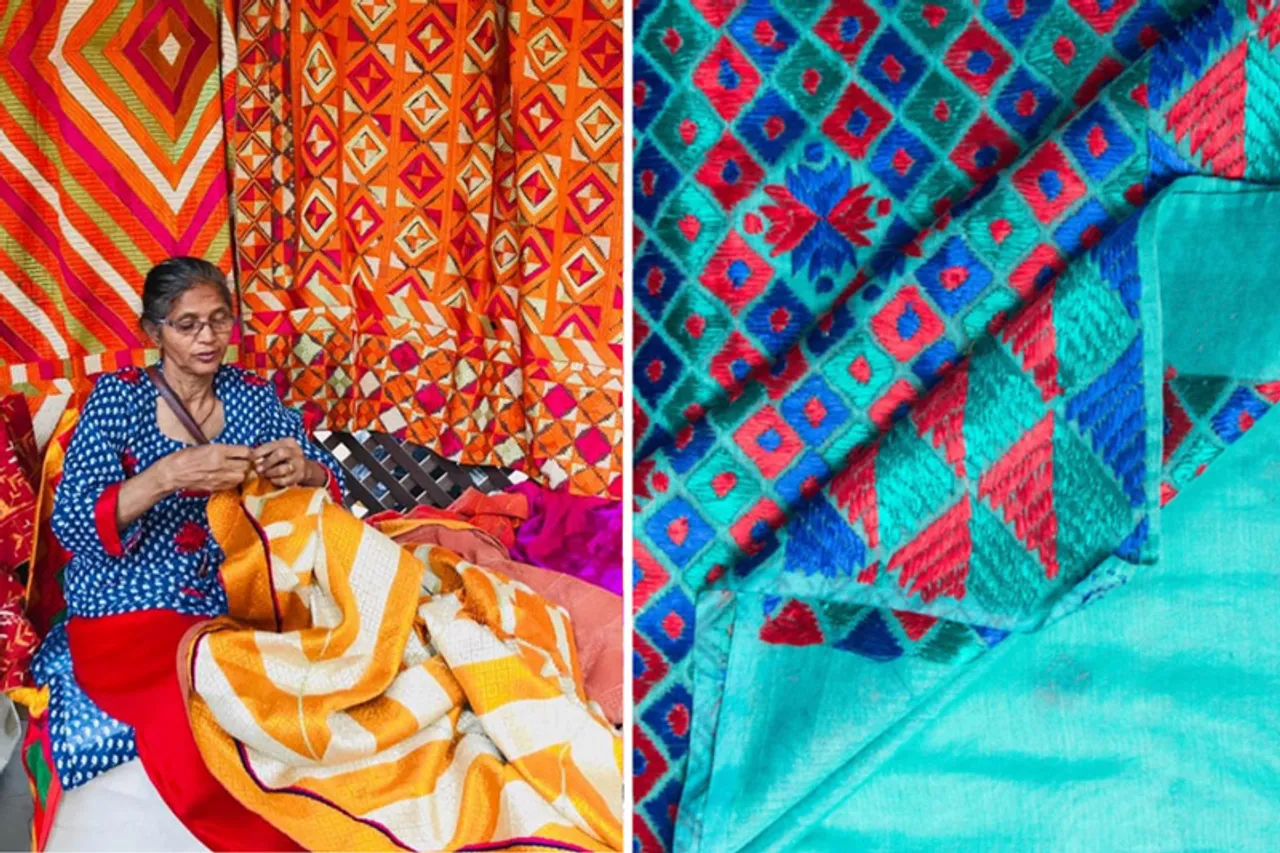 wp:html /
In the legendary romance Heer Ranjha, written by Waris Shah in 1766, the Sufi poet describes Heer's wedding trousseau as she is ready to tie the knot with Ranjha. Her collection includes dresses with Phulkari – Punjab's folk embroidery synonymous with colourful silken threads that create geometric, figural and floral patterns on fabrics.
Heer is poisoned and dies before her wedding but the mention of Phulkari in the tragic love story brings out the importance of this embroidery tradition in the life of the people of Punjab. 
While some say the craft came from Persia, where a similar embroidery style is called Gulkari, others contend that it travelled from Central Asia with Jats who settled in what is now Western India.
The familial folk embroidery 
"We don't know who first did Phulkari or how old the craft is. But what we know is that this embroidery was once practised in every household in Punjab. It is intrinsically associated with birth, weddings and other milestones in life," says Lajwanti Chabra, the 68-year-old Phulkari artisan who received the Padma Shri in 2021 for upholding and popularising Punjab's embroidery tradition.
Also Read: Lambani: How bold Banjara embroidery with cowrie & coins travelled from Bellary to the world
'Phul' means flower and 'kari' means embroidery.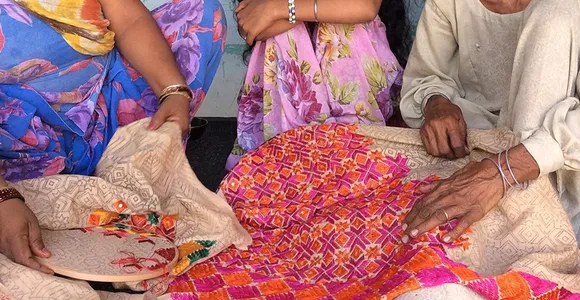 Earlier, the craft was passed on from mother to daughter and considered an essential life skill as most household items and clothes were decorated with Phulkari. 
"A lot of Phulkari clothes would come from the bride's maternal uncle's house at the time of the wedding. Almost every woman knew this embroidery and that also added to the diversity of the craft," says Lajwanti, whose grandparents migrated from Multan (Pakistan) during the Partition in 1947.
Also See: Watch: Spinning, dyeing, weaving…the making of dhabla shawl in Gujarat's Bhujodi village
Phulkari is done using the darning stitch on the backside of the khaddar cotton cloth with coloured silken threads. While darning is the main stitch, the other stitches include satin, stop, buttonhole, mirrorwork, herringbone, Holbein, stem, cluster and running stitch. 
The densely embroidered pieces where threads cover the entire cloth surface are called bagh (garden), while the sparsely embroidered cloths are called Phulkari.
Keeping alive a heritage
With time, however, machines took over the craft and the original embroidery techniques using brass needles were confined to pockets of rural Punjab where women continued the age-old tradition of bonding over embroidery under the shade of trees, says Lajwanti. 
Also Read: Thousands of Rajasthan's rural women empowered through up-skilling in embroidery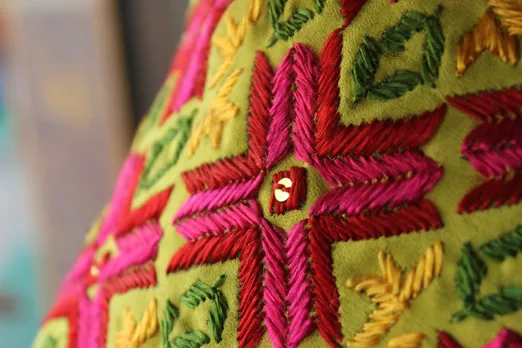 She grew up seeing her mother and grandmothers embroidering their dupattas, sheets, cushion covers, and other items. "I began observing them closely when I was six. By the time I was ten, I was embroidering independently," she says. 
Lajwanti's 85-year-old mother Sheela Devi continues to take interest in the craft even now.
It was this interest and experience in Phulkari that made Lajwanti a well-known embroiderer among her family and the neighbourhood. She studied till class five. At 21, she got married and settled in the Tripuri village in Patiala. 
Back then in the 1970s, items of interior décor were not available at the click of a button. "I handcrafted items to beautify the house including Phulkari on bed sheets, pillow covers besides dresses. I also made dolls with Phulkari dresses," she says. 
Also Read: Aquatic weed water hyacinth gives rise to ecofriendly handicrafts industry in the North-East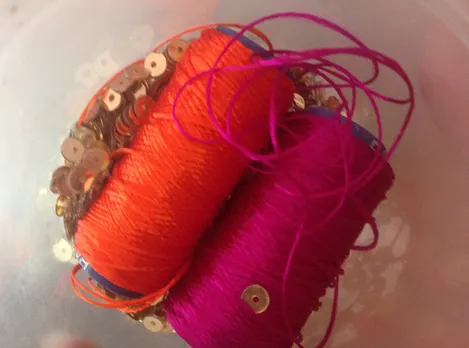 In 1985, a team from the Crafts Council of India visited Tripuri to learn more about the Phulkari. The team included crafts scholar and revivalist Gulshan Nanda who was impressed with the quality of Lajwanti's work. "She saw my designs and told me about a government emporium where I could sell my handcrafted pieces and earn well. I began embroidering dupattas, sheets and bedspreads for sale," she says.
Also Read: Gujarat's Pabiben Rabari: from a daily wager to a millionaire entrepreneur
Popularising Phulkari through training & craftsmanship
The response to Lajawanti's products was good and they sold like hotcakes. Alongside, she also started training women across Punjab in the craft which had been forgotten by most people.
In 1991, she sent a sample bedspread to the design centre for being considered for the National Merit award. Lajwanti embroidered a khaddar bedspread with surajmukhi (sunflower) Phulkari, which is unique as it mixes Holbein stitch (reversible line embroidery stitch) and the darning stitch. This results in the same visual on the front as well as the back of the fabric.
Also Read: Karnataka's Hosa Belaku gives financial stability & dignity to artisans with disabilities
For her work, she received the National Merit award in 1992 followed by the President Award in 1993 from the late Shankar Dayal Sharma. "I also participated in the Surajkund Crafts Mela, which provided a national platform to Phulkari and there was no looking back," she says.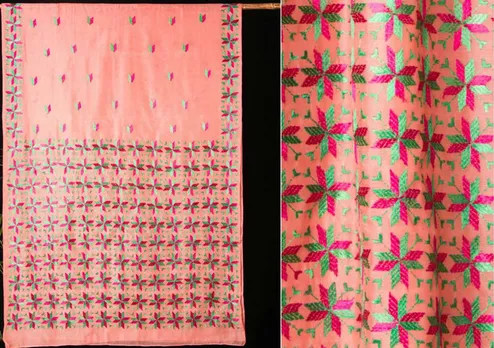 On the one hand, Lajwanti began getting more work orders and on the other hand, her training canvas expanded beyond Punjab. She has conducted Phulkari training sessions across India and trained thousands of people, Lajwanti says, adding that the government and Crafts Council of India supported these initiatives. 
Many students from the National Institute of Fashion Technology (NIFT) visit Tripuri regularly to learn about the craft from her. Lajwanti also visits NIFT campuses for training. 
Also Read: How Coimbatore's doctor Uma Deavi empowers underprivileged women through Kannamma dolls
"Now, the craft is once again popular. Many people who learned from me are now successful entrepreneurs and buyers are also aware of Phulkari, which has given a fillip to the demand," says Lajwanti, also a recipient of Shilp Guru and IGNCA Samman.
Contemporising Phulkari for a global journey
She has also exhibited her works in the UK, Germany, Argentina, Turkey and other countries.
Her three daughters and two sons are also Phulkari artisans and have won various awards for their work. Her son Ravinder, also a master craftsman, accompanies her to most exhibitions and training programmes. He also looks after the marketing of products.
Also Read: Manjappai: Madurai couple quits Amazon & IBM to make ecofriendly cloth bags; clocks Rs 3 crore turnover while empowering Mathichiyam slum women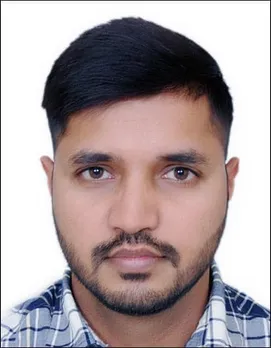 Ravinder says they work on order and mostly sell in bulk to online retailers and showrooms. They take detailed orders with design requirements over WhatsApp and create products accordingly. 
Lajwanti says while Phulkari was earlier done only on khaddar, it is today practised on a wide variety of fabrics including silk, cotton, chiffon, kota doria etc. And the products include sarees, stoles, dupattas, suits, bedspreads, sheets, bags, purses and cushion covers among others.
Phulkari designs and symmetries are created by embroidering from the back face of the cloth. Earlier, most women did not draw the designs and embroidered freehand. Today, however, most artisans either first draw the design with a pencil or get it printed from a printer before beginning embroidery to ensure symmetry.
Wholesalers who place bulk orders with artisans provide them with fabrics block printed with the design. The artisans then just have to focus on embroidery.
Also Read: Also Read: LifeCraft: empowering Jharkhand's Kuiani women through fabric hand dyeing
This is because light falling from different angles gives different hues to the embroidery. The smaller the stitch, the higher the quality of the product.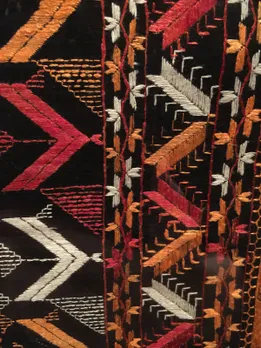 Lajwanti points out that it can take anywhere between five days to two months to finish a Phulkari dupatta depending on the design and pattern. 
Also Read: Gulmeher: Delhi's social enterprise turns women ragpickers into artisans; sells ecofriendly products globally
Yellow, red and golden, have been the most popular colours for Phulkari traditionally though all colours are used now. Today, artisans buy readymade silk threads made in Ludhiana. "They are easily available, reasonably priced and shorten the production process," she says.
Lajwanti has been training people in Phulkari free of cost for the last thirty years. "I am happy that I have been able to help people earn a livelihood with dignity through this traditional craft of Punjab," she says.
(Rashmi Pratap is a Mumbai-based journalist specialising in financial, business and socio-economic reporting)
Also Read: Toda embroidery: Preserving tribal craft from the Nilgiris stitch by stitch