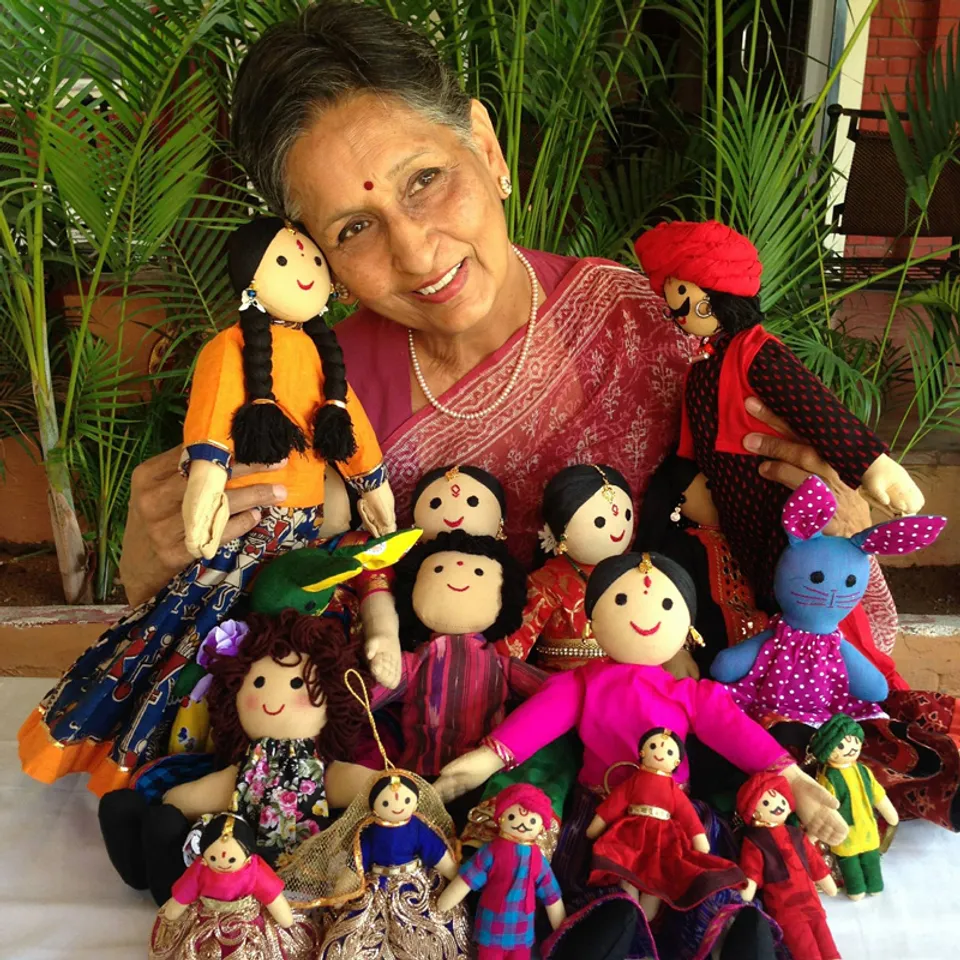 wp:html /
Jeevarathinam from Coimbatore was married in 1995 at the age of 15 and gave birth to three children in quick succession. Her dreams of a happy marriage ended at the hands of her alcoholic and drug addict husband who beat her regularly. She lived hand to mouth and cursed her destiny.
Her husband worked irregularly and hardly gave her any money. For years she lived at his mercy. But driven by the violence and poverty, she approached Shivanjali Trust in 1998 to seek help.
At the trust, she learnt how to make Kannamma dolls and started earning for herself. 
The trust helped to educate Jeevarathinam's three children and also helped her get a divorce in 2017 from her husband who used to harass her.
Also Read: Bengal's Natungram: Craft village where wooden dolls come alive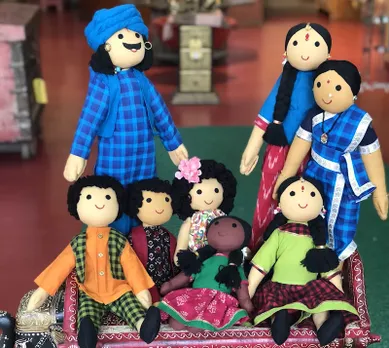 Her two daughters are now working while her son is in college. Jeevarathinam earns around Rs10,000 per month and has found the happiness she was denied earlier. "I had a difficult life… but working here gave me strength; I get a lot of support."
Emotional and economic support
Jeevarathinam is among the scores of women who have found succour and support through the Shivanjali Trust. It was started in 1986 to improve the socio-economic conditions of women from underprivileged backgrounds who visited the Siva Shantha Mother and Child Health Centre, which is also run by the trust.
As an extension of the health services provided at Siva, the trust helps women patients break the cycle of poverty and ill health by providing them with skills through which they can earn a livelihood.
Also Read: Cheriyal: How Telangana's centuries-old scroll art continues to educate and entertain even today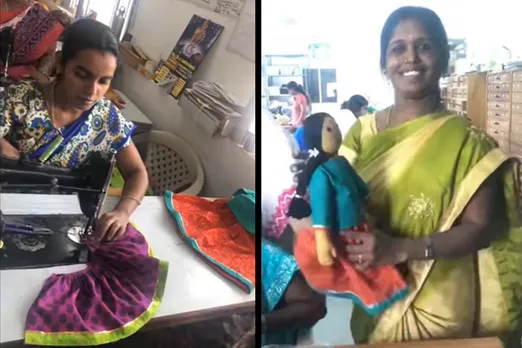 The trust has four projects, one of which is Shivanjali Crafts. It employs women from poor backgrounds and trains them in tailoring, embroidery, craft/doll making, and cooking.
Dr Uma Deavi, founder and head designer, of Shivanjali Crafts, says the decision to help the women came from her experience at the health centre.
"When I started working with Shiva Mother and Child Health Centre, I found that patients kept coming back with one or the other complaint," she says.
The 'Kannamma doll' was born out of a need to empower underprivileged women both emotionally and financially, she adds.
Also Read: MP's Jhabua scripts a success story with its traditional tribal dolls
Dr Deavi started the stitching unit of Shivanjali Crafts in 1997 with only a basic knowledge of stitching but a big desire to help the women anguished by poverty and harassed by their own families. "We mostly read books to learn the art of doll-making," she says.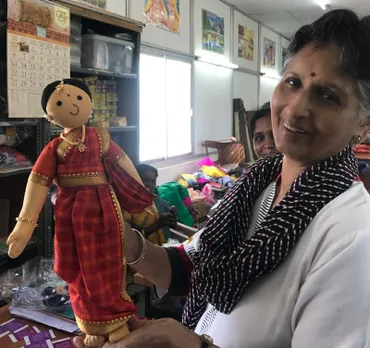 The Trust's other units are Shivanjali Creative Arts and Crafts which equips women with tailoring, embroidery and culinary skills and provides them with job opportunities.
Shivanjali Café specializes in Malaysian food while its craft shop Lavanya sources and sells a range of Indian handicrafts to support the arts and artisans besides running a tailoring and manufacturing unit that produces ethnic garments, paper crafts, bags, and Kannamma dolls. Shivanjali Sweets and Spices Centre makes Indian sweets and savouries.
Also Read: Pothi Chitra: Odisha's 900-year-old palm leaf engraving finds global patrons
Dr Deavi who has done her Master's in Public Health has been associated with Shivanjali since 1995. She was working in Malaysia but returned to India in 1994 and settled in Coimbatore in 1995.
"We then decided to start some training programmes for women. We trained women in tailoring, embroidery, and culinary skills. We started a small café where I taught them how to make Malaysian food," she says.
The trust has trained hundreds of women over the years, giving them skills so they can earn a livelihood.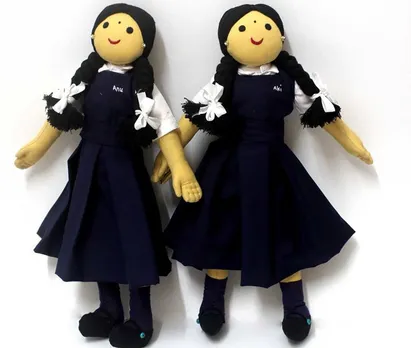 At present, the trust employs around 60 women in all four projects. The women are from within a 10 km radius of Coimbatore. Most of them work six to seven hours a day. Some work a little longer. "We try not to make them work too long because they have to balance their house along with their career," says Deavi.
Also Read: Bengaluru's Kottanz contemporizes traditional gifting with eco-luxury products handcrafted by rural women
The trust also helps the women with their children's education as well as health needs.
The Kannamma dolls
One of the popular handicrafts made at Shivanjali Crafts is the Kannamma dolls. The diversity of Kannamma dolls makes them truly unique.
The dolls have a cotton body filled with polyester fibre. A range of regional dolls is being developed to show the diversity of India. The different types of Kannamma dolls are kanmani doll (wears the traditional pavadai sattai or skirt and blouse with jasmine flowers in her braids), mini kanmani (girl doll), kanna doll (boy doll), Kannamma functional dolls, and happy couple fridge magnets.
Also Read: GreenKraft: taking banana bark baskets made in Madurai to Sweden's IKEA & beyond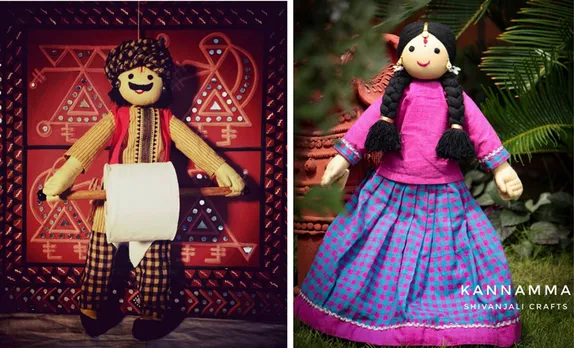 Deavi says, "We should be proud of our heritage. I think we don't project our culture proudly. We started with kids' wear, called Little Indian, and then we moved to make these dolls. We use the scrap from the kids' garments to make the dolls' dresses." 
She says that the process of doll making was mostly self-taught, from videos, books and trial and error. 
As for pricing, Dr Deavi says: "Most people would think twice before buying a doll for more than Rs1000. So we brought it down to around 900 and then the dolls began selling more. Kannamma is a functional doll, it sells better."
Dr Uma says they sell dolls worth Rs1 lakh per month through their store and online.
"We have tied up with some bulk buyers who place orders every few months but marketing is still a challenge," Dr Deavi adds.
Also Read: Phool: where women turn temple flowers into incense, bio-thermocol & vegan leather
The Shivanjali Trust has a dance centre in Kuala Lumpur, Malaysia. At the centre, there is an outlet that sells Indian handicrafts and garments. They source clothes and dolls from Shivanjali Crafts which brings in additional income.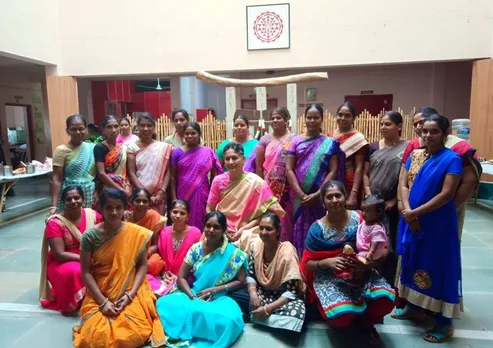 "Whatever we earn goes back to the women," she says.
For women like 46-year-old Suguna, who currently heads the doll making unit, life transformed after she began working for Shivanjali Crafts.
"I have been working here since 1997. I left home with my two children after my husband married someone else. After I started working here I feel so much more courage and I am more peaceful. My children are educated and working. If I needed any help with my health, I have got it. I don't feel stressed working here. Everything we do here we do with love."
"There are still many challenges we need to overcome. But we are surviving, thanks to some divine power," Dr Deavi ends on a positive note.
(Sravasti Datta is a Bengaluru-based independent journalist, who writes art, culture and human interest stories)
Also Read: Ghurni: Bengal's craft village where life-like clay dolls are bridging the rich-poor divide