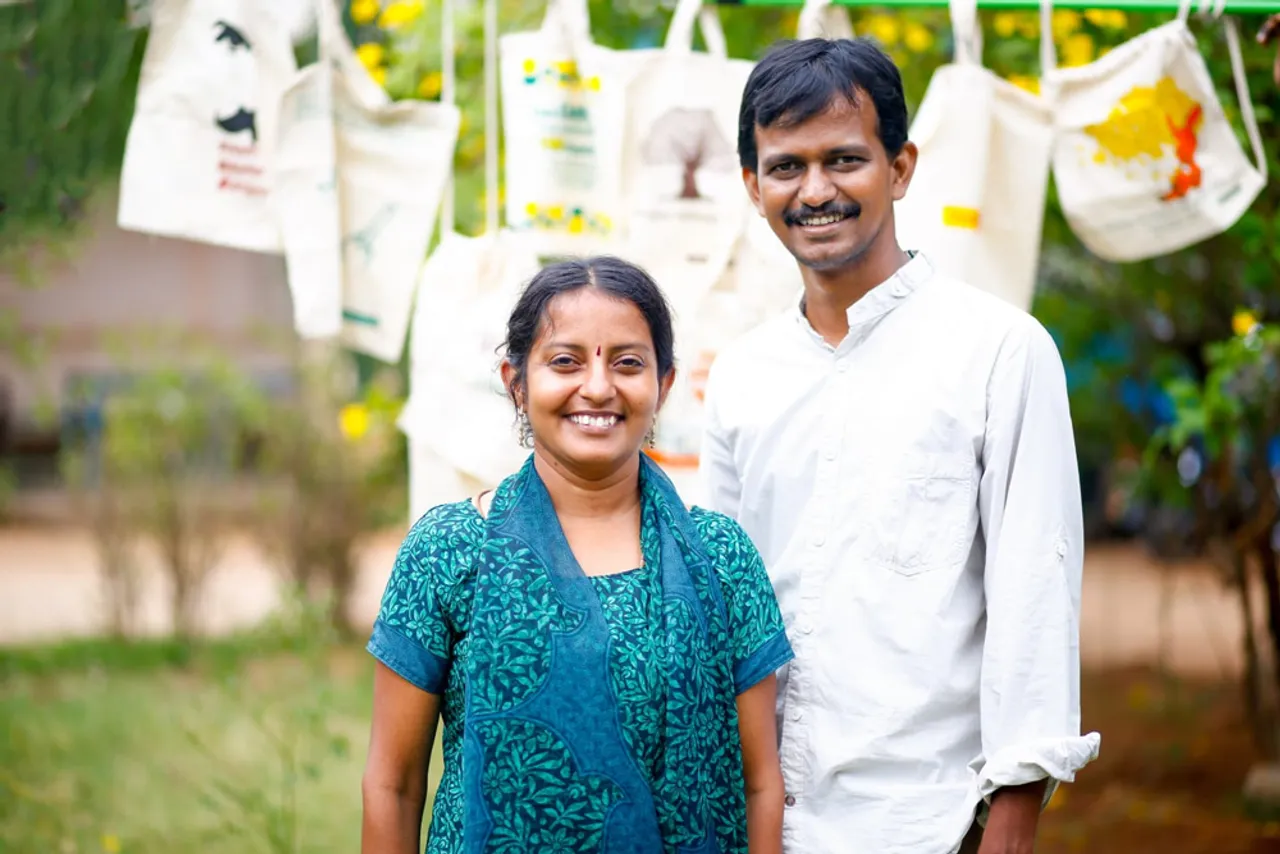 wp:html /
Every morning, 36-year-old Panchavarnam S, who lives in Madurai's crowded slum Mathichiyam, walks to her workplace nearby. For the last five years, she has been working with the YellowBag Foundation, which makes cloth bags from cotton, jute, and other eco-friendly materials that reduce pollution and carbon footprint.
Panchavarnam, who is physically challenged, joined YellowBag in 2017 as housekeeping staff and is now well-versed in printing designs on cloth bags. "I had never worked outside my home and was worried if any company will ever employ me. After coming here, I gained confidence and the income helped in providing food for my family and funding my children's education," she says.
Bustling with people and their insecurities, Mathichiyam is an urban slum in the temple city of Madurai where opportunities for education and livelihood are limited if not totally absent.
Also Read: Also Read: LifeCraft: empowering Jharkhand's Kuiani women through fabric hand dyeing
Like her, 250 other women have benefitted from sustained livelihood while working with YellowBag set up by Madurai-based couple Krishnan Subramanian and his wife Gowri Gopinath to encourage a shift from single-use plastic bags to eco-friendly and reusable cloth bags.
"We were personally disturbed by plastic pollution and air quality in metropolitan cities. We wanted to see what could be done instead of indulging in a blame game, so we made the switch to cloth bags," Krishnan says. That was just the beginning.

Soon the couple started receiving requests for cloth bags from people around them. This propelled the duo to start YellowBag in 2014, aimed at encouraging a sustainable lifestyle by bringing back the cloth bag.
Also see: Gujarat's Pabiben Rabari: from a daily wager to a millionaire entrepreneur
Today, YellowBag exports its eco-friendly bags across the world and provides livelihood to marginalized women in low-income communities in the temple city.
The revival of 'Manjappai' and other cloth bags
For many in Tamil Nadu, the 'manjappai' (yellow cloth bag) holds special significance. For generations, it has held everything from betel leaves and coconut given as gifts in weddings to ration food items, groceries and wads of cash.
Tamil Nadu Chief Minister MK Stalin's initiative to bring back these bags in every household under the 'Meendum Manjapai Vizhipunarvu Iyakkam' campaign put cloth bags in the spotlight once again, including Krishnan-Gowri's YellowBag. 
When Krishnan and Gowri wanted to start manufacturing eight years back, they faced challenges at multiple levels. Both the market and the producer felt there wasn't a need for these products.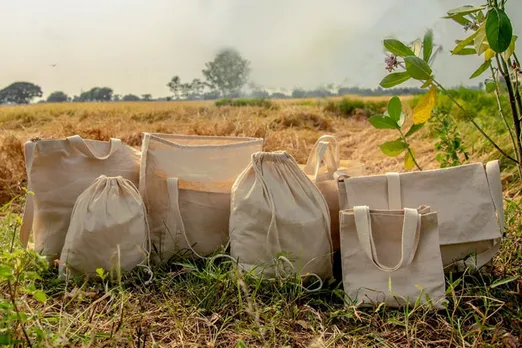 "The tailors were comfortable with making non-woven bags using synthetic fabrics usually given away in garment shops. They felt it was convenient to stitch them," Krishnan says, adding that it took them two years to become an active organisation that now makes a variety of cloth bags.
The bags are customised for corporate events, weddings (where thamboolam bags are used for giving return gifts), and packaging besides for other purposes. YellowBag's range of green products includes garment protector bags, drawstring bags, totes, shoulder bags and potlis besides others.
One look at their website will open up a myriad of eco-friendly and ethically manufactured cloth bags that has pictures along with their uses.
Also Read: Thousands of Rajasthan's rural women empowered through up-skilling in embroidery
Bags that help the environment
Gowri adds that the bags are made with kora (unbleached) cotton and are completely eco-friendly, bio-degradable and free from any plastic lining. "The materials are sourced locally. From procuring the cloth, cutting it, designing the bag to quality checking, everything happens here at our in-house unit. We sell the products at this office also apart from reaching out to customers via social media and emails."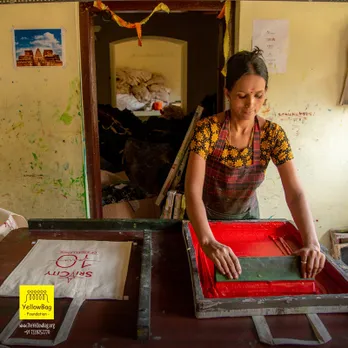 Fashion packaging bags used by boutique stores, and those used for events and exhibitions, sell the most. Since the bags are custom made and printed with the business name and logo, it is economically viable for YellowBag if customers can buy at least 300 pieces.
YellowBag has catered to more than 900 customers worldwide and was growing rapidly until COVID-19 hit operations.
Also Read: Gulmeher: Delhi's social enterprise turns women ragpickers into artisans; sells ecofriendly products globally
The couple is planning to setup three new units close to the city to give regular employment to more women and expand operations.
Providing livelihood to women
The growth of YellowBag has been gradual. "Initially we were working with six tailors and did not have our own centre. But the team faced problems with timely delivery and quality. So a hub was created in the Mathichiyam slum in 2016. 
After an early marriage and giving birth to children, women in Mathichiyam start working only when kids reach a certain age.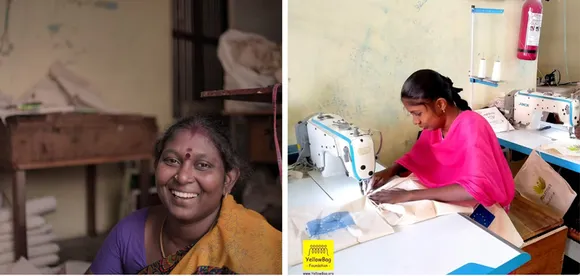 "They start their career at around 30 years as their daily expenditure increases. The support from their spouse starts declining and they also battle alcoholism and domestic violence in their households." 
Additionally, Krishnan notes that the women faced another challenge of not being able to work in places far from their homes. "They had an attachment towards the children and community. So, we decided to set up a unit at the centre of their community."
Also Read: Karnataka's Hosa Belaku gives financial stability & dignity to artisans with disabilities
"When we were employing them, we had to make sure that we were providing continuous work. They expected fair wages and some seriousness and commitment from us to give them at least six to nine months of employment. It took us a long time to meet those expectations," he adds.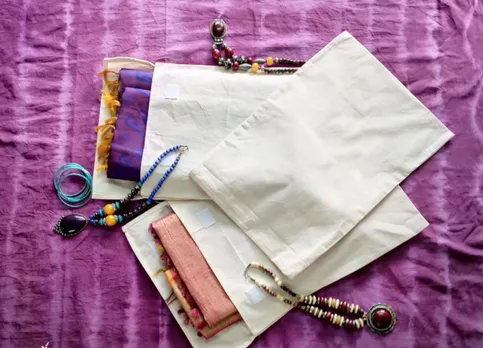 Before the COVID-19 pandemic hit, they had around 250 women workers. "Currently, we have about 40 women working with us," he says. While some of them work in the hub, the others are part of small groups owned and led by women.
"We make sure they earn between Rs 250-300 a day. Depending on the complexity of the bag, one can make between 100-150 bags every day," he adds.
Bhuvana M, who has been working with YellowBag for four years, says she has grown from being a tailor to becoming a line in charge at the unit.
"My sister and I got trained here. I currently stitch sample pieces for customers and I am also involved in training new tailors. My father is a construction worker and does not get work throughout the year. Our salary has helped us greatly to provide basic needs for the family," says the 30-year-old.
Also Read: GreenKraft: taking banana bark baskets made in Madurai to Sweden's IKEA & beyond
Educating the children of Mathichiyam
While working with women in the Mathichiyam community, Krishnan and Gowri observed that their children would come to the hub after school. "So in order to bring about a change in their lives as well, we started Project Green Slate in 2019," Gowri narrates.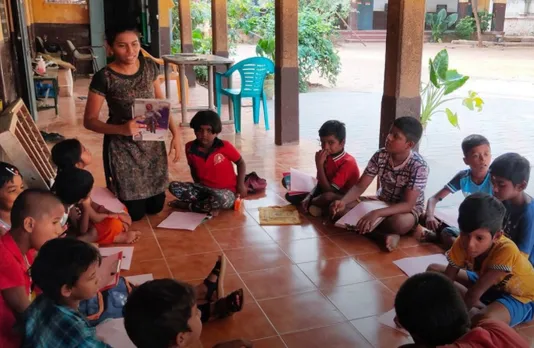 It was in 2019 that the Yellow Bag Foundation registered as an NGO and started accepting grant money from donors to fund the education of children studying there. Currently, a team of three helps in teaching about 100 students.
"Initially, we started taking subject-wise tuitions for the children of our women workers. Then we moved on to teaching them public speaking, storytelling, singing, dancing and other life skills to reduce the drop-out rate in the community. When many children joined, we rented three centres to impart these skills for two hours on two days a week," says Gowri.
(Narayani M is a Chennai-based writer specialising in longform writing and human interest stories.)
Also Read: Abira: Pune's all-women enterprise where slum dwellers handcraft ecofriendly products for global brands