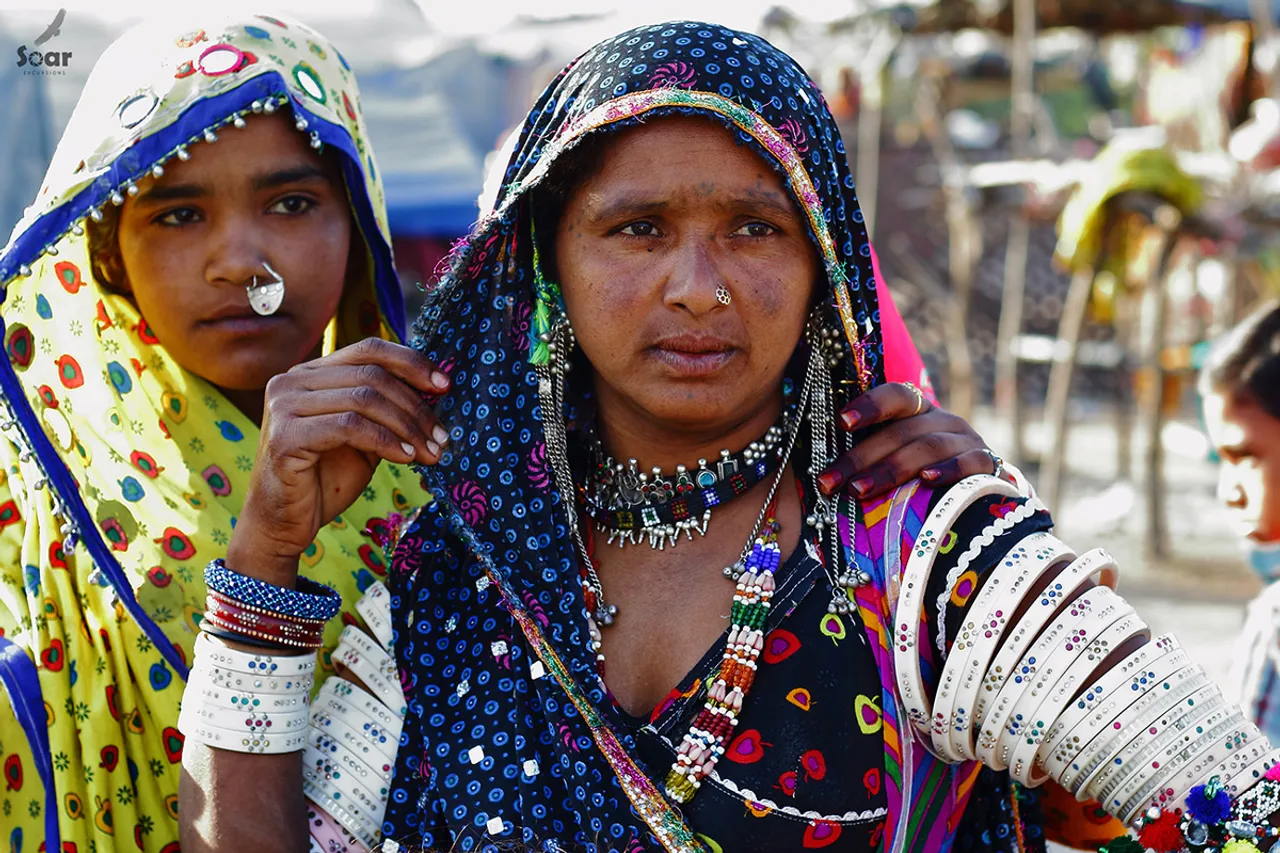 After completing her B Tech in Chemical Engineering in 2014, Niyati Kukadia was selected for training at the Mysuru campus of IT giant Infosys. Niyati was more fascinated by the 72 species of butterflies on the campus than with her training programme. Her heart was drawn towards nature and adventure, having travelled extensively since childhood with her parents and sister.
"I underwent training for one month at Mysuru and then got back home. Travel and nature appealed to me more than chemical engineering," says Niyati, who co-founded travel firm Soar Excursions in Gujarat the same year.
Niyati's father worked in a multinational company while her mother was an artist. "We would travel frequently across Gujarat. I developed an interest in understanding the textiles, art history, architecture and crafts of the state. Setting up Soar Excursions was a natural extension of my passion," she says.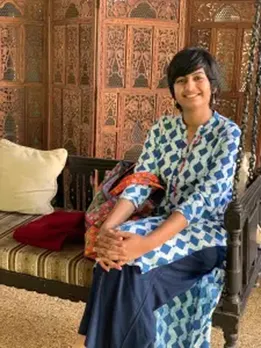 Soar Excursions tailor-makes tours around Gujarat's vast cultural heritage, natural beauty and biodiversity. It promotes sustainable and ecofriendly tourism practices and is also working for the empowerment of the local tribal communities.
The Mirs of Dasada in the Little Rann of Kutch
On one such trip in 2016, Niyati stumbled upon the nomadic Mir community living in the Dasada village of Surendranagar district on the fringes of the Little Rann of Kutch in Gujarat. "I got interested in their lives and I asked them why they had stopped living a nomadic life. That conversation sparked in me the desire to work with the community," she recalls.
Mirs trace their origin to Central Asia and came to Rajasthan via Afghanistan. Since they are genetically connected to the gipsies of Central Asia, high cheekbones and hazel eyes are common in the community.
Mirs were bards, minstrels and also genealogists for the nomadic Rabari or Rabadi community which lives in Gujarat and Rajasthan. 
They kept small cattle like sheep and goats and travelled with the Rabaris who mostly rear camels. Each Mir family was generationally attached to a Rabadi clan. Even today, they recite the genealogy of Rabadis. Whenever there is a new addition to a Rabadi family, its Mir genealogist adds it to the family songs.
Also Read: How Sarna is showcasing Odisha's best-kept secrets through its artisans & indigenous communities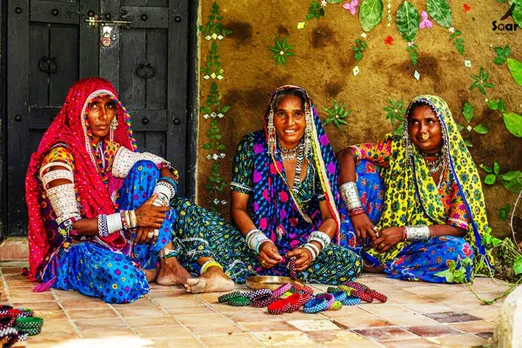 "As they were entertainers, Mirs wore elaborate silver and beaded jewellery. This provided them with a colourful look and the practice continues to date," Niyati says.
The nomadic life, however, became unsustainable with urbanization and the building of infrastructure. Some of them settled in the Dasada village about 40 years back. "That's where I met them and saw their beautiful craft. That time I was researching the beadwork of Gujarati communities. I was interested in understanding the Mir beadwork style," she says.
"I also wanted to know what craft intervention could be done to create an alternate source of livelihood for Mirs, who continue to live in tents (with plastic cover) even today," Niyati says.
Around 40 families live in Dasada, where they don't have access to a reliable source of water. They carry water from neighbouring shops in their pots but it is neither reliable nor permanent. "Sometimes, the source is contaminated and it creates an epidemic-like situation in the community. There was an outbreak of typhoid some years back. I thought providing an alternative source of livelihood through beadwork would help in some ways," she adds.
Also Read: Bhujodi: Gujarat village that turned a nomadic tribe's shawl into a global fashion statement
Contemporising tribal glass beadwork jewellery
The Mir women handcraft beadwork accessories, which are an important part of their attire. Only widowed women do not wear any jewellery. The craft is passed on from mother to daughter. 
Sakina, a Mir woman and beadwork artisan, says, "It is customary for the bride to wear beadwork bangles, earrings, necklace and kamarbad (waistband) during the marriage ceremony. Once a girl is 12 years old, she starts learning the craft and makes her wedding jewellery," she adds.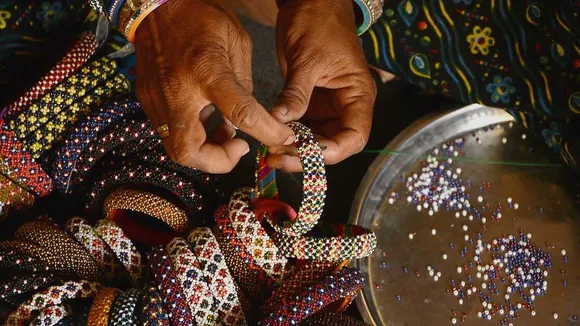 Mirs have been selling beadwork and silver jewellery to travellers to the region for many years. "Mirs are good at selling and marketing but did not have awareness about latest designs, customer preferences, and newer products that could be made with beads etc.," says Niyati.
She began working with women in the Mir community in 2016. Currently, ten women make jewellery and the number goes up to 30 during workshops and when there is higher demand during festivals like Rakhi.
Also Read: Gujarat's Rajiben Vankar: From living in a tent to weaving upcycled plastic, how this housewife set up a successful business from waste
"One, we taught them new designs while using traditional techniques as people may not like jewellery in the traditional or rudimentary form. We taught them about finishing techniques. Since they know how to sell, all we needed to do was create products that are more appealing and contemporary," says Niyati, who sells the products under the Tokar Sustainable Designs brand.
She also added more colours and added new forms. 
Traditionally, atkaniya is an elaborate bracelet worn on elbows which Niyati turned into bangles and bracelets. "We also taught them to make tea light holders and sunglass chains," Niyati says.
She added more colours to the jewellery as well. "Traditionally, they would get the locally available glass beads. We have created a beads bank from where they can buy them at a subsidized rate."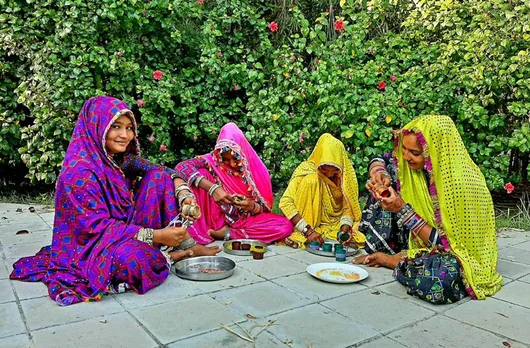 Typically, Indian glass beads cost Rs 300 to Rs 400 per kg. 
"We get Czechoslovakian beads at Rs 1200 per kg but the bead bank gives it to the artisans at a subsidized rate of Rs 200 to Rs 300 per kg. These beads are more uniform in shape and are available in a wider range of colours, including pastels."
Moreover, the women don't have to travel 50km to procure the raw materials.
Fair wages & the future
Niyati provides the artisans with wages based on production. "We discussed the payment mechanism with the artisans and they decided to go for piece-based payment as some women are slow while some are very fast. For 8 hours of work, our master artisan earns Rs 1200 per day while the youngest among our artisans earns about Rs 500 per day," she points out.
Tokar connects them with a larger market. "Some of their products are sold in boutique shops and galleries in Sydney, the UK and the US," Niyati says. Online retailers including Okhai and iTokri also sell the tribal glass bead jewellery.
"We also do livelihood project with skilled artisans of the Kotwalia community in southern Gujarat. We mix beads with bamboo, which has an understated elegant colour. Since the last three years, we have been making various products including tea light holders, trays and other utility items," Niyati adds. 
Sakina says a pair of bangles with heavy beadwork takes one full day to make. 
"A single atkaniya (elbow bracelet) takes around three days," says Sakina, whose daughter is the first one in her community to reach class 9. Her son studies in class 8 at the local government school.
Also Read: Dr Hemalatha Jain: The professor reviving age-old handloom weaving of sarees in Karnataka
"About 30 women in our village make jewellery while others, despite knowing the craft, prefer daily wage work," she says. Sakina belongs to Balotra in the Barmer district of Rajasthan but her family came to Dasada in 2002, where her uncles live, in search of better livelihood opportunities.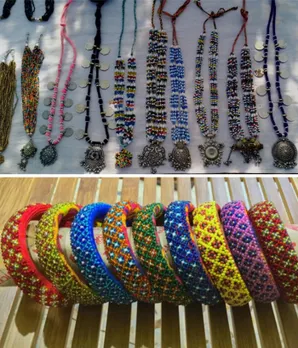 Despite the lack of basic amenities, the Mir community members continue to stay here as they are giving up the nomadic life. 
Niyati has self-funded her work so far. However, for the Rakhi-making programme, they received 5-day training support from the state government's Gujarat Matikam Kalakari & Rural Technology Institute through their implementing agency – the Entrepreneurship Development Institute of India.
Now, she wants to create a common facility centre in the Dasada village which will be a space for workshops and also house a bead bank. "It will be managed by Mir women. I hope that will provide them with safe drinking water and toilet facilities – a place where women can feel safe and call their own," Niyati says.
(Rashmi Pratap is a Mumbai-based journalist specialising in financial, business and socio-economic reporting)
Also Read: Sankha Conch Bangles: How Bengal's Sankhari community is fighting all odds to keep the craft alive