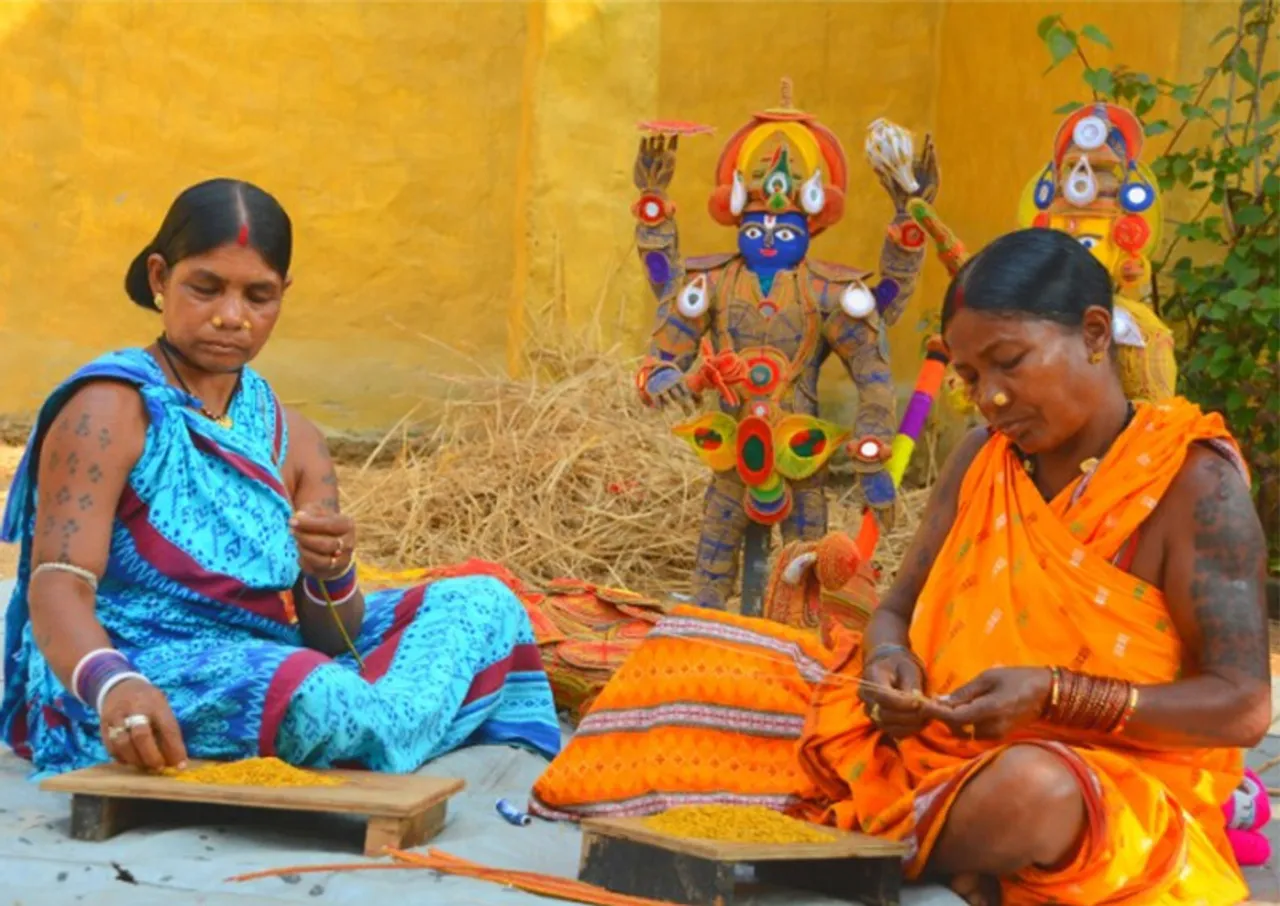 Amid the raging pandemic and the lockdown restrictions, three Odians decided to set up a unique venture to showcase the rich heritage of their state and provide income-generating opportunities for its craftspeople and indigenous communities.
Sarna Educational and Cultural Services, set up by Dr Jitu Mishra, Rosalin Dash and Dr Susshri Mohaanty, provides immersive tourism, promotes sustainable craft and offers experiential education that takes Odisha's rich heritage closer to people across the world.
Jitu is an archaeologist-historian-educationist, Rosalin is an engineer and soft skills trainer with a passion for history, and Susshri is an anthropologist focussing on the socio-cultural development of tribal communities. 
Also Read: Uttarakhand: Himalayan homestay empowers women through ecotourism
How the trio got together is providential. Jitu and Rosalin met at an informal history club in Bhubaneswar in mid-2019. Jitu saw Susshri's profile on Facebook and, finding their backgrounds similar, reached out to her. After a few months of deliberations, they decided to collaborate on the enterprise that was registered in September 2020 in Bhubaneswar.
"In times of crises, innovative ideas emerge. The COVID-19 pandemic and lockdowns helped us strengthen our base in Odisha. We could study each area, its needs and how to go about aiding in the development," says Susshri.
The sacred grove
The trio decided to name the venture Sarna.
"The communities pledge to protect the site from external aggressions and believe the grove will protect them and support their survival."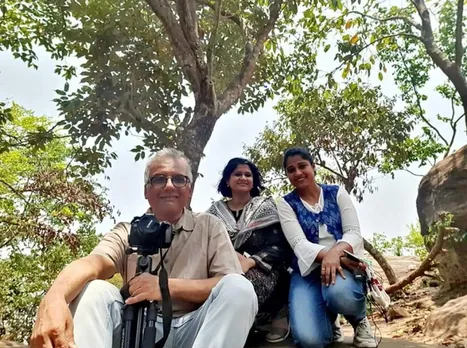 In tune with this belief, Sarna offers a mix of ecotourism and cultural tourism, which goes much beyond sightseeing as it protects the state's heritage while creating income-generating opportunities for locals.
Also Read: Pala: Odisha's 16th-century folk ballad with roots in Hindu-Muslim unity
The immersive travel experience exposes visitors to the traditional arts and crafts, culinary heritage of the state, folk music, dance, storytelling, rich biodiversity, traditional knowledge systems, and local agricultural practices. 
"Immersive travel signifies connecting with the local communities and their stories. If you just indulge in sightseeing you may find it enjoyable. But if you connect and stay with the local people it is a great learning experience," says Jitu. 
Moreover, the trio is opposed to luxury travel which just uses the local resources but does not give anything back.
Currently, Sarna conducts immersive tours in the Eastern Ghats, coastal Odisha, Bhitarkanika National Park, Chilika lake, Mahanadi river, Puri and Konark. Says Jitu: "For Chilika Lake and coastal Odisha (including Puri, Bhubaneswar and Konark) and Bhitarkanika, we charge Rs50,000 per person for a 6 night-7 day package which includes travel, stay in homestays or 4-star hotels, guided tours and the rural experience."
Also Read: Pattachitra: Odisha's Raghurajpur turns hub of recycled art as artisans combine 12th century craft with sustainability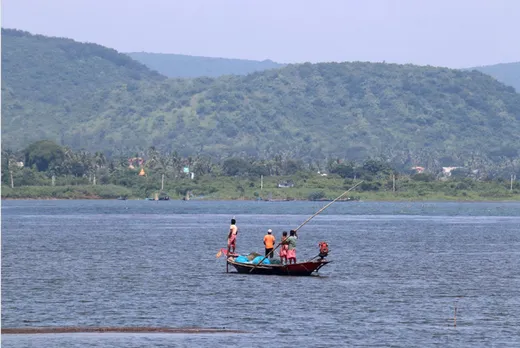 Debjit Singh Deo, along with his wife and daughter, went on a tour organised by Sarna. "After a lovely boat ride on Chilika lake and a visit to a fishing village, we sat in our homestay and savoured khoyaka fish found in the lake. It is one of the tastiest varieties of fish I have eaten. I thank Sarna for giving me a travel experience that has left me with rich memories I can share with family," says Debjit. 
Craft tourism
Sarna also promotes craft tourism. Visitors get to visit the art-rich hamlets of Odisha, see the beautiful handcrafted products and buy from the artisans directly.
One of their online 'buyers meet sellers' events was very successful and the artisans sold a large volume of saris and paintings, she adds.
Also Read: Pothi Chitra: Odisha's 900-year-old palm leaf engraving finds global patrons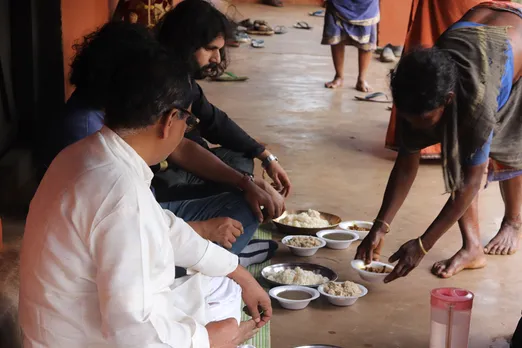 The social enterprise also works towards identifying indigenous crafts and practices and getting a Geographical Indication (GI) tag to protect the intellectual property of the artisans. A GI tag ensures that the community gets the benefits when its products are sold. 
Poetry in a loom
Some of the traditional Odia arts and crafts promoted by Sarna are the making of exquisite Ikat saris and stoles, Pattachitra (cloth-based scroll painting), Talapatra (palm leaf engraving), Dhokra (metal-cast curios and jewellery), making utility products from Sabai grass, decorative objects made of papier-mache, and Tarakasi silver jewellery of Cuttack.   
Contemporary cotton Ikat saris with eco-friendly dyes are priced between Rs2,500 and Rs6,500. Khandua (traditional Ikat) saris with protected designs cost around Rs 17,000.
Also Read: 'We need a paying audience to make performing arts self-sustaining': Odissi dancer Prachi Hota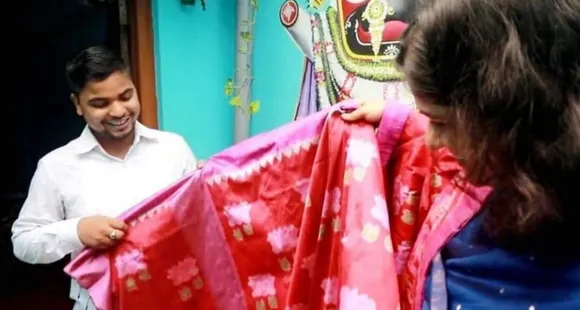 Bibhuti Kundu is a young weaver and entrepreneur living in Nuapatna. "I must thank Sarna for the opportunity to work with them. I have co-created the contemporary design 'Nalini' on an Ikat sari made in mulberry silk. It took me 20 days to make the sari," he says. 
The process of handweaving and dyeing is very laborious. "Many youngsters are leaving this profession. I have employed some young weavers and am training them. I give them creative freedom. With help from Sarna, we are innovating to cater to the contemporary market," says Bibhuti. 
Sarna works with both B2B and B2C models. Their business customers are handloom boutique resellers and corporate gifting solutions companies. In the last financial year, Sarna's turnover was Rs 13 lakh. COVID impacted its activities.
"Also, we are bootstrapped, with no external funding. We started with just Rs 1 lakh as the initial fund. In the interests of fair trade, we share profit with our artisans, leaving a marginal profit for ourselves," says Rosalin.
Also Read: Koraput Coffee: How Odisha tribals brew a global coffee brand
Sarna is also documenting Odisha's heritage through its YouTube channel – Sarna's Stories of Odisha', which has 88 videos so far.
Sarna's 'Ideas of Odisha' is a book series for which they are collaborating with Toronto-based Vidya Publication Inc. Odisha has 30 revenue districts and Sarna is planning a book on each. So far four books have been published and are available on Amazon.
Sunday special
The need for experiential learning for school and college students has been stressed in the National Education Policy (NEP), 2020. Due to pandemic restrictions, Sarna has been conducting online sessions for students in collaboration with an online platform called Aveti Learning. Every Sunday, around 10,000 students join from the comfort of their homes.
"We have history and geography sessions with Odia children on their state as well as other places like Jaipur, Delhi, Agra and Ahmedabad. We try to make the learning fun by showing the children videos and conducting Q&A sessions," says Jitu.
Also Read: With Baul songs, Bengal's Mansur Fakir preaches the message of humanity
Sarna's three partners are committed to the community-driven and community engagement model. They strongly believe that they need to protect the interests of the indigenous communities.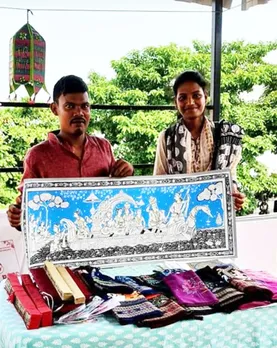 So Sarna plans to help create more community developed and managed eco-stays for tourists to improve local income levels. Also on the anvil, is the plan to set up a production unit to create finished products from fabric, palm leaf, metal, and other materials. Needless to say, the unit will employ local youth. 
What about replicating the model in other states? "Sarna has no plans to expand to other states for the next five years at least. There is so much to be done in Odisha," signs off Jitu with a smile.
(Aruna Raghuram is a freelance journalist based in Ahmedabad. She writes on parenting, personalities, women's issues, environment, and other social causes.)
Also Read: Village in Jharkhand's Maoist hub transforms into eco-tourism spot reviving lost arts