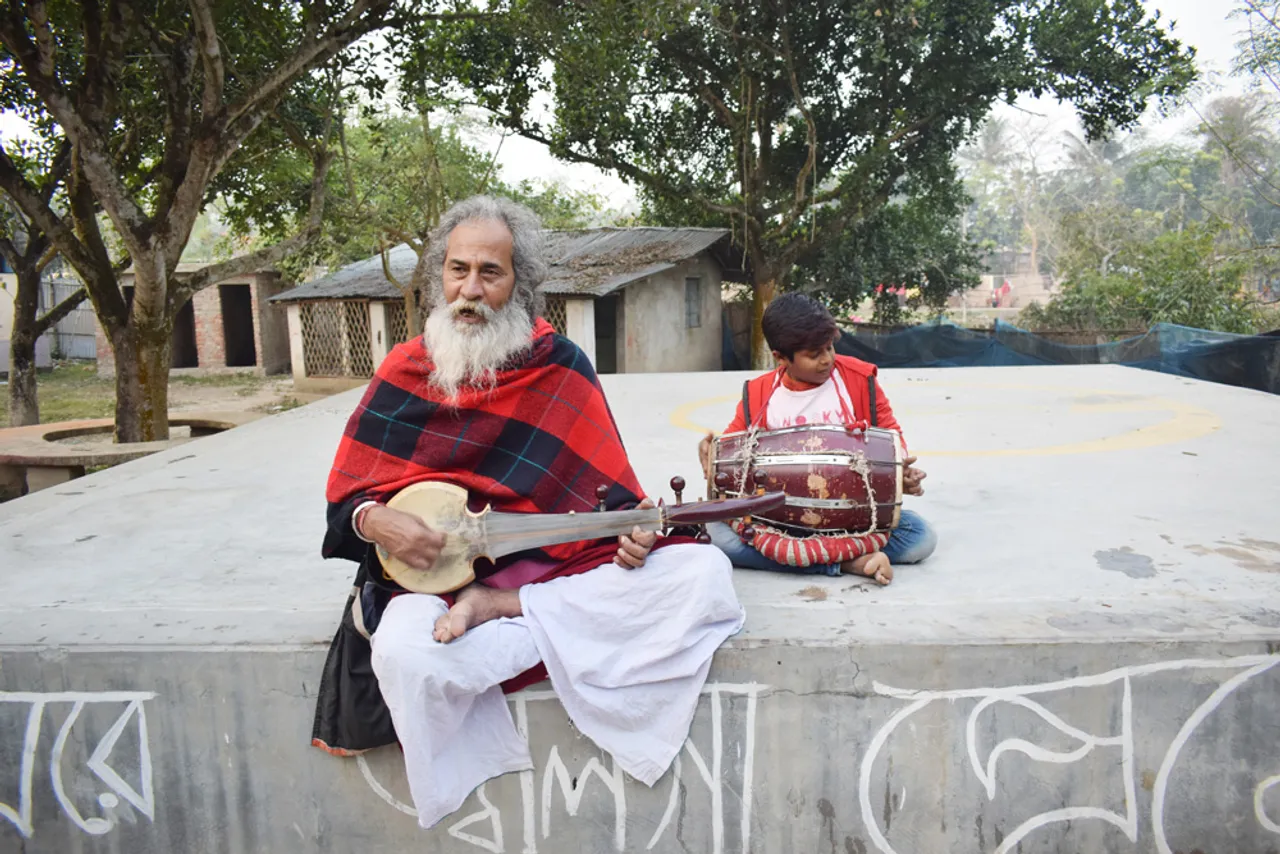 Sitting on the shrine of his father Azhar Khan at Gorbhanga village in West Bengal's Nadia district, Mansur Fakir creates an entrancing melody as his deft fingers move the strings of folk musical instrument dotara.
The Baul singer renders the Baul masterpiece - Amar Nitai Chander Bazare, Gour Chander Dorbare, Ek Mon Jar Sei Jete Pare - (Eternal bliss can be obtained only by following the path of Gaura-Nitai), written by Bangla lyricist and composer Bhabha Pagla.
His burial chamber, over time, evolved into an Akhra or Akhara, a term used for a Baul monastery.Known as the Sadhak Azhar Fakir Mazar, the Akhara is registered under the Janakalyan Seva Ashram. The ashram was founded in 1999 on a piece of land near the Indo-Bangladesh border in the Tehatta sub-division, about 220 km from Kolkata.
Also Read: Bobbili Veena: Andhra's artisans overcome challenges to keep 17th-century musical legacy alive
Azhar Khan was a renowned Baul singer and an eminent sadhak (seeker). He was inspired and motivated by Fakir Lalon (or Lalan) Shah, the legendary Baul singer from Kushtia, Bangladesh. As a result, Azhar too turned Fakir (Sufi ascetic) and stopped offering the namaaz. Upon his conversion to Baul, his family was ostracised by society.
Mystic minstrels without religion
What happened with Mansur's father and the family is not unusual though. In the over 1,000-year-old tradition of Bauls, the mystic minstrels have never identified with any religion, caste system, deities, temples, churches or, mosques as they believe only in one Almighty.
That's possibly why there is no single definition of Baul.
Also Read: Yakshagana: Karnataka's ancient theatrical dance art adapts to reach global audience
These songs, which embody the Baul philosophy, were transmitted orally for centuries from the spiritual leader to the disciples. However, now they are being documented, says Mansur.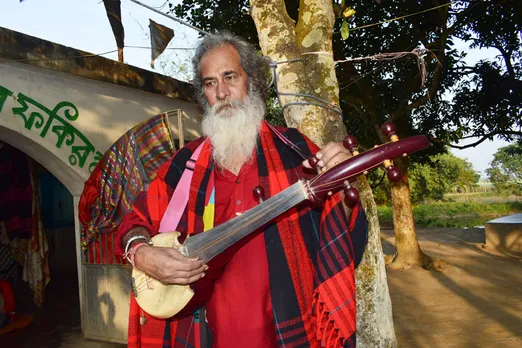 With roots in Sanskrit, the word Baul is related to both Hindu and Buddhist traditions and appears in Bangla literature from the 15th century. 'Baul' finds a mention 13 times in the Charyapada, a collection of Buddhist mystic poems written between the 8th and 12th centuries.
The stanzas weave together a deep sense of mysticism and the desire to be one with the holy.
Mansur says, "Baul is supreme. Baul refers to losing one's sanity, being eccentric. Baul runs through my veins. It took a long time to get to this point. Baul is a creation that leads to the Almighty directly. It's a spiritually disciplined route. It is of no use going to the temple, mosque or church because God will not be found there. Baul is all about self-discovery and learning to be a human," says Mansur, a Sangeet Sanman winner in 2012.
Also Read: Dogri songs by Jammu siblings win hearts across the world
Mansur, born on January 15, 1952, is the fourth among five brothers. Known as Bhutan among his friends, he dropped out after studying till class 5 in a local government school. The tenets of his father's human-divine relationship had a profound impact on him and he decided to carry on his father's legacy.
The making of a Baul
At the age of 13, Mansur realised Baul when he chanted 'Hare Krishna'. He used to accompany his father as a drummer when he sang Baul tunes. However, he learned from his mother that he had begun playing the cymbals as a little kid while sitting on her lap.
The Muslim community was unable to transform Mansur's thinking and could not prevent him from becoming a fakir. He left his village at the age of 25 in search of an understanding of Indian spiritual philosophy.
Also Read: A quaint village in Hooghly becomes manufacturing hub for string instruments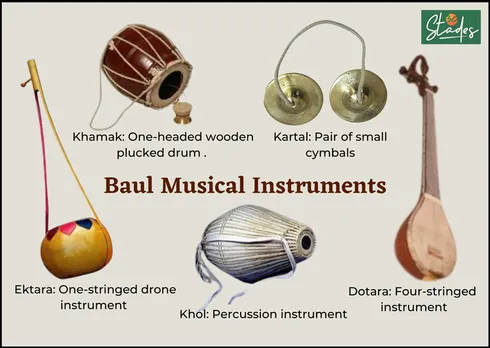 He travelled to Assam, Tripura, Manipur, Meghalaya, Rajasthan, Gujarat and Uttar Pradesh to sing Lalon Fakir and his father's folk music for urban audiences. Mansur sang Palligeeti, Bhatiali, Lalongeeti, and Baul folk melodies in various styles.
"I wanted to travel at my free will and the erstwhile Left Government of West Bengal supported me by granting an artist card," says Mansur, whose ancestors moved from Afghanistan to Gour, a historic city in Malda, in the 11th century.
Just before the Partition of Bengal in 1905, about 40 members of Mansur's family, including his grandfather Matabbur Ali Khan, moved to this village, naming it Gorbhanga -- derived from two words Gour and Bhanga, meaning break up. It is also known as the village of fakirs.
Also See: In pictures: Chhattisgarh's tribal folk dance Gaur Maria inspired by the wild bison
Demystifying Bauls
According to scholar-researcher Shaktinath Jha, communities such as Aul, Baul, Darvesh, Fakir, Sai, Sadhu, Bairagi are found in every sub-division of Bangladesh and West Bengal. However, people mistakenly believe all of them to be Bauls.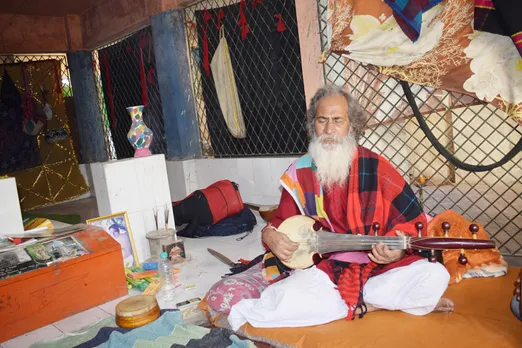 Jha says Baul or Fakir does not refer to Hindus or Muslims. Hegives the example of the mystic poet Radha Raman of Srihatta (Bangladesh) and Padmalochan from Birbhum, who didn't know each other. Yet, they had common ideologies. They both preached that all humans are equal, without any caste, and both spoke against the glory of man, caste or community.
"It was through their opinions and philosophy that the concept of one religion emerged," explains Jha.
The melody of Baul songs is distinctive.
Baul songs have also influenced poets Rabindranath Tagore and Bangladesh's Kazi Nazrul Islam.
Mansur says religious convictions do not include hatred and bloodshed. "We are humans, not animals.  After multiple births, we are born with human skin. This isn't going to happen again. Religion causes division. Baul music celebrates heavenly love, and I offer prayers," he says.
Also Read: How Ustad Moinuddin Khan is keeping the rich legacy of sarangi alive
When he was 20, Mansur married his childhood sweetheart Aliya against her family's wishes. The couple has two sons and a daughter. "She has been supporting me all these years despite hardships and uncertainties," he says with a smile.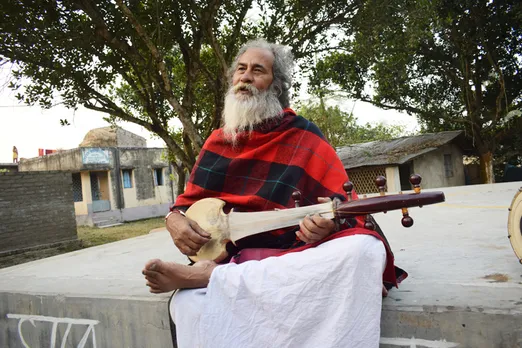 Mansur released an album of Baul songs titled 'Fakireena' in May 2019. It had Baul songs including 'Teen pagal', 'Pare ke jabi nadi nauka te aaye',' Sthul padma te radha birajito' and 'Dayal Nitai kauke phele jabe na'.
On the occasion of his father's birth anniversary on February 19 this year, a five-day 'Sampriti Utsav' will be held at Sadhak Azahar Fakir Mazar to support and preserve the Baul culture and philosophy. Thousands of Baul devotees will travel from far-flung villages of rural Bengal and other parts of the country to perform at this Baul Fair.
This festival had previously attracted visitors from Japan, France, Italy and Canada. This year marks the 24th anniversary of the festival, which is helping keep alive the culture of humanity.
(Partho Burman is a Kolkata-based award-winning journalist. He writes inspiring human interest and motivational stories.)
Also Read: How 'Dohar' is trying to preserve folk music of Bengal & Assam since two decades